September 15, 2014
From Our Idiot Files
Stolen From: Page One PIG
Number One Idiot: I am a medical student currently doing a rotation in toxicology at the poison control center. Today, this woman called in very upset because she caught her little daughter eating ants. I quickly reassured her that the ants are not harmful and there would be no need to bring her daughter into the hospital. She calmed down and at the end of the conversation happened to mention that she gave her daughter some ant poison to eat in order to kill the ants.
I told her that she better bring her daughter into the emergency room right away.
Here's your sign, lady. Wear it with pride.
~ ~ ~
Number Two Idiot: Early this year, some Boeing employees on the airfield decided to steal a life raft from one of the 747s. They were successful in getting it out of the plane and home. Shortly after they took it for a float on the river, they noticed a Coast Guard helicopter coming toward them. It turned out that the chopper was homing in on the emergency locator beacon that activated when the raft was inflated. They are no longer employed at Boeing. Here's your sign, guys. Don't get it wet; the paint might run.
Number Three Idiot: A pair of Michigan robbers entered a record shop nervously waving revolvers. The first one shouted, "Nobody move !" When his partner moved, the startled first bandit shot him. This guy doesn't even deserve a sign. (Must have been Wolverine football players.)
~ ~ ~
Number Four Idiot: Arkansas: Seems this guy wanted some beer pretty badly. He decided that he'd just throw a cinder block through a liquor store window, grab some booze, and run. So he lifted the cinder block and heaved it over his head at the window. The cinder block bounced back knocking him unconscious. It seems the liquor store window was made of Plexi-Glass. The whole event was caught on videotape. Yep, here's your sign.
~ ~ ~
Number Five Idiot: I live in a semi-rural area. We recently had a new neighbor call the local township administrative office to request the removal of the Deer Crossing sign on our road. The reason: "Too many deer are being hit by cars out here! I don't think this is a good place for them to be crossing anymore." Take the sign - Please!
~ ~ ~
Stay Alert! They walk among us ... they reproduce ... they vote and a lot of them hold public office.
September 14, 2014
A Real Gun Nut
Submitted By: Pea Shooter
You may have heard on the news about a Southern California man who was put under 72-hour psychiatric observation when it was found he owned 100 guns and allegedly had 100,000 rounds of ammunition stored in his home. The house also featured a secret escape tunnel.

By Southern California standards, someone owning 100,000 rounds is considered "mentally unstable."

In Michigan, he'd be called "The last white guy still living in Detroit."

In Arizona, he'd be called "an avid gun collector."

In Arkansas, he'd be called "a novice gun collector."

In Utah, he'd be called "moderately well prepared," but they'd probably reserve judgment until they made sure that he had a corresponding quantity of stored food."

In Kansas, he'd be "A guy down the road you would want to have for a friend."

In Montana, he'd be called "The neighborhood 'Go-To' guy."

In Alabama, he'd be called "a likely gubernatorial candidate."

In Georgia, he'd be called "an eligible bachelor."

In North Carolina, Virginia, Mississippi, Tennessee, Kentucky and South Carolina he would be called "a deer hunting buddy."

And in Texas he'd just be "Billy Joe, who's a little short on ammo."
September 11, 2014
McDonald's Drops $15.00 "Living" Wage Bomb
Posted By: McPorcus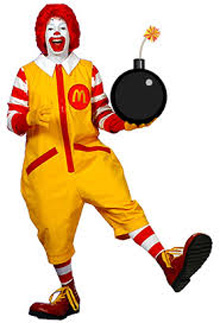 In a surprise move CEO Donald Thompson of McDonald's Restaurants announced they had reached an agreement with the SEIU and would start paying its workers a "Living Wage" of $15.00 per hour the first of October. Mr. Thompson issued a press release stating, "As a company we realize we have been negligent in paying our employees a real living wage for the last 60 years, so in the spirit of social well-being, we have decided to comply with the wishes of the White House and the SEIU."
The Service Employees International Union spokesman, Seymour Pecunia, said that he "was very happy that McDonald's had agreed to their demands." He was also hopeful that McDonald's decision would lead to similar agreements with Burger King, Wendy's, Hardee's and Taco Bell. As the largest retail seller of fast food, the agreement will set a high bar for other fast-food chains to meet.
It is estimated the move will cost the company over 100 million dollars the first year. Much of the cost will be made up in higher food prices according to management sources. "We have been working on new price guidelines for several months and think we have come up with a workable menu pricing guideline for our franchisees.
This reporter asked if he could elaborate on the new pricing schedule and he gave us the following examples:
Big Mac $11.00
Quarter Pounder 12.50
McFish 8.00
McDouble 7.00
Large Fries 5.00
Apple Pie 5.00
Large Coke 5.00
We think these prices will enable us to maintain the same high quality of products while at the same time paying the higher wages. Of course we will be reviewing our profit margins and if we are falling short of our goals, we will increase the prices as necessary. In the interest of family dinning we will still have our very popular Dollar Menu items, but now they will be on the $5.00 Menu.
When asked for a statement on this major development, the other major chains declined comment, except for Wendy's, who's spokesperson, Wendy Thomas, read from a prepared statement saying in part, "After all these years of friendly competition, it will be difficult to see Ronald McDonald in the unemployment line."
This article is written as Satire, however, more often than not, Satire often predicts the future of major social changes.
September 10, 2014
A True Loss
Submitted By: PIGster GM
It seems that every couple of days New Orleans loses one of its treasured
ENTREPRENEURS.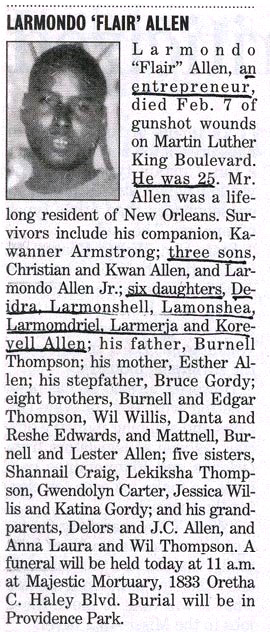 Let's get the players straight before we go on with this..

LARMONDO "FLAIR" ALLEN
His Companion: Kawanner Armstrong

His Sons :
Christian Allen
Kwan Allen
Larmondo Allen, Jr.
His Daughters :
Deidra Allen
Larmenshell Allen
Lamonshea Allen
Larmomdriel Allen
Larmerja Allen
Korevell Allen

AT AGE 25 - He had 9 Children.
His Father: Burnell Thompson
His Mother: Esther Allen
His Stepfather: Bruce Gordy
His Brothers: Burnell Thompson
Edgar Thompson
Wil Willis
Danta Edwards
Reshe Edwards
Mattnell Allen
Burnell Allen
Lester Allen
His Sisters: Shannail CraigLekiksha Thompson
Gwendolyn Carter
Jessica Willis
Katina Gordy
Grandparents: Delors Allen
J.C. Allen
Anna Laura Thompson
Will Thompson

GOT THE ABOVE ALL STRAIGHT?

NOW, THE REST OF THE STORY

He was 25 and had 3 sons and 6 daughters. NINE welfare recipients collecting $950 each .....

That equals $8,550 a month! Now add food stamps, free medical, free school lunches, and on and on.

Do the math...$102,000+ /year.

Anyone out there, sittin' on their butt while reading this e-mail, making A HUNDRED GRAND doing nothing?

Now that, to me, is a real Entrepreneur.

(ALSO, BECAUSE OF THEIR FATHERS DEATH, ALL OF THE KIDS WILL COLLECT SOCIAL SECURITY UNTIL THEY ARE 18)

EVEN BETTER...IF "FLAIR'S" THIRTEEN BROTHERS & SISTERS FOLLOWED HIS ENTREPRENEURIAL
STRATEGY THAT'S AN ADDITIONAL$1.3 MILLION PER YEAR

BUT WAIT...THERE'SMORE!

IF ALL THIRTEEN BROTHERS AND SISTERS CAN DUPLICATE HIS FEAT OF 9 WELFARE STRATEGISTS THAT BREEDS 117 NEW RECIPIENTS COLLECTING $100,000/YR!!...OR AN ADDITIONAL$11,700,000 PER YEAR... and, THAT'S ONE DAMN FAMILY!
And THAT is one of the reasons why this once great country is
BANKRUPT!

September 05, 2014
10 Jokes Only Engineers Will Understand
Posted By: Porcus
Who Says Engineers Don't Have A Sense Of Humor?
1. Normal people believe that if it ain't broke, don't fix it.
Engineers believe that if it ain't broke, it doesn't have enough features yet.

2. To the optimist, the glass is half-full.
To the pessimist, the glass is half-empty.
To the engineer, the glass is twice as big as it needs to be.

3. A priest, a doctor, and an engineer were waiting one morning for a particularly slow group of golfers. The engineer fumed, "What's with those guys? We must have been waiting for fifteen minutes!"
The doctor chimed in, "I don't know, but I've never seen such inept golf!"
The priest said, "Here comes the green-keeper. Let's have a word with him."
He said, "Hello George, what's wrong with that group ahead of us? They're rather slow, aren't they?"
The green-keeper replied, "Oh, yes. That's a group of blind firemen. They lost their sight saving our clubhouse from a fire last year, so we always let them play for free anytime."
The group fell silent for a moment.
The priest said, "That's so sad. I think I will say a special prayer for them tonight."
The doctor said, "Good idea. I'm going to contact my ophthalmologist colleague and see if there's anything he can do for them."
The engineer said, "Why can't they play at night?"

4. What is the difference between mechanical engineers and civil engineers?
Mechanical engineers build weapons. Civil engineers build targets.

5. The graduate with a science degree asks, "Why does it work?"
The graduate with an engineering degree asks, "How does it work?"
The graduate with an accounting degree asks, "How much will it cost?"
The graduate with an arts degree asks, "Do you want fries with that?"

6. Three engineering students were gathered together discussing who must have designed the human body.
One said, "It was a mechanical engineer. Just look at all the joints."
Another said, "No, it was an electrical engineer. The nervous system has many thousands of electrical connections."
The last one said, "No, actually it had to have been a civil engineer. Who else would run a toxic waste pipeline through a recreational area?"

7. Knock knock. Who's there? Interrupting coefficient of friction. Interrupting coefficient of fri.... mmmuuuuuuuuuuuuuuuu (μ)

8. Two engineering students were walking across a university campus when one said, "Where did you get such a great bike?"
The second engineer replied, "Well, I was walking along yesterday, minding my own business, when a beautiful woman rode up on this bike, threw it to the ground, took off all her clothes and said, "Take what you want."
The first engineer nodded approvingly and said, "Good choice; the clothes probably wouldn't have fit you anyway."


9. An engineer was crossing a road one day, when a frog called out to him and said, "If you kiss me, I'll turn into a beautiful princess." He bent over, picked up the frog and put it in his pocket.
The frog then cried out, "If you kiss me and turn me back into a princess, I'll stay with you for one week and do ANYTHING you want."
Again, the engineer took the frog out, smiled at it and put it back into his pocket.
Finally, the frog asked, "What is the matter? I've told you I'm a beautiful princess and that I'll stay with you for one week and do anything you want.
Why won't you kiss me?"
The engineer said, "Look, I'm an engineer. I don't have time for a girlfriend, but a talking frog, now that's cool."

10. A wife asks her husband, a software engineer...
"Could you please go shopping for me and buy one carton of milk, and if they have eggs, get 6!"
A short time later the husband comes back with 6 cartons of milk. The wife asks him, "Why the hell did you buy 6 cartons of milk?"
He replied, "They had eggs."
September 04, 2014
So Funny We Forgot To Laugh
Found Floating In Cyberspace

September 01, 2014
The Lords Prayer
Stolen From: Page One PIG
Lords Prayer For School
By a 15 yr. old school kid who got an A+ for this entry
The Lord's Prayer Is not allowed in most Public schools anymore Because the word 'God' is mentioned. A kid in Winnipeg wrote a new school prayer:
~ ~ ~
Now I sit me down in school
Where praying is against the rule
For this great nation under God
Finds mention of Him very odd.
If scripture now the class recites,
It violates the Bill of Rights.
And anytime my head I bow
Becomes a Federal matter now.
Our hair can be purple, orange or green,
That's no offense; it's a freedom scene.
The law is specific, the law is precise.
Prayers spoken aloud are a serious vice.
For praying in a public hall
Might offend someone with no faith at all.
In silence alone we must meditate,
God's name is prohibited by the Provence.
We're allowed to cuss and dress like freaks,
And pierce our noses, tongues and cheeks.
They've outlawed guns, but FIRST the Bible.
To quote the Good Book makes me liable.
We can elect a pregnant Senior Queen,
And the 'unwed daddy,' our Senior King.
It's 'inappropriate' to teach right from wrong,
We're taught that such 'judgments' do not belong.
We can get our condoms and birth controls,
Study witchcraft, vampires and totem poles
But the Ten Commandments are not allowed,
No word of God must reach this crowd.
It's scary here I must confess,
When chaos reigns the school's a mess.
So, Lord, this silent plea I make:
Should I be shot; My soul please take!
Amen
August 30, 2014
Chain Letter Reaction
Submitted By: Anonymous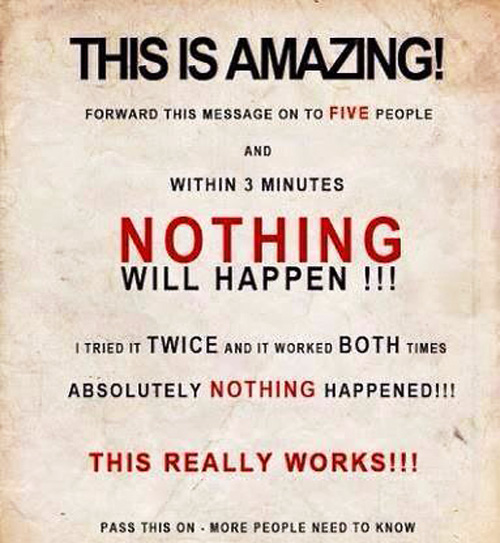 August 29, 2014
Extreme Rednecking
Stolen From: Page One PIG
You're An EXTREME Redneck When...
1 You let your 14-year-old daughter smoke at the dinner table in front of her kids.
2 The Blue Book value of your truck goes up and down depending on how much gas is in it.
3 You've been married three times and still have the same in-laws.
4 You think a woman who is out of your league bowls on a different night.
5 You wonder how service stations keep their rest-rooms so clean.
6 Someone in your family died right after saying, 'Hey, guys, watch this.'
7 You think Dom Perignon is a Mafia leader.
8 Your wife's hairdo was once ruined by a ceiling fan.
9 Your junior prom offered day care.
10. You think the last words of the Star-Spangled Banner are 'Gentlemen, start your engines.'
11. You lit a match in the bathroom and your house exploded right off its wheels.
12. The Halloween pumpkin on your porch has more teeth than your spouse.
13. You have to go outside to get something from the fridge.
14. One of your kids was born on a pool table.
15. You need one more hole punched in your card to get a freebie at the House of Tattoos.
16. You can't get married to your sweetheart because there's a law against it.
17. You think loading the dishwasher means getting your wife drunk.
August 28, 2014
She Had Four Husbands
Submitted By: Swine Flew
The local news station was interviewing an 80-year-old lady because she had just gotten married for the fourth time.
The interviewer asked her questions about her life, about what it felt like to be marrying again at 80, and then about her new husband's occupation..
"He's a funeral director," she answered.
"Interesting," the newsman thought... He then asked her if she wouldn't mind telling him a little about her first three husbands and what they did for a living.
She paused for a few moments, needing time to reflect on all those years. After a short time, a smile came to her face and she answered proudly, explaining that she had first married a banker when she was in her 20's, then a circus ringmaster when in her 40's, and a preacher when in her 60's, and now - in her 80's - a funeral director.
The interviewer looked at her, quite astonished, and asked why she had married four men with such diverse careers.
She smiled and explained, "I married one for the money, two for the show, three to get ready, and four to go."
August 26, 2014
Grins and Snickers
Stolen From: Page One PIG
I was in the six item express lane at the store quietly fuming. Completely ignoring the sign, the woman ahead of me had slipped into the check-out line pushing a cart piled high with groceries. Imagine my delight when the cashier beckoned the woman to come forward looked into the cart and asked sweetly, "So which six items would you like to buy?" (Wouldn't it be great if that happened more often?)
~ ~ ~
Because they had no reservations at a busy restaurant, my elderly neighbour and his wife were told there would be a 45 minute wait for a table. "Young man, we're both 90 years old," the husband said. "We may not have 45 minutes." They were seated immediately.
~ ~ ~
The reason politicians try so hard to get re-elected is that they would "hate" to have to make a living under the laws they have just passed.
~ ~ ~
All eyes were on the radiant bride as her father escorted her down the aisle. They reached the altar and the waiting groom. The bride kissed her father and placed something in his hand. The guests in the front pews responded with ripples of laughter. Even the priest smiled broadly. As her father gave her away in marriage, the bride gave him back his credit card.
~ ~ ~
Women and cats will do as they please, and men and dogs should relax and get used to the idea.
~ ~ ~
Three friends from the local congregation were asked, "When you're in your casket, and friends and congregation members are mourning over you, what would you like them to say?"
Artie said, "I would like them to say I was a wonderful husband, a fine spiritual leader, and a great family man."
Eugene commented, "I would like them to say I was a wonderful teacher and servant of God who made a huge difference in people's lives."
Al said, "I'd like them to say, 'Look, he's moving!'"
~ ~ ~
Smith climbs to the top of Mt. Sinai to get close enough to talk to God. Looking up, he asks the Lord. "God, what does a million years mean to you?"
The Lord replies, "A minute."
Smith asks, "And what does a million dollars mean to you?"
The Lord replies, "A penny."
Smith asks, "Can I have a penny?"
The Lord replies, "In a minute."
~ ~ ~
A man goes to a shrink and says, "Doctor, my wife is unfaithful to me. Every evening, she goes to Larry's bar and picks up men. In fact, she sleeps with anybody who asks her! I'm going crazy. What do you think I should do?"
"Relax," says the Doctor, "take a deep breath and calm down. Now, tell me, exactly where is Larry's bar?"
~ ~ ~
John was on his deathbed and gasped pitifully, "Give me one last request, dear," he said.
"Of course, John," his wife said softly.
"Six months after I die," John said, "I want you to marry Bob."
"But I thought you hated Bob," she said.
With his last breath John said, "I do!"
August 25, 2014
I Met An Older Woman
Submitted By: Swine Flew
I met An Older Woman At A Bar Last Night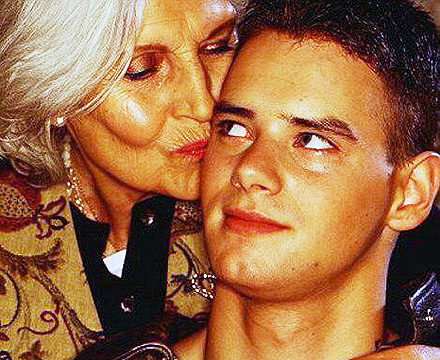 I met an older woman at a bar last night. She looked pretty good for a 60+year-old. In fact, she wasn't too bad at all, and I found myself thinking she probably had a really hot daughter.
We drank a couple of beers, and she asked if I'd ever had a Sportsman's Double?
'What's that? I asked.
'It's a mother and daughter threesome,' she said.
As my mind began to embrace the idea, and I wondered what her daughter might look like, I said, 'No, I haven't.'
We drank a bit more, then she said with a wink, 'tonight's your lucky night.'
We went back to her place. We walked in. She put on the hall light and shouted upstairs: 'Mom...you still awake?'
August 24, 2014
Punology
Stolen From: Page One PIG
• I tried to catch some fog. But I mist.
• When chemists die, do they barium?
• Jokes about German sausage are the wurst.
• A soldier who survived mustard gas and pepper spray is now a seasoned veteran.
• I know a guy who's addicted to brake fluid. But he says he can stop any time.
• How does Moses make his tea? Hebrews it.
• I stayed up all night to see where the sun went. Then it dawned on me.
• This girl said she recognized me from the vegetarian club, but I'd never met herbivore.
• I'm reading a book about anti-gravity. I can't put it down.
• I did a theatrical performance about puns. It was a play on words.
• They told me I had type A blood, but it was a type-O.
• This dyslexic man walks into a bra.
• I didn't like my beard at first. Then it grew on me.
• A cross-eyed teacher lost her job because she couldn't control her pupils?
• When you get a bladder infection, urine trouble.
• What does a clock do when it's hungry? It goes back four seconds.
• I wondered why the ball was getting bigger. Then it hit me!
• Broken pencils are pointless.
• What do you call a dinosaur with an extensive vocabulary? A thesaurus.
• England has no kidney bank, but it does have a Liverpool.
• I used to be a banker, but then I lost interest.
• I dropped out of communism class because of lousy Marx.
• All the toilets in London police stations have been stolen. Police say they have nothing to go on.
• I took the job at a bakery because I kneaded dough.
• Velcro – what a rip off!
• Cartoonist found dead in home. Details are sketchy.
August 23, 2014
Gay-KK
Stolen From: Page One PIG
[Mbatt] The Land of the Free has become the Tyranny of the Depraved:
On August 8, [the New York State Division of Human Rights] fined Cynthia and Robert Gifford $13,000 for acting on their belief that marriage is the union of a man and woman and thus declining to rent out their family farm for a same-sex wedding celebration.
Here's what happened:
In 2012, Melissa Erwin and Jennie McCarthy contacted the Giffords to rent the family's barn for their same-sex wedding ceremony and reception. Cynthia Gifford responded that she and her husband would have to decline their request as they felt they could not in good conscience host a same-sex wedding ceremony at their home.
Decent people would understand and celebrate their parody of a marriage somewhere else. But homosexual militants are not known for their decency. They appear to derive great satisfaction from using the government to force people who are appalled by their perverse lifestyles to participate in them.
The Giffords have owned and operated Liberty Ridge Farm in Schaghticoke, New York for over 25 years. Like many small farm families, they often open the farm to the public for events like berry picking, fall festivals, and pig racing. …
They also open their home for weddings and receptions. When the Giffords host weddings, they are involved in every aspect of the wedding planning and celebration: they greet and drive guests in their farm trolley, decorate the barn, set up floral arrangements, arrange fireworks displays, and provide catering. As the Human Rights Commission ruling even points out, "the only wedding-related service Liberty Ridge Farm does not offer is providing the official for the wedding ceremony."
The bridal suite is right in their own home.
As many brides know, planning a wedding requires hours of careful work to organize in order to pull off the celebration—hours during which family businesses operating venues like the Giffords' actively participate in the weddings they host. The Giffords believe that as free citizens running a business, they should have the right to decline to participate in an event that does not reflect their values.
Unfortunately, New York's Human Right's law (Executive Law, art. 15) creates special privileges based on sexual orientation that trump the rights of business owners.
These unjust privileges also trump the fundamental individual right of freedom of association.
Because the Giffords' family farm is open to the public for business, New York classifies it as a "public accommodation" and then mandates that it not "discriminate" on the basis of sexual orientation.
This means that like any business, they can refuse service for any reason — except to persons of elevated legal status. We are all equal before the law. But under rule by liberals, those who define themselves by the aberrant sexual practices they indulge in are more equal.
The Giffords were not engaging in any insidious discrimination—they were acting on their belief about the nature of marriage. They do not object to gay or lesbian customers attending the fall festivals, or going berry picking, or doing any of the other activities that the farm facilitates. The Giffords' only objection is to being forced to abide by the government's views on sexuality and host a same-sex wedding. The Human Rights Commission has now declared this historic belief about marriage to be "discrimination."
The Giffords must pay a $1,500 mental anguish fine to each of the women and pay $10,000 in civil damages penalty to New York State.
The farce of pretending that the bullies who dragged this innocent family into court are the victims and deserve compensation for "mental anguish" should be too much for even liberals to stomach.
Like Jack Phillips of Masterpiece Cakeshop, the Giffords must also institute anti-discrimination re-education classes and procedures for their staff.
That is, they must pay to have their employees brainwashed to reject their own values — values that have defined civilization for millennia.
The question before all citizens is whether this law and this fine are just. Should the government be able to force family businesses to betray their consciences and participate in ceremonies that violate their beliefs? Should the government be in the business of "rehabilitating" consciences or "re-educating" its citizens to change their moral beliefs about the definition of marriage?
Here I have to disagree. These aren't the questions, because the answers are obvious.
The question is: how are we going to restore freedom and dignity by liberating ourselves from the twisted tyranny we are living under?
August 22, 2014
We Need More Tolerance
Submitted By: Lone Star
Higgs McDonald, NHL Hall of Fame broadcaster speaking in Ontario , says. "I am truly perplexed that so many of my friends are against another mosque being built in Toronto . I think it should be the goal of every Canadian to be tolerant regardless of their religious beliefs. Thus the mosque should be allowed, in an effort to promote tolerance.
That is why I also propose that two nightclubs be opened next door to the mosque, thereby promoting tolerance from within the mosque. We could call one of the clubs, which would be gay, "The Turban Cowboy," and the other a topless bar called "You Mecca Me Hot." Next door should be a butcher shop that specializes in pork, and adjacent to that an open-pit barbecue pork restaurant, called "Iraq of Ribs."
Across the street there could be a lingerie store called "Victoria Keeps Nothing Secret," with sexy mannequins in the window modeling the goods. Next door to the lingerie shop there would be room for an adult sex toy shop, "Koranal Knowledge," its name in flashing neon lights, and on the other side a liquor store called "Morehammered."
All of this would encourage Muslims to demonstrate the tolerance they demand of us, so their mosque issue would not be a problem for others. Yes, we should promote tolerance, and you can do your part by passing this on.

And if you are not laughing or smiling at this point... It is either past your bedtime, or it's midnight at the oasis and time to put your camel to bed!
August 20, 2014
Conundrums
Stolen From: Page One PIG
The definition of the word conundrum is something that is puzzling or confusing. Here are six conundrums of socialism in the United States of America:

1. America is capitalist and greedy – yet half of the population is subsidized.

2. Half of the population is subsidized – yet they think they are victims.

3. They think they are victims – yet their representatives run the government.

4. Their representatives run the government – yet the poor keep getting poorer.

5. The poor keep getting poorer – yet they have things that people in other countries only dream about.

6. They have things that people in other countries only dream about – yet they want America to be more like those other countries.

Think about it! That, my friends, pretty much sums up the USA in the 21st century.

Makes you wonder who is doing the math.

These three, short sentences tell you a lot about the direction of our current government and cultural environment:

1. We are advised to NOT judge ALL Muslims by the actions of a few lunatics, but we are encouraged to judge ALL gun owners by the actions of a few lunatics. Funny how that works. And here's another one worth considering...

2. Seems we constantly hear about how Social Security is going to run out of money. How come we never hear about welfare or food stamps running out of money? What's interesting is the first group "worked for" their money, but the second didn't. Think about it.

and last but not least,

3. Why are we cutting benefits for our veterans, no pay raises for our military and cutting our army to a level lower than before WWII, but we are not stopping the payments or benefits to illegal aliens.
August 18, 2014
Jesus For Hire
Submitted By: Swine Flew
As I was walking home the other day, worrying about all the crap going on in Washington, Ottawa, London, Moscow, Ukraine etc. and at how our life as a nation is falling apart, I saw a yard sign that said:
NEED HELP?
CALL JESUS
1-800-005-3787
Out of curiosity and desperation, I did.

A Mexican showed up with a lawnmower.
August 17, 2014
Feel Good Education
Submitted By: Swine Flew
The continuing move by the government run education establishment to standardize outcome so that there are no winners and no losers is leading us towards oblivion. How would you like your banker to be the one who got an "A" when he couldn't make change of a dollar with 4 quarters? How about your pilot? The engineer who designed your car? I think we are already seeing that.
With that in mind I make the following suggestions:
Everyone gets an "A" to keep the feel good wingnuts happy but there are different class levels.
Math: 1. Can do calculus in his or her head, 2. Knows how to program a spreadsheet. 3. Can count to 20 as long as he can take his shoes off first.
Science: 1. Understands and can explain Einsteins theories. 2. Can explain where energy comes from, how it is used, and what it's cost is. 3. Believes everything Al Gore says.
Government: 1. Read and understands the meaning of the Federalist Papers. 2. Knows his rights under the Constitution and where government money comes from. 3. Where's my Obama Phone?
After these people are turned loose on the world the third group will still have the same rights as the first two with some modifications. The third group will use government printed money while the first two will use real money. The third group will still fly and ride in airplanes, the planes just won't have wings (think Greyhound). The folks that ride in those planes won't notice anyway. TSA will only be allowed to grope group 3. Only groups 1 and 2 can own guns and group 3 has to drive VW microbusses and eat tofu. Group 3 can still vote but only for Hollywood actors and they can only serve on TV soap operas and West Wing.
August 16, 2014
Israeli Humor
Submitted By: GM
An Israeli Sense of Humor at United Nations set the record straight.
An ingenious example of speech and politics occurred recently in the United Nations Assembly and made the world community smile.
A representative from Israel began: 'before beginning my talk I want to tell you something about Moses: When he struck the rock and it brought forth water, he thought, "What a good opportunity to have a bath!"
Moses removed his clothes, put them aside on the rock and entered the water. When he got out and wanted to dress, his clothes had vanished. A Palestinian had stolen them!
The Palestinian representative at the UN jumped up furiously and shouted, "What are you talking about? That is a Zionist lie! There were no Palestinians there then."
The Israeli representative smiled and said, "And now that we have made that clear, I will begin my speech."
August 15, 2014
For You Romantics
Submitted By: Lone Star
For you true romantics

Ed and Carolyn met while on a singles cruise and Ed fell head over heels for her.

When they discovered they lived in the same city only a few miles apart Ed was ecstatic. He immediately started asking her out when they got home.
Within a couple of weeks, Ed had taken Carolyn to dance clubs, restaurants, concerts, movies, and museums. Ed became convinced that Carolyn was indeed his soul mate and true love. Every date seemed better than the last.

On the one-month anniversary of their first dinner on the cruise ship, Ed took Carolyn to a fine restaurant. While having cocktails and waiting for their salad, Ed said, "I guess you can tell I'm very much in love with you. I'd like a little serious talk before our relationship continues to the next stage. So, before I get a box out of my jacket and ask you a life changing question, it's only fair to warn you, I'm a total golf nut. I play golf, I read about golf, I watch golf on TV. In short, I eat, sleep, and breathe golf. If that's going to be a problem for us, you'd better say so now!"

Carolyn took a deep breath and responded, "Ed, that certainly won't be a problem. I love you as you are and I love golf too; but, since we're being totally honest with each other, you need to know that for the last five years I've been a hooker."

Ed said, "I bet it's because you're not keeping your wrists straight when you hit the ball."
August 14, 2014

Where Is The Rake?
Stolen From: Page One PIG
I was working in the garden this weekend and my wife was about to take a shower. I realized that I couldn't find the rake. I yelled up to my wife, "Where is the rake?"

She couldn't hear me and she shouted back, "What?"

I pointed to my eye, and then I pointed to my knee and made a raking motion.

My wife wasn't sure and said "What?" I repeated the gestures. "Eye - Kneed - The Rake"

My wife replied that she understands and signals back. She first points to her eye, next she points to her left breast, then she points to her backside, and finally to her crotch. Well, there is no way in hell I could even come close to that one.

Exasperated, I went upstairs and asked her, "What the hell was that?"

She replies, "Eye - Left Tit - Behind - The Bush"!'
August 13, 2014
Teddy Bear Justice
Stolen From:A Cyberspace PIGster
Joan Holland lost her teenage son, Andrew, in 2007 after he was stabbed to death.
Understandably distraught, the grieving mother has since visited her son's grave every Sunday, leaving tokens like flowers and figurines in his memory.
After a while, Holland noticed that many of these items were disappearing from the grave site. Then, on Mother's Day 2014, she found that every single thing at the memorial had been taken.
That's when the family decided to catch the serial grave robber, with the help of this guy: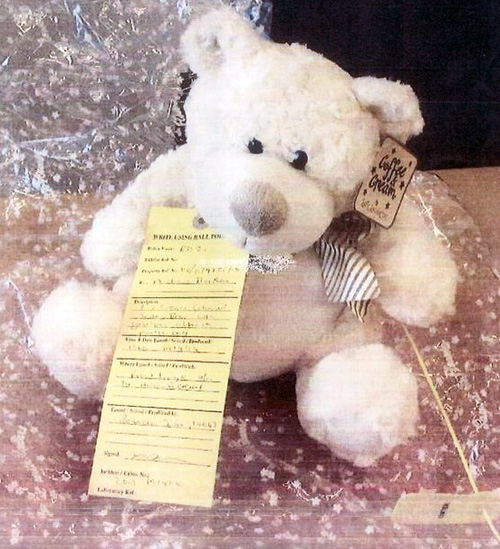 From the Mirror:
Mrs Holland's son Martin bought a £200 tracker and they stitched it into a teddy bear, leaving it on the grave in St Michael's churchyard, Bolton, Greater Manchester.
*
And the move worked.
*
The next day, at 5pm, Mrs Holland's daughter-in-law received an automatic alert warning her the teddy was being moved and the family was able to track the teddy's route via GPS.
The family followed the tracker to an apartment and then called police. Officers entered the building and arrested Andrew Balshaw, who later admitted he was stealing the items as gifts for his girlfriend. Police were able to recover the teddy bear, as well as several other items that had been taken.
Balshaw was sentenced to 12 months in prison for his actions. Holland expressed that while she felt the sentence wasn't long enough, she was thankful that justice had been served.
And now, thanks to her clever idea, she will be able to remember her son without worrying about this insensitive thief.
August 12, 2014
Triple Header
Stolen From:Page One PIG
Woman's Perfect Breakfast
She's sitting at the table with her gourmet coffee.
Her son is on the cover of the Wheaties box.
Her daughter is on the cover of Business Week.
Her boyfriend is on the cover of Playgirl.
And her husband is on the back of the milk carton.
Women's Revenge

'Cash, check or charge?' I asked, after folding items the woman wished to purchase. As she fumbled for her wallet , I noticed a remote control for a television set in her purse.

'So, do you always carry your TV remote?' I asked.

'No,' she replied, 'but my husband refused to come shopping with me, and I figured this was the most evil thing I could do to him legally.'
Marriage Seminar

While attending a Marriage Seminar dealing with communication, Tom and his wife Grace, listened to the instructor, 'It is essential that husbands and wives know each other's likes and dislikes.'

He addressed the man, 'Can you name your wife's favorite flower?'

Tom leaned over, touched his wife's arm gently and whispered, 'It's Pillsbury, isn't it?
August 11, 2014
Words Of Wisdom
Posted By: Porcus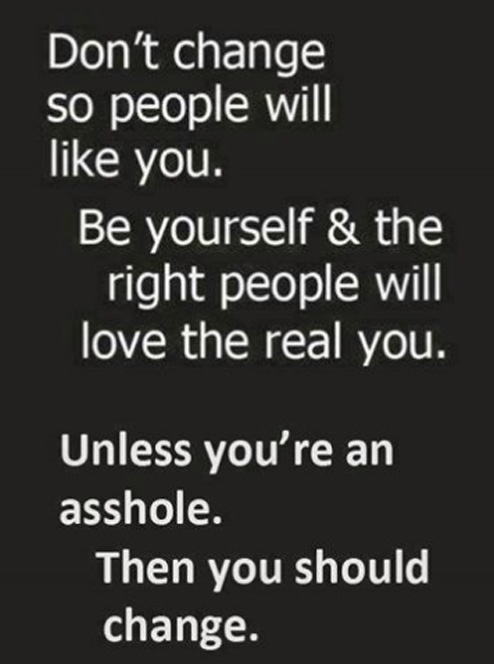 August 10, 2014
Dedicated To PIG's Staff
Posted By: Porcus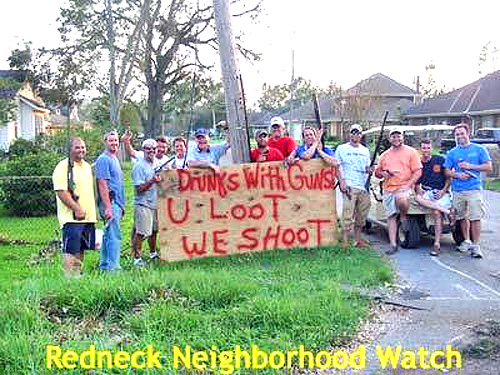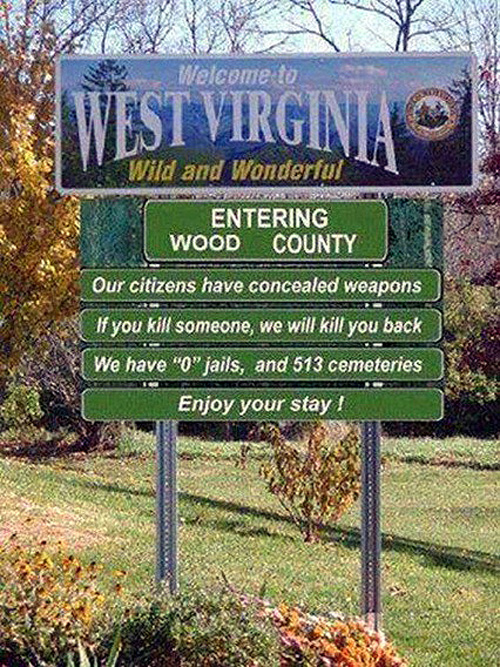 Dying With "Dignity"
Submitted By: Lone Star
As we each come to the realization that we have far more miles behind us than ahead of us, this is something we each should consider...
Dying With Dignity
.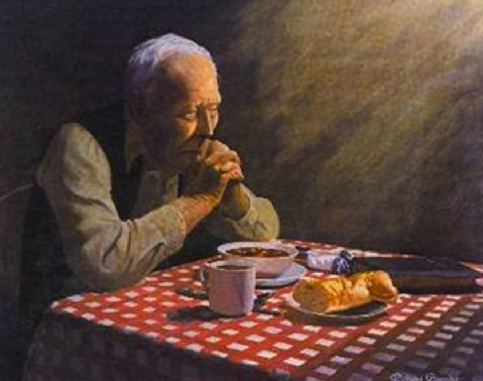 I have already informed my family that I will not be able to afford an expensive nursing home which would allow me to die with dignity. Therefore, I have moved to Ecuador so that I can spend my
final years enjoying life and dying with Dignity!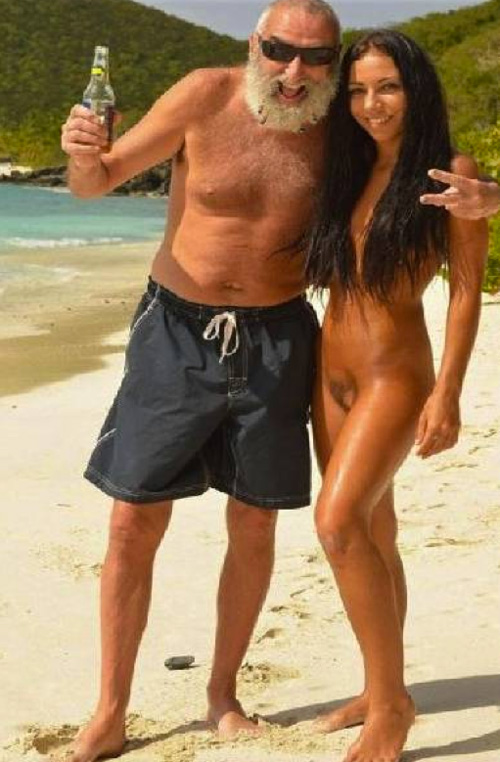 Dignity said to say hello!
August 06, 2014
Hot Crazy Matrix
Just watch the damn clip about women.
August 04, 2014
Italian Virginity Test
Mario is planning to marry asks his family doctor how he could tell if his bride-to-be is still a virgin.
His doctor says, "Mario, all the Italian men I know use three things for what we call a Do-It-Yourself Virginity Test Kit: A small can of red paint, a small can of blue paint and a shovel."
So Mario asks, "So, what do I do with these things, doc?"
The doctor replies, "Before you climb into bed on your wedding night, you paint one of your balls red and the other blue.
If she says, 'That's the strangest set of balls I've ever seen!' …you hit her with the shovel.
August 02, 2014
Hand Jive
An elderly golfer comes in after a good round of golf at the new course
and heads straight to the bar/restaurant area of the club house.
As he passes through the doors,
he spots a sign hanging over the bar that reads:
COLD BEER: $5.00
HAMBURGER: $10.00
CHEESEBURGER: $15.50
CHICKEN SANDWICH : $18.50
HAND JOB: $50.00


Checking his wallet to be sure he has the necessary
money, the old golfer walks up to the bar & beckons
to the exceptionally attractive female bartender who is
serving drinks to a couple of sun-wrinkled golfers.
She glides down behind the bar to the old golfer.
"Yes?" she inquires with a wide, knowing smile.
"May I help you sir?"
The old golfer leans over the bar and whispers, "I was
wondering young lady, are you the one who gives the
hand-jobs around here?"
She looks into his wrinkled eyes and with a wide smile
purrs, "Yes sir, I sure am."
The old golfer leans in even closer and into her left ear
says softly, "Well then, be sure to wash your hands real
good, because I want a cheeseburger."
July 30, 2014
Cousin Joe
This selfie is the last known picture of cousin Joe.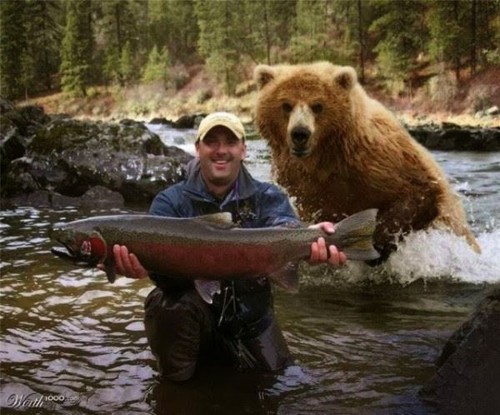 July 20, 2014
A Real Businessman
Submitted By: Lone Star
A clearly inebriated woman, stark naked, jumped into a taxi in New York City and laid down on the back seat.
The cab driver, an old Jewish gentleman, opened his eyes wide and stared at the woman. He made no attempt to start the cab.
The woman glared back at him and said, "What's wrong with you, honey? - Haven't you ever seen a naked woman before?"
The old Jewish driver answered, "Let me tell you sumsing, lady I vasn't staring at you like you tink; det vould not be proper vair I come from."
The drunk woman giggled and responded, "Well, if you're not staring at my boobs or ass sweetie, what are you doing then?"
He paused a moment, then told her..."Vell, M'am, I am looking and I am looking, and I am tinking to myself,'Vair in da hell is dis lady keeping de money to pay for dis ride?
Now, that's a REAL Businessman!
July 17, 2014
Rough Riders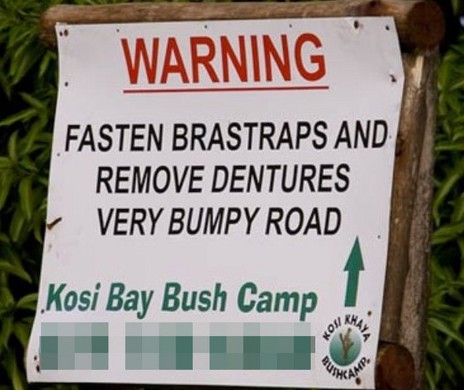 July 14, 2014
Confidence
Posted by: PPS
A fighter pilot walks into a bar and takes a seat next to a very attractive woman. He gives her a quick glance then casually looks at his watch for a moment.
The woman notices this and asks, "Is your date running late?"
No," he replies, "I just got this state-of-the-art watch, and I was just testing it."
The intrigued woman says, "A state-of-the-art watch? What's so special about it?"
The pilot says, "It uses alpha waves to talk to me telepathically."
The lady says, "What's it telling you now?"
Well, it says you're not wearing any panties."
The woman giggles and replies, "Well it must be broken because I am wearing panties!"
The fighter pilot smirks, taps his watch and says, "Damn thing's an hour fast."
And that my friends ... is Confidence.

July 13, 2014
Murphy's Other 15 Laws
1) Light travels faster than sound. That is why some people appear bright until you hear them speak.

2) A fine is a tax for doing wrong. A tax is a fine for doing well.

3) He who laughs last, thinks slowest.

4) A day without sunshine is like, well, night.

5) Change is inevitable, except from a vending machine.

6) Those who live by the sword get shot by those who don't.

7) Nothing is foolproof to a sufficiently talented fool.

8) The 50-50-90 rule: anytime you have a 50-50 chance of getting something right, there's a 90% possibility you'll get it wrong.

9) It is said that if you line up all the cars in the world end to end, someone from California would be stupid enough to try to pass them.

10) If the shoe fits, get another one like it.

11) The things that come to those who wait may be the things left by those who got there first.

12) Give a man a fish & he will eat for a day. Teach a man to fish & he'll sit in a boat all day drinking beer.

13) Flashlight. A case for holding dead batteries.

14) God gave you toes as a device for finding furniture in the dark.

15) When you go to court, you are putting yourself in the hands of 12 people who weren't smart enough to get out of jury duty.
July 12, 2014
Language Lessons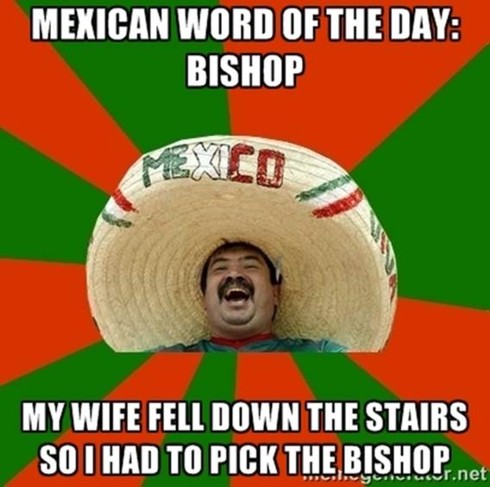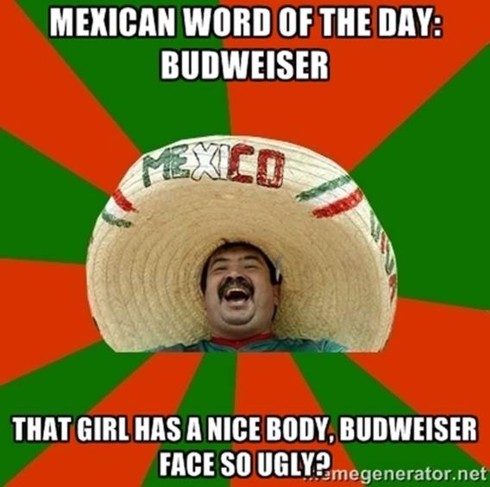 July 03, 2014
Nesting
Submitted By: Lone Star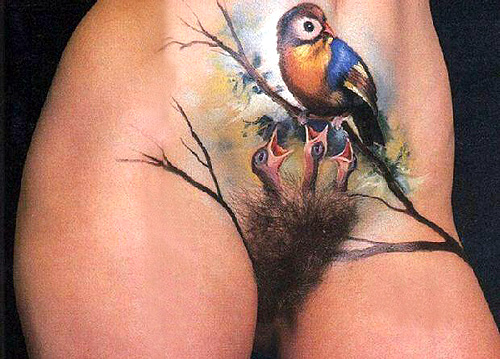 July 01, 2014
Airport Security!
Submitted By: Lone Star
How To Predict A Pat Down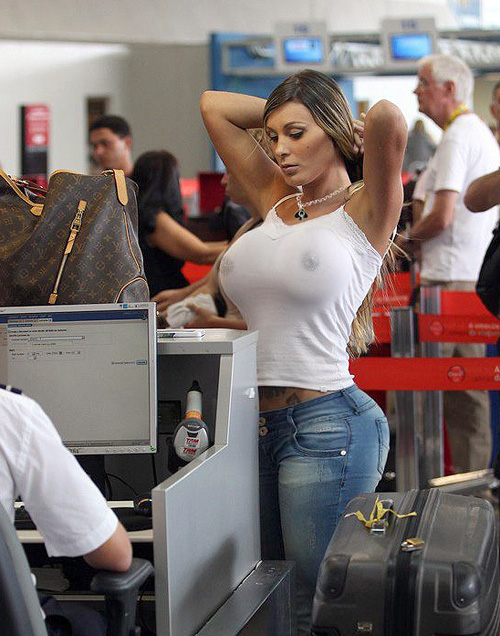 I Bet You Spotted It Right Off!
Yep...The Suitcase Doesn't Have A Name Tag On It!
June 29, 2014
Quotes
Stolen From: Page One PIG
As I hurtled through space, one thought kept crossing my mind - every part of this rocket was supplied by the lowest bidder.
~John Glenn
* * *
When the white missionaries came to Africa, they had the Bible and we had the land. They said 'Let us pray.' We closed our eyes. When we opened them we had the Bible and they had the land.
~Desmond Tutu
* * *
America is the only country where a significant proportion of the population believes that professional wrestling is real but the moon landing was faked.
~David Letterman
* * *
I'm not a paranoid, deranged millionaire. God dammit, I'm a billionaire.
~Howard Hughes
* * *
After the game, the King and the pawn go into the same box.
~Italian proverb
* * *
Men are like linoleum floors. Lay'em right and you can walk all over them for thirty years.
~Betsy Salkind
* * *
The only reason they say 'Women and children first' is to test the strength of the lifeboats.
~Jean Kerr
* * *
I've been married to a communist and a fascist, and neither would take out the garbage.
~Zsa Zsa Gabor
* * *
You know you're a redneck if your home has wheels and your car doesn't.
~Jeff Foxworthy
* * *
When a man opens a car door for his wife, it's either a new car or a new wife.
~Prince Philip
* * *
A computer once beat me at chess, but it was no match for me at kick boxing.
~Emo Philips.
* * *
Wood burns faster when you have to cut and chop it yourself.
~Harrison Ford
* * *
The best cure for sea sickness, is to sit under a tree.
~Spike Milligan
* * *
Lawyers believe a man is innocent until proven broke.
~Robin Hall
* * *
Kill one man and you're a murderer, kill a million and you're a conqueror.
~Jean Rostand.
* * *
Having more money doesn't make you happier. I have 50 million dollars but I'm just as happy as when I had 48 million.
~Arnold Schwarzenegger.
* * *
We are here on earth to do good unto others. What the others are here for, I have no idea.
~WH Auden
* * *
In hotel rooms I worry. I can't be the only guy who sits on the furniture naked.
~Jonathan Katz
* * *
If life were fair Elvis would still be alive today and all the impersonators would be dead.
~Johnny Carson
* * *
I don't believe in astrology. I am a Sagittarius and we're very skeptical.
~Arthur C Clarke
* * *
Hollywood must be the only place on earth where you can be fired by a man wearing a Hawaiian shirt and a baseball cap.
~Steve Martin
* * *
Home cooking. Where many a man thinks his wife is.
~Jimmy Durante
* * *
America is so advanced that even the chairs are electric.
~Doug Hamwell
* * *
The first piece of luggage on the carousel never belongs to anyone.
~George Roberts
* * *
If God had intended us to fly, he would have made it easier to get to the airport
~Jonathan Winters
* * *
I have kleptomania, but when it gets bad, I take something for it.
~Robert Benchley
June 28, 2014
Honesty
Submitted By: Mark H.
June 27, 2014
Elfish Humor
Stolen From: The North Pole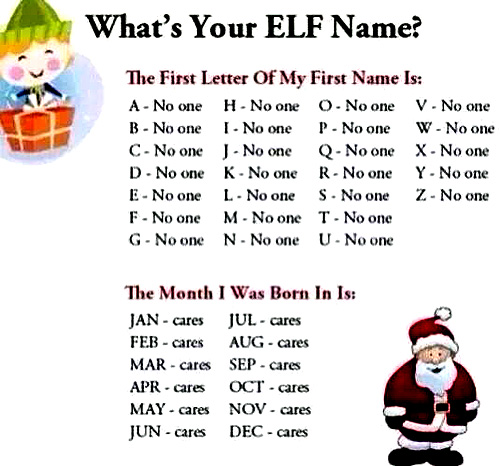 June 22, 2014
20 Reasons You Wouldn't Want To Live In An America Controlled By Liberals Like Obama
Stolen From: John Hawkins via Page One PIG
The only thing more disturbing than the arrogance, incompetence, and lawlessness of Barack Obama's administration is that most liberals are perfectly fine with everything he's doing. It's shocking that there are so many Americans who don't care about the Constitution, the rule of law, or even what happens to the country just as long as someone they agree with ideologically is in charge. In fact, the only time liberals seem to get really upset these days is if someone criticizes Barack Obama or tries to put ANY KIND of restraint on his power. Want to know how America would look if liberals like Barack Obama had complete control of the country?
1) Abortion would be the only "choice." Almost everything else including light bulbs, TVs, health care plans, cars, and the schools your child goes to would be chosen for you by people in D.C.
2) You could be sued for failing to warn people that you are about to say something that could conceivably be offensive to women, gays, transsexuals, or minorities.
3) Every sports fan of teams like the Redskins, Braves, Chiefs, Indians, Blackhawks, and Seminoles would be branded as a bigot and all of those teams would be forced to change their names.
4) We would have open borders and anyone who walks across would be welcome to sign up as a citizen and collect welfare, food stamps, and Social Security.
5) It would be illegal to say the Pledge of Allegiance or fly an American flag because it might "offend people."
6) All criticism of black and Hispanic politicians would be shrugged off and treated as racism.
7) Government investigations of liberal wrongdoing would be handled by friends, associates, or campaign contributors of the liberal being charged.
8) So many nuclear and coal plants would be shut down that we'd end up with regularly scheduled blackouts in many parts of the country.
9) Anyone could choose not to work and get a monthly stipend from the state -- well, until the money runs out.
10) Cities, states, and even well-connected big businesses that spend irresponsibly and go broke could always be bailed out by the federal government.
11) Women would have to get mandatory abortion counseling from Planned Parenthood before giving birth just to make sure they are ready to have a child.
12) Conservative talk radio, blogs, websites and especially Fox News would be regulated out of existence and only government-approved media sources would be allowed.
13) Christians and conservatives would have to hide their beliefs to get government jobs.
14) The IRS would be allowed to audit people solely for contributing to conservative candidates or being a member of conservative groups.
15) Men who have sex with women who are drinking would be treated as rapists by default.
16) Merit and even basic competence would be secondary in importance to hiring people who are the right race or sex for a job.
17) Any child who plays with a toy gun would be considered a potential psychopath and expelled from school.
18) Americans would only be allowed to buy tiny, overpriced electric cars that don't work very well.
19) It would be illegal to oppose gay marriage.
20) Guns would be confiscated from everyone except the criminals, the cops, the military, and the bodyguards for rich liberals.
June 22, 2014
Legicrat Humor
Stolen From: Page One PIG
WASHINGTON -- Taxpayers who do not produce documents for the Internal Revenue Service will be able to offer a variety of dubious excuses under legislation introduced by Rep. Steve Stockman (R-TX 36) a week after the IRS offered an incredibly dubious excuse for its failure to turn documents over to House investigators.
"The United States was founded on the belief government is subservient and accountable to the people. Taxpayers shouldn't be expected to follow laws the Obama administration refuses to follow themselves," said Stockman. "Taxpayers should be allowed to offer the same flimsy, obviously made-up excuses the Obama administration uses."
Under Stockman's bill, "The Dog Ate My Tax Receipts Act," taxpayers who do not provide documents requested by the IRS can claim one of the following reasons:
1. The dog ate my tax receipts
2. Convenient, unexplained, miscellaneous computer malfunction
3. Traded documents for five terrorists
4. Burned for warmth while lost in the Yukon
5. Left on table in Hillary's Book Room
6. Received water damage in the trunk of Ted Kennedy's car
7. Forgot in gun case sold to Mexican drug lords
8. Forced to recycle by municipal Green Czar
9. Was short on toilet paper while camping
10. At this point, what difference does it make?
June 21, 2014
Step Right Up
Submitted By: A Sick PIGster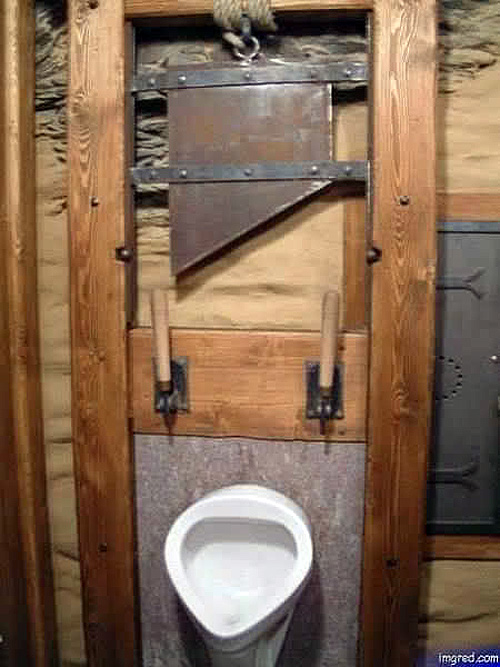 June 20, 2014
An Italian Mamma
Submitted By: Lone Star
Mrs. Ravioli comes to visit her son Anthony for dinner.
He lives with a female roommate, Maria.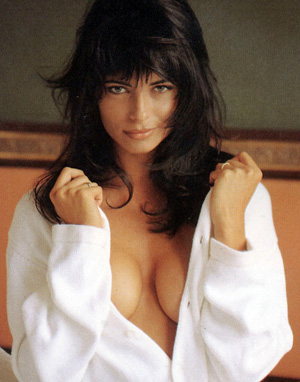 During the course of the meal, his mother couldn't help but notice how pretty Anthony's roommate is.
Over the course of the evening, while watching the two interact, she started to wonder if there was more between Anthony and his roommate than met the eye.
Reading his mom's thoughts, Anthony volunteered, "I know what you must be thinking, but I assure you, Maria and I are just roommates.''
About a week later, Maria came to Anthony saying, "Ever since your mother came to dinner, I've been unable to find the silver sugar bowl.
You don't suppose she took it, do you?"
"Well, I doubt it, but I'll email her, just to be sure."
So he sat down and wrote an email: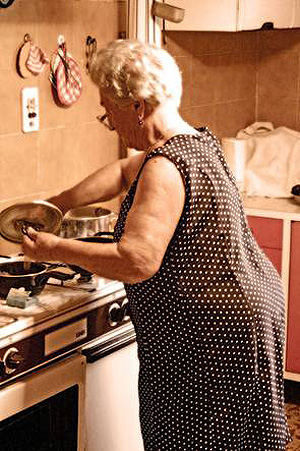 Dear MaMa,
I'm not saying that you "did" take the sugar bowl from my house ; I'm not saying that you "did not" take it.
But the fact remains that it has been missing ever since you were here for dinner.
Your Loving Son
Anthony
Several days later, Anthony received a response email from his MaMa which read:
Dear son,
I'm not saying that you "do" sleep with Maria, and I'm not saying that you "do not" sleep with her.
But the fact remains that if she was sleeping in her OWN bed, she would have found the sugar bowl by now.
Your Loving MaMa
Moral:
Never Bulla Shita you MaMa
June 19, 2014
Redneck Hospitality
Submitted By: Swine Flew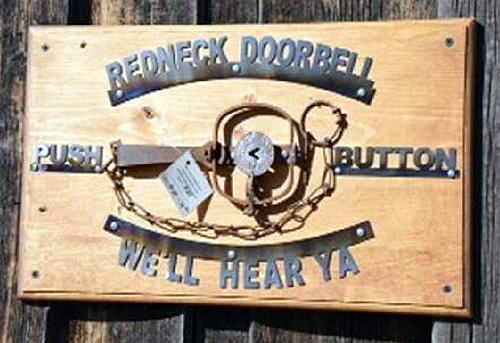 June 17, 2014
Rednecks
Stolen From: Page One PIG
Two good ol' boys in a Tennessee trailer park were sitting around talking one afternoon over a cold beer after getting off work at the Local Nissan plant.

After a while the 1st guy says to the 2nd, "If'n I was to sneak over to your trailer Saturday and make love to your wife while you was off huntin' and she got pregnant and had a baby, would that make us kin?"

The 2nd guy crooked his head sideways for a minute, scratched his head, and squinted his eyes thinking real hard about the question. Finally, he says, "Well, I don't know about kin, but it would make us even!"'
June 15, 2014
Little Johnny's PIGish Palette
Submitted By: Color Me Bad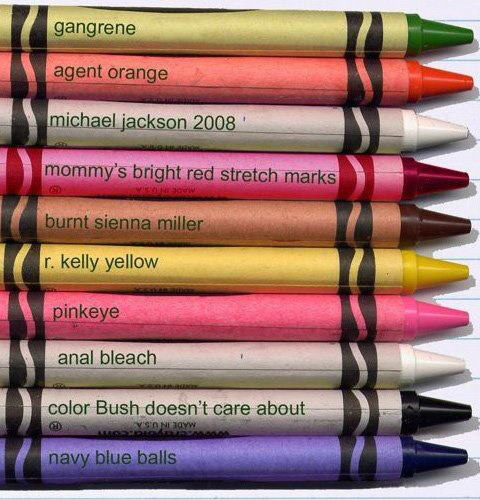 June 14, 2014
Bananas
Submitted By: Lone Star
Gwen was one of those UGLY women that she never had a boyfriend. So she went to a psychic for help.
Honey! - said the psychic. You will not have luck in love in this life.
But after death, you will be a much desired woman and all men will fall at your feet.
Gwen left very happy and so excited, as she went over a bridge she thought:
"The sooner I die, the sooner my next life begins" She decided to jump off the bridge right away.
But, incredibly Gwen didn't die!
She fell on the back of a truck full of bananas; she lost her senses and fainted. As soon as she recovered, still drowsy and not being able to see very well, and not knowing where she was, and thinking she'd died, she started touching her surroundings, feeling all the bananas she mumbled with a huge smile on her face and said:
"GENTLEMEN, PLEASE!,… ONE AT A TIME!"
June 13, 2014
Passings
Submitted By: Some Pop Tart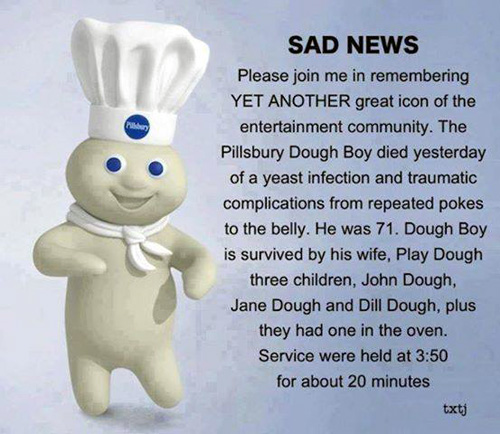 June 12, 2014
Getting A Hair Dryer Through Customs
Submitted By: Lone Star
In parochial school students are taught that lying is a sin. However, instructors also advised that using a bit of imagination was OK to express the truth differently without lying. Below is a perfect example of those teachings:
An attractive young woman on a flight from Ireland asked the Priest beside her, 'Father, may I ask a favor?'
'Of course child. What may I do for you?'
'Well, I bought my mother an expensive hair dryer for her birthday. It is unopened but well over the Customs limits and I'm afraid they'll confiscate it. Is there any way you could carry it through customs for me? Hide it under your robes perhaps?'
'I would love to help you, dear, but I must warn you, I will not lie.'
'With your honest face, Father, no one will question you.'
When they got to Customs, she let the priest go first. The official asked, 'Father, do you have anything to declare?'
'From the top of my head down to my waist I have nothing to declare.'
The official thought this answer strange, so asked, 'And what do you have to declare from your waist to the floor?'
'I have a marvelous instrument designed to be used on a woman, but which is, to date, unused.'
Roaring with laughter, the official said, 'Go ahead, Father. Next please!'
June 11, 2014
Primers
Stolen From: Little Johnny's Library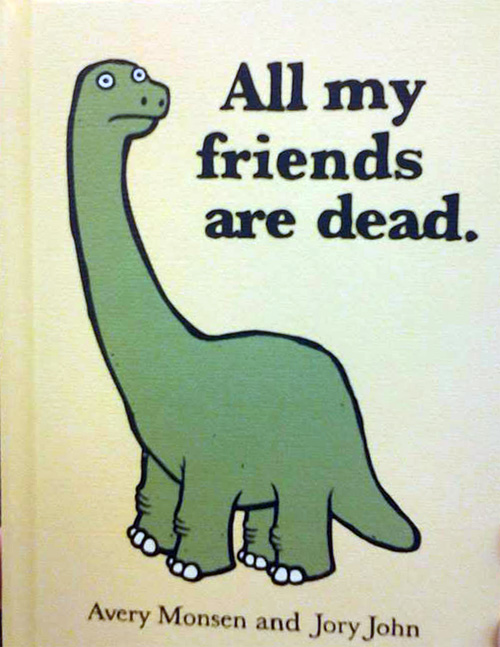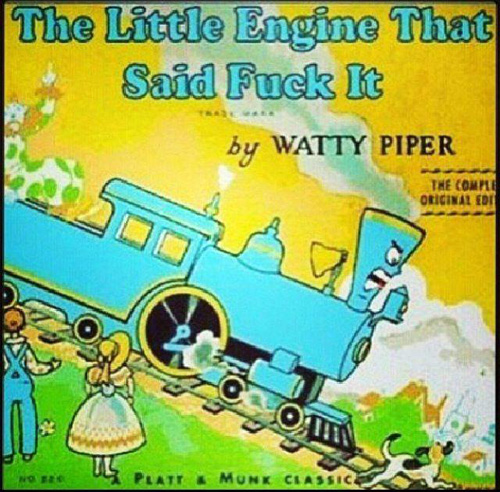 June 10, 2014
Dogs vs. Wives
Stolen From: Page One PIG
Sixteen Logical Reasons Why Some Men Have Dogs And Not Wives:
1. The later you are, the more excited your dog is to see you.

2. Dogs don't notice if you call them by another dog's name.

3. Dogs like it if you leave lots of things on the floor.

4. Dogs' parents never visit.

5. Dogs agree that you have to raise your voice to get your point across.

6. You never have to wait for a dog; they're ready to go, instantly, 24 hours a day.

7. Dogs find you amusing when you're pissed.

8. Dogs like to go hunting and fishing.

9. Dogs won't wake you up at night to ask: "If I died, would you get another dog?"

10. If a dog has babies, you can put an ad in the paper and sell them.

11. When you drop a silent one, dogs don't run around frantically with room spray.

13. Dogs never tell you to stop scratching your balls. Instead, they sit pondering why you don't lick them.

14. Dogs will let you put a studded collar on, without calling you a pervert.

15. If a dog smells another dog on you, it won't kick you in the crotch; it just finds it interesting.
And last, but not least:
16. If a dog runs off and leaves you, it won't take half your stuff.
To verify these statements: Lock your wife and your dog in the garage for an hour. Then open the door, and observe who's happy to see you!
June 09, 2014
Pilots
Submitted By: Some PIGster
During a commercial airline flight a retired Pilot was seated next to a young mother with a babe in arms.
When the baby began crying during the descent for landing, the mother
began nursing the infant as discreetly as possible.
The Pilot pretended not to notice and, upon disembarking, he gallantly
offered his assistance to help with the various baby-related items.
When the young mother expressed her gratitude, the pilot responded,
"Gosh, that's a good looking baby...and he sure was hungry!"
Somewhat embarrassed, the mother explained that her pediatrician said
that the time spent on the breast would help alleviate the pressure in the baby's ears.
The ex-Pilot sadly shook his head, and in true pilot fashion exclaimed:
"And all these years......We've been chewing gum."
June 05, 2014
Ammo
Submitted By: Swine Flew
You may have heard on the news about a Southern California man who was put under 72-hour psychiatric observation when it was found he owned 100 guns and allegedly had 100,000 rounds of ammunition stored in his home. The house also featured a secret escape tunnel.

By Southern California standards, someone owning 100,000 rounds is considered "mentally unstable."
In Michigan, he'd be called "The last white guy still living in Detroit."

In Arizona, he'd be called "an avid gun collector."

In Arkansas, he'd be called "a novice gun collector."

In Utah, he'd be called "moderately well prepared," but they'd probably reserve judgment until they made sure that he had a corresponding quantity of stored food."

In Kansas, he'd be "A guy down the road you would want to have for a friend."

In Montana, he'd be called "The neighborhood 'Go-To' guy."

In Alabama, he'd be called "a likely gubernatorial candidate."

In Georgia, he'd be called "an eligible bachelor."

In North Carolina, Virginia, Mississippi, Tennessee, Kentucky and South Carolina he would be called "a deer hunting buddy."
And in Texas he'd just be"Bubba, who's a little short on ammo."
June 04, 2014
Lawyer's Donation
Stolen From: Page One PIG
If you think lawyers don't have hearts, read the best lawyer story of all time.

The United Way realized that it had never received a donation from the city's most successful lawyer. So a United Way volunteer paid the lawyer a visit in his lavish office.

The volunteer opened the meeting by saying,'Our research shows that even though your annual income is over two million dollars, you don't give a penny to charity. Wouldn't you like to give something back to your community through the United Way?'

The lawyer thinks for a minute and says,'First, did your research also show you that my mother is dying after a long, painful illness and she has huge medical bills that are far beyond her ability to pay?'

Embarrassed, the United Way rep mumbles, 'Uh... No, I didn't know that.'

'Secondly,' says the lawyer, 'did it show that my brother, a disabled veteran, is blind and confined to a wheelchair and is unable to support his wife and six children?'

The stricken United Way rep begins to stammer an apology, but is cut off again.

'Thirdly, did your research also show you that my sister's husband died in a dreadful car accident, leaving her penniless with a mortgage and three children, one of whom is disabled and another that has learning disabilities requiring an array of private tutors?'

The humiliated United Way rep, completely beaten, says, 'I'm so sorry. I had no idea.'

And the lawyer says, 'So, if I didn't give any money to them, what makes you think I'd give any to you?'
June 03, 2014
Craigs List Ad
Stolen From: AR-15

June 02, 2014
Weekly Schedule
Submitted By: Our Human Resources Department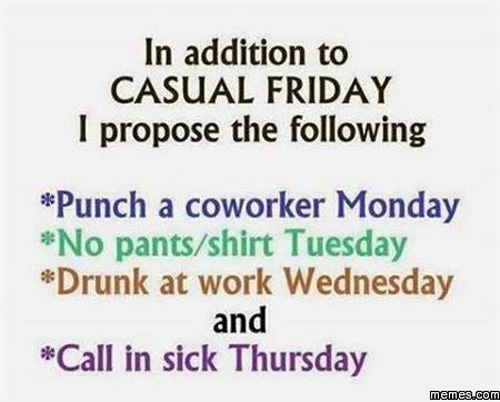 June 01, 2014
Questions
Stolen From: Page One PIG
Why isn't the number 11 pronounced onety-one?
If 4 out of 5 people SUFFER from diarrhea... does that mean that one out of five enjoys it?
Why do croutons come in airtight packages? Aren't they just stale bread to begin with?
If people from Poland are called Poles, then why aren't people from Holland called Holes?
If a pig loses its voice, is it disgruntled?
Why is a person who plays the piano called a pianist, but a person who drives a race car is not called a racist?
If it's true that we are here to help others, then what exactly are the others here for?
If lawyers are disbarred and clergymen defrocked, then doesn't it follow that electricians can be delighted, musicians denoted, cowboys deranged, models deposed, tree surgeons debarked, and dry cleaners depressed?
Do Lipton Tea employees take 'coffee breaks?'
Why do they put pictures of criminals up in the Post Office? What are we supposed to do, write to them? Why don't they just put their pictures on the postage stamps so the mailmen can look for them while they deliver the mail?
May 31, 2014
I Forgot My Glasses
Submitted By: Swine Flew
Yesterday my daughter again asked why I didn't do something useful with my time in retirement.
Talking about my "doing something useful" seemed to be her favorite topic of conversation in many of our conversations. She was "only thinking of me" and suggested I go down to the senior center and hang out with the guys.
I did this and when I got home last night I decided to teach her a lesson about staying out of my business. I told her that I had joined a parachute club.
She said, "Are you nuts? You're 75 years old and you're going to start jumping out of airplanes?"
I proudly showed her that I even got a membership card. She said to me, "Good grief, where are your glasses! This is a membership to a Prostitute Club, not a Parachute Club."
I told her, "I'm in trouble again, and I don't know what to do... I signed up for five jumps a week." She fainted. Life as a senior citizen is not getting any easier but sometimes it really can be fun...
May 27, 2014
Elder Banking
Submitted By: Some PIGster

Shown below, is an actual letter that was sent to a bank by an 86 year old woman.

The bank manager thought it amusing enough to have it published in the New York Times.

Dear Sir:
I am writing to thank you for bouncing my check with which I endeavored to pay my plumber last month.

By my calculations, three nanoseconds must have elapsed between his presenting the check and the arrival in my account of the funds needed to honor it.

I refer, of course, to the automatic monthly deposit of my entire pension, an arrangement which, I admit, has been in place for only eight years.

You are to be commended for seizing that brief window of opportunity, and also for debiting my account $30 by way of penalty for the inconvenience caused to your bank.

My thankfulness springs from the manner in which this incident has caused me to rethink my errant financial ways. I noticed that whereas I personally answer your telephone calls and letters, --- when I try to contact you, I am confronted by the impersonal, overcharging, pre-recorded, faceless entity which your bank has become.

From now on, I, like you, choose only to deal with a flesh-and-blood person.

My mortgage and loan repayments will therefore and hereafter no longer be automatic, but will arrive at your bank, by check, addressed personally and confidentially to an employee at your bank whom you must nominate.

Be aware that it is an OFFENSE under the Postal Act for any other person to open such an envelope.

Please find attached an Application Contact which I require your chosen employee to complete.

I am sorry it runs to eight pages, but in order that I know as much about him or her as your bank knows about me, there is no alternative.

Please note that all copies of his or her medical history must be countersigned by a Notary Public, and the mandatory details of his/her financial situation (income, debts, assets and liabilities) must be accompanied by documented proof.

In due course, at MY convenience, I will issue your employee with a PIN number which he/she must quote in dealings with me.

I regret that it cannot be shorter than 28 digits but, again, I have modeled it on the number of button presses required of me to access my account balance on your phone bank service.

As they say, imitation is the sincerest form of flattery.

Let me level the playing field even further.

When you call me, press buttons as follows:

IMMEDIATELY AFTER DIALING, PRESS THE STAR (*) BUTTON FOR ENGLISH

#1. To make an appointment to see me

#2. To query a missing payment.

#3. To transfer the call to my living room in case I am there.

#4 To transfer the call to my bedroom in case I am sleeping.

#5. To transfer the call to my toilet in case I am attending to nature.

#6. To transfer the call to my mobile phone if I am not at home.

#7. To leave a message on my computer, a password to access my computer is required.

Password will be communicated to you at a later date to that Authorized Contact mentioned earlier.

#8. To return to the main menu and to listen to options 1 through

#9. To make a general complaint or inquiry.

The contact will then be put on hold, pending the attention of my automated answering service.

#10. This is a second reminder to press* for English.

While this may, on occasion, involve a lengthy wait, uplifting music will play for the duration of the call.

Regrettably, but again following your example, I must also levy an establishment fee to cover the setting up of this new arrangement.

May I wish you a happy, if ever so slightly less prosperous New Year?

Your Humble Client
May 26, 2014
The Baptsist Cowboy
Submitted By: Some PIGster
A cowboy, who just moved to Wyoming from Texas, walks into a bar and orders three mugs of Bud. He sits in the back of the room, drinking a sip out of each one in turn. When he finishes them, he comes back to the bar and orders three more.
The bartender approaches and tells the cowboy, "You know, a mug goes flat after I draw it. It would taste better if you bought one at a time."
The cowboy replies, "Well, you see, I have two brothers. One is in Arizona, the other is in Colorado. When we all left our home in Texas, we promised that we'd drink this way to remember the days when we drank together. So I'm drinking one beer for each of my brothers and one for myself."
The bartender admits that this is a nice custom, and leaves it there.
The cowboy becomes a regular in the bar, and always drinks the same way.
He orders three mugs and drinks them in turn.
One day, he comes in and only orders two mugs. All the regulars take notice and fall silent. When he comes back to the bar for the second round, the bartender says, "I don't want to intrude on your grief, but I wanted to offer my condolences on your loss."
The cowboy looks quite puzzled for a moment, then a light dawns in his eyes and he laughs.
"Oh, no, everybody's just fine," he explains. "It's just that my wife and I joined the Baptist Church and I had to quit drinking."
"Hasn't affected my brothers, though."
May 25, 2014
Math
Stolen From Cyberspace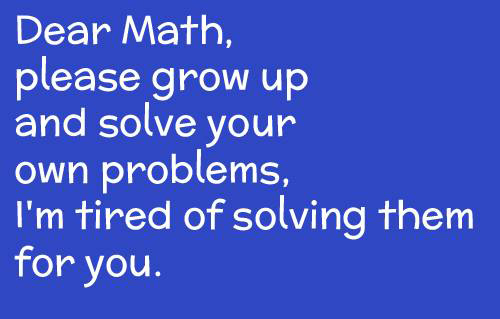 May 24, 2014
Donuts
Stolen From Page One PIG
The definition of the word Conundrum is something that is puzzling or confusing.
Here are six Conundrums of socialism in the United States of America:
1. America is capitalist and greedy - yet half of the population is subsidized.
2. Half of the population is subsidized - yet they think they are victims.
3. They think they are victims - yet their representatives run the government.
4. Their representatives run the government - yet the poor keep getting poorer.
5. The poor keep getting poorer - yet they have things that people in other countries only dream about.
6. They have things that people in other countries only dream about - yet they want America to be more like those other countries.
Think about it! And that, my friends, pretty much sums up the USA in the 21st Century.
Makes you wonder who is doing the math.
These three, short sentences tell you a lot about the direction of our current government and cultural environment:
1. We are advised to NOT judge ALL Muslims by the actions of a few lunatics, but we are encouraged to judge ALL gun owners by the actions of a few lunatics. Funny how that works.
And here's another one worth considering...
2. Seems we constantly hear about how Social Security is going to run out of money. How come we never hear about welfare or food stamps running out of money? What's interesting is the first group "worked for" their money, but the second didn't. Think about it.
...and Last but not least,
3. Why are we cutting benefits for our veterans, no pay raises for our military and cutting our army to a level lower than before WWII, but we are not stopping the payments or benefits to illegal aliens.
Am I the only one missing something?
May 19, 2014
Donuts
Subitted by: Lone Star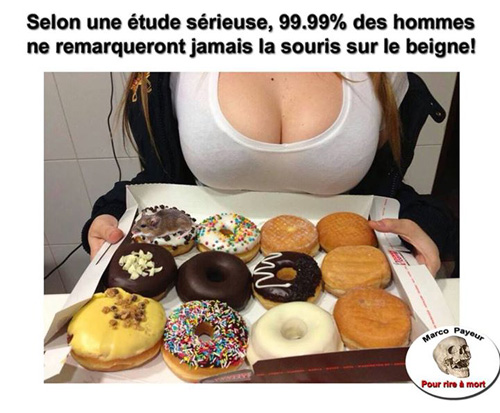 Translation:
"According to a serious survey 99.9% of males looking at this picture won't notice the mouse on the donut !"
May 16, 2014
Salty Snippets
1. A pregnant woman in labor is screaming profanity at her husband from her hospital bed. He says, "Hey, don't blame me, I wanted to stick it in your ass but NOOO, you said that might hurt!"
2. I spent $5,000 on a boob job for the wife. She was delighted. I spent another $2,000 on a nose job for her. She was ecstatic. I spent $2,000 on liposuction for her and she couldn't thank me enough! But I spend 50 bucks on a blowjob for myself and she goes fucking nuts! Women, I can't figure them out!
3. A mother in law said to her son's wife when their baby was born: "I don't mean to be rude but he doesn't look anything like my son." The daughter-in-law lifted her skirt and said: "I don't mean to be rude either, but this is a pussy ... not a fucking photo-copier."
4. Little kid catches his mom and dad having sex. He says, "What are you doing?" His father says, "We are making you a little brother." The boy answers, "Why don't you do it doggy style, and make me a puppy!"
5. "I'm fed up with the excuses women come up with to avoid having sex, like; "I'm tired, I'm washing my hair, I've got a headache, I'm your sister in law..."
6. Dear Dr Phil, I was watching my next door neighbor's wife sunbathing topless from my bedroom window. As I was jerking off I turned to notice my wife was just standing there, arms folded...watching me. Is she a pervert or what?

May 14, 2014
Inkorrect Images
Submitted by: PIGster Prime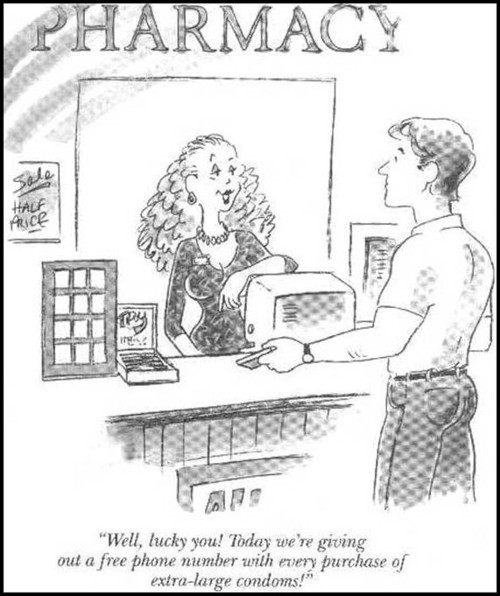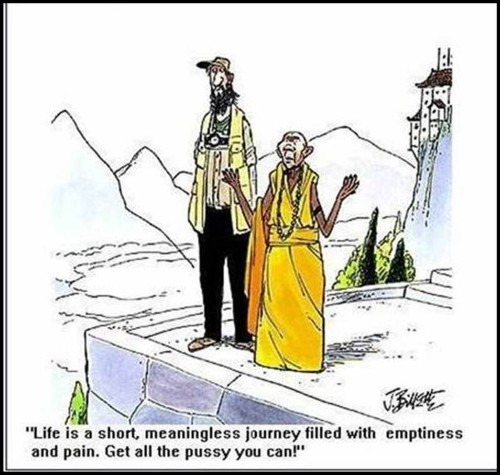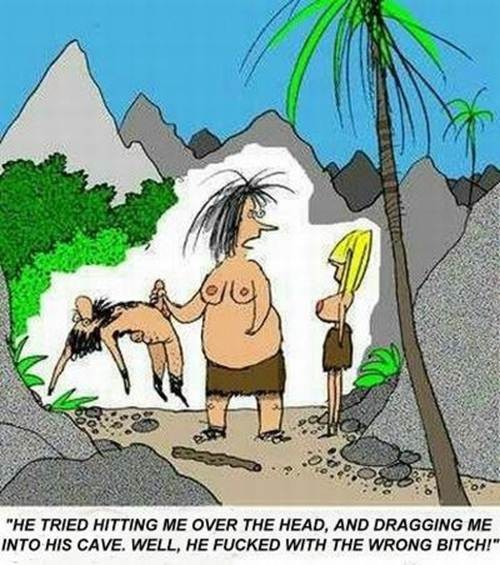 May 03, 2014
Paranormal Studies Class
Submitted By: PIGster GM
A university professor was giving a lecture on Paranormal Studies. To get a feel for his audience, he asks, "How many people here believe in ghosts?"
About 90 students raise their hands.

"Well, that's a good start. Out of those who believe in ghosts, do any of you think you have seen a ghost?"
About 40 students raise their hands.
"That's really good. I'm really glad you take this seriously. Has anyone here ever talked to a ghost?"
About 15 students raise their hand.
"Has anyone here ever touched a ghost?"
Three students raise their hands.
"That's fantastic. Now let me ask you one question further...Have any of you ever made love to a ghost?"
Way in the back, Achmed raises his hand.
The professor takes off his glasses and says, "Son, all the years I've been giving this lecture, no one has ever claimed to have made love to a ghost. You've got to come up here and tell us about your experience."
The Muslim student replied with a nod and a grin, and began to make his way up to the podium. When he reached the front of the room, the professor asks, "So, Achmed, tell us what it's like to have sex with a ghost?"
Ahmed replied, "Ghost? From way back there I thought you said goats."
May 01, 2014
Asparagus
Stolen From: Page One PIG
A sixth grade child was asked to write a book report on the entire Bible. Here is what he wrote:
The Children's Bible in a Nutshell
In the beginning, which occurred near the start, there was nothing but God, darkness, and some gas. The Bible says,"The Lord thy God is one," but I think He must be a lot older than that.
Anyway, God said, "Give me a light!" and someone did. Then God made the world.
He split the Adam and made Eve. Adam and Eve were naked, but they weren't embarrassed because mirrors hadn't been invented yet.
Adam and Eve disobeyed God by eating one bad apple, so they were driven from the Garden of Eden ... Not sure what they were driven in though, because they didn't have cars.
Adam and Eve had a son, Cain, who hated his brother as long as he was Abel. Pretty soon all of the early people died off, except for Methuselah, who lived to be like a million or something.
One of the next important people was Noah, who was a good guy, but one of his kids was kind of a Ham. Noah built a large boat and put his family and some animals on it. He asked some other people to join him, but they said they would have to take a rain check.
After Noah came Abraham, Isaac, and Jacob. Jacob was more famous than his brother, Esau, because Esau sold Jacob his birthmark in exchange for some pot roast. Jacob had a son named Joseph who wore a really loud sports coat.
Another important Bible guy is Moses, whose real name was Charlton Heston. Moses led the Israel Lights out of Egypt and away from the evil Pharaoh after God sent ten plagues on Pharaoh's people. These plagues included frogs, mice, lice, bowels, and no cable.
God fed the Israel Lights every day with manicotti. Then he gave them His Top Ten Commandments. These include: don't lie, cheat, smoke, dance, or covet your neighbor's stuff.
Oh, yeah, I just thought of one more: Humor thy father and thy mother.
One of Moses' best helpers was Joshua who was the first Bible guy to use spies. Joshua fought the battle of Geritol and the fence fell over on the town.
After Joshua came David. He got to be king by killing a giant with a slingshot. He had a son named Solomon who had about 300 wives and 500 porcupines. My teacher says he was wise, but that doesn't sound very wise to me.
After Solomon there were a bunch of major league prophets. One of these was Jonah, who was swallowed by a big whale and then barfed up on the shore.
There were also some minor league prophets, but I guess we don't have to worry about them.
After the Old Testament came the New Testament. Jesus is the star of The New Testament. He was born in Bethlehem in a barn. (I wish I had been born in a barn too, because my mom is always saying to me, "Close the door! Were you born in a barn?" It would be nice to say, ''As a matter of fact, I was.'')
During His life, Jesus had many arguments with sinners like the Pharisees and the Politicians. Jesus also had twelve opossums. The worst one was Judas Asparagus. Judas was so evil that they named a terrible vegetable after him.
Jesus was a great man. He healed many leopards and even preached to some Germans on the Mount. But the Politicians and all those guys put Jesus on trial before Pontius the Pilot. Pilot didn't stick up for Jesus. He just washed his hands instead.
Anyways, Jesus died for our sins, then came back to life again. He went up to Heaven but will be back at the end of the Aluminum. His return is foretold in the book of Revolution.
>>>>>>>>>>>>>>>>>>