February 24, 2015
Two Friends In Heaven
Stolen From: Page One PIG
SYLVIA: Hi! Wanda.
WANDA: Hi! Sylvia. How'd you die?
SYLVIA: I froze to death.
WANDA: How horrible!
SYLVIA: It wasn't so bad. After I quit shaking from the cold, I began to get warm & sleepy, and finally died a peaceful death. What about you?
WANDA: I died of a massive heart attack. I suspected that my husband was cheating, so I came home early to catch him in the act. But instead, I found him all by himself in the den watching TV.
SYLVIA: So, what happened?
WANDA: I was so sure there was another woman there somewhere that I started running all over the house looking. I ran up into the attic and searched, and down into the basement. Then I went through every closet and checked under all the beds. I kept this up until I had looked everywhere, and finally I became so exhausted that I just keeled over with a heart attack and died.
SYLVIA: Too bad you didn't look in the freezer --- we'd both still be alive.
February 21, 2015
Bent Over
Lifted From: Cyberspace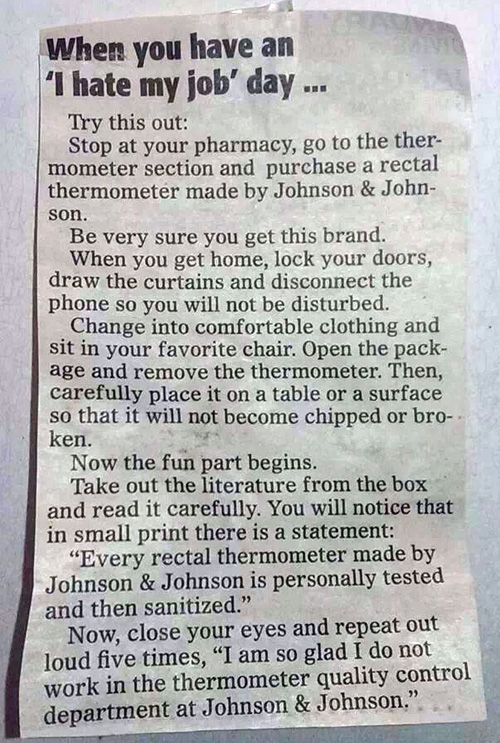 February 18, 2015

Irish Fun
Posted By: Paddy O'Publisher

• Definition of an Irish husband: He hasn't kissed his wife for twenty years, but he will clobber any man who does.

• Murphy told Quinn that his wife was driving him to drink. Quinn thinks he's very lucky because his own wife makes him walk.

• The late Bishop Sheen stated that the reason the Irish fight so often among themselves is that they're always assured of having a worthy opponent.

• An American lawyer asked, "Paddy, why is it that whenever you ask an Irishman a question, he answers with another question?" "Who told you that?" asked Paddy.

• Question - Why are Irish jokes so simple?
Answer - So the English can understand them.

• Reilly went to trial for armed robbery. The jury foreman came out and announced, "Not guilty."
"That's grand!" shouted Reilly. "Does that mean I can keep the money?"

• Irish lass customer: "Could I be trying on that dress in the window?"
Shopkeeper: "I'd prefer that you use the dressing room."

• Mrs. Feeney shouted from the kitchen, "Is that you I hear spittin' in the vase on the mantle piece?"
"No," said himself, "but I'm gettin' closer all the time."

• Question – What do you call an Irishman who knows how to control a wife?
Answer – A bachelor.

• Finnegan: My wife has a terrible habit of staying up 'til two o'clock in the morning. I can't break her of it.

Keenan: What on earth is she doin' at that time?

Finnegan: Waitin' for me to come home.

• Slaney phoned the maternity ward at the hospital. "Quick!" he said. "Send an ambulance, my wife is goin' to have a baby!"

"Tell me, is this her first baby?" the intern asked.

"No, this is her husband, Kevin, speakin'."

• "O'Ryan," asked the druggist, "Did that mudpack I gave you improve your wife's appearance?"

"It did surely," replied O'Ryan, "but it keeps fallin' off!"

• My mother wanted me to be a priest. Can you imagine having to give up your sex life and then once a week people come in to tell you the details and highlights of theirs?

February 17, 2015

Why Carry A Gun?
Stolen From: Page One PIG

My old Grandpa said to me, 'Son, there comes a time in every man's life when he stops bustin' knuckles and starts bustin' caps and usually it's when he becomes too old to take an ass whoopin'.'

I don't carry a gun to kill people; I carry a gun to keep from being killed.

I don't carry a gun to scare people; I carry a gun because sometimes this world can be a scary place.

I don't carry a gun because I'm paranoid; I carry a gun because there are real threats in the world.

I don't carry a gun because I'm evil; I carry a gun because I have lived long enough to see the evil in the world.

I don't carry a gun because I hate the government; I carry a gun because I understand the limitations of government.

I don't carry a gun because I'm angry; I carry a gun so that I don't have to spend the rest of my life hating myself for failing to be prepared.

I don't carry a gun because I want to shoot someone; I carry a gun because I want to die at a ripe old age in my bed and not on a sidewalk somewhere tomorrow afternoon.

I don't carry a gun because I'm a cowboy; I carry a gun because, when I die and go to Heaven, I want to be a cowboy.

I don't carry a gun to make me feel like a man; I carry a gun because men know how to take care of themselves and the ones they love.

I don't carry a gun because I feel inadequate; I carry a gun because unarmed and facing three armed thugs, I am inadequate.

I don't carry a gun because I love it; I carry a gun because I love life and the people who make it meaningful to me.

Police protection is an oxymoron: Free citizens must protect themselves because police do not protect you from crime; they just investigate the crime after it happens and then call someone in to clean up the mess.

Personally, I carry a gun because I'm too young to die and too old to take an ass whoopin'!

February 16, 2015

Self-Examination For Alzheimer's Disease
Submitted By: PIGster GM

It takes less than 15 seconds..

If you are over 45 yrs old, you SHOULD take this Alzheimer's Test. How fast can you guess these words and fill-in the blanks?
1. _ _NDOM

2. F_ _K

3. P_N_S

4. PU_S_

5. S_X

6. BOO_S

Answers:

1. RANDOM
2. FORK
3. PANTS
4. PULSE
5. SIX
6. BOOKS

You got all 6 wrong....didn't you?

Congratulations. You do NOT have Alzheimer's

You are a pervert

February 15, 2015

Good News/Bad News
Stolen From: Page One PIG

A lawyer says to a wealthy art collector tycoon, "I have some good news and I have some bad news."

The tycoon replies, "I've had an awful day, so let's hear the good news first."

The lawyer says, "Your wife invested $5,000 in two pictures today that she figures are worth a minimum of $20 million."

The tycoon replies enthusiastically, "Well done! Very good news indeed! You've just made my whole day – what could possibly be the bad news?"

Lawyer: "The pictures are of you banging your secretary."

February 14, 2015

Types Of Sex
Stolen From: Page One PIG

PENSION SEX
Two men were talking. 'So, how's your sex life?'
'Oh, nothing special. I'm having Pension sex.'
'Pension sex?'
'Yeah, you know; I get a little each month, but not enough to live on!'

LOUD SEX
A wife went in to see a therapist and said, 'I've got a big problem, doctor. Every time we're in bed and my husband climaxes, he lets out this ear splitting yell.'

My dear,' the shrink said, 'that's completely natural. I don't see what the problem is.'

'The problem is,' she complained, 'it wakes me up!'

QUIET SEX
Tired of a listless sex life, the man came right out and asked his wife during a recent lovemaking session, 'How come you never tell me when you have an orgasm?' She glanced at him and replied, 'You're never home!'

CONFOUNDED SEX
A man was in a terrible accident, and his 'manhood' was mangled and torn from his body. His doctor assured him that modern medicine could give him back his manhood, but that his insurance wouldn't cover the surgery since it was considered cosmetic. The doctor said the cost would be $3,500 for 'small', $6,500 for 'medium', and $14,000 for 'large.'

The man was sure he would want a medium or large, but the doctor urged him to talk it over with his wife before he made any decision. The man called his wife on the phone and explained their options. The doctor came back into the room, and found the man looking dejected.

'Well, what have the two of you decided?' asked the doctor. 'She'd rather remodel the kitchen.'

WEDDING ANNIVERSARY SEX
A husband and his wife had a bitter quarrel on the day of their 40th wedding anniversary The husband yelled, 'When you die, I'm getting You a headstone that reads: 'Here Lies My Wife – Cold As Ever'.'


Yeah,' she replies, 'when you die, I'm getting you a headstone that reads:

'Here Lies My Husband – Stiff At Last.' '

WOMEN'S HUMOROUS SEX
My husband came home with a tube of KY jelly and said, 'This will make you happy tonight.' He was right. When he went out of the bedroom, I squirted it all over the doorknobs. He couldn't get back in.

ELDERLY SEX
One night, an 87 year-old woman came home from Bingo and found her 92 year-old husband in bed with another woman. She became violent and ended up pushing him off the balcony of their 20th floor, assisted living apartment, killing him instantly.

Brought before the court on the charge of murder. The judge asked her if she had anything to say in her defense. She began coolly, 'Yes, your honor. I figured that at 92, if he could have sex... he could also fly.'

February 09, 2015

The Hollywood Squares Revisited
Stolen From: Page One PIG

These great questions and answers are from the days when Hollywood Squares' game show responses were spontaneous, not scripted, as they are now!

Q. Paul, what is a good reason for pounding meat?
A. Paul Lynde: Loneliness!
(The audience laughed so long and so hard it took up almost 15 minutes of the show!)

Q. Do female frogs croak?
A. Paul Lynde: If you hold their little heads under water long enough.

Q. If you're going to make a parachute jump, at least how high should you be?
A. Charley Weaver: Three days of steady drinking should do it.

Q. True or False, a pea can last as long as 5,000 years?
A. George Gobel: Boy, it sure seems that way sometimes.

Q. You've been having trouble going to sleep. Are you probably a man or a woman?
A. Don Knotts: That's what's been keeping me awake.

Q. According to Cosmopolitan, if you meet a stranger at a party and you think that he is attractive, is it okay to come out and ask him if he's married?
A. Rose Marie: No wait until morning.

Q. Which of your five senses tends to diminish as you get older?
A. Charley Weaver: My sense of decency.

Q. What are 'Do It,' 'I Can Help,' and 'I Can't Get Enough'?
A. George Gobel: I don't know, but it's coming from the next apartment.

Q. As you grow older, do you tend to gesture more or less with your hands while talking?
A. Rose Marie: You ask me one more growing old question Peter, and I'll give you a gesture you'll never forget.

Q. Paul, why do Hell's Angels wear leather?
A. Paul Lynde: Because chiffon wrinkles too easily.

Q. Charley, you've just decided to grow strawberries. Are you going to get any during the first year?
A. Charley Weaver: Of course not, I'm too busy growing strawberries.

Q. In bowling, what's a perfect score?
A. Rose Marie: Ralph, the pin boy.

Q. During a tornado, are you safer in the bedroom or in the closet?
A. Rose Marie: Unfortunately Peter, I'm always safe in the bedroom.

Q. Can boys join the Camp Fire Girls?
A. Marty Allen: Only after lights out.

Q. When you pat a dog on its head he will wag his tail. What will a goose do?
A. Paul Lynde: Make him bark?

Q. If you were pregnant for two years, what would you give birth to?
A. Paul Lynde: Whatever it is, it would never be afraid of the dark.

Q. According to Ann Landers, is there anything wrong with getting into the habit of kissing a lot of people?
A. Charley Weaver: It got me out of the army.

Q. Back in the old days, when Great Grandpa put horseradish on his head, what was he trying to do?
A. George Gobel: Get it in his mouth.

Q. Who stays pregnant for a longer period of time, your wife or your elephant?
A. Paul Lynde: Who told you about my elephant?

Q. Jackie Gleason recently revealed that he firmly believes in them and has actually seen them on at least two occasions. What are they?
A. Charley Weaver: His feet.

Q. According to Ann Landers, what are two things you should never do in bed?
A. Paul Lynde: Point and laugh.

February 08, 2015

The Ski Trip
Posted By: K-2

Three guys go to a ski lodge, and there aren't enough rooms, so they have to share a bed.

In the middle of the night, the guy on the right wakes up and says, "I had this wild, vivid dream of getting a hand job!"

The guy on the left wakes up, and unbelievably, he's had the same dream, too.

Then the guy in the middle wakes up and says, "That's funny, I dreamed I was skiing!"

February 07, 2015

Random Thoughts
Stolen From: Page One PIG

Wouldn't it be great if we could put ourselves in the dryer for ten minutes, come out wrinkle-free and three sizes smaller?

Last year I joined a support group for procrastinators. We haven't met yet...

I don't trip over things, I do random gravity checks!

I don't need anger management. I need people to stop pissing me off!

Old age is coming at a really bad time!

When I was a child I thought Nap Time was a punishment... now, as a grown up, it just feels like a small vacation!

My people skills are just fine. It's my tolerance to idiots that needs work.

Teach your daughter how to shoot, because a restraining order is just a piece of paper.

The kids text me "plz" which is shorter than please. I text back "no" which is shorter than "yes".

I'm going to retire and live off of my savings. Not sure what I'll do that second week.

When did it change from "We the people" to "screw the people"?

I've lost my mind and I'm pretty sure my wife took it!

Even duct tape can't fix stupid... but it can muffle the sound!

Why do I have to press one for English when you're just gonna transfer me to someone I can't understand anyway?

Of course I talk to myself, sometimes I need expert advice.

Oops! Did I roll my eyes out loud?

At my age "Getting lucky" means walking into a room and remembering what I came in there for.

February 06, 2015

The Old Blind Cowboy
Stolen From: WTF Magazine

An old blind cowboy wanders into an all-girl biker bar bar by mistake. He fings his way to a bar stooland orders a Jack Daniels.

After sitting there a while, he yells to the bartender, 'Hey, you wanna hear a blonde joke?'

The bartender immediately falls silent.

In a very deep, husky voice, the woman next to him says, 'Before you tell that joke, Cowboy, I think it is only fair, given that you are blind, that you shouls know 5 things:

1. The bartender is a blonde girl with a baseball bat.

2. The bouncer is a blonde girl with a billy-club.

3. I'm a 6-foot tall, 175 lb. blonde woman with a black belt in Karate.

4. The woman sitting next to me is blonde and a professional weightlifter.

5. The lady to your right is blonde and a professional wrestler.

'Now, think about it seriously, Cowboy. Do you still wanna tell that blonde joke?'

The blind cowboy thinks for a second, shakes his head and mutter, .No…not if I'm gonna have to explain it five times…'

February 04, 2015

Jewish Comedians
Posted By: Some Gentile

Those fabulous Jewish Comedians – You may remember the old Jewish Catskill comics of Vaudeville days: Shecky Greene, Red Buttons, Totie Fields, Joey Bishop, Milton Berle, Jan Murray, Danny Kaye, Henny Youngman, Buddy Hackett, Sid Caesar, Groucho Marx, Jackie Mason, Victor Borge, Woody Allen, George Burns, Allan Sherman, Jerry Lewis, Peter Sellers, Carl Reiner, Gene Wilder, George Jessel, Alan King, Mel Brooks, Phil Silvers, Jack Carter, Rodney Dangerfield, Don Rickles, Jack Benny, Mansel Rubenstein and so many others.

And there was not one single swear word in their comedy. Here are a few examples:

* I just got back from a pleasure trip. I took my mother-in-law to the airport.

* I've been in love with the same woman for 49 years! If my wife ever finds out, she'll kill me!

* Someone stole all my credit cards but I won't be reporting it. The thief spends less than my wife did.

* We always hold hands. If I let go, she shops.

* She was at the beauty shop for two hours. That was only for the estimate. She got a mud pack and looked great for two days. Then the mud fell off.

* The Doctor gave a man six months to live. The man couldn't pay his bill so the doctor gave him another six months.

* The Doctor called Mrs. Cohen saying, "Mrs. Cohen, your check came back.

" Mrs. Cohen answered, "So did my arthritis!

* Doctor: "You'll live to be 60!" Patient: "I am 60!" Doctor: "See! What did I tell you?"

* Patient: "I have a ringing in my ears." Doctor: "Don't answer!"

* A drunk was in front of a judge. The judge says, "You've been brought here for drinking." The drunk says "Okay, let's get started."

* Why do Jewish divorces cost so much? They're worth it.

Q: Why don't Jewish mothers drink?
A: Alcohol interferes with their suffering.

Q: Why do Jewish mothers make great parole officers?
A: They never let anyone finish a sentence!

A man called his mother in Florida, "Mom, how are you?" "Not too good," said the mother. "I've been very weak." The son said, "Why are you so weak?" She said, "Because I haven't eaten in 38 days." The son said, "That's terrible. Why haven't you eaten in 38 days?" The mother answered, "Because I didn't want my mouth to be filled with food if you should call."

A Jewish boy comes home from school and tells his mother he has a part in the play. She asks, "What part is it?" The boy says, "I play the part of the Jewish husband." "The mother scowls and says, "Go back and tell the teacher you want a speaking part."


Q: How many Jewish mothers does it take to change a light bulb?
A: (Sigh) "Don't bother. I'll sit in the dark. I don't want to be a nuisance to anybody."

Short summary of every Jewish holiday:
They tried to kill us.
We won.
Let's eat.

Did you hear about the bum who walked up to a Jewish mother on the street and said, "Lady, I haven't eaten in three days." "Force yourself," she replied.

Q: What's the difference between a Rottweiler and a Jewish mother?
A: Eventually, the Rottweiler lets go.

Q: Why are Jewish men circumcised?
A: Because Jewish women don't like anything that isn't 20% off.

The Harvard School of Medicine did a study of why Jewish women like Chinese food so much. The study revealed that this is due to the fact that Won Ton spelled backward is Not Now.

There is a big controversy on the Jewish view of when life begins. In Jewish tradition, the fetus is not considered viable until it graduates from medical school.

February 02, 2015

Branded
Posted By: Your Friendly, Neighborhood Handyman

A husband is at home watching a football game when his wife interrupts, "Honey, could you fix the light in the hallway? It's been flickering for weeks now." He looks at her and says angrily, "Fix the light? Now? Does it look like a G.E. logo printed on my forehead? I don't think so."

"Well then, could you fix the fridge door? It won't close right." To which he replied, "Fix the fridge door? Does it look like I have Westinghouse written on my forehead? I don't think so."

"Fine," she says, "Then could you at least fix the steps to the front door? They're about to break."

"I'm not a damn carpenter and I don't want to fix the steps," he says. "Does it look like I have Ace Hardware written on my forehead? I don't think so. I've had enough of you. I'm going to the bar."

So he goes to the bar and drinks for a couple of hours. He starts to feel guilty about how he treated his wife, and decides to go home and help out.

As he walks into the house, he notices the steps are already fixed. As he enters the house, he see the hall light is working. As he goes to get a beer, he noticed the fridge door is fixed. "Honey, how'd this all get fixed?"

She said, "Well, when you left, I sat outside and cried. Just then a nice young man asked me what was wrong, and I told him. He offered to do all the repairs, and all I had to do was either screw him or bake a him a cake."

He said, "So what kind of cake did you bake him?"

She replied, "Helloooo… Do you see Betty Crocker written on my forehead?"

February 01, 2015

Wi-Fi'ed
Stolen From: Page One PIG

A man received the following text from his neighborI am so sorry EdI've been riddled with guilt and I have to confessI have been helping myself to your wife, day and night when you're not around. In fact, I have probably been getting more than you. I do not get it at home - but that's no excuse. I can no longer live with the guilt and I hope you will accept my sincerest apology with my promise that it won't ever happen again."

On reading the text, the man, anguished and betrayed, went directly into his bedroom, grabbed his gun and, without a word, shot his wife dead.
A few moments later, a second text came in, "Bloody spell check!! Sorry Bob, the second sentence should refer to your wifi."

January 28, 2015

The Irish Painter And The Gallery
Stolen From: Cyberspace

A couple attending an art exhibition at the National Gallery was staring at a portrait that had them totally confused. The painting depicted three black men totally naked, sitting on a park bench. Two of the men had black penises, but the one seated in the middle, had a pink penis.

The curator of the gallery realized the confused couple were having trouble with interpreting the painting and offered his assessment. He went on and on explaining how it depicted the sexual emasculation of African-Americans in a predominantly white, patriarchal society. "In fact", he pointed out, "some serious critics believe that the pink penis also reflects the cultural and sociological oppression expressed by gay men in a contemporary society".

After the curator left, an Irish man approached the couple and said, "Would you like to know what the painting is really about?"

"Now why would you claim to be more of an expert than the curator of the Gallery?", asked the couple.

"Because I'm the guy who painted it," he replied. "In fact, there is no African-American representation at all. They're just three Irish coal-miners. The guy in the middle went home for lunch."

January 27, 2015

A Twofer Tuesday
Stolen From: Page One PIG

PIGish Humor

A student who obtained 0% for his responses, as listed below, on a class exam responded to those questions with what I believe was considerable foresight. It is apparent the exam preparer did not, in my opinion, phrase the questions appropriately as to direct the student to respond with the answer he/she had in mind as the only acceptable one.

Q. In which battle did Napoleon die?
A. His last battle

Q. Where was the Declaration of Independence signed?
A. At the bottom of the page

Q. River Ravi flows in which state?
A. Liquid

Q. What is the main reason for divorce?
A. Marriage

Q. What is the main reason for failure?
A. Exams

Q. What can you never eat for breakfast?
A. Lunch & dinner

Q. What looks like half an apple?
A. The other half

Q. If you throw a red stone into the blue sea what will it become?
A. It will simply become wet

Q. How can a man go eight days without sleeping?
A. No problem, he sleeps at night

Q. How can you lift an elephant with one hand?
A. You will never find an elephant that has only one hand.

Q. If you had three apples and four oranges in one hand and four apples and three oranges in other hand, what would you have?
A. Very large hands

Q. If it took eight men ten hours to build a wall, how long would it take four men to build it?
A. No time at all, the wall is already built

Q. How can you drop a raw egg onto a concrete floor without cracking it?
A. Any way you want, concrete floors are very hard to crack.

PIGish Humor II

1. My first job was working in an Orange Juice factory, but I got canned. Couldn't concentrate.

2. Then I worked in the woods as a Lumberjack, but just couldn't hack it, so they gave me the axe.

3. After that, I tried being a Tailor, but wasn't suited for it – mainly because it was a sew-sew job.

4. Next, I tried working in a Muffler Factory, but that was too exhausting.

5. Then, tried being a Chef - figured it would add a little spice to my life, but just didn't have the thyme.

6. Next, I attempted being a Deli Worker, but any way I sliced it ... couldn't cut the mustard.

7. My best job was a Musician, but eventually found I wasn't noteworthy.

8. I studied a long time to become a Doctor, but didn't have any patience.

9. Next, was a job in a Shoe Factory. Tried hard but just didn't fit in.

10. I became a Professional Fisherman, but discovered I couldn't live on my net income.

11. Managed to get a good job working for a Pool Maintenance Company, but the work was just too draining.

12. So then I got a job in a Workout Center, but they said I wasn't fit for the job.

13. After many years of trying to find steady work, I finally got a job as a Historian - until I realized there was no future in it.

14. My last job was working in Starbucks, but had to quit because it was the same old grind.

15. So, I tried retirement and I found I'm perfect for the job!

January 25, 2015

The Stranger
Stolen From: Page One PIG

A few years after I was born, my Dad met a stranger who was new to our small town. From the beginning, Dad was fascinated with this enchanting newcomer and soon invited him to live with our family the stranger was quickly accepted and was around from then on.

As I grew up, I never questioned his place in my family. In my young mind, he had a special niche. My parents were complementary instructors: Mom taught me good from evil, and Dad taught me to obey.

But the stranger... he was our storyteller. He would keep us spellbound for hours on end with adventures, mysteries and comedies.

If I wanted to know anything about politics, history or science, he always knew the answers about the past, understood the present and even seemed able to predict the future! He took my family to the first major league ball game. He made me laugh, and he made me cry. The stranger never stopped talking, but Dad didn't seem to mind. Sometimes, Mom would get up quietly while the rest of us were shushing each other to listen to what he had to say, and she would go to the kitchen for peace and quiet. (I wonder now if she ever prayed for the stranger to leave.)

Dad ruled our household with certain moral convictions, but the stranger never felt obligated to honor them. Profanity, for example, was not allowed in our home - not from us, our friends or any visitors. Our long time visitor, however, got away with four-letter words that burned my ears and made my dad squirm and my mother blush.

My Dad didn't permit the liberal use of alcohol but the stranger encouraged us to try it on a regular basis. He made cigarettes look cool, cigars manly, and pipes distinguished. He talked freely (much too freely!) about sex. His comments were sometimes blatant, sometimes suggestive, and generally embarrassing.

I now know that my early concepts about relationships were influenced strongly by the stranger. Time after time, he opposed the values of my parents, yet he was seldom rebuked. And NEVER asked to leave.

More than fifty years have passed since the stranger moved in with our family. He has blended right in and is not nearly as fascinating as he was at first. Still, if you could walk into my parents' den today, you would still find him sitting over in his corner, waiting for someone to listen to him talk and watch him draw his pictures.

His name?

We just call him 'TV.'

He has a wife now. We call her 'Computer.' Their first child is "Cell Phone". Second child "IPod. And just born was a grandchild: IPad.

January 24, 2014

Grandmothers and Grandfathers
Submitted By: Lone Star

Have you ever wondered what the difference is between Grandmothers and Grandfathers?

Well, here it is: There was this loving grandfather who always made a special effort to spend time with his son's family on weekends. Every Saturday morning he would take his 7-year-old granddaughter out for a drive in the car for some quality time -- just him and his granddaughter.

One particular Saturday, however, he had a bad cold and really didn't feel like being up at all. He knew his granddaughter always looked forward to their drives and would be disappointed. Luckily, his wife came to the rescue and said that she would take their granddaughter for the drive. When they returned, the little girl anxiously ran upstairs to see her grandfather who was still in bed.

"Well, did you enjoy your ride with grandma?" he asked.

"Oh, yes, Pap Pap, it was really wonderful. We didn't see a single asshole, piece of crap, horse's ass, blind bastard, dipshit, Muslim goat humper or son of a bitch anywhere we went!"

January 23, 2015

Lazy Gun
Submitted By: PFO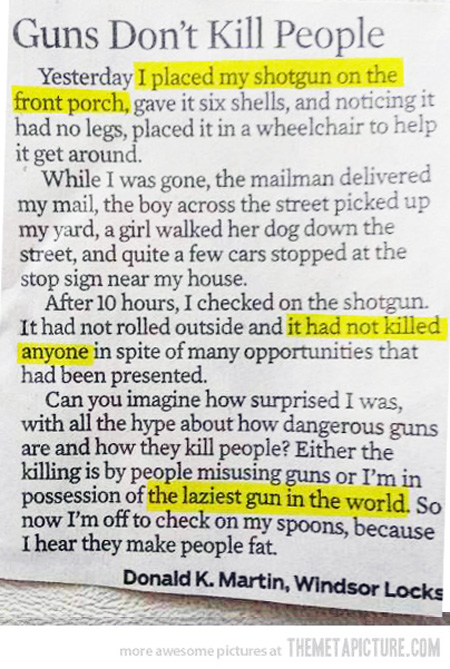 January 22, 2015
Texting Tip
Stolen From: Page One PIG
From a teacher -- short and to the point

In the world of hi-tech gadgetry, I've noticed that more and more people who send text messages and emails have forgotten the art of capital letters.

For those of you who fall into this category, please take note of the following statement:

"Capitalization is the difference between helping your Uncle Jack off a horse and helping your uncle jack off a horse."

Is everybody clear on that?
Bonus graphic dedicated to PIGster K-Cro: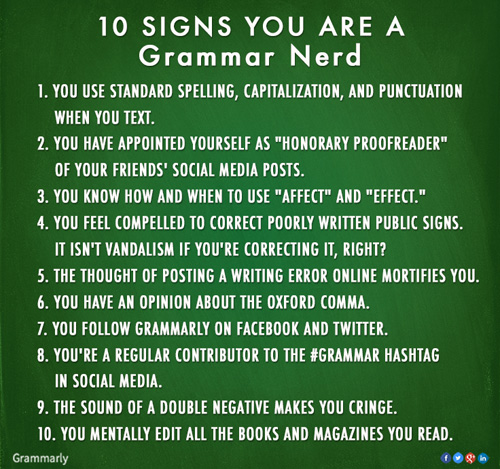 January 20, 2015
Wisdom
Submitted By: PIGster GM
1. There are two sides to every divorce: Yours and Shithead's.
2. The closest I ever got to a 4.0 in college was my blood alcohol content.
3. I live in my own little world but it's OK; everyone knows me here.
4. I saw a rather large woman wearing a sweatshirt with "Guess" on it. I said, "Thyroid problem?"
5. I don't do drugs 'cause I find I get the same effect just by drinking and standing up really fast.
6. A sign In a Chinese Pet Store: "Buy one dog, get one flea."
7. Money can't buy happiness but it sure makes misery easier to live with.
7.1. Money can't buy happiness but poverty can't buy anything.
8. I got a sweater for Christmas. I really wanted a screamer or a moaner.
9. If flying is so safe, why do they call the airport the "terminal"?
10. I don't approve of political jokes. I've seen too many of them get elected.
11. The most precious thing we have is life, yet it has absolutely no trade-in value.
12. If life deals you lemons, make lemonade. If life deals you tomatoes, make Bloody Marys.
13. I love being married. It's so great to find that one special person you want to annoy for the rest of your life.
14. Shopping tip: You can get shoes for a buck at bowling alleys.
15. I am a nobody; nobody is perfect, and therefore I am perfect.
16. Every day I beat my own previous record for number of consecutive days I've stayed alive.
17. That Claudia Schiffer must be a genius because I told a friend my plan to attain world peace, and he told me I have "Schiffer Brains."
18. No one ever says, "It's only a game!" when their team is winning.
19. Ever notice that people who spend money on beer, cigarettes, tattoos and lottery tickets are always complaining about being broke and not feeling well?
20. How long a minute is, depends on what side of the bathroom door you're on.
21. Isn't having a smoking section in a restaurant like having a peeing section in a swimming pool?
22. Marriage changes passion ... suddenly you're in bed with a relative.
23. Why is it that most nudists are people you don't want to see naked?
24. Snowmen fall from Heaven unassembled.
25. Every time I walk into a singles bar I can hear Mom's wise words: "Don't pick that up, you don't know where it's been!"
26. Now that food has replaced sex in my life, I can't even get into my own pants.
27. How come we choose from just 2 people to run for president and over 50 for Miss America?
28. When I was young, we used to go "skinny dipping." Now I just go "chunky dunking."
29. I signed up for an exercise class and was told to wear loose fitting clothing. If I HAD any loose fitting clothing, I wouldn't have signed up in the first place.
30. Wouldn't it be nice if whenever we messed up our life we could simply press "Ctrl Alt Delete" and start all over?
31. Don't argue with an idiot; people watching may not be able to tell the difference.
31.2 Don't argue with idiots; they will drag you down to their level and beat you with experience.
January 19, 2015
A Wise Person Once Said...
Submitted By: Swine Flew
1. We all love to spend money buying new clothes but we never realize that the best moments in life are enjoyed without clothes.
2. Having a cold drink on a hot day with a few friends is nice, but having a hot friend on a cold night after a few drinks - Priceless.
3. Breaking News: Condoms don't guarantee safe sex anymore. A friend of mine was wearing one when he was shot dead by the woman's husband.
4. Arguing over a girl's bust size is like choosing between Molson, Heineken, Carlsberg, & Budweiser. Men may state their preferences, but will grab whatever is available.

And
5. I haven't verified this on Snopes, but it sounds legit… A recent study found that women who carry a little extra weight live longer than the men who mention it.
January 18, 2015
A Doctor Was Addressing A Large Audience At Oxford
Submitted By: PIGster GM
The material we put into our stomachs should have killed most of us sitting here, years ago.
Red meat is full of steroids and dye.
Soft drinks corrode your stomach lining.
Chinese food is loaded with MSG.
High trans fat diets can be disastrous and none of us realizes the long-term harm caused by the germs in our drinking water.
But, there is one thing that is the most dangerous of all and most of us have, or will eat it...Can anyone here tell me what food it is that causes the most grief and suffering for years after eating it?
After several seconds of quiet, a 70 year old man in the front row raised his hand, and softly said, "Wedding Cake?"
January 17, 2015
New Parishioners
Stolen From: Page One PIG
A newlywed couple wanted to join a church. The pastor told them, "We have special requirements for new parishioners. You must abstain from sex for an entire month."
The couple agreed and, after two-and-a-half weeks, returned to the church. When the Pastor ushered them into his office, the wife was crying, and the husband obviously was very depressed.
"You are back so soon. Is there a problem ?" the pastor inquired.
"We are terribly ashamed to admit that we did not manage to abstain from sex for the required month," the young man replied sadly.
The pastor asked him, "What happened?"
"Well, the first week was difficult; however, we managed to abstain through sheer willpower. The second week was terrible, but with the use of prayer, we managed to abstain. The third week, however, was unbearable. We tried cold showers, prayer, reading from the Bible, or anything to keep our minds free of carnal thoughts, but one afternoon, my wife reached for a can of paint and dropped it. When she bent over to pick it up, I was overcome with lust and had my way with her right then and there!" admitted the man, shamefacedly.
"You understand this means you will not be welcome in our church," stated the pastor.
"We know," said the young man, hanging his head. "We're not welcome at Lowes, either."
January 16, 2015
Christmas With Louise
Submitted By: PIGster GM
"Christmas With Louise"
Here Goes: As a joke, my brother Jay used to hang a pair of panty hose over his fireplace before Christmas. He said all he wanted was for Santa to fill them. What they say about Santa checking the list twice must be true because every Christmas morning, although Jay's kids' stockings overflowed, his poor pantyhose hung sadly empty.One year I decided to make his dream come true. I put on sunglasses and went in search of an inflatable love doll. They don't sell those things at Wal-Mart. I had to go to an adult bookstore downtown. If you've never been in an X-rated store, don't go. You'll only confuse yourself. I was there an hour saying things like, "What does this do?" "You're kidding me!" "Who would buy that?"
Finally, I made it to the inflatable doll section. I wanted to buy a standard, uncomplicated doll that could also substitute as a passenger in my truck so I could use the car pool lane during rush hour. Finding what I wanted was difficult. "Love Dolls" come in many different models. The top of the line, according to the side of the box, could do things I'd never heard of. I settled for "Lovable Louise." She was at the bottom of the price scale. To call Louise a "doll" took a huge leap of imagination.
On Christmas Eve and with the help of an old bicycle pump, Louise came to life. My sister-in-law was in on the plan and let me in during the wee morning hours. Long after Santa had come and gone, I filled the dangling pantyhose with Louise's pliant legs and bottom. I also ate some cookies and drank what remained of a glass of milk on a nearby tray. I went home, and giggled for a couple of hours.
The next morning my brother called to say that Santa had been to his house and left a present that had made him VERY happy but had left the dog confused. She would bark, start to walk away, then come back and bark some more. We all agreed that Louise should remain in her panty hose so the rest of the family could admire her when they came over for the traditional Christmas dinner. My grandmother noticed Louise the moment she walked in the door. "What in the hell is that?" she asked.My brother quickly explained, "It's a doll." "Who would play with something like that?" Granny snapped. I kept my mouth shut. "Where are her clothes?" Granny continued. "Boy, that turkey sure smells nice, Gran," Jay said, to steer her into dining room.
But Granny was relentless. "Why doesn't she have any teeth?" Again, I could have answered, but why would I? It was Christmas and no one wanted to ride in the back of the ambulance saying, "Hang on Granny, hang on!"

My grandfather, a delightful old man with poor eyesight, sidled up to me and said, " Hey, who's the naked gal by the fireplace?"I told him she was Jay's friend. A few minutes later I noticed Grandpa by the mantel, talking to Louise. Not just talking, but actually flirting. It was then that we realized this might be Grandpa's last Christmas at home. The dinner went well. We made the usual small talk about who had died, who was dying, and who should be killed, when suddenly Louise made a noise like my father in the bathroom in the morning. Then she lurched from the mantel, flew around the room twice, and fell in a heap in front of the sofa.
The cat screamed. I passed cranberry sauce through my nose, and Grandpa ran across the room, fell to his knees, and began administering mouth-to-mouth resuscitation. My brother fell back over his chair and wet his pants. Granny threw down her napkin, stomped out of the room, and sat in the car.
It was indeed a Christmas to treasure and remember. Later, in my brother's garage, we conducted a thorough examination to determine the cause of Louise's collapse. We discovered that Louise had suffered from a hot ember to the back of her right thigh. Fortunately, thanks to a wonder drug called duct tape, we restored her to perfect health.
I can't wait until next Christmas.
January 15, 2014
Three Stories About Bears
Submitted By: PIGster GM
A Catholic Priest, a Baptist Preacher and a Rabbi would get together two or three times a week for coffee and to talk shop.
One day, someone made the comment that preaching to people isn't really all that hard, and that a real challenge would be to preach to a bear.
One thing led to another, and they decided to do an experiment. They would all go out into the woods, find a bear, preach to it, and attempt to convert it to their religion.
Seven days later, they all came together to discuss their experiences.
Father Murphy went first. 'Well,' he said, 'I went into the woods to find me a bear. And when I found him, I began to read to him from the Catechism.
Well, that bear wanted nothing to do with me and began to slap me around.
So I quickly grabbed my holy water, sprinkled him and, Holy Mary Mother of God, he became as gentle as a lamb. The Bishop is coming out next week to give him first communion and confirmation.'
Reverend Billy Bob, the Baptist, spoke next. He was also very excited.
In his best fire-and-brimstone oratory, he exclaimed, 'WELL, brothers, you KNOW that we Baptists don't sprinkle! I went out and I FOUND me a bear.
And then I began to read to my bear from God's HOLY WORD! But that bear wanted nothing to do with me.
So I took HOLD of him and we began to wrestle. We wrestled down the hill, until we came to a creek. So I quickly DUNKED him and BAPTIZED his hairy soul. And just like you said, he became as gentle as a lamb. We spent the rest of the day praising Jesus. Hallelujah!
The Priest and the Reverend both looked down at the Rabbi, who was lying in a hospital bed. He was in a body cast and traction with IVs and monitors running in and out of him. He was in really bad shape.
The Rabbi looked up and said: "Looking back on it, circumcision may not have been the best way to start."
January 07, 2015
Sexual Harrasment
Submitted By: T-Cro
Every day, a male employee walks up very close to a female co-worker at the coffee machine. He stops, inhales quite deeply and says that her hair smells nice.

After a week of this, the woman can't stand it anymore. She takes her issue to a supervisor in Human Resources and asks to file a sexual harassment grievance against the guy.

The supervisor is puzzled and asks, "What's threatening about a co-worker telling you your hair smells nice?"

"It's Frank. The midget."