June 27, 2015
Hallmark Moments
Submitted By: PIGstress Grammy
10 Scientific Reasons Proving Drinking Beer Is Actually Good For You
Mothers, girlfriends and wives – listen up! I know you tell us men all the time that too much beer is bad for your body, and you're probably right. But what you didn't know is that beer can actually be good for you in many instances. This puts a big fly in the ointment, doesn't it?
I know it's going to take some serious scientific muscle flexing for me to convince you, I'm not stupid. But what if I started by saying that the legendary 'beer belly' we're all worried out might not be a real thing…
Interest peaked? Here are 10 scientific reasons which show that beer is actually good for you.
1. It actually makes you live longer
Researchers have found out that regular beer drinkers (not alcoholics mind) are 19% less likely to drop dead during a given time period than those boring types who have never touched a drop of the amber nectar.
2. Sod dieting, beer makes you THIN
Beers with a high alcohol content such as Leffe can actually make you thin according to science. I was skeptical, but according to King's College London Professor Tim Spector, drinking Belgian beers can actually aid bacteria in your gut, helping efficient digestion. Drop the shakes and the sticks of celery, and get yourself a crate of the good stuff.
3. It even fights the big C
Apparently an enzyme in beer can help in the fight against cancer. Xanthohumol (I've never heard of it either), which is a flavour component found in hops, is a potent antioxidant which puts a stop to cancer-causing enzymes.
4. Beer can keep your brain sharp apparently
All the evidence I have encountered points to the opposite, but apparently beer can help long term mental issues. Women who had one alcoholic drink a day were better safeguarded against their mental faculties declining with age.
5. The 'beer belly' is a myth
A study at UCL revealed that there isn't much concrete science to back up the 'beer belly' myth. They found that the link between obesity and drinking beer is really tenuous. I've got another theory though, it's not the beer, but all those drunken late night kebabs that probably do it.

6. It stops kidney stones, thank the lord!
Moderate beer drinkers are 41% less likely to develop the dreaded kidney stones than those who don't. People who don't drink beer… you do realise that those stones have to come out of somewhere eventually? Get on it.
7. Calories? What calories?
I've always been told that beer is uber-high in calories, but it turns out that this is a total exaggeration. Orange juice and skimmed milk are just two drinks that have a higher calorie count than our good friend beer. It's a conspiracy I tell you.
8. Hoppier beers can stave off Alzheimer's
They may lead to you losing your short term memory after a night out, but hoppy beers can help defend against the scourge that is Alzheimer's disease. Our good friend Xanthohumol is back again, protecting the brain against degenerative disorders. Don't worry, beer has your back.
9. Beer is CHOCK FULL of vitamins
Forget all this "apple a day" bollocks, you can get loads of much needed vitamins down the pub. Not content with just providing us with everyday vitamins, beer actually contains 'super-nutrients'. I think we have a winner.
10. Step aside Mr. Cow, because beer makes your bones stronger
Beer is rich in dietary silicon, which is apparently essential in building bone mineral density. Does this mean that schools should start giving out free pints to the kids at lunchtime?
June 25, 2015
Hallmark Moments
Stolen From: Page One PIG
Bad day at Hallmark
Ever wondered what happens when Hallmark writers are having a bad day.
Heard your wife left you,
How upset you must be.
But don't fret about it...
She moved in with me.
Looking back over the years
That we've been together,
I can't help but wonder...
'What the hell was I thinking?'
Congratulations on your wedding day!
Too bad no one likes your husband.
How could two people as beautiful as you
Have such an ugly baby?
I've always wanted to have
someone to hold,
someone to love.
After having met you...
I've changed my mind.
I must admit, you brought Religion into my life.
I never believed in Hell until I met you.
Congratulations on your promotion.
Before you go...
Would you like to take this knife out of my back?
You'll probably need it again.
Happy Birthday, Uncle Dad!
(Available only in Tennessee , Kentucky & West Virginia)
When we were together,
you always said you'd die for me.
Now that we've broken up,
I think it's time you kept your promise.
Congratulations on your new bundle of joy.
Did you ever find out who the father was?
So your daughter's a hooker,
And it spoiled your day.
Look at the bright side,
It's really good pay.
June 22, 2015
Abbott And Costello On Math
Submitted By: PIGstress Grammy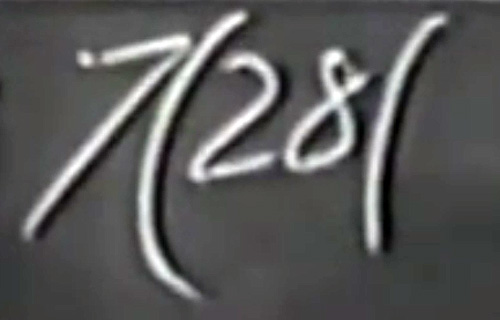 June 21, 2015
Senior Moments
Stolen From: Page One PIG
When You're Over 70
Cowboy: "Give me 3 packets of condoms, please."
Cashier: "Do you need a paper bag with that, sir?"
Cowboy: "Nah... She's purty good lookin'....."
When you are over seventy who gives a crap?
~ ~ ~
I was talking to a girl in the bar last night. She said, "If you lost a few pounds, had a shave and got your hair cut, you'd look all right."
I said, "If I did that, I'd be talking to your friends over there instead of you."
When you are over seventy who gives a crap?
~ ~ ~
I was telling a girl in the pub about my ability to guess what day a woman was born on just by feeling her boobs.
"Really" she said, "Go on then...try."
After about thirty seconds of fondling she began to lose patience and said, "Come on, what day was I born?"
I said, "Yesterday."
When you are over seventy who gives a crap?
~ ~ ~
I got caught taking a pee in the swimming pool today. The lifeguard shouted at me so loud, I nearly fell in.
When you are over seventy who gives a crap?
~ ~ ~
I went to the pub last night and saw a fat chick dancing on a table. I said, "Good legs."
The girl giggled and said, "Do you really think so."
I said, "Definitely! Most tables would have collapsed by now."
When you are over seventy who gives a crap!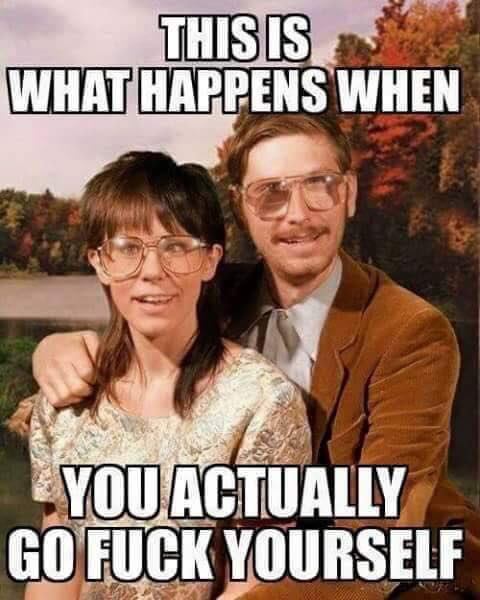 June 12, 2015
Beer vs Vaginas
Submitted By: PIGster GM
1.Beer is always wet. Vagina needs a little work.
One point to BEER

2.Warm beer tastes awful.
One point to VAGINA

3.A really cold beer is satisfying.
One point to BEER

4.If after taking a swig of your favorite beer you find a hair between your teeth, you may vomit.
One point to VAGINA

5. If you get home reeking of beer your wife may get mad, make a scene, kick you out, etc. If you get home reeking of vagina your wife may get mad, kick you out, even leave you. There's definitely a point to be had here, depending on your point of view and personal circumstances.
I'll just call it a DRAW for the time being.

6. Ten beers in one night and you can't drive home. Ten vaginas in one night and you don't want to drive anywhere.
One point to VAGINA

7. If you have a lot of beer in a public place, your reputation may suffer. If you eat any vagina in public, you become a legend.
One point to VAGINA

8. If a cop stops you and you smell of beer you may get arrested. If you smell of vagina he may buy you a beer.
One point to VAGINA

9. You normally don't find old beer.
One point to BEER

10. Too much beer and you'll think you see flying saucers. Too much vagina and you'll think you've seen God.
One point to VAGINA

11. Ripping off a beer bottle label is boring. Ripping off panties is fun.
One point to VAGINA

12. In most countries there's a tax on beer.
One point to VAGINA

13. If you have another beer the first one never gets pissed off.
One point to BEER

14. You can always be sure if you're the first one to open a bottle or a can.
One point to BEER

15. If you shake beer it'll get all agitated but eventually it settles down.
One point to BEER

16. With beer you always have choice: clear, dark, Pilsner, ale, lager, etc... with vagina you also have a choice, white, black, Asian, Hispanic, and Eskimo...
Call it a DRAW

17. You always know how much beer is going to cost
One point to BEER

18. Beer doesn't have a mother
One point to BEER

19. Beer never expects to be hugged for half an hour after you drink it
One point to BEER

20. Beer with yeast in it still tastes rather nice.
One point to BEER

FINAL SCORE: BEER: 11 VAGINA: 9

That's it! The matter is settled, the unfortunate, yet tasty winner is: BEER

PS: If you are a woman and at this point feel angry, degraded or discriminated against, just remember that Beer would experience none of those feelings, let alone express them.

An extra point for BEER (sorry girls)
June 09, 2015
Piss Test
An old man is met by his attorney, and is told he is going to be audited.
He rides to the IRS office with his attorney, and when he gets there, he begins to talk with the IRS agent.
"I bet $2,000 I can bite my own eye!" The old man says.
The IRS agent agrees to the bet, believing it an impossible task. The old man laughs, pulls out his glass eye, and bites it.
The IRS agent is pissed. The old man bets $3,000 he can bite his other eye.
The IRS agent knows there's no way possible to do this, so he takes the bet.
The old man cackles, pulls out his dentures, and bites his eye.
Down $5000 the IRS agent is fuming!
Then the old man finally wagers, "I bet $20,000 I can stand on the far side of your desk, pee over the desk, and get it into your wastebasket, without missing a single drop."
The agent knows he won't be able to this and knows he'll win this one for sure!
The old man indeed misses, peeing all over the desk, and on the paperwork.
The IRS agent jumps for joy, but then notices the old man's attorney over in the corner freaking out. "Are you all right dude?" asks the agent. "HELL NO!
On the way over here, the old man bet me $400,000 he could pee on your desk and you'd be happy about it!"
June 06, 2015
DUI?
Study the picture first and then read the story.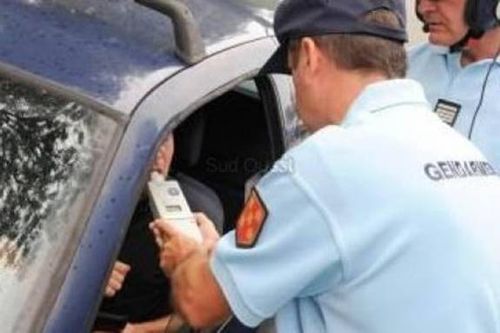 This happened to an Englishman in France who was totally drunk.
A French policeman stops the Englishman's car and asks if he has been drinking.
With great difficulty, the Englishman admits that he has been drinking all day, that his daughter got married that morning, and that he drank champagne and a few bottles of wine at the reception, and many single malts scotches thereafter.
Quite upset, the policeman proceeds to alcohol-test (breath test) the Englishman and verifies that he is indeed totally sloshed.
He asks the Englishman if he knows why, under French Law, he is going to be arrested.
The Englishman answers with a bit of humor, "No sir, I do not! But while we're asking questions, do you realize that this is a British car and that my wife is driving on the other side?"

May 25, 2015
Handy Man?
Stolen From: The Tool Shed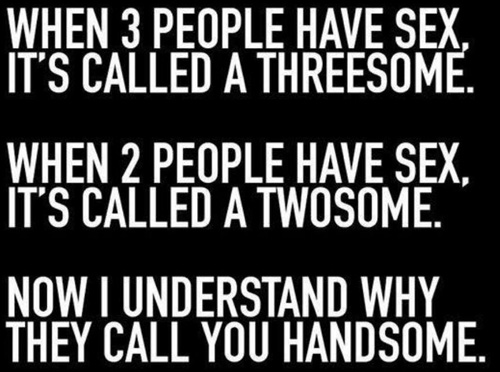 May 20, 2015

From A Grateful Immigarant
Stolen From: Swine Flew

It looks like we did some good after all! On Saturday, July 24th, 2010 the town of Prescott Valley, AZ, hosted a Freedom Rally. Quang Nguyen was asked to speak on his experience of coming to America and what it means.

He spoke the following in dedication to all Vietnam Veterans. Thought you might enjoy hearing what he had to say:
"35 years ago, if you were to tell me that I am going to stand up here speaking to a couple thousand patriots, in English, I'd laugh at you. Man, every morning I wake up thanking God for putting me and my family in the greatest country on earth.


I just want you all to know that the American dream does exist and I am living the American dream. I was asked to speak to you about my experience as a first generation Vietnamese-American, but I'd rather speak to you as an American.


If you hadn't noticed, I am not white and I feel pretty comfortable with my people.

I am a proud U.S. citizen and here is my proof. It took me 8 years to get it, waiting in endless lines, but I got it, and I am very proud of it.

I still remember the images of the Tet offensive in 1968, I was six years old.

Now you might want to question how a 6-year-old boy could remember anything. Trust me, those images can never be erased. I can't even imagine what it was like for young American soldiers, 10,000 miles away from home, fighting on my behalf.

35 years ago, I left South Vietnam for political asylum. The war had ended. At the age of 13, I left with the understanding that I may or may not ever get to see my siblings or parents again. I was one of the first lucky 100,000 Vietnamese allowed to come to the U.S. Somehow, my family and I were reunited 5 months later, amazingly, in California. It was a miracle from God.

If you haven't heard lately that this is the greatest country on earth, I am telling you that right now. It was the freedom and the opportunities presented to me that put me here with all of you tonight. I also remember the barriers that I had to overcome every step of the way. My high school counselor told me that I cannot make it to college due to my poor communication skills. I proved him wrong. I finished college. You see, all you have to do is to give this little boy an opportunity and encourage him to take and run with it. Well, I took the opportunity and here I am.

This person standing tonight in front of you could not exist under a socialist/communist environment. By the way, if you think socialism is the way to go, I am sure many people here will chip in to get you a one-way ticket out of here. And if you didn't know, the only difference between socialism and communism is an AK-47 aimed at your head. That was my experience.

In 1982, I stood with a thousand new immigrants, reciting the Pledge of Allegiance and listening to the National Anthem for the first time as an American. To this day, I can't remember anything sweeter and more patriotic than that moment in my life.

Fast forwarding, somehow I finished high school, finished college, and like any other goofball 21 year old kid, I was having a great time with my life. I had a nice job and a nice apartment in Southern California. In some way and somehow, I had forgotten how I got here and why I was here.

One day I was at a gas station, I saw a veteran pumping gas on the other side of the island. I don't know what made me do it, but I walked over and asked if he had served in Vietnam . He smiled and said yes. I shook and held his hand. The grown man began to well up. I walked away as fast as I could and at that very moment, I was emotionally rocked. This was a profound moment in my life. I knew something had to change in my life. It was time for me to learn how to be a good citizen. It was time for me to give back.

You see, America is not just a place on the map, it isn't just a physical location. It is an ideal, a concept. And if you are an American, you must understand the concept, you must accept this concept, and most importantly, you have to fight and defend this concept. This is about Freedom and not free stuff. And that is why I am standing up here.

Brothers and sisters, to be a real American, the very least you must do is to learn English and understand it well. In my humble opinion, you cannot be a faithful patriotic citizen if you can't speak the language of the country you live in. Take this document of 46 pages - last I looked on the Internet, there wasn't a Vietnamese translation of the U.S. Constitution. It took me a long time to get to the point of being able to converse and until this day, I still struggle to come up with the right words. It's not easy, but if it's too easy, it's not worth doing.

Before I knew this 46-page document, I learned of the 500,000 Americans who fought for this little boy. I learned of the 58,000 names scribed on the black wall at the Vietnam Memorial. You are my heroes. You are my founders.

At this time, I would like to ask all the Vietnam veterans to please stand. I thank you for my life. I thank you for your sacrifices, and I thank you for giving me the freedom and liberty I have today. I now ask all veterans, firefighters, and police officers, to please stand. On behalf of all first generation immigrants, I thank you for your services and may God bless you all.

Quang Nguyen
Creative Director/Founder
Caddis Advertising, LLC

"God Bless America "
"One Flag, One Language, One Nation Under God"

For those who understand, no explanation is needed.
For those who do not understand, no explanation is possible.

May 13, 2015

Royal Navy New Ships and Guidelines
Stolen From: Just Faaaaabulous!


Nearer the truth than you may think!)

The Royal Navy is proud to announce its new fleet of Type 45 destroyers:

Having initially named the first two ships HMS Daring and HMS Dauntless, the Naming Committee has, after intensive pressure from the European Union in Brussels, renamed them HMS Cautious and HMS Prudence.

The next five ships are to be HMS Empathy, HMS Circumspect, HMS Nervous, HMS Timorous and HMS Apologist.

Costing £850 million each, they comply with the very latest employment, equality, health & safety and human rights laws.

The Royal Navy fully expects any future enemy to be jolly decent and to comply with the same high standards of behaviour.

The new user-friendly crow's nest has excellent wheelchair access.

Live ammunition has been replaced with paintballs to reduce the risk of anyone getting hurt and to cut down on the number of compensation claims.

Stress counselors and lawyers will be on board, as will a full sympathetic industrial tribunal.

The crew will be 50/50 men and women, and will contain the correct balance of race, gender, sexuality and disability.

Sailors will only work a maximum of 37 hours per week as per Brussels Rules on Working Hours, even in wartime.

All the vessels are equipped with a maternity ward, a creche and a gay disco.

Tobacco will be banned throughout the ship, but recreational cannabis will be allowed in wardrooms and messes.

The Royal Navy is eager to shed its traditional reputation for "Rum, sodomy and the lash" so out has gone the rum ration, replaced by sparkling water.

Sodomy remains, now extended to include all ratings under 18.

The lash will still be available on request.

Saluting of officers is now considered elitist and has been replaced by "Hello Sailor".

All information on notice boards will be in 37 different languages and Braille.

Crew members will now no longer have to ask permission to grow beards and/or moustaches. This applies equally to female crew.

The MoD is inviting suggestions for a "non-specific" flag because the White Ensign may offend minorities. The Union Jack must never be seen.

The newly re-named HMS Cautious will be commissioned shortly by Captain Hook from the Finsbury Park Mosque who will break a petrol bomb over the hull.

She will gently slide into the sea as the Royal Marines Band plays the Village People's "In the Navy".

Her first deployment will be to escort boatloads of illegal immigrants to ports on England's south coast.

The Prime Minister said, "Our ships reflect the very latest in modern thinking and they will always be able to comply with any new legislation from Brussels "

His final words were, "Britannia waives the rules."

May 10, 2015

Smarty Pants?
Stolen From: Cyberspace

A young boy enters the barbershop and the barber whispers to his customer…

We have all run into people who think they've got it all figured out. Some even brag to others about how smart they are and how dumb everyone else is.

And it's always fun to see them get played. Like this …

A young boy enters a barbershop… the barber whispers to his customer,

"This is the dumbest kid in the world. Watch."

The barber puts a dollar in one open palm and two quarters in the other and asks the kid, "Which do you want?"

The boy takes the quarters and leaves.

"What did I tell you?" says the barber. "That kid never learns!"

Later, when the customer leaves, he sees the same young boy coming out of the ice cream store.

"Hey, son! May I ask you a question? Why'd you take the quarters and not the dollar?" he asks.

The boy licked his cone and replied, "Because the day I take the dollar, the game's over!" (H/T The Federalist Papers Project)

This joke is funny because the boy is the real genius who understands human nature and is motivated by what motivates a lot of little kids — free ice cream.

He was definitely smarter than he looked and it wouldn't be surprising to see the government come after entrepreneurial kids like this and offer them jobs because they are pretty good at taking other people's money — a little bit at a time.

May 09, 2015

Dear Abby...
Submitted By: Lone Star

Dear Abby,

My husband is a liar and a cheat.

He has cheated on me from the beginning, and, when I confront him, he denies everything.

What's worse, everyone knows that he cheats on me.

It is so humiliating.

Also, since he lost his job 14 years ago, he hasn't even looked for a new one.

All he does all day is smoke cigars, cruise around and shoot the bull with his buddies, while I have to work to pay the bills.

Since our daughter went away to college he doesn't even pretend to like me, and even hints that I may be a lesbian.

What should I do?

Signed: Clueless

Dear Clueless:

Grow up and dump him.

Good grief woman! You don't need him anymore!

You're running for President of the United States. Act like one.

Signed: Abby

May 07, 2015

The Benefactor
Submitted By: Lone Star

That cabby is one smart dude...

A man returns home a day early from a business trip. It's after midnight. While en route home he asks the cabby if he would be a witness. The man suspects his wife is having an affair and he wants to catch her in the act. For $100, the cabby agrees.

Quietly arriving home, the husband and cabby tip toe into the bedroom. The husband switches on the lights, yanks the blanket back and there is his wife in bed with another man!

The husband puts a gun to the naked man's head.

The wife shouts, 'Don't do it! I lied when I told you I inherited money:

HE paid for the Porsche I gave you.

HE paid for our new cabin cruiser.

HE paid for your football season tickets.

HE paid for our house at the lake.

HE paid for your Hawaiian golf vacation.

HE paid for our country club membership, and HE even pays the monthly dues!'

Shaking his head from side-to-side, the husband lowers the gun. He looks over at the cabby and says, 'What would you do?'

The cabby replies, 'Me? I'd cover his ass with that blanket before he catches a cold!!'

May 05, 2015

Meanwhile, While The City Burned...
Submitted By: Miss Piggy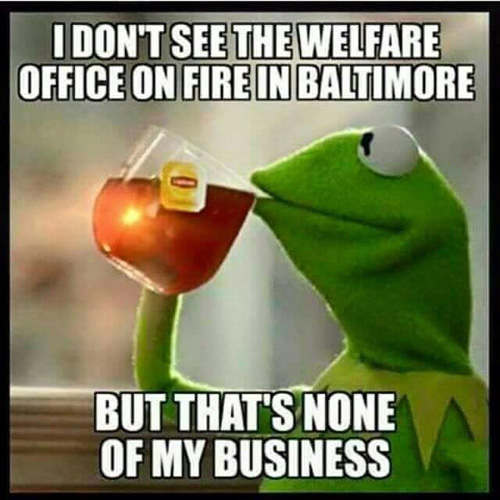 May 04, 2015
Church Ladies With Type Writers
Submitted By: Lone Star
No punch lines needed.
They're Back! Those wonderful Church Bulletins! Thank Goodness for the church ladies with typewriters. These sentences actually appeared in church bulletins or were announced at church services:

The Fasting & Prayer Conference includes meals.

Scouts are saving aluminum cans, bottles and other items to be recycled. Proceeds will be used to cripple children.

The sermon this morning: 'Jesus Walks on the Water.' The sermon tonight: 'Searching for Jesus.'

Ladies, don't forget the rummage sale. It's a chance to get rid of those things not worth keeping around the house. Bring your husbands.

Don't let worry kill you off - let the Church help.

Miss Charlene Mason sang 'I will not pass this way again,' giving obvious pleasure to the congregation.


For those of you who have children and don't know it, we have a nursery downstairs.

Next Thursday there will be try-outs for the choir. They need all the help they can get.

Irving Benson and Jessie Carter were married on October 24 in the church. So ends a friendship that began in their school days.

A bean supper will be held on Tuesday evening in the church hall. Music will follow.

At the evening service tonight, the sermon topic will be 'What Is Hell?' Come early and listen to our choir practice.

Eight new choir robes are currently needed due to the addition of several new members and to the deterioration of some older ones.

Please place your donation in the envelope along with the deceased person you want remembered.

The church will host an evening of fine dining, super entertainment and gracious hostility.

Pot-luck supper Sunday at 5:00 PM - prayer and medication to follow.

The ladies of the Church have cast off clothing of every kind. They may be seen in the basement on Friday afternoon.

This evening at 7 PM there will be a hymn singing in the park across from the Church. Bring a blanket and come prepared to sin.

The pastor would appreciate it if the ladies of the Congregation would lend him their electric girdles for the pancake breakfast next Sunday.

Low Self Esteem Support Group will meet Thursday at 7 PM. Please use the back door.

The eighth-graders will be presenting Shakespeare's Hamlet in the Church basement Friday at 7 PM. The congregation is invited to attend this tragedy.

Weight Watchers will meet at 7 PM at the First Presbyterian Church. Please use large double door at the side entrance.

And this one just about sums them all up...

The Associate Minister unveiled the church's new campaign slogan last Sunday:
'I Upped My Pledge - Up Yours.
May 04, 2015
Tyrone
Submitted By: Lone Star
None of his classmates liked him because of his stupidity and clumsiness, especially his teacher, who was always yelling at him, "You're driving me mad,Tyrone."

One day Tyrone's mom came to school to check on how he was doing.
The teacher told his mom honestly, that her son was simply a disaster, getting very low marks, and that she had never seen such a stupid boy in her entire teaching career.

The mom was shocked at the feedback and withdrew her son from school and moved out of Detroit, relocating to Cleveland.

25 years later, the teacher was diagnosed with an almost incurable cardiac disease.
All the doctors strongly advised her to have heart surgery, which only one surgeon at the Cleveland Clinic could perform.

Left with no other options, the teacher decided to have the operation, which was successful.
When she opened her eyes after the surgery she saw a handsome young doctor smiling down at her.

She wanted to thank him, but could not talk. Her face started to turn blue, she raised her hand, trying to tell him something but quickly died.
The doctor was shocked, wondering what went wrong so suddenly.

Then he turned around and saw our friend Tyrone, a janitor in the Clinic, who had unplugged the life-support equipment in order to connect his vacuum cleaner.

Don't tell me you thought Tyrone became a heart-surgeon.

Well maybe you did if you voted for Obama.
May 03, 2015
The Unhappy Golfer
Submitted By: Swine Flew
A man lost an arm when his golf cart rolled over on him on a down slope. He became very depressed because he loved to play golf. One day in his despair, he decided to commit suicide and end it all.

He got on an elevator and went to the top of a building to jump off.

He was standing on the ledge looking down and saw this man down on the sidewalk skipping along, whooping and kicking up his heels. He looked closer and saw that this man didn't have any arms at all.

He started thinking, "What am I doing up here feeling sorry for myself? I still have one good arm to do things with."

He thought, "There goes a man with no arms skipping down the sidewalk so happy, and going on with his life."

He hurried down to the sidewalk and caught up with the man with no arms. He told him how glad he was to see him because he lost one of his arms and felt useless and was going to kill himself. He thanked him for saving his life and said he knew he could make it with one arm if the guy could go on with no arms.

The man with no arms began dancing and whooping and kicking up his heels again.

He asked, "Why are you so happy anyway?"

He said, "I'm NOT happy. My butt itches."

Heart-warming stories like this just bring a tear to my eyes.
April 23, 2015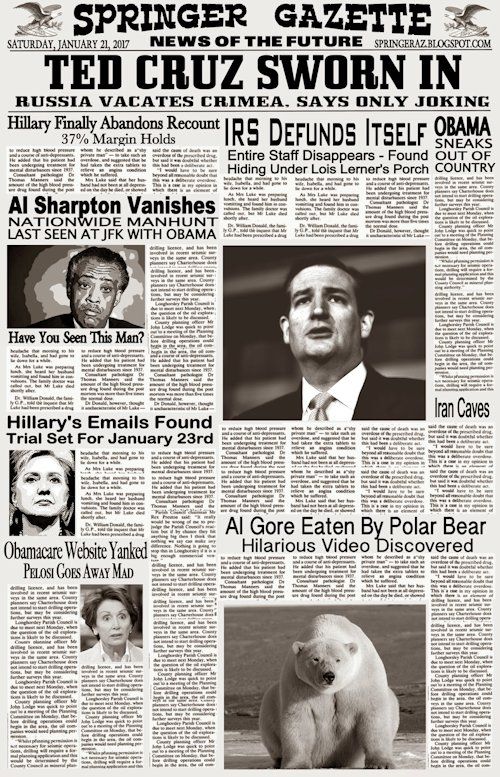 APRIL 08, 2015
Guns For Geeks
Submitted By: Lone Star
Here's a high-tech way to "Say hello to my little friend."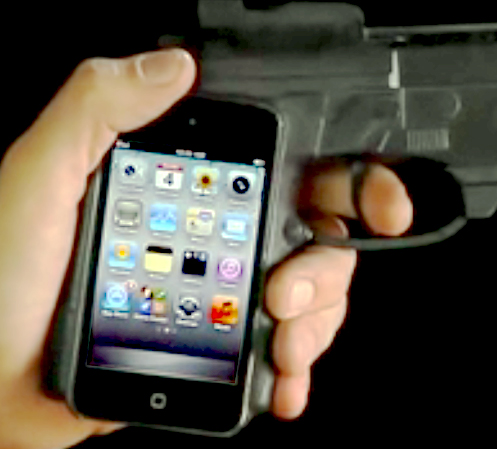 >>> Click Here For iGun Demo >>>
April 03, 2015
A "Don't You Just hate When This Happens" Moment
Submitted By: Mr. Tamborine Man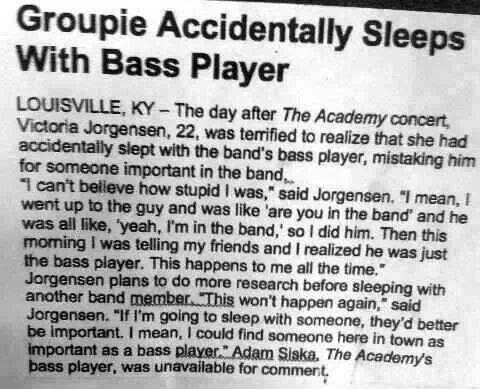 April 02, 2015
The Irish Painter And The Gallery
Submitted By: Blarney Stoned
A couple attending an art exhibition at the National Gallery was staring at a portrait that had them totally confused. The painting depicted three black men totally naked, sitting on a park bench. Two of the men had black penises, but the one seated in the middle, had a pink penis.
The curator of the gallery realized the confused couple were having trouble with interpreting the painting and offered his assessment. He went on and on explaining how it depicted the sexual emasculation of African-Americans in a predominantly white, patriarchal society. "In fact", he pointed out, "some serious critics believe that the pink penis also reflects the cultural and sociological oppression expressed by gay men in a contemporary society".
After the curator left, an Irish man approached the couple and said, "Would you like to know what the painting is really about?"
"Now why would you claim to be more of an expert than the curator of the Gallery?" asked the couple.
"Because I'm the guy who painted it," he replied. "In fact, there is no African-American representation at all. They're just three Irish coal-miners. The guy in the middle went home for lunch."
March 27, 2015
The Rumor
Stolen From: Page One PIG
An Alabama pastor said to his congregation, "Someone in this congregation has spread a rumor that I belong to the Ku Klux Klan. This is a horrible lie and one which a Christian community cannot tolerate. I am embarrassed and do not intend to accept this. Now, I want the party who said this to stand and ask forgiveness from God and this Christian family."
No one moved.
The preacher continued, "Do you have the nerve to face me and admit this is a falsehood? Remember, you will be forgiven and in your heart you will feel glory. Now stand and confess your transgression."
Again, all was quiet.
Then, slowly, a drop-dead gorgeous blonde rose from the third pew. Her head was bowed and her voice quivered as she spoke, "Reverend there has been a terrible misunderstanding I never said you were a member of the Ku Klux Klan. I simply told a couple of my friends that you were a wizard under the sheets."
The preacher fell to his knees, his wife fainted, and the congregation roared.
March 26, 2015
An Oldie But Goodie
Submitted By: Swine Flew
1. My husband and I divorced over religious differences.. He thought he was God and I didn't.
2. I don't suffer from insanity; I enjoy every damn minute of it.
3. Some people are alive only because it's illegal to kill them..
4. I used to have a handle on life, but it broke.
5. Don't take life too seriously; No one gets out alive.
6. You're just jealous because the voices only talk to me.
7. Beauty is in the eye of the beer holder.
8. Earth is the insane asylum for the universe.

9. I'm not a complete idiot -- Some parts are just missing.
10. Out of my mind. Back in five minutes.
11. NyQuil, the stuffy, sneezy, why-the-heck- is-the-room- spinning medicine.
12. God must love stupid people; He made so many.
13. The gene pool could use a little chlorine.
14. Consciousness: That annoying time between naps.
15. Ever stop to think, and forget to start again?
16. Being 'over the hill' is much better than being under it!
17. Wrinkled Was Not One of the Things I Wanted to Be When I Grew up..
18. Procrastinate Now!
19. I Have a Degree in Liberal Arts; Do You Want Fries With That?
20. A hangover is the wrath of grapes.
21. A journey of a thousand miles begins with a cash advance.
22. Stupidity is not a handicap. Park elsewhere!
23. They call it PMS because Mad Cow Disease was already taken.
24. He who dies with the most toys is nonetheless DEAD.
25. A picture is worth a thousand words, but it uses up three thousand times the memory.
26. Ham and eggs... A day's work for a chicken, a lifetime commitment for a pig.
27. The trouble with life is there's no background music.
28. The original point and click interface was a Smith & Wesson.
29. I smile because I don't know what the hell is going on.
March 25, 2015
The Italian Wedding Test
Stolen From: Page One PIG
I was a very happy man. My wonderful girlfriend and I had been dating for over a year. So we decided to get married.
There was only one little thing bothering me. It was her beautiful younger sister, Sofia.
My prospective sister-in-law was twenty-two, wore very tight mini skirts, and generally was bra-less. She would regularly bend down when she was near me. I always got more than a nice view. It had to be deliberate. She never did it around anyone else.
One day she called me and asked me to come over. 'To check my Sister's wedding- invitations' she said.
She was alone when I arrived. She whispered to me that she had feelings and desires for me. She couldn't overcome them anymore. She told me that she wanted me just once before I got married. She said "Before you commit your life to my sister".
Well, I was in total shock, and I couldn't say a word. She said, "I'm going upstairs to my bedroom" she said, "if you want one last wild fling, just come up and have me".
I was stunned and frozen in shock as I watched her go up the stairs. I stood there for a moment. Then turned and made a bee-line straight to the front door. I opened the door, and headed straight towards my car.
Lord and behold, my entire future family was standing outside, all clapping!
With tears in his eyes, my future father-in-law hugged me. He said, 'Paulie, we are very happy that you have passed our little test. We couldn't ask for a better man for our daughter. Welcome to the family my son.'
And the moral of this story is: Always keep your condoms in your car.
March 22, 2015
Redneck Wedding Night
Stolen From: Cyberspace
So a couple from Kintucky gets married and the father of the groom is sitting reading the paper when his son bursts in and the father asks "son why are you are here shouldn't you be on your honeymoon with your new wife?"
To which the son responds "Well I couldn't consummate the marriage since she is virgin"
The father responds "That's great why would you leave something like that?"
The son then says "If she's not good enough for her brother she damn sure ain't good enough for me!"
March 15, 2015
Your Call
Stolen From: Page One PIG
A man went to the hospital in Toronto to have his wedding ring cut off from his penis.
According to the nurse attending the operation, the patient's girlfriend found the ring in his pants pocket.
She didn't know he was married and she was so mad she used petroleum jelly to slip the ring on his penis while he was asleep.
I don't know which is worse:

1) Having your girlfriend find out you're married.

2) Explaining to your wife how your wedding ring got on your penis.
OR
3) Finding out your penis fits through your wedding ring.
Tough call. You decide.
March 14, 2015
How I Lost My Teeth
Stolen From: Cyberspace
I was in the Texas Rose last night, at the bar waiting for a beer, when a butt-ugly, big old heifer in spandex came up behind me, and slapped me on the butt.
She said, "Hey sexy, how about giving me your number."
I looked at her and said, "Have you got a pen?"
She said, "I sure do."
I said, " Well, you better get back in it before the farmer notices you're missing."
My dental surgery is on Monday.
March 13, 2015
A Correct Anthropological Theory
Submitted By: Porcus Welby, MD
Humans originally existed as members of small bands of nomadic hunter/gatherers. They lived on deer in the mountains during the summer and would go to the coast and live on fish and lobster in the winter.
The two most important events in all of history were the invention of beer and the invention of the wheel.
Beer required grain and that was the beginning of agriculture. Neither the glass bottle nor aluminum can were invented yet, so while our early humans were sitting around waiting for them to be invented, they just stayed close to the brewery. That's how villages were formed.
The wheel was invented to get man to the beer.
These two were the foundation of modern civilization and together were the catalyst for the splitting of humanity into two distinct subgroups: 1. Liberals. 2. Conservatives.
Some men spent their days tracking and killing animals to BBQ at night while they were drinking beer. This was the beginning of what is known as the Conservative movement.
Other men who were less skilled at hunting learned to live off the conservatives by showing up for the nightly BBQ's and doing the sewing, fetching, and hair dressing. This was the beginning of the Liberal movement.
Some of these liberal men evolved into women. Others became known as girlie-men. Some noteworthy Liberal achievements include the domestication of cats, the invention of group therapy, group hugs, and the concept of democratic voting to decide how to divide the meat and beer that Conservatives provided.
Over the years Conservatives came to be symbolized by the largest, most powerful land animal on earth, the elephant. Liberals are symbolized by the jackass for obvious reasons.
Modern Liberals like lite beer (with lime added), but most prefer white wine or imported bottled water. They eat raw fish and like their beef well done. Sushi, tofu, and French food are standard Liberal fare. Another interesting evolutionary side note: many Liberal women have higher testosterone levels than their men.
Most college professors, social workers, personal injury attorneys, journalists, film makers in Hollywood, group therapists and community organizers are Liberals. Liberals meddled in our national pastime and invented the designated-hitter rule because they thought it wasn't fair to make the pitcher bat.
Conservatives drink real beer. They eat red meat and still provide for their women. Conservatives are big game hunters, rodeo cowboys, lumberjacks, construction workers, firemen, medical doctors, police officers, engineers, corporate executives, athletes, members of the military, airline pilots, and generally anyone who works productively. Conservatives who own companies hire other conservatives who want to work for a living.
Liberals produce little or nothing. They like to govern the producers and decide what to do with the production. Liberals believe Europeans are more enlightened than Americans. That is why most of the Liberals remained in Europe when Conservatives were coming to America. The Liberals crept in after the Wild West was tamed and created a business of trying to get more for nothing.
Here ends today's lesson in world history. It should be noted that a Liberal may have a momentary urge to angrily respond to this post.
A Conservative will simply laugh and be so convinced of the absolute truth of this history that it will be shared immediately to other true believers and to just piss off more liberals.
March 11, 2015
Divine Inspiration
Stolen From: Page One PIG
A teenage boy had just passed his driving test and inquired of his father as to when they could discuss his use of the car.
His father said he'd make a deal with his son: 'You bring your grades up from a C to a B average, study your Bible a little, and get your hair cut. Then we'll talk about the car.
The boy thought about that for a moment, decided he'd settle for the offer, and they agreed on it.
After about six weeks his father said, 'Son, you've brought your grades up and I've observed that you have been studying your Bible, but I'm disappointed you haven't had your hair cut.
The boy said, 'You know, Dad, I've been thinking about that, and I've noticed in my studies of the Bible that Samson had long hair, John the Baptist had long hair, Moses had long hair ... and there's even strong evidence that Jesus had long hair.
You are going to love the Dad's reply: To this his father replied, 'Did you also notice they walked everywhere they went?'
March 10, 2015
Word Play
Submitted By: Swine Flew
Did I read that sign right?
"TOILET OUT OF ORDER. PLEASE USE FLOOR BELOW."
In a Laundromat:
AUTOMATIC WASHING MACHINES: PLEASE REMOVE
ALL YOUR CLOTHES WHEN THE LIGHT GOES OUT.
In a London department store:
BARGAIN BASEMENT UPSTAIRS...
In an office:
WOULD THE PERSON WHO TOOK THE STEP LADDER YESTERDAY PLEASE BRING IT BACK OR FURTHER STEPS WILL BE TAKEN.
In an office:
AFTER TEA BREAK, STAFF SHOULD EMPTY THE TEAPOT
AND STAND UPSIDE DOWN ON THE DRAINING BOARD.
Outside a secondhand shop:
WE EXCHANGE ANYTHING - BICYCLES, WASHING MACHINES, ETC.
WHY NOT BRING YOUR WIFE ALONG AND GET A WONDERFUL BARGAIN?
Notice in health food shop window:
CLOSED DUE TO ILLNESS...
Spotted in a safari park:
(I sure hope so.)
ELEPHANTS, PLEASE STAY IN YOUR CAR.
Seen during a conference:
FOR ANYONE WHO HAS CHILDREN AND DOESN'T
KNOW IT, THERE IS A DAY CARE ON THE 1ST FLOOR.
Notice in a farmer's field:
THE FARMER ALLOWS WALKERS TO CROSS THE
FIELD FOR FREE, BUT THE BULL CHARGES.
Message on a leaflet:
IF YOU CANNOT READ, THIS LEAFLET WILL TELL
YOU HOW TO GET LESSONS.
On a repair shop door:
WE CAN REPAIR ANYTHING. (PLEASE KNOCK HARD ON
THE DOOR - THE BELL DOESN'T WORK.)
Proofreading is a dying art, wouldn't you say?
Man Kills Self Before Shooting Wife and Daughter
This one I caught in the SGV Tribune the other day and called the Editorial Room and asked who wrote this. It took two or three readings before the editor realized that what he was reading was impossible!!! They put in a correction the next day.
Something Went Wrong in Jet Crash, Expert Says
Really? Ya' think?
Police Begin Campaign to
Run Down Jaywalkers
Now that's taking things a bit far!
Panda Mating Fails; Veterinarian Takes Over
What a guy!

Miners Refuse to Work after Death
No-good-for-nothing' lazy so-and-so's!

Juvenile Court to Try Shooting Defendant
See if that works better than a fair trial!
War Dims Hope for Peace
I can see where it might have that effect!
If Strike Isn't Settled Quickly,
It May Last Awhile
Ya' think?!
Cold Wave Linked to Temperatures
Who would have thought!
Enfield (London) Couple Slain;
Police Suspect Homicide
They may be on to something!
Red Tape Holds Up New Bridges
You mean there's something stronger than duct tape?

Man Struck By Lightning:
Faces Battery Charge
He probably IS the battery charge!
New Study of Obesity Looks for
Larger Test Group
Weren't they fat enough?!
Astronaut Takes Blame for
Gas in Spacecraft
That's what he gets for eating those beans!
Kids Make Nutritious Snacks
Do they taste like chicken?
Local High School Dropouts Cut in Half
Chainsaw Massacre all over again!
Hospitals are Sued by 7 Foot Doctors
Boy, are they tall!
And the winner is...
Typhoon Rips Through Cemetery; Hundreds Dead
Did I read that right?
March 07, 2015
A Cowboy Tombstone
Stolen From: Page One PIG
Here are the Five Rules for Men to Follow for a Happy Life that Russell J. Larsen had inscribed on his headstone in Logan, Utah. He died not knowing that he would win the 'Coolest Headstone' contest.
FIVE RULES FOR MEN TO FOLLOW FOR A HAPPY LIFE:
1. It's important to have a woman who helps at home, cooks from time to time, cleans up, and has a job.
2. It's important to have a woman who can make you laugh.
3. It's important to have a woman who you can trust, and doesn't lie to you.
4. It's important to have a woman who is good in bed, and likes to be with you.
5. It's very, very important that these four women do not know each other or you could end up dead like me.
March 05, 2015
Five Best Things to Say If You Get Caught Sleeping at Your Desk:
Stolen From: Page One PIG
No. 5: They told me at the Blood Bank this might happen.
No. 4: This is just a 15 minute power nap they raved about in the time-management course you sent me to.
No. 3: 'Whew! Guess I left the top off the White-out. You probably got here just in time!
No. 2: Did you ever notice sound coming out of these keyboards when you put your ear down real close?
No. 1: (And MY all time Favorite): Best thing to say if you get caught sleeping at your desk: (Raising your head slowly) '... in Jesus' name, Amen .
*Publisher's Note: If you really want to get your bosses attention, make sure PIG's Homepage is displayed and at that point you'll either get fired on the spot or be in line for that juicy promotion.
March 04, 2015
Smart Asses
Submitted By: Lone Star
Two young businessmen in Florida were sitting down for a break in their soon-to-be new store in the shopping mall. As yet, the store wasn't ready, with only a few shelves and display racks set up.
One said to the other, "I'll bet that any minute now some senior is going to walk by, put his face to the window, and ask what we're selling."
Sure enough, just a moment later, a curious senior gentleman walked up to the window, looked around intensely and rapped on the glass, then in a loud voice asked, "What are you sellin' here?"
One of the men replied sarcastically, "We're selling ass-holes."
Without skipping a beat, the old timer said, "You must be doing well. Only two left."

Seniors -- don't mess with them, they didn't get old by being stupid!
March 03, 2015
The Ultimate Blonde Joke
Posted By: PFO
A blonde woman was speeding down the road in her little red sports car and was pulled over by a woman police officer, who was also a blonde.
The blonde cop asked to see the blonde driver's license. She dug through her purse and was getting progressively more agitated.
"What does it look like?" she finally asked. The policewoman replied, 'It's square and it has your picture on it.'
The driver finally found a aquare mirror in her purse, looked at it and handed it to the policewoman. 'Here it is,' she said.
The blonde officer looked at the mirror, then handed it back saying, "OK, you can go. I didn't realize you were a cop..."
February 28, 2015
The Hillbilly Vasectomy
Posted By: Jasper
After their 11th child, a Kentucky couple decided that was enough, as they could not afford a larger bed. So the husband went to his veterinarian and told him that he and his cousin didn't want to have any more children.
The doctor told him that there was a procedure called a vasectomy that could fix the problem but that it was expensive.
'A less costly alternative,' said the doctor, 'is to go home, get a cherry bomb, (fireworks are legal in Kentucky) light it, put it in a beer can, then hold the can up to your ear and count to 10.'
The Kentuckian said to the doctor, 'I may not be the smartest tool in the shed, but I don't see how putting a cherry bomb in a beer can next to my ear is going to help me'.
'Trust me,' said the doctor.
So the man went home, lit a cherry bomb and put it in a beer can. He held the can up to his ear and began to count!
"1"
"2"
"3"
"4"
"5"
At which point he paused, placed the beer can between his legs and continued counting on his other hand.
February 24, 2015
Two Friends In Heaven
Stolen From: Page One PIG
SYLVIA: Hi! Wanda.
WANDA: Hi! Sylvia. How'd you die?
SYLVIA: I froze to death.
WANDA: How horrible!
SYLVIA: It wasn't so bad. After I quit shaking from the cold, I began to get warm & sleepy, and finally died a peaceful death. What about you?
WANDA: I died of a massive heart attack. I suspected that my husband was cheating, so I came home early to catch him in the act. But instead, I found him all by himself in the den watching TV.
SYLVIA: So, what happened?
WANDA: I was so sure there was another woman there somewhere that I started running all over the house looking. I ran up into the attic and searched, and down into the basement. Then I went through every closet and checked under all the beds. I kept this up until I had looked everywhere, and finally I became so exhausted that I just keeled over with a heart attack and died.
SYLVIA: Too bad you didn't look in the freezer --- we'd both still be alive.
February 21, 2015
Bent Over
Lifted From: Cyberspace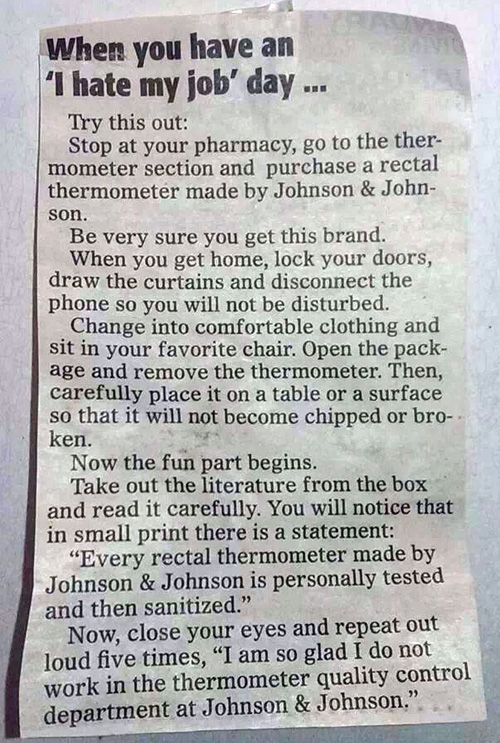 February 18, 2015

Irish Fun
Posted By: Paddy O'Publisher

• Definition of an Irish husband: He hasn't kissed his wife for twenty years, but he will clobber any man who does.

• Murphy told Quinn that his wife was driving him to drink. Quinn thinks he's very lucky because his own wife makes him walk.

• The late Bishop Sheen stated that the reason the Irish fight so often among themselves is that they're always assured of having a worthy opponent.

• An American lawyer asked, "Paddy, why is it that whenever you ask an Irishman a question, he answers with another question?" "Who told you that?" asked Paddy.

• Question - Why are Irish jokes so simple?
Answer - So the English can understand them.

• Reilly went to trial for armed robbery. The jury foreman came out and announced, "Not guilty."
"That's grand!" shouted Reilly. "Does that mean I can keep the money?"

• Irish lass customer: "Could I be trying on that dress in the window?"
Shopkeeper: "I'd prefer that you use the dressing room."

• Mrs. Feeney shouted from the kitchen, "Is that you I hear spittin' in the vase on the mantle piece?"
"No," said himself, "but I'm gettin' closer all the time."

• Question – What do you call an Irishman who knows how to control a wife?
Answer – A bachelor.

• Finnegan: My wife has a terrible habit of staying up 'til two o'clock in the morning. I can't break her of it.

Keenan: What on earth is she doin' at that time?

Finnegan: Waitin' for me to come home.

• Slaney phoned the maternity ward at the hospital. "Quick!" he said. "Send an ambulance, my wife is goin' to have a baby!"

"Tell me, is this her first baby?" the intern asked.

"No, this is her husband, Kevin, speakin'."

• "O'Ryan," asked the druggist, "Did that mudpack I gave you improve your wife's appearance?"

"It did surely," replied O'Ryan, "but it keeps fallin' off!"

• My mother wanted me to be a priest. Can you imagine having to give up your sex life and then once a week people come in to tell you the details and highlights of theirs?

February 17, 2015

Why Carry A Gun?
Stolen From: Page One PIG

My old Grandpa said to me, 'Son, there comes a time in every man's life when he stops bustin' knuckles and starts bustin' caps and usually it's when he becomes too old to take an ass whoopin'.'

I don't carry a gun to kill people; I carry a gun to keep from being killed.

I don't carry a gun to scare people; I carry a gun because sometimes this world can be a scary place.

I don't carry a gun because I'm paranoid; I carry a gun because there are real threats in the world.

I don't carry a gun because I'm evil; I carry a gun because I have lived long enough to see the evil in the world.

I don't carry a gun because I hate the government; I carry a gun because I understand the limitations of government.

I don't carry a gun because I'm angry; I carry a gun so that I don't have to spend the rest of my life hating myself for failing to be prepared.

I don't carry a gun because I want to shoot someone; I carry a gun because I want to die at a ripe old age in my bed and not on a sidewalk somewhere tomorrow afternoon.

I don't carry a gun because I'm a cowboy; I carry a gun because, when I die and go to Heaven, I want to be a cowboy.

I don't carry a gun to make me feel like a man; I carry a gun because men know how to take care of themselves and the ones they love.

I don't carry a gun because I feel inadequate; I carry a gun because unarmed and facing three armed thugs, I am inadequate.

I don't carry a gun because I love it; I carry a gun because I love life and the people who make it meaningful to me.

Police protection is an oxymoron: Free citizens must protect themselves because police do not protect you from crime; they just investigate the crime after it happens and then call someone in to clean up the mess.

Personally, I carry a gun because I'm too young to die and too old to take an ass whoopin'!

February 16, 2015

Self-Examination For Alzheimer's Disease
Submitted By: PIGster GM

It takes less than 15 seconds..

If you are over 45 yrs old, you SHOULD take this Alzheimer's Test. How fast can you guess these words and fill-in the blanks?
1. _ _NDOM

2. F_ _K

3. P_N_S

4. PU_S_

5. S_X

6. BOO_S

Answers:

1. RANDOM
2. FORK
3. PANTS
4. PULSE
5. SIX
6. BOOKS

You got all 6 wrong....didn't you?

Congratulations. You do NOT have Alzheimer's

You are a pervert

February 15, 2015

Good News/Bad News
Stolen From: Page One PIG

A lawyer says to a wealthy art collector tycoon, "I have some good news and I have some bad news."

The tycoon replies, "I've had an awful day, so let's hear the good news first."

The lawyer says, "Your wife invested $5,000 in two pictures today that she figures are worth a minimum of $20 million."

The tycoon replies enthusiastically, "Well done! Very good news indeed! You've just made my whole day – what could possibly be the bad news?"

Lawyer: "The pictures are of you banging your secretary."

February 14, 2015

Types Of Sex
Stolen From: Page One PIG

PENSION SEX
Two men were talking. 'So, how's your sex life?'
'Oh, nothing special. I'm having Pension sex.'
'Pension sex?'
'Yeah, you know; I get a little each month, but not enough to live on!'

LOUD SEX
A wife went in to see a therapist and said, 'I've got a big problem, doctor. Every time we're in bed and my husband climaxes, he lets out this ear splitting yell.'

My dear,' the shrink said, 'that's completely natural. I don't see what the problem is.'

'The problem is,' she complained, 'it wakes me up!'

QUIET SEX
Tired of a listless sex life, the man came right out and asked his wife during a recent lovemaking session, 'How come you never tell me when you have an orgasm?' She glanced at him and replied, 'You're never home!'

CONFOUNDED SEX
A man was in a terrible accident, and his 'manhood' was mangled and torn from his body. His doctor assured him that modern medicine could give him back his manhood, but that his insurance wouldn't cover the surgery since it was considered cosmetic. The doctor said the cost would be $3,500 for 'small', $6,500 for 'medium', and $14,000 for 'large.'

The man was sure he would want a medium or large, but the doctor urged him to talk it over with his wife before he made any decision. The man called his wife on the phone and explained their options. The doctor came back into the room, and found the man looking dejected.

'Well, what have the two of you decided?' asked the doctor. 'She'd rather remodel the kitchen.'

WEDDING ANNIVERSARY SEX
A husband and his wife had a bitter quarrel on the day of their 40th wedding anniversary The husband yelled, 'When you die, I'm getting You a headstone that reads: 'Here Lies My Wife – Cold As Ever'.'


Yeah,' she replies, 'when you die, I'm getting you a headstone that reads:

'Here Lies My Husband – Stiff At Last.' '

WOMEN'S HUMOROUS SEX
My husband came home with a tube of KY jelly and said, 'This will make you happy tonight.' He was right. When he went out of the bedroom, I squirted it all over the doorknobs. He couldn't get back in.

ELDERLY SEX
One night, an 87 year-old woman came home from Bingo and found her 92 year-old husband in bed with another woman. She became violent and ended up pushing him off the balcony of their 20th floor, assisted living apartment, killing him instantly.

Brought before the court on the charge of murder. The judge asked her if she had anything to say in her defense. She began coolly, 'Yes, your honor. I figured that at 92, if he could have sex... he could also fly.'

February 09, 2015

The Hollywood Squares Revisited
Stolen From: Page One PIG

These great questions and answers are from the days when Hollywood Squares' game show responses were spontaneous, not scripted, as they are now!

Q. Paul, what is a good reason for pounding meat?
A. Paul Lynde: Loneliness!
(The audience laughed so long and so hard it took up almost 15 minutes of the show!)

Q. Do female frogs croak?
A. Paul Lynde: If you hold their little heads under water long enough.

Q. If you're going to make a parachute jump, at least how high should you be?
A. Charley Weaver: Three days of steady drinking should do it.

Q. True or False, a pea can last as long as 5,000 years?
A. George Gobel: Boy, it sure seems that way sometimes.

Q. You've been having trouble going to sleep. Are you probably a man or a woman?
A. Don Knotts: That's what's been keeping me awake.

Q. According to Cosmopolitan, if you meet a stranger at a party and you think that he is attractive, is it okay to come out and ask him if he's married?
A. Rose Marie: No wait until morning.

Q. Which of your five senses tends to diminish as you get older?
A. Charley Weaver: My sense of decency.

Q. What are 'Do It,' 'I Can Help,' and 'I Can't Get Enough'?
A. George Gobel: I don't know, but it's coming from the next apartment.

Q. As you grow older, do you tend to gesture more or less with your hands while talking?
A. Rose Marie: You ask me one more growing old question Peter, and I'll give you a gesture you'll never forget.

Q. Paul, why do Hell's Angels wear leather?
A. Paul Lynde: Because chiffon wrinkles too easily.

Q. Charley, you've just decided to grow strawberries. Are you going to get any during the first year?
A. Charley Weaver: Of course not, I'm too busy growing strawberries.

Q. In bowling, what's a perfect score?
A. Rose Marie: Ralph, the pin boy.

Q. During a tornado, are you safer in the bedroom or in the closet?
A. Rose Marie: Unfortunately Peter, I'm always safe in the bedroom.

Q. Can boys join the Camp Fire Girls?
A. Marty Allen: Only after lights out.

Q. When you pat a dog on its head he will wag his tail. What will a goose do?
A. Paul Lynde: Make him bark?

Q. If you were pregnant for two years, what would you give birth to?
A. Paul Lynde: Whatever it is, it would never be afraid of the dark.

Q. According to Ann Landers, is there anything wrong with getting into the habit of kissing a lot of people?
A. Charley Weaver: It got me out of the army.

Q. Back in the old days, when Great Grandpa put horseradish on his head, what was he trying to do?
A. George Gobel: Get it in his mouth.

Q. Who stays pregnant for a longer period of time, your wife or your elephant?
A. Paul Lynde: Who told you about my elephant?

Q. Jackie Gleason recently revealed that he firmly believes in them and has actually seen them on at least two occasions. What are they?
A. Charley Weaver: His feet.

Q. According to Ann Landers, what are two things you should never do in bed?
A. Paul Lynde: Point and laugh.

February 08, 2015

The Ski Trip
Posted By: K-2

Three guys go to a ski lodge, and there aren't enough rooms, so they have to share a bed.

In the middle of the night, the guy on the right wakes up and says, "I had this wild, vivid dream of getting a hand job!"

The guy on the left wakes up, and unbelievably, he's had the same dream, too.

Then the guy in the middle wakes up and says, "That's funny, I dreamed I was skiing!"

February 07, 2015

Random Thoughts
Stolen From: Page One PIG

Wouldn't it be great if we could put ourselves in the dryer for ten minutes, come out wrinkle-free and three sizes smaller?

Last year I joined a support group for procrastinators. We haven't met yet...

I don't trip over things, I do random gravity checks!

I don't need anger management. I need people to stop pissing me off!

Old age is coming at a really bad time!

When I was a child I thought Nap Time was a punishment... now, as a grown up, it just feels like a small vacation!

My people skills are just fine. It's my tolerance to idiots that needs work.

Teach your daughter how to shoot, because a restraining order is just a piece of paper.

The kids text me "plz" which is shorter than please. I text back "no" which is shorter than "yes".

I'm going to retire and live off of my savings. Not sure what I'll do that second week.

When did it change from "We the people" to "screw the people"?

I've lost my mind and I'm pretty sure my wife took it!

Even duct tape can't fix stupid... but it can muffle the sound!

Why do I have to press one for English when you're just gonna transfer me to someone I can't understand anyway?

Of course I talk to myself, sometimes I need expert advice.

Oops! Did I roll my eyes out loud?

At my age "Getting lucky" means walking into a room and remembering what I came in there for.

February 06, 2015

The Old Blind Cowboy
Stolen From: WTF Magazine

An old blind cowboy wanders into an all-girl biker bar bar by mistake. He fings his way to a bar stooland orders a Jack Daniels.

After sitting there a while, he yells to the bartender, 'Hey, you wanna hear a blonde joke?'

The bartender immediately falls silent.

In a very deep, husky voice, the woman next to him says, 'Before you tell that joke, Cowboy, I think it is only fair, given that you are blind, that you shouls know 5 things:

1. The bartender is a blonde girl with a baseball bat.

2. The bouncer is a blonde girl with a billy-club.

3. I'm a 6-foot tall, 175 lb. blonde woman with a black belt in Karate.

4. The woman sitting next to me is blonde and a professional weightlifter.

5. The lady to your right is blonde and a professional wrestler.

'Now, think about it seriously, Cowboy. Do you still wanna tell that blonde joke?'

The blind cowboy thinks for a second, shakes his head and mutter, .No…not if I'm gonna have to explain it five times…'

February 04, 2015

Jewish Comedians
Posted By: Some Gentile

Those fabulous Jewish Comedians – You may remember the old Jewish Catskill comics of Vaudeville days: Shecky Greene, Red Buttons, Totie Fields, Joey Bishop, Milton Berle, Jan Murray, Danny Kaye, Henny Youngman, Buddy Hackett, Sid Caesar, Groucho Marx, Jackie Mason, Victor Borge, Woody Allen, George Burns, Allan Sherman, Jerry Lewis, Peter Sellers, Carl Reiner, Gene Wilder, George Jessel, Alan King, Mel Brooks, Phil Silvers, Jack Carter, Rodney Dangerfield, Don Rickles, Jack Benny, Mansel Rubenstein and so many others.

And there was not one single swear word in their comedy. Here are a few examples:

* I just got back from a pleasure trip. I took my mother-in-law to the airport.

* I've been in love with the same woman for 49 years! If my wife ever finds out, she'll kill me!

* Someone stole all my credit cards but I won't be reporting it. The thief spends less than my wife did.

* We always hold hands. If I let go, she shops.

* She was at the beauty shop for two hours. That was only for the estimate. She got a mud pack and looked great for two days. Then the mud fell off.

* The Doctor gave a man six months to live. The man couldn't pay his bill so the doctor gave him another six months.

* The Doctor called Mrs. Cohen saying, "Mrs. Cohen, your check came back.

" Mrs. Cohen answered, "So did my arthritis!

* Doctor: "You'll live to be 60!" Patient: "I am 60!" Doctor: "See! What did I tell you?"

* Patient: "I have a ringing in my ears." Doctor: "Don't answer!"

* A drunk was in front of a judge. The judge says, "You've been brought here for drinking." The drunk says "Okay, let's get started."

* Why do Jewish divorces cost so much? They're worth it.

Q: Why don't Jewish mothers drink?
A: Alcohol interferes with their suffering.

Q: Why do Jewish mothers make great parole officers?
A: They never let anyone finish a sentence!

A man called his mother in Florida, "Mom, how are you?" "Not too good," said the mother. "I've been very weak." The son said, "Why are you so weak?" She said, "Because I haven't eaten in 38 days." The son said, "That's terrible. Why haven't you eaten in 38 days?" The mother answered, "Because I didn't want my mouth to be filled with food if you should call."

A Jewish boy comes home from school and tells his mother he has a part in the play. She asks, "What part is it?" The boy says, "I play the part of the Jewish husband." "The mother scowls and says, "Go back and tell the teacher you want a speaking part."


Q: How many Jewish mothers does it take to change a light bulb?
A: (Sigh) "Don't bother. I'll sit in the dark. I don't want to be a nuisance to anybody."

Short summary of every Jewish holiday:
They tried to kill us.
We won.
Let's eat.

Did you hear about the bum who walked up to a Jewish mother on the street and said, "Lady, I haven't eaten in three days." "Force yourself," she replied.

Q: What's the difference between a Rottweiler and a Jewish mother?
A: Eventually, the Rottweiler lets go.

Q: Why are Jewish men circumcised?
A: Because Jewish women don't like anything that isn't 20% off.

The Harvard School of Medicine did a study of why Jewish women like Chinese food so much. The study revealed that this is due to the fact that Won Ton spelled backward is Not Now.

There is a big controversy on the Jewish view of when life begins. In Jewish tradition, the fetus is not considered viable until it graduates from medical school.

February 02, 2015

Branded
Posted By: Your Friendly, Neighborhood Handyman

A husband is at home watching a football game when his wife interrupts, "Honey, could you fix the light in the hallway? It's been flickering for weeks now." He looks at her and says angrily, "Fix the light? Now? Does it look like a G.E. logo printed on my forehead? I don't think so."

"Well then, could you fix the fridge door? It won't close right." To which he replied, "Fix the fridge door? Does it look like I have Westinghouse written on my forehead? I don't think so."

"Fine," she says, "Then could you at least fix the steps to the front door? They're about to break."

"I'm not a damn carpenter and I don't want to fix the steps," he says. "Does it look like I have Ace Hardware written on my forehead? I don't think so. I've had enough of you. I'm going to the bar."

So he goes to the bar and drinks for a couple of hours. He starts to feel guilty about how he treated his wife, and decides to go home and help out.

As he walks into the house, he notices the steps are already fixed. As he enters the house, he see the hall light is working. As he goes to get a beer, he noticed the fridge door is fixed. "Honey, how'd this all get fixed?"

She said, "Well, when you left, I sat outside and cried. Just then a nice young man asked me what was wrong, and I told him. He offered to do all the repairs, and all I had to do was either screw him or bake a him a cake."

He said, "So what kind of cake did you bake him?"

She replied, "Helloooo… Do you see Betty Crocker written on my forehead?"

February 01, 2015

Wi-Fi'ed
Stolen From: Page One PIG

A man received the following text from his neighborI am so sorry EdI've been riddled with guilt and I have to confessI have been helping myself to your wife, day and night when you're not around. In fact, I have probably been getting more than you. I do not get it at home - but that's no excuse. I can no longer live with the guilt and I hope you will accept my sincerest apology with my promise that it won't ever happen again."

On reading the text, the man, anguished and betrayed, went directly into his bedroom, grabbed his gun and, without a word, shot his wife dead.
A few moments later, a second text came in, "Bloody spell check!! Sorry Bob, the second sentence should refer to your wifi."

January 28, 2015

The Irish Painter And The Gallery
Stolen From: Cyberspace

A couple attending an art exhibition at the National Gallery was staring at a portrait that had them totally confused. The painting depicted three black men totally naked, sitting on a park bench. Two of the men had black penises, but the one seated in the middle, had a pink penis.

The curator of the gallery realized the confused couple were having trouble with interpreting the painting and offered his assessment. He went on and on explaining how it depicted the sexual emasculation of African-Americans in a predominantly white, patriarchal society. "In fact", he pointed out, "some serious critics believe that the pink penis also reflects the cultural and sociological oppression expressed by gay men in a contemporary society".

After the curator left, an Irish man approached the couple and said, "Would you like to know what the painting is really about?"

"Now why would you claim to be more of an expert than the curator of the Gallery?", asked the couple.

"Because I'm the guy who painted it," he replied. "In fact, there is no African-American representation at all. They're just three Irish coal-miners. The guy in the middle went home for lunch."

January 27, 2015

A Twofer Tuesday
Stolen From: Page One PIG

PIGish Humor

A student who obtained 0% for his responses, as listed below, on a class exam responded to those questions with what I believe was considerable foresight. It is apparent the exam preparer did not, in my opinion, phrase the questions appropriately as to direct the student to respond with the answer he/she had in mind as the only acceptable one.

Q. In which battle did Napoleon die?
A. His last battle

Q. Where was the Declaration of Independence signed?
A. At the bottom of the page

Q. River Ravi flows in which state?
A. Liquid

Q. What is the main reason for divorce?
A. Marriage

Q. What is the main reason for failure?
A. Exams

Q. What can you never eat for breakfast?
A. Lunch & dinner

Q. What looks like half an apple?
A. The other half

Q. If you throw a red stone into the blue sea what will it become?
A. It will simply become wet

Q. How can a man go eight days without sleeping?
A. No problem, he sleeps at night

Q. How can you lift an elephant with one hand?
A. You will never find an elephant that has only one hand.

Q. If you had three apples and four oranges in one hand and four apples and three oranges in other hand, what would you have?
A. Very large hands

Q. If it took eight men ten hours to build a wall, how long would it take four men to build it?
A. No time at all, the wall is already built

Q. How can you drop a raw egg onto a concrete floor without cracking it?
A. Any way you want, concrete floors are very hard to crack.

PIGish Humor II

1. My first job was working in an Orange Juice factory, but I got canned. Couldn't concentrate.

2. Then I worked in the woods as a Lumberjack, but just couldn't hack it, so they gave me the axe.

3. After that, I tried being a Tailor, but wasn't suited for it – mainly because it was a sew-sew job.

4. Next, I tried working in a Muffler Factory, but that was too exhausting.

5. Then, tried being a Chef - figured it would add a little spice to my life, but just didn't have the thyme.

6. Next, I attempted being a Deli Worker, but any way I sliced it ... couldn't cut the mustard.

7. My best job was a Musician, but eventually found I wasn't noteworthy.

8. I studied a long time to become a Doctor, but didn't have any patience.

9. Next, was a job in a Shoe Factory. Tried hard but just didn't fit in.

10. I became a Professional Fisherman, but discovered I couldn't live on my net income.

11. Managed to get a good job working for a Pool Maintenance Company, but the work was just too draining.

12. So then I got a job in a Workout Center, but they said I wasn't fit for the job.

13. After many years of trying to find steady work, I finally got a job as a Historian - until I realized there was no future in it.

14. My last job was working in Starbucks, but had to quit because it was the same old grind.

15. So, I tried retirement and I found I'm perfect for the job!

January 25, 2015

The Stranger
Stolen From: Page One PIG

A few years after I was born, my Dad met a stranger who was new to our small town. From the beginning, Dad was fascinated with this enchanting newcomer and soon invited him to live with our family the stranger was quickly accepted and was around from then on.

As I grew up, I never questioned his place in my family. In my young mind, he had a special niche. My parents were complementary instructors: Mom taught me good from evil, and Dad taught me to obey.

But the stranger... he was our storyteller. He would keep us spellbound for hours on end with adventures, mysteries and comedies.

If I wanted to know anything about politics, history or science, he always knew the answers about the past, understood the present and even seemed able to predict the future! He took my family to the first major league ball game. He made me laugh, and he made me cry. The stranger never stopped talking, but Dad didn't seem to mind. Sometimes, Mom would get up quietly while the rest of us were shushing each other to listen to what he had to say, and she would go to the kitchen for peace and quiet. (I wonder now if she ever prayed for the stranger to leave.)

Dad ruled our household with certain moral convictions, but the stranger never felt obligated to honor them. Profanity, for example, was not allowed in our home - not from us, our friends or any visitors. Our long time visitor, however, got away with four-letter words that burned my ears and made my dad squirm and my mother blush.

My Dad didn't permit the liberal use of alcohol but the stranger encouraged us to try it on a regular basis. He made cigarettes look cool, cigars manly, and pipes distinguished. He talked freely (much too freely!) about sex. His comments were sometimes blatant, sometimes suggestive, and generally embarrassing.

I now know that my early concepts about relationships were influenced strongly by the stranger. Time after time, he opposed the values of my parents, yet he was seldom rebuked. And NEVER asked to leave.

More than fifty years have passed since the stranger moved in with our family. He has blended right in and is not nearly as fascinating as he was at first. Still, if you could walk into my parents' den today, you would still find him sitting over in his corner, waiting for someone to listen to him talk and watch him draw his pictures.

His name?

We just call him 'TV.'

He has a wife now. We call her 'Computer.' Their first child is "Cell Phone". Second child "IPod. And just born was a grandchild: IPad.

January 24, 2014

Grandmothers and Grandfathers
Submitted By: Lone Star

Have you ever wondered what the difference is between Grandmothers and Grandfathers?

Well, here it is: There was this loving grandfather who always made a special effort to spend time with his son's family on weekends. Every Saturday morning he would take his 7-year-old granddaughter out for a drive in the car for some quality time -- just him and his granddaughter.

One particular Saturday, however, he had a bad cold and really didn't feel like being up at all. He knew his granddaughter always looked forward to their drives and would be disappointed. Luckily, his wife came to the rescue and said that she would take their granddaughter for the drive. When they returned, the little girl anxiously ran upstairs to see her grandfather who was still in bed.

"Well, did you enjoy your ride with grandma?" he asked.

"Oh, yes, Pap Pap, it was really wonderful. We didn't see a single asshole, piece of crap, horse's ass, blind bastard, dipshit, Muslim goat humper or son of a bitch anywhere we went!"

January 23, 2015

Lazy Gun
Submitted By: PFO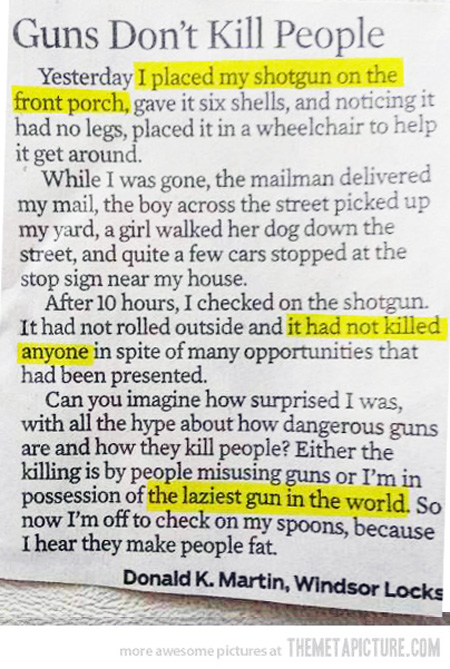 January 22, 2015
Texting Tip
Stolen From: Page One PIG
From a teacher -- short and to the point

In the world of hi-tech gadgetry, I've noticed that more and more people who send text messages and emails have forgotten the art of capital letters.

For those of you who fall into this category, please take note of the following statement:

"Capitalization is the difference between helping your Uncle Jack off a horse and helping your uncle jack off a horse."

Is everybody clear on that?
Bonus graphic dedicated to PIGster K-Cro: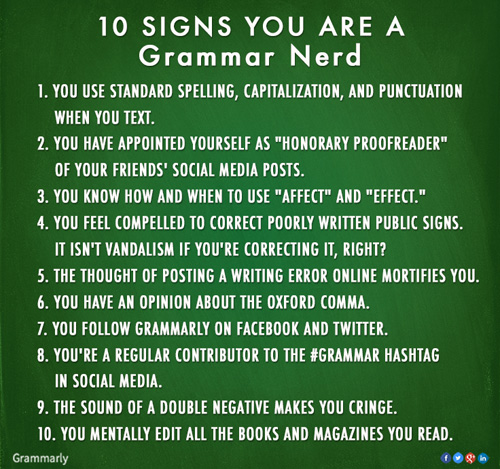 January 20, 2015
Wisdom
Submitted By: PIGster GM
1. There are two sides to every divorce: Yours and Shithead's.
2. The closest I ever got to a 4.0 in college was my blood alcohol content.
3. I live in my own little world but it's OK; everyone knows me here.
4. I saw a rather large woman wearing a sweatshirt with "Guess" on it. I said, "Thyroid problem?"
5. I don't do drugs 'cause I find I get the same effect just by drinking and standing up really fast.
6. A sign In a Chinese Pet Store: "Buy one dog, get one flea."
7. Money can't buy happiness but it sure makes misery easier to live with.
7.1. Money can't buy happiness but poverty can't buy anything.
8. I got a sweater for Christmas. I really wanted a screamer or a moaner.
9. If flying is so safe, why do they call the airport the "terminal"?
10. I don't approve of political jokes. I've seen too many of them get elected.
11. The most precious thing we have is life, yet it has absolutely no trade-in value.
12. If life deals you lemons, make lemonade. If life deals you tomatoes, make Bloody Marys.
13. I love being married. It's so great to find that one special person you want to annoy for the rest of your life.
14. Shopping tip: You can get shoes for a buck at bowling alleys.
15. I am a nobody; nobody is perfect, and therefore I am perfect.
16. Every day I beat my own previous record for number of consecutive days I've stayed alive.
17. That Claudia Schiffer must be a genius because I told a friend my plan to attain world peace, and he told me I have "Schiffer Brains."
18. No one ever says, "It's only a game!" when their team is winning.
19. Ever notice that people who spend money on beer, cigarettes, tattoos and lottery tickets are always complaining about being broke and not feeling well?
20. How long a minute is, depends on what side of the bathroom door you're on.
21. Isn't having a smoking section in a restaurant like having a peeing section in a swimming pool?
22. Marriage changes passion ... suddenly you're in bed with a relative.
23. Why is it that most nudists are people you don't want to see naked?
24. Snowmen fall from Heaven unassembled.
25. Every time I walk into a singles bar I can hear Mom's wise words: "Don't pick that up, you don't know where it's been!"
26. Now that food has replaced sex in my life, I can't even get into my own pants.
27. How come we choose from just 2 people to run for president and over 50 for Miss America?
28. When I was young, we used to go "skinny dipping." Now I just go "chunky dunking."
29. I signed up for an exercise class and was told to wear loose fitting clothing. If I HAD any loose fitting clothing, I wouldn't have signed up in the first place.
30. Wouldn't it be nice if whenever we messed up our life we could simply press "Ctrl Alt Delete" and start all over?
31. Don't argue with an idiot; people watching may not be able to tell the difference.
31.2 Don't argue with idiots; they will drag you down to their level and beat you with experience.
January 19, 2015
A Wise Person Once Said...
Submitted By: Swine Flew
1. We all love to spend money buying new clothes but we never realize that the best moments in life are enjoyed without clothes.
2. Having a cold drink on a hot day with a few friends is nice, but having a hot friend on a cold night after a few drinks - Priceless.
3. Breaking News: Condoms don't guarantee safe sex anymore. A friend of mine was wearing one when he was shot dead by the woman's husband.
4. Arguing over a girl's bust size is like choosing between Molson, Heineken, Carlsberg, & Budweiser. Men may state their preferences, but will grab whatever is available.

And
5. I haven't verified this on Snopes, but it sounds legit… A recent study found that women who carry a little extra weight live longer than the men who mention it.
January 18, 2015
A Doctor Was Addressing A Large Audience At Oxford
Submitted By: PIGster GM
The material we put into our stomachs should have killed most of us sitting here, years ago.
Red meat is full of steroids and dye.
Soft drinks corrode your stomach lining.
Chinese food is loaded with MSG.
High trans fat diets can be disastrous and none of us realizes the long-term harm caused by the germs in our drinking water.
But, there is one thing that is the most dangerous of all and most of us have, or will eat it...Can anyone here tell me what food it is that causes the most grief and suffering for years after eating it?
After several seconds of quiet, a 70 year old man in the front row raised his hand, and softly said, "Wedding Cake?"
January 17, 2015
New Parishioners
Stolen From: Page One PIG
A newlywed couple wanted to join a church. The pastor told them, "We have special requirements for new parishioners. You must abstain from sex for an entire month."
The couple agreed and, after two-and-a-half weeks, returned to the church. When the Pastor ushered them into his office, the wife was crying, and the husband obviously was very depressed.
"You are back so soon. Is there a problem ?" the pastor inquired.
"We are terribly ashamed to admit that we did not manage to abstain from sex for the required month," the young man replied sadly.
The pastor asked him, "What happened?"
"Well, the first week was difficult; however, we managed to abstain through sheer willpower. The second week was terrible, but with the use of prayer, we managed to abstain. The third week, however, was unbearable. We tried cold showers, prayer, reading from the Bible, or anything to keep our minds free of carnal thoughts, but one afternoon, my wife reached for a can of paint and dropped it. When she bent over to pick it up, I was overcome with lust and had my way with her right then and there!" admitted the man, shamefacedly.
"You understand this means you will not be welcome in our church," stated the pastor.
"We know," said the young man, hanging his head. "We're not welcome at Lowes, either."
January 16, 2015
Christmas With Louise
Submitted By: PIGster GM
"Christmas With Louise"
Here Goes: As a joke, my brother Jay used to hang a pair of panty hose over his fireplace before Christmas. He said all he wanted was for Santa to fill them. What they say about Santa checking the list twice must be true because every Christmas morning, although Jay's kids' stockings overflowed, his poor pantyhose hung sadly empty.One year I decided to make his dream come true. I put on sunglasses and went in search of an inflatable love doll. They don't sell those things at Wal-Mart. I had to go to an adult bookstore downtown. If you've never been in an X-rated store, don't go. You'll only confuse yourself. I was there an hour saying things like, "What does this do?" "You're kidding me!" "Who would buy that?"
Finally, I made it to the inflatable doll section. I wanted to buy a standard, uncomplicated doll that could also substitute as a passenger in my truck so I could use the car pool lane during rush hour. Finding what I wanted was difficult. "Love Dolls" come in many different models. The top of the line, according to the side of the box, could do things I'd never heard of. I settled for "Lovable Louise." She was at the bottom of the price scale. To call Louise a "doll" took a huge leap of imagination.
On Christmas Eve and with the help of an old bicycle pump, Louise came to life. My sister-in-law was in on the plan and let me in during the wee morning hours. Long after Santa had come and gone, I filled the dangling pantyhose with Louise's pliant legs and bottom. I also ate some cookies and drank what remained of a glass of milk on a nearby tray. I went home, and giggled for a couple of hours.
The next morning my brother called to say that Santa had been to his house and left a present that had made him VERY happy but had left the dog confused. She would bark, start to walk away, then come back and bark some more. We all agreed that Louise should remain in her panty hose so the rest of the family could admire her when they came over for the traditional Christmas dinner. My grandmother noticed Louise the moment she walked in the door. "What in the hell is that?" she asked.My brother quickly explained, "It's a doll." "Who would play with something like that?" Granny snapped. I kept my mouth shut. "Where are her clothes?" Granny continued. "Boy, that turkey sure smells nice, Gran," Jay said, to steer her into dining room.
But Granny was relentless. "Why doesn't she have any teeth?" Again, I could have answered, but why would I? It was Christmas and no one wanted to ride in the back of the ambulance saying, "Hang on Granny, hang on!"

My grandfather, a delightful old man with poor eyesight, sidled up to me and said, " Hey, who's the naked gal by the fireplace?"I told him she was Jay's friend. A few minutes later I noticed Grandpa by the mantel, talking to Louise. Not just talking, but actually flirting. It was then that we realized this might be Grandpa's last Christmas at home. The dinner went well. We made the usual small talk about who had died, who was dying, and who should be killed, when suddenly Louise made a noise like my father in the bathroom in the morning. Then she lurched from the mantel, flew around the room twice, and fell in a heap in front of the sofa.
The cat screamed. I passed cranberry sauce through my nose, and Grandpa ran across the room, fell to his knees, and began administering mouth-to-mouth resuscitation. My brother fell back over his chair and wet his pants. Granny threw down her napkin, stomped out of the room, and sat in the car.
It was indeed a Christmas to treasure and remember. Later, in my brother's garage, we conducted a thorough examination to determine the cause of Louise's collapse. We discovered that Louise had suffered from a hot ember to the back of her right thigh. Fortunately, thanks to a wonder drug called duct tape, we restored her to perfect health.
I can't wait until next Christmas.
January 15, 2014
Three Stories About Bears
Submitted By: PIGster GM
A Catholic Priest, a Baptist Preacher and a Rabbi would get together two or three times a week for coffee and to talk shop.
One day, someone made the comment that preaching to people isn't really all that hard, and that a real challenge would be to preach to a bear.
One thing led to another, and they decided to do an experiment. They would all go out into the woods, find a bear, preach to it, and attempt to convert it to their religion.
Seven days later, they all came together to discuss their experiences.
Father Murphy went first. 'Well,' he said, 'I went into the woods to find me a bear. And when I found him, I began to read to him from the Catechism.
Well, that bear wanted nothing to do with me and began to slap me around.
So I quickly grabbed my holy water, sprinkled him and, Holy Mary Mother of God, he became as gentle as a lamb. The Bishop is coming out next week to give him first communion and confirmation.'
Reverend Billy Bob, the Baptist, spoke next. He was also very excited.
In his best fire-and-brimstone oratory, he exclaimed, 'WELL, brothers, you KNOW that we Baptists don't sprinkle! I went out and I FOUND me a bear.
And then I began to read to my bear from God's HOLY WORD! But that bear wanted nothing to do with me.
So I took HOLD of him and we began to wrestle. We wrestled down the hill, until we came to a creek. So I quickly DUNKED him and BAPTIZED his hairy soul. And just like you said, he became as gentle as a lamb. We spent the rest of the day praising Jesus. Hallelujah!
The Priest and the Reverend both looked down at the Rabbi, who was lying in a hospital bed. He was in a body cast and traction with IVs and monitors running in and out of him. He was in really bad shape.
The Rabbi looked up and said: "Looking back on it, circumcision may not have been the best way to start."
January 07, 2015
Sexual Harrasment
Submitted By: T-Cro
Every day, a male employee walks up very close to a female co-worker at the coffee machine. He stops, inhales quite deeply and says that her hair smells nice.

After a week of this, the woman can't stand it anymore. She takes her issue to a supervisor in Human Resources and asks to file a sexual harassment grievance against the guy.

The supervisor is puzzled and asks, "What's threatening about a co-worker telling you your hair smells nice?"

"It's Frank. The midget."