CARD 'EM, DANO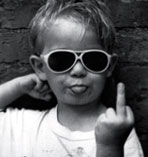 The F.S.O.P. is proud to introduce our I.D.G.A.S. Card.
What is an I.D.G.A.S. Card? I.D.G.A.S. stands for I Don't Give A Shit and is applicable for those times when lifes pests, punks, mental morons and Kool-Aid swillers relentlessly get in your face, step on your toes and try to push your buttons.
Well, we here at PIG have offered up a solution in the form of our handy dandy new card, when confronted by a Tard.
Instead of wasting time arguing with the brain dead, just card 'em, smile and walk away with a shit eating grin on your grill.
Works like a charm, and you don't want to leave home without it. And yes, the hours of enjoyment are completely street legal
Below is a sample:
Front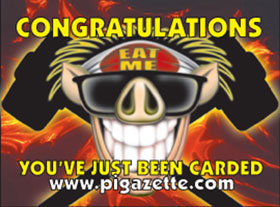 Back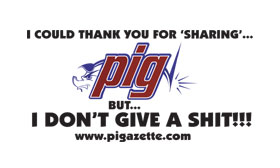 Order a set of yours and be the first kid on your block to start carding the unsuspecting.

Here's how to order yours and commence Carding the Tards that invade your life:

Life is one damn thing after another. It's full to bursting with those relentlessly annoying encounters which get on your last raw nerve. You know the ones we mean, because they're the ones where you'd willingly sacrifice significant body parts to quickly, easily, extricate yourself. Life's a real pisser, that way, but your luck is about to change for the
better.

We the PIGs have just what you need, to resolve commonplace annoyances.

Here are a few examples:

* What can you do, when your wife's Uncle Frank tells you - for the 10,000th time - about his daily 20 mile walk to school, barefoot, trudging up hill, both ways? CARD 'EM.

* What can you do, when the Jehovah's Witness roving hit squad shows up on your doorstep to yammer at you about their supernaturalism, and you're SO not in the mood? CARD 'EM.

* What can you do, when you're accosted by an activist with a clipboard and an agenda, at the door of the Safeway, WalMart, Costco, or Home Depot? CARD 'EM.

* What can you do, when some hypersensitive, properly-hyphenated, pinhead starts insulting your intelligence with a prolonged whine about your 'insensitivity' to their victimhood? CARD 'EM.

* What can you do, when a sales puke rings your doorbell, then tries to talk you into buying some magazines, hounds you about getting 'bid' on home improvement services, or bends your ear about an election-cycle issue, candidate? CARD 'EM.

* What can you do, when a co-worker parks his, her, hisher, or its butt on the edge of your desk, then yammers endlessly about their elements of your life, when you don't have the time, or interest, to listen. CARD 'EM.

* What can you do, when you're on the receiving end of a one-sided 'monologue' and you're not in a listening mood, because the topic bores you and/or you've heard it all, on prior occasions? CARD 'EM.

* What can you do to quickly, painlessly, end any conversation, which, for a variety of reasons, isn't worth having? Don't regard 'em, CARD 'EM.

When their pitch gets hard

And you're fed up with the Tard

You don't need to be a Bard

Just give them the Card

What, you ask, is this miraculous CARD? It's our spanking new weapon in our PIGish arsenal, the "I Don't Give A Shit" card. As soon as you see it...as soon as you understand its PIGish potential, you'll agree that you'll never want to leave home without it.

The only limit on the countless ways you can use this card, is your imagination.

Here are a few more:

* If you've had it with Stan Statistic and you really don't give a rat's ass about Mickey Mantle's batting average in his rookie year. Don't suffer in silence, CARD 'EM.

* If some Cliff Clavin's monologue is the last damn thing you want your need, don't just sit there, CARD 'EM.

* If you're tired of some bellowing cell idiot making it impossible to enjoy a meal at your favorite eatery, don't put up with it, CARD 'EM.

* If you've been there, heard it all before and don't want to go there again, put the yammering yutz out of your misery, CARD 'EM.

* If you're busy and some motormouth insists on bending your ear, make your move and CARD 'EM.

* If you're trapped on the receiving end of a one-way 'conversation' with a true believer - Holy Rollers, Obamuists, Palinistas, Bieberites, etc. - give the bloviator a taste of no-verbal communication, CARD 'EM.

Our esteemed leader, Porcus O'Publisher is VERY enthusiastic about IDGAS:

Our Card is your ammunition to fend off anything, anyone that steps on your toes, gets in your face, knocks on your door or generally pesters and pisses you off before you go Bell Tower.

Our Card is applicable to anyone from a Kool-Aider to Korrectnik.that deserves our Ace in their face when they either want to confront or sell something you that you don't want.

Our 'I Don't Give A Shit' Cards gives you Carte Blanc when you flick the card to the annoyer like a crusty booger, and watch in laughter and victory as they walk away, scratching their heads, not getting 'It.'

When they get in your face,

Invade your space,

Throw 'em an Ace,

Right in their face,

And tell them,

Get out of MY place.

Is this IDGAS card a figment of our imagination? Nope.

Is it an elaborate attempt to satirize the venerable RACE CARD? Nope.

The size of your regulation business card, the FSOP's IDGAS card is thrillingly real. It's so real we've lined up a printer to keep us supplied.

We the PIGs predict that, once you get your IDGAS card, you'll wonder how you ever negotiated life's speed bumps without it.

Last, but far from least, We the PIGs insist that you send us a write-up of your success stories. We plan to deploy them - under your official FSOP moniker - in the 'testimonials' portion of this page.

Testimonial #1 comes from none other than Porcus:

"When I got a fistfull of those cards in my hot little hands, I began my Carding by hitting specific, prearranged targets, pests and other neighborhood nutcases that were way overdue for a Carding. When finished with my Carding fun, I did cartwheels home, cracked open a cold one, sparked up a fat stogie, and curled up for the night, hoping I performed some sort of community service. The thrill of victory is euphoric and addictive"