Sunday
January 24, 2021
















FIRST TIME AT PIG?
• PIG PLEDGE •
I Pledge Allegiance
To The Way Cool Dudes
That Founded
The Free State Of PIG
Because PIG Is The Place
That Gets In Your Face
Regardless Of
Gender, Orientation
Or Race
• CUPCAKE NATION •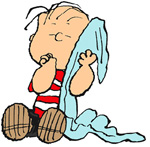 Too many Cupcakes, Basement Boys and preciuos Snowflakes invading your Safe Space? You're in the very most, PIGish Safe Space.
• AMERICAN INFIDELS •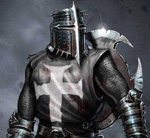 ODE TO
BLACK LIES MATTER
There once was a thug named Brown,
Who bum-rushed a cop with a frown,
Six bullets later,
He met his creator,
Then his homies burnt down the town
• GRAMMY TIME! •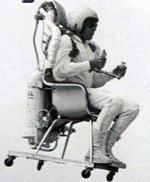 Why Have Granola When You Can Have Some Grammy Tune In.
>>Grammy Time >>
•
DON'T TREAD ON ME
•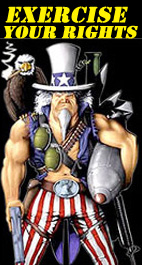 Tired Of Our Sacred U.S. Constitution Being Used As A Snot Rag Like We Are? Click The Link, Read On And Be Right On.
>>> Right On >>>
HAMBO FOR PREZ !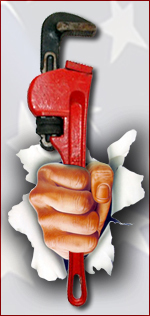 • PIG POLL •
MOONBATS
Which Moonbat Deserves A One-Way Trip To Their Very Own, Self-Imposed Safe Space?
• • • • • • • • • • • • • • • • • • • •
Michael Moore*
AOC
Keith Olberman
Kam-Ala Harris
Greta Thunberg
Antifa
#BLM

• • • • • • • • • • • • • • • • • • • •

*Due To Intergalactic Freight Costs, Tonage, Limited Food &
Oxygen Supply, Michael Moore
Counts As Two Votes.
• • • • • • • • • • • • • • • • • •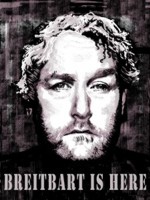 • • • • • • • • • • • • • • • • •
>>> Read More >>>
• • • • • • • • • • • • • • • • •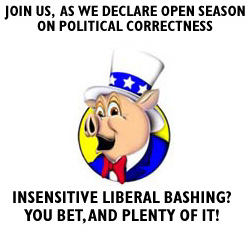 TOP STORY
LETTER TO LIBERALS
• • • • • • • • • • • • • • • • • • •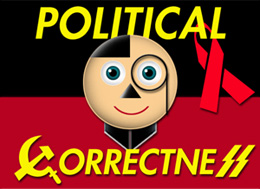 STOLEN FROM:
PIGSTER LONE STAR
• • • • • • • • • • • • • • • • • • •
"One of the more pervasive features of our current political culture is the "Nazification" of one's political or ideological opponents. It seems scarcely a week goes by when some group isn't making a concerted effort to demonstrate why its opposition bears more than a passing resemblance to Adolf Hitler or the Nazis. In an era that is increasingly characterized by absolutes, sweeping subjectivity, and an inability or unwillingness to find common ground or engage in critical thought, the tendency to radicalize the opposition naturally leads to the most extreme limits of human behavior."
- Gerald V. O'Brien
• • • • • • • • • • • • • • • • • • •
I have three daughters. Two of them are fairly conservative as I am. One of my 3 girls is very liberal. Here is a response sent by one of the conservative daughters to the liberal daughter. It is a long read, but I think well worth the time. Please read and comment if you wish.

If you are a liberal who can't stand Trump, and cannot possibly fathom why conservatives would ever vote for him, let me finally fill you in.

It's not that we love Donald Trump so much. It's that we can't stand you. And we will do whatever it takes — even if that means electing a rude, obnoxious, unpredictable, narcissist (your words-not ours) to the office of President of the United States — because the only thing we find more dangerous to this nation than Donald Trump, is you.
How is that possible you might ask? Well, you have done everything in your power to destroy our country, from tearing down the police, to tearing down our history, to tearing down our borders. You are systematically destroying our schools, and brainwashing our kids into believing socialism is the answer to anything (despite being an unmitigated failure everywhere), while demonizing religion and faith, and glorifying abortion, violence, and thug culture.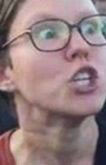 From calling us racists every time we expect everyone of any skin color to follow our laws equally, to telling us that our "tolerance" of lifestyles we don't agree with isn't nearly enough....no, we must "celebrate" any lifestyle choice or gender option (forget science) you throw our direction, or you think it's fine to calls us homophobic or some other degrading slur — and ironically, all while lecturing us on hate speech. While you gaslight us about 52 genders, polyamory, grown men in dresses sharing public locker rooms with little girls, and normalize the sexualization of young children, you simultaneously ridicule us for having the audacity to wish someone a "Merry Christmas" or hang a flag on the 4th of July, stand for the national anthem, or (horror or horrors) don a MAGA hat in public. So much for your "tolerance." Do you see why we think you are hypocrites??
We're also not interested in the fact that you think you can unilaterally decide that 250 years of the right-to-bear-arms against a tyrannical or ineffective government should be abolished because you can't get the violence in the cities you manage under control. Free-speech should be tossed out the window, history erased, and those who disagree with your opinions, are fair game for public harassment or doxing. Spoiled children with nose-rings and tats who still live off their parent's dime should be allowed to destroy cities and peoples livelihoods without repercussions. That chaos, and lawlessness, and disrespect for authority should be the norm. This is your agenda. And you wonder why we find you more dangerous than Donald Trump?
Your narrative is a constant drone of oppressor/oppressed race-baiting intended to divide the country in as many ways as you possibly can. You love to sell "victim-hood" to people of color every chance you get because it's such an easy sell, compared to actually teaching people to stand on their own two feet and take personal responsibility for their own lives, their own communities and their own futures. But, you won't do that. You will never do that, because then you will lose control over people of color. They might actually start thinking for themselves, God forbid!
This is why we will vote for Donald Trump. It is not because he is the most charming character on the block, nor because he is the most polite politician to have ever graced the oval office. It is not because he is the most palatable choice, not that we love his moral character or because he never lies. It is because we are sick to death of you, and all of the destructive crap you are doing to this once beautiful and relatively safe country. Your ineffective and completely dysfunctional liberal "leadership"(?) has literally destroyed our most beautiful cities, our public education system, and done it's damndest to rip faith out of people's lives.
However bad Donald Trump may be (and he is far from perfect), every day we look at you, and feel that no matter what Donald Trump says or does, there is no possible way he could be any worse for our country than you people are.
We are sick to death of your stupid, destructive, ignorant, and intolerant behavior and beliefs — parading as "wokeness." We are beyond sick of your hypocrisy and B.S.
We are fed up with your disrespectful divisiveness and constant, unrelenting harping and whining and complaining (while you live in the most privileged nation in the world), while making literally zero contributions of anything positive to our society. Your entire focus is on ripping things down, never ever building anything up. Think about that as there is something fundamentally very wrong in the psychology of people who choose destruction as their primary modus operandi.
If Donald J Trump is reelected, rather than blame us, look in the mirror, and blame yourselves. Because, you are the ones that are responsible for the rise of Donald Trump. You are the ones who have created this monster that you so despise, by your very actions, your refusal to respect your fellow Americans, and the things that are important to us.
You have made fun of the "fly-over states," the people who "cling to their guns and religion," the middle class factory workers and coal miners and underprivileged rural populations that you dismissively call "yahoos" and "deplorables." You have mocked our faith and our religion. You have mocked our values and our patriotism. You have trampled our flag and insulted our veterans and treated our first responders with contempt and hatred.
You have made environmentalism your religion, while trashing every city you have taken responsibility for. You scream from the rooftops about "global warming" and a "green new deal" while allowing tens of thousands of homeless people to cover your streets in literal shit, garbage, needles and plastic waste without doing a single thing to help them solve the environmental crisis that your failed social policies are creating. But we're supposed to put YOU in charge of the environment while gutting our entire economy to institute this plan when you can't even clean up a single city?? You complain — endlessly — yet have failed to solve a single social problem anywhere. In fact, all you have done is create more of them.
We've had enough. We are tired of quietly sitting by and being the "silent" majority. So don't be surprised when the day comes when we finally respond. And trust me it's coming, sooner than you might think. And also trust me when I say it won't be pretty. Get ready.
If Donald Trump is reelected, it will be because you and your "comrades" have chosen to trash the police, harass law-abiding citizens, and go on rampages destroying public property that we have all paid for and you have zero respect for.

If Donald Trump is reelected it will be because we are sick of your complete and utter nonsense and destruction. How does it feel to know that half of this country finds you FAR more despicable than Donald J. Trump, the man you consider to be the anti-Christ? Let that sink in. We consider you to be more despicable, more dangerous, more stupid, and more narcissistic than Donald Trump. Maybe allow yourself a few seconds of self-reflection to let that sink in. This election isn't about Donald Trump vs. Joe Biden. This is about Donald Trump vs.YOU.
So, if on the morning of November 4 (or more likely December 29 by the time the Supreme Court will weigh in on the mail-in ballot fiasco we are headed towards), if Donald J. Trump is reelected, the only people you have to blame is the left-wing media drones and yourselves. You did this. Yep, you!"
LET THAT SINK IN.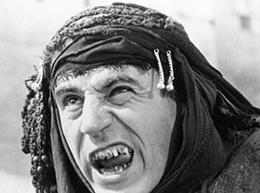 FOR YOUR ENLIGHTENMENT
Monty Python was way ahead of their time with their insights and takes on LGBTQ (Tranny's) From "Life Of Brian."
>> Stan Wants To Have Babies >>
*******
PARTING SHOTS...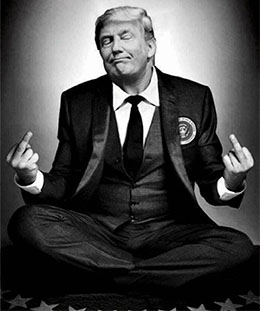 • PIG's Revamped News Page
Definitely NOT Your Mommy's News Page!
Get a PIG's-eye view of events.
Updated Any Time The News Is PIGish >>>
• • • • • • • • • • • • • • • • • • • • •

• PIG's OINK OBSERVER
What the hell is it? If Enquiring minds want to know, the answer is a click away. >>> Oink Me, Big Boy >>>
• • • • • • • • • • • • • • • • • • • • •

• HAMBO'S HAMMER
Have you been Hambo'd today? Every day, PIG's insane editor posts a sample of what's on his alleged mind.
Read More >>>
• • • • • • • • • • • • • • • • • • • •

GOSPEL: PORCUS PITCHFORK

• PORCUS PITCHFORK
'Fork Off! From time to time, whenever he's mad as hell and can't take it anymore, Porcus just says, 'Fork You!
Read More >>>
• • • • • • • • • • • • • • • • • • • • •

PIG'S POSTING SCHEDULE

PIG'S PIC OF THE DAY

"Just to be clear and follow up ... THESE FAR LEFT SOCIALIST LIBERALS AND MEDIA CAN DE-PROGRAM DEEZ NUTZ!! Everyone else, have a great weekend!"
- Kid Rock.

"Your inflated feelings of entitlement don't authorize you to rewrite history, exaggerate the accomplishments and/or suffering of your ancestors, or to demand payment for things that happened to somebody else."
- One of Hambo's Self-Evident Truths, Found in The PIG Doctrine

Is Biden's idea of "Unity" going to be through coersion, censorship and force, or completely voluntary?

The Real Racial Supremacists Are on the Left
Dr. Hurd Sez:

Notice what leftists are doing: They have equated "white supremacy" with individual rights, the Bill of Rights and economic freedom, including the right to private property and free speech.
In other words, unless you support total ownership of life and property by the omnipotent state (and its henchpersons in media), they say you are a white supremacist. Their intent, so far hugely successful, is to intimidate people who are not REMOTELY racist, but who support the Constitution and Bill of Rights, into defensiveness, helplessness and silence. Leftists who support Communism and fascism are smug and arrogant as they escalate their attempts to literally enslave ("transform") a previously free people into submission.

What they refuse to acknowledge: By equating nonwhite races with totalitarianism and the white race with freedom, they imply that nonwhite races are not up to the job of freedom. Unless you are white, they imply with vicious falsehood, you cannot survive under economic freedom. The ACTUAL white supremacists would agree with them on this. The ACTUAL non-racists voted for President Trump twice, and support the cause of equal freedom for all races. The sick joke is on the tyrants who brand ALL dissension against socialism or fascism as "white supremacy", since
they have argued on the very same premise as the Ku Klux Klan and the National Socialist Party of Hitler. We live
in morally and intellectually inverted times. All I know is such insanity will not sustain itself.

***********************

A Doctor Was Addressing A Large Audience At Oxford
Submitted By: PIGster GM

The material we put into our stomachs should have killed most of us sitting here, years ago.

Red meat is full of steroids and dye.

Soft drinks corrode your stomach lining.

Chinese food is loaded with MSG.

High trans fat diets can be disastrous and none of us realizes the long-term harm caused by the germs in our drinking water.

But, there is one thing that is the most dangerous of all and most of us have, or will eat it...Can anyone here tell me what food it is that causes the most grief and suffering for years after eating it?

After several seconds of quiet, a 70 year old man in the front row raised his hand, and softly said, "Wedding Cake?"

**********************




1848 James Marshall finds gold in Sutter's Mill in Coloma, California.

1908 Lieutenant General Robert Baden-Powell publishes "Scouting for Boys" as a manual for self-instruction in outdoor skills and self-improvement. The book becomes the inspiration for the Scout Movement.

1922 Eskimo Pie patented by Christian K Nelson of Iowa (not an Eskimo). Soon to be "retired" and joining Uncle Ben, Aunt Jemima, Chief Wahoo, Land 'O Lakes Indian Babe, Washington Redskins mascot and Mrs. Butterworth in the unemployment line.

1935 1st canned beer, "Krueger's Cream Ale," is sold by American company Krueger Brewing Co.

1950 Jackie Robinson signs highest contract ($35,000) in Dodger history.

1975 Larry Fine of Three Stooges fame, passes away.

1984 Apple Computer Inc unveils its revolutionary Macintosh personal computer.



GET YOUR SCOOP OF PIGISH POOP


If your Boob-Tube, News Nit-Wits or Social Media Meatheads aren't providing you with enough Caitlyn, Justin, Miley, The Donald, High Profile Race Hustlers

or anyone else that stops the presses and your world, well, OMG! and WTF! You're in the right place. Kulture Watch takes precision aim at anyone caught in our crosshairs and headlights and will give you, "The rest of the story."


Read More >>>

IT TAKES BALLS TO PLAY IN THE PIGDOME
Do you feel entitled to the brass ring, blue ribbon, trophy or ring for merely showing up? Won't work here on PIG's field. Whether it's sports or any other form of competition, if you have the competitive spirit of a warrior and a PIGish sense of humor, click below for our newest Sports Section. Enjoy our cheerleading squad, pictured, we do!
Read More >>>

STEPPING IN IT!
Get your weekly whiff as Hambo serves up a real steaming load to those that merit this odiferous award. It's OK to look. It's OK to smell. It's even OK to touch. But for those that have the misfortune of stepping in it, they get...A Steaming Load Award.
Read More >>>

• • • • • • • • • • • • • • • • • • • • •
• PIG CALENDAR • •
January is
"Just The Facts"
Month
• • • • • • • • • • • • • •
Are 'We The People' ever going to get straight answers from ANYONE about COVID prognosis, election tampering and influencing, Big Tech, Censorship, Big Media Mafia, Hunter's Laptop, etc.?
• • • • • • • • • • •

• VETERANS •
• • • • • • • • • • •

• • • • • • • • • • •
Attention all Veteran's and Active Duty Military: PIG is cordially inviting all Vets, active or retired, at home or in Irak, to send us notes or messages for posting in PIG.
>>> Read More >>>
• • • • • • • • • • •
• ZERO TOLERANCE •
• • • • • • • • • • •
Amerika's Schools Are Being Transformed Into Orwellian Wastelands With All-Out Lockstep-Style Assaults On Free Speech, Expression, And Even Innocent Fun By Ivory Tower Eggheads
aka
Zero Tolerance Zombies
>>> Read More >>>
• • • • • • • • • • •
• DUMPSTER DIVING •
• • • • • • • • • • •


NEED TO UP THE VOLTAGE ON YOUR SHOCK TREATMENTS?
THERE'S A BETTTER WAY.
GO DUMPSTER DIVING AND ENJOY PIG'S PRIVATE STASH.
>>> Read More >>>
• • • • • • • • • • •
• SIGNS 'O THE TIMES •
• • • • • • • • • • •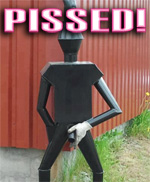 PISSED! POLITICALLY INCORRECT SIGNS SLOGANS & ENLIGHTENED DRAWINGS. TO PERUSE OUR COLLECTION OF OUT OF THE ORDINARY POSTERS, PICS & GRAPHICS. A REAL PISSER OF A PAGE

>>> Read More >>>

• • • • • • • • • • •
• PIG'S PLAYLIST •
• • • • • • • • • • •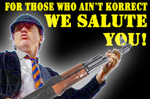 PIG DECIDED TO TURN UP THE VOLUME MORE THAN A FEW NOTCHES BY UNLEASHING OUR PLAYLIST OF WHAT WE CONSIDER NOT JUST GREAT, BUT WAY INKORRECT TUNES.WE'RE SURE YOU WON'T EXPECT "RING AROUND THE ROSIES" OR "WE ARE THE WORLD'" MAKING OUR LIST. TO TUNE IN,
>>> Read More >>>
• • • • • • • • • • •
• TOXIC TOONS •
• • • • • • • • • • •


SICK OF DRABBLE AND DILBERT IN YOUR FISHWRAPS FUNNY PAGES? WELCOME TO TOXIC TOONS, HERE WE EXPLORE THE TOXIC SIDE OF TOONING AROUND
>>> Read More >>>
• • • • • • • • • • •
• PIG PIN-UPS •
• • • • • • • • • • •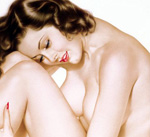 • • • • • • • • • • •
IF YOU LIKE EYE CANDY, KEEP YOUR SHIRT SLEEVE NEARBY TO WIPE THE DROOL OFF YOUR CHINS. ENJOY.
>>> Read More >>>
• • • • • • • • • •
• TOE-TAGGED •
• • • • • • • • • •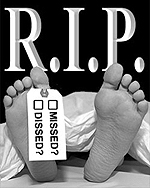 NOTABLE PASSINGS
TO MOST, WE SAY FAREWELL. TO A FEW OTHERS, WE WONDER WTF TOOK YOU SO LONG.
BON VOYAGE.
>>> Read More >>>
• • • • • • • • • •
• FRIENDS OF PIG •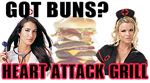 If you're ever in Las Vegas, and experiencing hunger pangs, and just have to have something hot, fresh and juicy, check yourself into:
The Heart Attack Grill
Tell 'Em PIG Sent You
• • • • • • • • • • •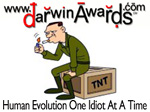 • • • • • • • • • • •

• • • • • • • • • • •