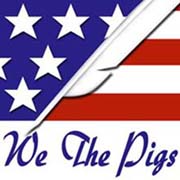 Political Correctness works, tirelessly, to repeal our inalienable rights to Life, Liberty and the pursuit of Happiness. With our essential freedoms under assault by these Korrectniks, PIG believes Thomas Jefferson's immortal axiom needs to be further amplified.
We don't claim to reach the lofty heights of Thomas Jefferson's eloquence. However, in the spirit of his ageless prose, we humbly submit the PIG Doctrine as a vital first step in the fight to restore the inherent individual rights of all Americans.
We hold the following truths to be self-evident:
---
Since each individual is responsible for his, her, hisher, or it's own life, it is irrational for anyone to expect to be saved from oneself. No matter how powerful you might think it is, the Great Amerikan Nanny State has a very limited ability to save you from your own stupidity. If you take asinine risks, sooner or later, Mother Nature will evict you from the human gene pool.
---
The primary function of a properly rational government is not to impose an equality of economic results by Nanny State decree, nor is it to impose the prevailing notion of morality by government edict. The primary function of a properly rational government is to engender an environment that maximizes each individual's inalienable liberty.
---
Diminished capacity is not a valid excuse for criminal behavior. If you are bonkers, drunk, drugged out, had a crappy childhood, or possessed by demons when you initiate force against another individual, or their property, you are guilty, period.
---
'Hate Crime' infers, erroneously, that there are 'noble' motives for committing a crime. Assault is assault and murder is murder, no matter what the intellectually flat-lining perpetrator has on his alleged mind.
---
Each individual is born with a full complement of rights. The government can't give you new rights; it can only take the ones you already have.
---
The "unalienable rights" with which you were "endowed" at birth do NOT include a right not to be offended. Living in a nation founded on inalienable individual liberty means you will hear things you don't want to hear. It also means you will see things you don't want to see.
---
Gender, sexual orientation, skin color and ethnicity are accidents at birth, not an entitlement for lifelong victimhood.
---
Your inflated feelings of entitlement don't authorize you to rewrite history, exaggerate the accomplishments and/or suffering of your ancestors, or to demand payment for things that happened to somebody else.
---
The exaggerated sensitivities of others are not my responsibility, nor do their hurt feelings empower them to abolish my right to free speech.
---
Since a word is nothing more than an ethically-neutral sequence of sound waves, it only has as much power for good or evil as the listener bestows upon it. There are no intrinsically 'offensive' sound waves, there are only hypersensitive listeners who are predisposed to being offended by them.
---
Reality is not defined by majority rule. Scoring 50% plus one vote doesn't, automatically, make an assertion right or true.
---
'OOPS' is not a proper substitute for family planning, nor does it obligate an individual to pay for the care, feeding and education of someone else's spawn.
---
'It's for the children' will never be a valid justification to repeal any of our inalienable rights. .
---
No good person ever turned evil from reading a book, watching television, listening to a song, watching a movie, playing a video game or surfing the Internet.
---
Guns, drugs, booze, Happy Meals, tobacco, Harry Potter, Spongebob, Teletubbies, and/or Buster are not intrinsically evil. They are only as good or bad as the individual who partakes of them.
---
Huddled masses yearning to breath free must go to the end of the goddamn line and wait their turn. We'll throw your sorry ass out, if you sneak across our border, colonize our cities and play parasite bingo on the Amerikan citizen's dime. No excuses, no exceptions, don't even ask.
---
Market forces, not the government, set the wages for a specific job and the price for each commodity. It's called Capitalism, the economic system that rewards the competent, punishes the incompetent and benefits all.
---
Wealth isn't static; it's dynamic. The achiever's success isn't produced at the expense of the merely mortal.
---
The rich are not inherently evil any more than the poor innately virtuous.
---
Life is inherently unfair. That's why condoms come in different sizes.
---
- T.D. Treat