---
KULTURE | LEGI-CRAP: CLASS ACTION COCKROACHES
---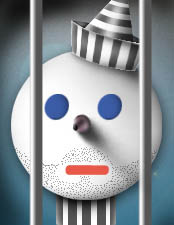 Perpetrated by a quasi-human obscenity - the Amerikan Trial Lawyer - class action lawsuits are a cancer devouring the foundation of our inalienable individual liberty: Amerikan Capitalism. This enriching scheme went mainstream when these law-degreed cockroaches painted a bull's-eye on 'Big Tobacco', a scam that resulted in the marginally-legal extortion known as 'The Tobacco Settlement'. Flushed with victory, their pockets stuffed to overflowing, this villainous vermin, immediately, set out in search of more, deep, corporate pockets to plunder.
Aided and abetted by complicit, Nanny Government hacks eagerly seeking new excuses to tax another industry into oblivion, this trial lawyer plague is gearing up to impoverish another allegedly dire public health threat: obesity, obesity perpetrated by those archfiends in 'Big Food'. Fronting for a critical mass comprised of bloated parasites, these class action cockroaches are poised to exterminate big food, by any means necessary. After their shocking success against 'Big Tobacco', the class action cockroaches assault on big food must cannot be easily dismissed.
Armed with suspiciously-timed government reports about the 'obesity epidemic', plus frantic fishwrap fantasies to whip up popular support, the law degreed leeches might actually succeed in putting Ronald McDonald on the FBI's 10 Most Wanted List. Their success depends on your willingness to let them demonize another Amerikan industry. Their success depends on your willingness to shift the blame onto the deep-pocketed 'big food' cabal, instead of nailing the fast food swilling wide load who shoveled down all those burgers, milkshakes, fries and pizzas. These class action cockroaches are beneath contempt, so why would you side with someone whose rightful place is in your toilet bowl, floating around with all the other turds?
PIG is up to god damn here with this pond scum and sewer sludge perpetrating these class action outrages. PIG will arm you with all the weapons you need: the unvarnished facts about the class action cancer that's determined to destroy Amerikan capitalism.
---
THE PUBLIC BURDEN SCAM
---
A former Massachusetts Attorney General, now the mouthpiece for 'Common Cause', is on a crusade to plunder the gambling industry. He thinks it's scandalous that these heartless casino owners aren't 'feeling the pain' of compulsive gamblers. It is a public policy issue, he claims, one that is egregiously neglected and needs immediate attention. He demands that casino owners be forced to take measures to prevent clueless dolts from losing their shirts at the gaming tables. Casino owners must be forced to train their casino employees to spot intellectual flatliners who might piss away their last dime on a roll of the dice, or a spin of the roulette wheel. Failure to spot, browbeat and dissuade these high roller dolts would result in heavy fines, Draconian taxes and more shyster abuse from class action cockroaches. The loot extorted from casinos is intended to help the compulsive gambler victimized by evil casinos pick up the pieces of his shattered life, but if it works out like the infamous tobacco settlement, all the boodle will land in shyster or political hack pockets. The poor dumb dice-addicted bastard will be lucky to see a penny of it. This shyster asshole's spew amounts to a lot of smoke and mirrors that is centered around welfare state largess and the fact that casino owners are easily demonized.
The 'public burden' argument leads us to strange places. One could make the case that unprotected butt monkey is a public burden, since it often leads to AIDS, a significant burden on the nation's health care system. Do we make gays dig into their deep pockets to offset this public burden? Or, if we follow the ploy being perpetrated on the casino owners, do we force condom makers to pay a heavy tax, because the ones who should use condoms, don't? What would we call this? How about 'the bun ranger tax'? Mountain climbers pose a public burden, due to the numerous rescues they impose on government agencies. Where are the deep pockets here? Do we impose a special tax on companies that manufacture climbing gear, forcing them to police their clients, making sure they weed out the dolts who can't get out of their own way?
If fiscal stupidity is the tripwire leading to punishing Nanny government-sanctioned extortion, it can be used against any business, from investment firms, to department stores, even your local grocery purveyor. Do we force Wall Street brokerage firms to 'educate their employees' to be on the alert for congenital morons who might be part of their client base? Do we tax the profits of these firms to pay for the public burden caused by the brain-dead investor's self-induced bankruptcy? Are supermarkets, department stores, shopping malls to be penalized, financially, and required to screen all of their shoppers, lest some big spender, incur debt he can't repay? Where does this shyster-inspired extortion end?
This public burden bovine excrement is nothing more than a shyster scheme to plunder an endless array of deep pockets because some individuals are complete morons. Calling something a public policy issue (a public burden) is the shyster equivalent of the god squad's favorite rant: The devil made me do it. Individual accountability, you say...they never heard of it. Welcome to parasite-infested Amerika, Sparky.
– T.D. Treat
---
Another Nanny Government Crusade | Source: AP
---
The usual suspects launched their first - but far from last - trial balloon in their campaign to save the unwary from themselves...Yes, again! This one follows the highway paved in gold trod by the smoke Nazis, but this time, the target is Amerika's rapidly expanding waistline. That's right, Nanny government fans, and we both know who you are, they're retooling to plunder those industries that callously turned Uncle Sam from a lean, mean, fighting machine, into a bloated, human whale who looks like the Goodyear Blimp wrapped in red, white and blue.
This war starts exactly like the smoke Nazi assault, with a plaintive wail citing the high cost 'fat' imposes on Amerika. The number cited, $93 billion in dead presidents each year according to AP, is impressive, but probably egregiously inflated. The next phase will involve a smoke Nazi-like insistence that this cost poses an intolerable public burden on government, making it a matter that mandates a Nanny government solution. Sound familiar? It should. It's what the old, libertarian Larry Elder called 'the welfare state argument'.
The welfare state argument, invariably, prods otherwise intelligent individuals to punish those capitalist enterprises decorated with an 'enemy of Nanny government' bull's-eye. The initial focus put insurance companies in the hot seat, but the enemies list will eventually expand to include deep pockets called 'McDonalds', 'Burger King', 'Domino's Pizza', 'KFC', and a host of others lumped together under the easily demonized moniker 'big food'. Egged on by their fat Nazi cohorts, the class action cockroaches demand that insurance companies cover fat farm costs in their healthcare policies. Eventually, when insurance companies plead poverty, due to out of control fat Nazi costs, the fat Nazi's will use that excuse to impose a government solution, where none is needed. The actual solution involves dismantling Amerika's welfare state, but don't hold our breath waiting for anyone, including the new, elephant clan Larry Elder, to suggest anything as rational as that.
---
Plundering Another Amerikan Industry | Source: USA Today
---
Unwilling to rest on their laurels and count their billions in tribute from the 'enriching' tobacco shyster assault, the usual relentlessly-greedy subjects are gearing up to destroy another Amerikan industry. The lawsuits are a virtual done deal, but we're left to ponder the inevitable question: Will eat on the run Amerikans sit still while the shysters destroy the fast food industry? We'll know too damn soon, because this shyster-perpetrated extortion scheme is ready to launch phase 1:
'...Fast food's biggest players on Thursday will receive a jolting demand from the law professor who helped bring Big Tobacco to its knees: Display warning notices about the alleged addictive nature of fatty foods. John Banzhaf III, of George Washington University, is sending the demand in certified letters to CEOs at six major fast-food chains -- McDonald's, Burger King, Wendy's, KFC, Taco Bell and Pizza Hut -- as a necessary first step, he says, toward filing a lawsuit against the fast-food giants within six to nine months...' (USA Today)
Conventional wisdom opines that this fight is more difficult than the last one, because fast food purveyors aren't as easy to demonize as 'big tobacco'. That sounds good enough, but it assumes a level of awareness that has not shown its head in Amerika for much too long. Just in case someone out there is paying attention, this egghead is playing the same card that worked against big tobacco. He claims that he has evidence proving that fast food is an 'addiction' and there are plenty of reality-phobic wide loads willing to lend their names to this farce.
The way this works is annoyingly simple. If you're a wide load and want someone to blame, track down the nearest shyster and tell him you want to sue your favorite restaurant, because it's all their fault that you eat too god damn much. Will this be as successful as the tobacco assault? Oh hell yes! In 21st Century Amerika it's a virtual slam dunk. The only question left to ask is this: After the shyster assholes shut down Amerika's $115 billion restaurant industry, who will they target next?
Afterthoughts: Sooner or later, this crap will catch up to the shysters. Amerikans may be greedy, obnoxious, lazy dolts, but eventually, they'll see what's happening and get very damn pissed. Where will the shysters hide when Amerikans view the carnage and want some shyster blood? It will happen and when it does it's going to be very nasty. There's nothing that wrong with Amerika that an epidemic of dead [expletive deleted] lawyers won't cure.
---
Skulking Shysters | Source: Boston Globe
---
The usual 'sue those deep pocket bastards into bankruptcy' suspects gathered in the Bay State to plot their asinine attack on the newest deep pockets painted with a shyster bull's-eye: big food. That's right, we're talking about the newest shyster assault on capitalism, the one that targets the fast food industry. This Beantown fishwrap described this gathering with the following breathless prose:
'...In a Back Bay conference room last month, in proceedings so secret that participants were forced to sign affidavits pledging silence, the groundwork was set for Boston to become the epicenter of a new legal battle patterned on the fight against Big Tobacco: Big Food. Led by some of the same people who successfully sued tobacco companies for the cost of smoking-related illnesses, they now are training their sights on the fast-food giants and others they see as responsible for the nation's epidemic of obesity...' (Globe)
Aided and abetted by Ivory Tower eggheads from Northeastern and Tuffs, these relentlessly greedy shysters laid down their secret plots, spewing drivel about doing it for the people. What a crock! This is blatant greed, and nothing more. If shysters aren't the most reviled creatures in the Universe, they will be, after they finish destroying the big food industry. How many more nails will they pound into Amerikan Capitalism's coffin before the parasite horde gets the big picture? Don't know, but it's going to happen, eventually.
Attention Shyster Asshats: Sooner or later, probably after you plunder countless Amerikan industries into bankruptcy, the parasite horde infesting Amerika will wake the [expletive deleted] up and notice that every damn time you assholes drive an industry into oblivion, the Amerikan economy gets worse...unemployment gets higher. When that happens - and make no mistake, it's already beginning - somebody is going to declare war on shyster asshats like you. Anger management isn't a prime Amerikan trait, so you should expect it to get ugly, very damn ugly. Torch packing lynch mobs? I certainly hope so, because you all [expletive deleted] deserve it, and you damn sure know it.
Although I favor summary executions for every law-degreed-assclown, I can't guarantee that things will get that thrilling for you, at first. Law-degreed-cretins like you are like locusts who devour every shred of our economic activity. When a plague threatens your livelihood, there's only one thing to do: exterminate the pest doing all the damage. Death to all shysters? You better believe it, law degreed Sparky.
---
Unintended Consequences | Source: Star-Ledger (New Jersey)
---
If the tobacco settlement's perpetrators thought they were immune to the law of unintended consequences, they know better, now. Promising to loot a hefty $245 billion in dead presidents from 'big tobacco' over a 25 year period, the tobacco settlement appeared to be a reliable revenue stream for years to come. Thanks to a belated reality check, smoke Nazi sludge knows better, now:
'...Figures compiled by the Council of State Governments, a nonprofit research group, show settlement payments, so far, are $6.3 billion below projections because sales fell faster than expected. By the end of the decade, income from the settlement could be running 39 percent below projections, and by 2018, states could be collecting half of what they expected, according to a recent report by the council...' (Star-Ledger)
I know what you're thinking and you're wrong. The drop in sales that hit these tax Nazis in the wallet is not due to a significant drop in the number of smokers. In fact, since this smoke Nazi extortion, the number of smokers only fell 1.4% between the settlement's inception in1997 and 2001. During the same period, the Federal tobacco Nazis estimate that the number of smokes for which taxes were collected fell by 12.5%. Obviously, something is happening and it's not due to fewer smokers.
The reasons for the extortion take's drop are, primarily, marketplace driven. Many people purchase their smokes via the Internet, where most smokes sellers don't play tax collector for the various states. Another factor involves smaller smokes manufacturers that weren't part of this extortion. They can price their smokes lower, because they don't have settlement-driven extortion payments to pass along. A final element involves cigarette tax shopping. For example if Jersey's $2.05 per pack tax annoys you, a leisurely drive to Virginia puts you in high cotton where the per pack state tax is a low, low 2.5 cents per pack. Last, but far from least, smokes smuggling has become a growth industry.
The tobacco settlement rates as a text book unintended consequences example, but don't hold your breath waiting for smoke Nazis to admit it. They'll do it all over again, when their trial lawyer partners in extortion, plunder 'big food'. When fries hit $57 per order - including tax, of course - will we hear about fast food smugglers selling this forbidden food from the back of a truck? Enquiring minds want to know.
© Copyright 1993-2016 PIG - The Politically Incorrect Gazette
---
---