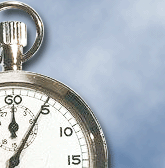 Andy Warhol is credited with a remark about 'everyone having 15 minutes of fame'. Since then, it has become part of Amerikan culture to cite those people who have overstayed their welcome. PIG is perfectly willing to climb on this popular bandwagon, but, as usual, we do it better and boldly take it where other never dared to go. PIG agrees that certain people tarry on the public stage after their allotted 15 minutes expire, but we don't stop there. PIG goes the extra mile...
PIG dares to cite those groups, organizations and political entities that won't take a god damn hint and go the hell away.
PIG declares that the following squandered all of their allotted time. They must leave the public stage, now!
AIR AMERICA
---
With hot air purveyors like Al Franken(stein) and Janeane Garofalo spewing their "Amerika sucks and it's all Bush's fault" drivel over the government's airwaves, PIG isn't convinced that this microscopic blight on your radio dial can last their allotted 15 minutes of infamy. Worried that this lefty whine-a-thon will do a header into well deserved oblivion long before it reaches the 15 Minute milestone, PIG will bid these left lip-flappers adieu, now, just in case: Yer outta here, scumbags and good riddance.



GERALDO RIVERA
---
PIG hasn't got a clue how this cosmic nothing became famous, and we don't really give a damn. His fame, such as it is, seems to be the Big Apple's doing, a thrilling fact that should tell you all you need to know about this clown. We're not sure when this steaming load strayed onto the public airwaves radar but we 're painfully aware of that stop the presses moment when Geraldo's alleged journalism career jumped the shark. That's right, PIGsters, we're talking about Geraldo's "Al Capone's secret vault" exploits. That's a shark jumping adventure that registered on the Richter Scale.

After several fetid stints in various news outfits, Geraldo finally found his niche during the 2004 hurricane season, when Fox News Network condemned Geraldo to rain slickered News Nitwit who goes outside during a hurricane driven rain and wind storm. This year, Fox News Network seemed to paint a much bigger bull's-eye on Geraldo when they dispatched him to the toxic waters that inundated the Big Easy. If that doesn't render this fool room temperature, there's always the silver bullet of crappy News Nitwit assignments: Geraldo Visits Chernobyl.

Chin up, Geraldo, your alleged career may be in the crapper, but there's this silver lining: by a unanimous vote of the entire PIG staff, you just landed, with a resounding splat, on PIG's legendary 15 Minutes of Fame roster.

SEAN PENN
---
Sean Penn's most newsworthy thespian antics include typecasting as the legendary Spicoli in "Fast Times at Ridgemont High" and a pathetic, nad-shrinking, supporting role as Mister Madonna. As thrilling as those career, uh, "highlights" are, to some-damn-body, Sean's best days are in his distant past. If somebody can find the venerable hook, it's time to drag this fool off the public stage, before he creates a stench that we'll never eradicate.
We won't attempt to pinpoint when, exactly, Penn's entertainment career jumped the shark, but we feel safe in stating that this richly-deserved splashdown happened long before he resurfaced as a publicity craving peace punk in Iraq, Iran, and the Big Easy. Based on his recent antics, we're smelling a third career option for Penn as an Amerika-hating, Donkey Clan political hack, as if we care.
Stick a damn fork in yourself, Spicoli, because your 15 Minutes are up and you are...done.
JOE JACKSON'S PARASITE HORDE
---
PIG is thrilled to report that the sun is finally setting on Joe Jackson's parasite clan. When your baby girl's - Janet Jackson - most memorable entertainment moment involved flashing her coco colored hooter over the public airwaves...When your family meal ticket's - Neverland's Fairy Prince - most recent public appearance involved answering child molestation charges in a Mexifornia court...When your loser family divides its time between mooching off Neverland's Fairy Prince and defending the bleached-skinned, noseless freak's weird ways, it's time to fold the family tents and leave the public stage. Stick a fork in it, Joe, because your family's moment in the entertainment spotlight is over. Leave gracefully, before we get out the venerable hook.

THE HILTON SISTERS
---
The ubiquitous Hilton sisters are - like too many otherwise unremarkable individuals - famous for being famous. Darlings of the media, they possess three stop the presses qualities: they're blonde; they're skinny; they're rich. Neither is drop dead gorgeous, but both can be rated as pretty. Is that enough to justify all the media fuss over these wenches? Probably, but, it doesn't hurt that the Hilton bitches dress like tarts and act like the mindless bimbos the media loves to promote.

Are we jealous because they're rich and popular? Nope. On the other hand, rich, blonde, skinny and scantily clad aren't exactly stop the presses accomplishments. We see that on the Venice boardwalk, 24/7/365.

SPIKE LEE
---
Movie moguls keep pissing away dead presidents on the Spikester, despite the red ink reality that his films rarely score meaningful success at the box office. Spike's primary accomplishment appears to be the incontrovertible fact that he's melanin-enriched. Wouldn't it be much easier to pay him not to make films? That way, he'd get his boodle and we'd all be spared his cinematic pretensions.


J LO
---
Flashing your b-cup boobs and shaking your hippo-size butt to alleged music don't strike us as star qualities. Your only real, confirmed, talent is your gift for self promotion, but that hardly explains your star status, unless those persistent rumors are true...Are you, as some opine, horizontally gifted in the extreme?


JE$$E JACKSON
---
Your rap is tired; your hypocrisy is monumental; your racist extortion is intolerable. Do everybody a favor, move to Iraq.


ALEC BALDWIN
---
Before you get too involved in your noisy tantrum against the vast right-wing conspiracy, you might consider trying to get your alleged acting career off life support. Your promise to leave the country seemed irresistibly civilized. Maybe 'we' should do the right thing and buy that one-way ticket to a well deserved oblivion.


FRANCE
---
Granted you deserve props for helping us during our War for Independence, but that debt got paid, twice over, when we rescued your surrender monkey butts in two world wars. Napoleon achieved room temperature two centuries ago, so get over your delusions of grandeur, shut your frog yaps and don't say another word until we give you permission.


THE FCC
---
You vastly exceeded your original authority and proclaimed yourselves judge, jury and executioner over broadcast media content. You're a repressive tool trampling on inalienable individual liberty at the behest of Amerika's tyrannical majority and we're up to here with it. Don't make us come over there.

KIM KARDASHIAN

---
Kim's alleged claim to fame is, at best tenuous and far from impressive. Daddy Robert was part of the Dream Team (Nightmare Team is more appropriate) that managed to save a double-murderer named O. J. Simpson, from paying for his crimes. Step daddy, Bruce Jenner is an Olympic Gold Medalist and a man with some of the worst plastic surgery in human history.

Once a galpal of another member of PIG's 15 Minutes of Fame roster, Skank Hilton, Kim achieved a minor measure of notoriety as the star of a amateur sex tape. That, plus a caboose the size of Montana, was enough to inflict her on an unsuspecting American public as the 'star attraction' of a reality show 'Meet the Kardashians'.

A fat ass and a sex tape aren't our idea of meaningful. Your time is up lard butt.


CINDY SHEEHAN
---
Unable to muster the requisite attention in the USA, this peace wench rushed down to Caracas to commune with Venezuela's Amerika-hating president, Hugo Chavez. In theory, this was supposed to put her back on the peace punk front burner, but it's not working out that way. Even the aromatic peace pukes seem to be "up to here" with the way this cosmic nothing is exploiting the death of her son in Iraq. In theory, we're supposed to "feel a mother's pain", but we're channeling much darker sentiments when we're forced to watch Cindy feeding off her son's corpse. Your time is up, Cindy. Leave quietly, now!