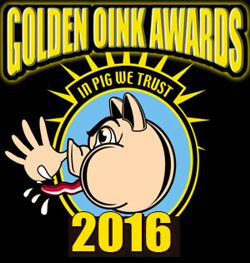 Once again, the PIG staff buried the hatchet - invariably in one another - and sat down for our awards selection shouting match, punchout and melee. Battered, bruised, and amazed that we survived another contentious confab, we try to muster a some semblance of professionalism while we salute those Standup Guys and Gals and administer bitch-slaps on the richly deserving. Originally named Props And Chops we decided to give this awards page a more illustrious name: Golden Oinks.
PIG's Golden Oinks Selection Committee singles out the following individuals and/or groups for special PIG attention for their amazing, amusing, and or inspiring antics.

2nd Amendment Hero
Antione Cooper had his game face on, when he entered the Waffle House packing an AK47. His robbery went swimmingly up to a point. What went wrong? I'll give you a hint: Texas.

According to the DeSoto Police Department, Antione Cooper, 26, entered the restaurant in the 1500 block of North Beckley Avenue at 2:30 a.m. Thursday. Patrons at the Waffle House told police Cooper robbed several customers before leaving the restaurant and entering the parking lot.
A handgun-licensed customer, whose wife was on her way to meet him at the restaurant, followed Cooper to the parking lot, fearing for his wife's safety, according to DeSoto police.
Police said the customer called to Cooper once they were outside. Cooper pointed the AK-47 in the customer's direction, prompting the customer to shoot Cooper several times, according to police in the southern Dallas suburb.
Cooper was then transported to a local hospital where he remained Wednesday on life support, police said. [Hchron]
Nice shooting.
Bust of the Week
[FOX] A busty mermaid sculpted from sand and placed outside a popular Cape Cod restaurant is raising eyebrows and triggering complaints.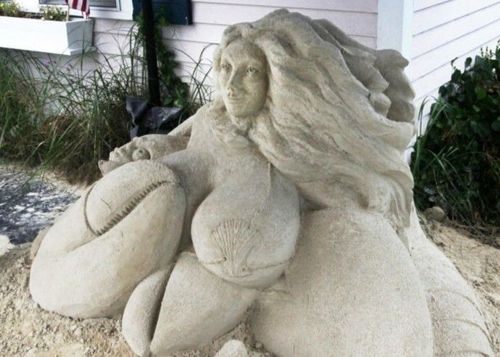 The town of Yarmouth, Massachusetts, and the local Chamber of Commerce say they fielded complaints from locals about the exaggerated proportions of the mermaid's chest. Yarmouth's police department took down photos of the sculpture from its Facebook page after residents said they found the work of art offensive.
The mermaid clad in a clamshell bikini is one of 41 sand sculptures placed around town as part of the annual Yarmouth Summer Celebration.
Salty's restaurant owner Raymond Roy tells the Cape Cod Times he's surprised at the fuss.
Roy says the mermaid isn't nude and shouldn't be censored

Morons of the Week
[mlive] MUSKEGON COUNTY, MI – They left for what they thought would be an easy float down Muskegon River Tuesday afternoon – but ended up spending the night on the river bank, scared and yelling for help.
The trio of young women were rescued 20 hours later after a fisherman eventually heard their cries, said Muskegon Township Deputy Fire Chief Bob Grabinski.
The women, all in their 20s, had never been tubing before and decided it would be a fun thing to do, Grabinski said. So they bought some tubes and headed to the popular launch site at the Maple Island Road bridge, Grabinski said.
"They were informed by somebody at the bridge that the river goes in a circle and if they put in there they would come back to their car," he said. "Not knowing anything, they set off on their little adventure."
Fisherman on finding stranded Muskegon River tubers: 'They had scratches all over'
About six hours later, with darkness closing in and their car nowhere to be found, the trio decided to get out on the riverbank where they ended up spending the night, Grabinski said.
"They said they hugged a tree all night yelling for help," he said, adding that that stretch of river is very isolated.
About noon on Wednesday a fisherman floating the river heard their cries for help, investigated and then called 911. The women, one from Muskegon Heights and two from Muskegon, did not have a phone with them, Grabinski said.
[Obviously, Darwin was too busy laughing to get 'er done.]

Game Changer of the Week
[NYP] Pokémon Go ruined my love life!
Evan Scribner claims he's now single after his girlfriend discovered he was "cheating" on her — thanks to the geolocation feature in the addicting scavenger hunt-style cellphone game.
Scribner told The Post his big mistake was playing the game after canoodling with an ex-girlfriend in Bushwick.
The mobile game leads players to virtual creatures located in the real-world, using a phone's mapping software to record where each Pokemon is captured.
And that means anyone snooping around a player's phone would be able to see his or her whereabouts at a given time.
"She saw that I had caught a Pokémon while at my ex's house," Scribner said.
And when the Sunnyside, Queens resident didn't have a good excuse as to why he was wandering around his ex's Brooklyn neighborhood, his gal pal said see you later Feraligatr.
"She found out last night at my house and hasn't contacted me since then," Scribner said.
Human Genepool Improvement Volunteers

ENCINITAS, Calif., July 15 (UPI) -- Two men who fell from a seaside cliff north of San Diego told authorities they became distracted while playing augmented reality game Pokemon Go.
Encinitas fire Battalion Chief Robbie Ford said one of the men fell about 50 feet down the bluff in Encinitas while the other man fell about 80 to 90 feet to the beach below.
Ford said the man who fell to the beach told San Diego County sheriff's deputies he and the other man had been playing smartphone game Pokemon Go, which sends players to real-world locations to capture digital monsters.
The man who fell 50 feet down the bluff was rescued by firefighters using ropes and harnesses, Ford said.
The men were taken to Scripps La Jolla Trauma Center with unspecified injuries described as moderate shortly after their 1 p.m. fall.

Sign of the Week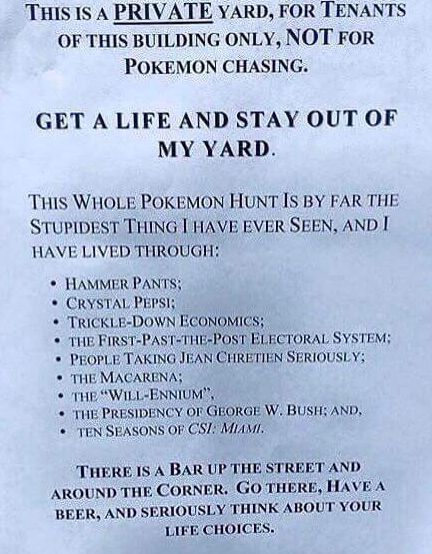 Loser of the Week
An Idaho man who told police he identifies as a woman was arrested Tuesday after allegedly taking photos of a woman in a Target fitting room, officials said.
Sean Patrick Smith, 43, was allegedly dressed in women's clothing when he entered the fitting room in the women's section of the store in Ammon on Monday, East Idaho News reported. Smith, also known as Shauna Patricia Smith, then began taking pictures of a woman in the changing stall next to him, police said.
"The woman was begging for help as she chased the man out the door," a witness told East Idaho News. "She kept saying she wanted those pictures deleted."
Detectives found Smith on Tuesday and charged him with one felony count of voyeurism. He was booked into the Bonneville County Jail and was set to make a court appearance Wednesday.
Have you seen our 2015 Golden Oinks of the Year?