PIG thinks that dedicating one day to our men and women in uniform is a great idea, but not enough. We're dedicating this page as a permanent fixture in PIG for all military; active or retired. We also welcome wives, husbands, parents, children, sweethearts, friends, or anyone interested to send us anything from a "Hi Mom!" to a high, hard one fingered salute to Senators that look upon you with utter contempt.
With gutless, white flag waving rat bastards like John "Flip-Flop" Kerry in control on Capital Hill, PIG decided to start off our Veterans page by giving our brave men and women in uniform a forum to sound off in PIG. We're proud that so many of our most dedicated PIGsters are active duty military personnel. Active duty or retired veteran, here at home or over in Irak, we thank you for your service and invite to let your voice be heard.
While you're here, please take note of the links to the right that we've made available to send our troops anything from homemade cookies to books, toiletries, Silly String and even calling cards. You can even correspond with the troops and probably end up with a friend for life.
Please enjoy our humble, heartfelt, hundred percent PIG tribute to our men and women that wear the uniforms of our Army, Marines, Navy, Airforce and Coast Guard.
---
PERFECT TIMING
---
---
JAY LENO'S GENEROSITY
---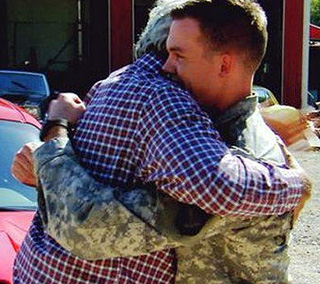 Funny man by night, patriot by nature, Jay Leno visited with wounded vet Corporal Ethan LeBerge and took him out for the ride of his life in one of his muscle cars.
They spent the day cruising around, burning rubber, fishtailing, shooting the breeze and having an all-around good time with each other.
At the close of the day as they were saying good bye, Jay had a more than little surprise for Corporal LeBerge.
Read and watch below as Jay Leno, being the Patriot he is, demonstrates his gratitude:

>>> Jay Leno/Corporal Ethan LeBerge >>>
---
A TALE OF TWO FUNERALS
---
By all accounts, Harold was a bright child. He grew up in America. He went to school and had a bright future ahead of him.

Harold's full life was cut short in a violent moment.

While few people had ever heard of Harold before his death, many did afterwards.

And in death, something shocking happened.

What was so shocking, especially when it is compared to the death of someone else recently in the news?

Harold is Harold Greene, Major General United States Army.

On August 5th, General Greene was killed by a Taliban terrorist. He was returned to America with full military honors.

While Major General Greene was buried, Barack Obama was golfing. The Vice President wasn't there either. Flags were not even lowered to half staff.

Four days after Harold Greene gave his life for America, Michael Brown was killed in Ferguson Missouri.
It is safe to say, Brown was at best a thug.

The media has repeatedly shown photos of Brown flashing gang signs. Some media outlets have even associated him with a specific gang. In the minutes before his death, Brown committed a robbery at a local convenience store. According to other reports, Brown struck officer Darren Wilson and shattered his orbital bone.

Obama is sending a three-person delegation to Michael Brown's funeral.

Obama would not attend the funeral of the highest ranking military officer killed in the line of duty since 9/11, yet he will send a delegation to the funeral of a thug.

When Margaret Thatcher, one of America's staunchest allies and Ronald Reagan's partner in bringing down Soviet communism, died, Obama sent only a small low-level delegation to her funeral. The snub was not missed by the British.

When Chris Kyle, the most lethal American sniper in history was murdered, there was no expression of sympathy from the White House.There was no White House delegation at his funeral.

American heroes die and Obama goes to the golf course.

A thug dies and he gets a White House delegation.

No wonder real Americans hold Obama in contempt.
---
Amen
---
Seen On A Bumper Sticker
---
When The Dust Settles
---
Sent from a military retiree.
Just enjoy life
My wife and I moved into a retirement development on Florida 's southeast coast. We are living in the "Delray/Boca/Boynton Golf, Spa, Bath and Tennis Club on Lake Fake-a-Hachee". There are 3,000 lakes in Florida; only three are real.
What were we going to do all day? Let me assure you, passing the time is not a problem. Our days are eaten up by simple, daily activities. Just getting out of our car takes 15 minutes. Trying to find where we parked takes 20 minutes. It takes a half-hour in the check-out line in Wal-Mart, and 1 hour to return the item the next day.
Let me take you through a typical day: We get up at 5:00 am, have a quick breakfast and join the early morning Walk-and-Fart Club. There are about 30 of us, and rain or shine, we walk around the streets, all talking at once. Every development has some late risers who stay in bed until 6:00 a.m. After a nimble walk, avoiding irate drivers out to make us road kill, we go back home, shower and change for the next activity.
My wife goes directly to the pool for her underwater Pilates class, followed by gasping for breath and CPR. I put on my 'Ask me about my Grandchildren' T-shirt, my plaid mid-calf shorts, my black socks and sandals and go to the clubhouse lobby for a nice nap.
Before we know it, it's time for lunch. We go to Costco to partake of the many tasty samples dispensed by ladies in white hair nets. All free! After a filling lunch, if we don't have any doctor appointments, we might go to the flea market to see if any new white belts have come in or to buy a Rolex watch for $2.00.
We're usually back home by 2:00 pm to get ready for dinner. People start lining up for the early bird about 3:00 pm, but we get there by 3:45 because we're late eaters. The dinners are very popular because of the large portions they serve.
We can take home enough food for the next day's lunch and dinner, including extra bread, crackers, packets of mustard, relish, ketchup and Splenda, along with mints. Ketchup and hot water makes excellent tomtato soup.
At 5:30 PM we're home, ready to watch the 6 o'clock news. By 6:30 PM we're fast asleep. Then we get up and make five or six trips to the bathroom during the night, and it's time to get up and start a new day all over again.
Doctor-related activities eat up most of our retirement time. I enjoy reading old magazines in sub-zero temperatures in the waiting room, so I don't mind. Calling for test results also helps the days fly by. It takes at least a half-hour just getting through the doctor's phone menu. Then there's the hold time until we're connected to the right party. Sometimes they forget we're holding, and the whole office goes off to lunch.

hould we find we still have time on our hands, volunteering provides a rewarding opportunity to help the less fortunate. Florida has the largest concentration of seniors under five feet and they need our help. I myself am a volunteer for 'The
Vertically Challenged Over 80.' I coach their basketball team, The Arthritic Avengers. The hoop is only 4-1/2 feet from the floor. You should see the look of confidence on their faces when they make a slam dunk.
Food shopping is a problem for short seniors, or 'bottom feeders' as we call them, because they can't reach the items on the upper shelves. There are many foods they've never tasted. After shopping, most seniors can't remember where they parked their cars and wander the parking lot for hours while their food defrosts.
Lastly, it's important to choose a development with an impressive name. Italian names are very popular in Florida. They convey world travelers, uppity sophistication and wealth. Where would you rather live: Murray 's Condos or the Lakes of Venice? There's no difference – they're both owned by Murray, who happens to be a cheap bastard.
I hope this material has been of help to you future retirees. If I can be of any further assistance, please look me up when you're in Florida. I live in the Leaning Condos of Pisa in Boynton Beach.
---
SOLDIER RESPONDS TO 1ST GRADERS LETTER.
ABSOLUTELY PRESCIOUS
---
---
THANK A VET
---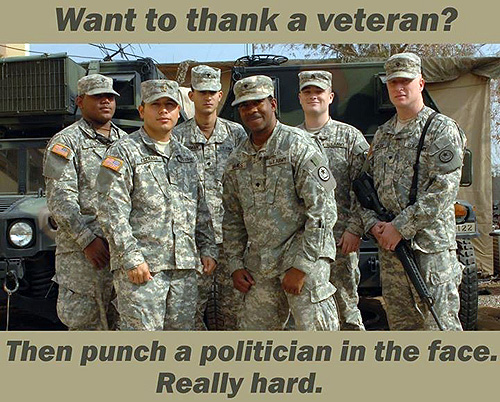 ---
HUMOR: A DUFFELBLOG DOUBLE HEADER
---
Item #1: THE PENTAGON — Multiple sources confirmed there would be temporary cease-fires at conflict zones around the world in what is being dubbed a "humanitarian" move to allow soldiers and rebel groups to get to a computer and view the massive trove of nude celebrity photos that leaked online Sunday.
The cease-fires between Israel and Gaza, Ukraine and Russia, and on the Korean peninsula and elsewhere are being hailed by activists as the first time prayers for world peace have finally been answered. Hopes for long-standing calm were soon dashed however, after ISIS militants resumed their fight against Syrian and Iraqi soldiers when they learned the leaked images had no goats among them.
In the image trove leaked online by the 4chan message board were explicit photographs and video of Jennifer Lawrence, Ariana Grande, Kate Upton, and others. Hackers hinted that more could circulate online soon, with a listing of not-yet-published photos including Kim Kardashian, Avril Lavigne, and Mary-Kate Olsen.
Meanwhile, every member of the U.S. military had either told their immediate superiors they were "so sick they can't even leave the barracks," or had put in leave requests to be taken immediately, the Pentagon announced.
Duffel Blog reached out to Lt. Col. Jeffrey Sinclair, but he was not immediately available for comment.
In a hasty press conference, Pentagon Press Secretary Rear Admiral John Kirby told reporters he would be "spending quality time with his family for a few days," before quickly packing up his things and making sure his laptop was in good working order.
At press time, a platoon of Marines was standing by in their barracks common area watching old episodes of "Full House" and refreshing 4Chan every five minutes.
Item #2: Duffleblog Classic
MIAMI — A Miami judge is giving troubled pop star Justin Bieber a choice in punishment following his arrest on Thursday: Join the Marine Corps or go to jail.
Bieber faces charges of drunk driving, resisting arrest, and driving without a license. He also reportedly refused to cooperate with officers on the scene and used "choice words" when police tried to question him and administer a cursory pat down and field sobriety test.
Judge Joseph Farina reviewed the charges and the arrest report which details a litany of belligerence and profanity directed at police. "I ain't got no f—— weapons," the report quotes Bieber as saying. "Why do you have to search me? What the f— is this about?"
Bieber, a 19-year-old who was tragically discovered after posting a video to Youtube of himself, may soon be joining the ranks of Marine recruits.
"You milquetoast Canadian entertainers think you can come down here and have the run of the place don't you?" said Judge Farina. "Well, you've finally crossed the line sir. You want to know what this is about? It's about consequences now. You don't have any weapons? Well, you're about to."
The Judge then offered the teenage pop star a choice. He could serve time in a Miami jail followed by deportation to Canada or Guantanamo Bay, or he could report to Marine Corps Recruit Depot, Parris Island for recruit training.
"This is really a terrible choice either way," said Katherine Merriman, an attorney following the case. "This puts Bieber in the position of choosing between terrible treatment in prison from criminals or terrible treatment in the Marine Corps by lance criminals and senior staff."
A stunned Bieber was escorted from the hearing accompanied by Miami police. He has one week to decide what he'd like to do.
Fans gathered outside Bieber's Long Beach mansion expressed guarded support for the singer.
"I know he will be, like, a totally awesome Marine soldier," said Tiffani Liebgott, 15, "and will look totally hot with that green beret!"
"Yeah," agreed her friend, Melani Carson, also 15, "and they also carry those sexy swords like in those commercials. Hashtag 'the hotness,'" she added, actually saying aloud the word "hashtag."
Upon hearing the news, Drill Instructors at Parris Island were reportedly having difficulty properly wearing their uniform trousers over their enormous erections.
---
TEE'D OFF?
---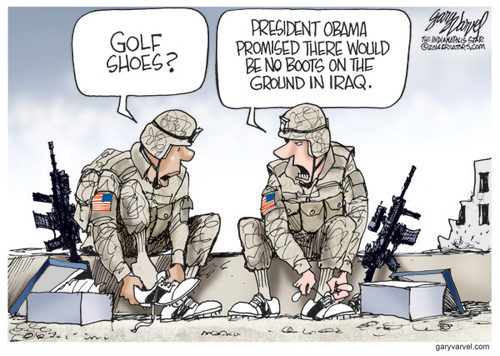 ---
PROJECT VIGIL:D-DAY 2014
11 YEAR OLD EMBEDS FLAG ON OMAHA BEACH
---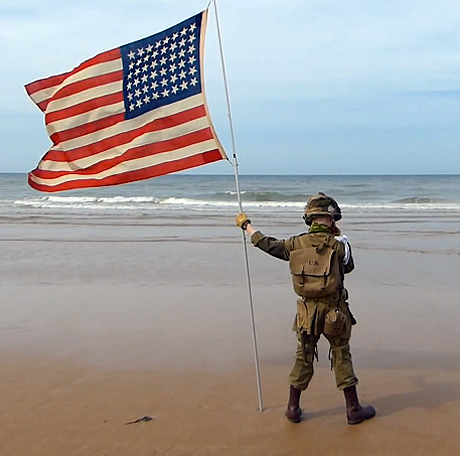 ---
TAKE A STANCE
---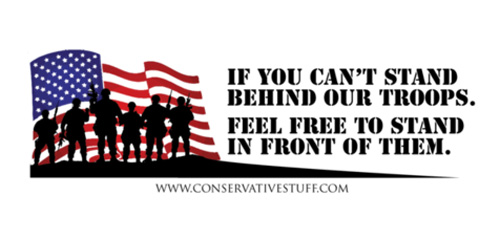 ---
A HERO AND HIS ANGEL
---
Well, the following pictures ought to illustrate patriotism on both the warfront but also the homefront. Note the woman and her dedication to her heroic man who came back home from war with tragic injuries.
This woman stood by her man regardless of his injuries. Awesome.
As you scroll down, you just may get something in your eye or a lump in your throat, just like we did.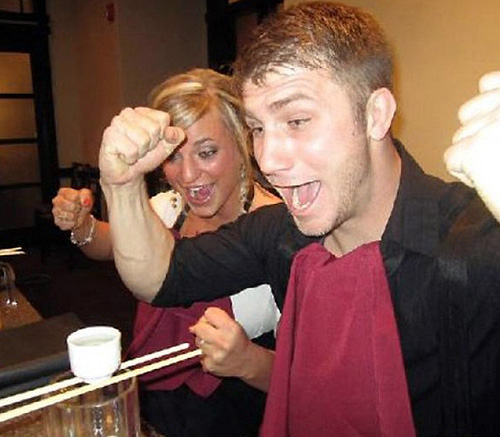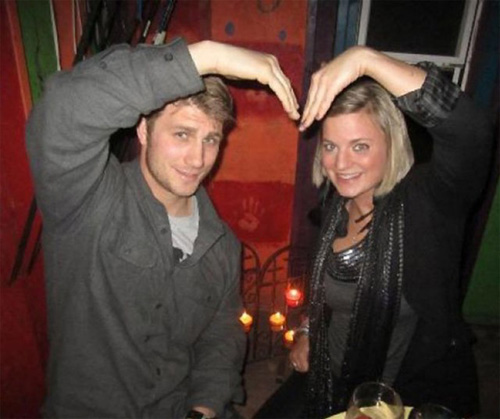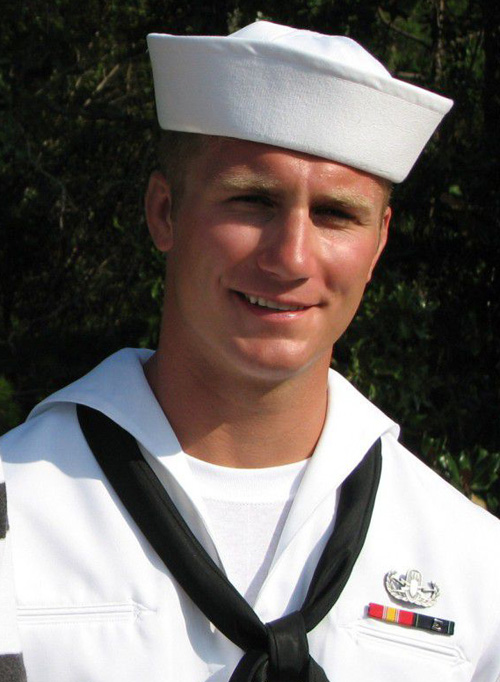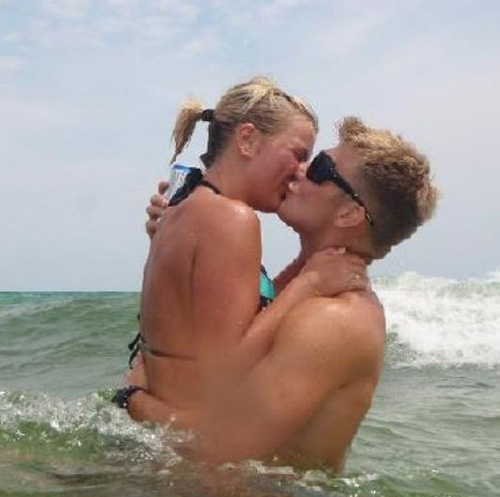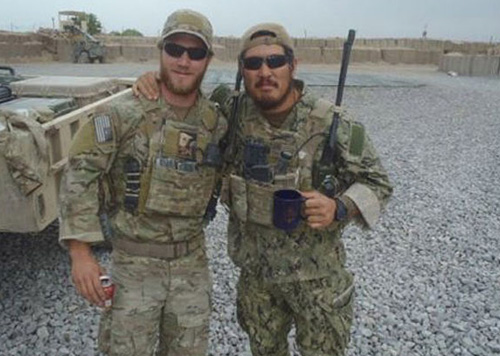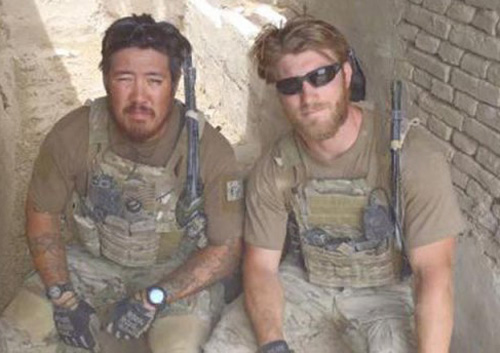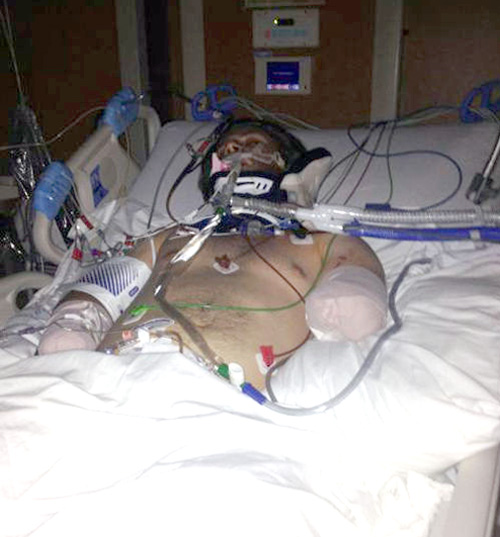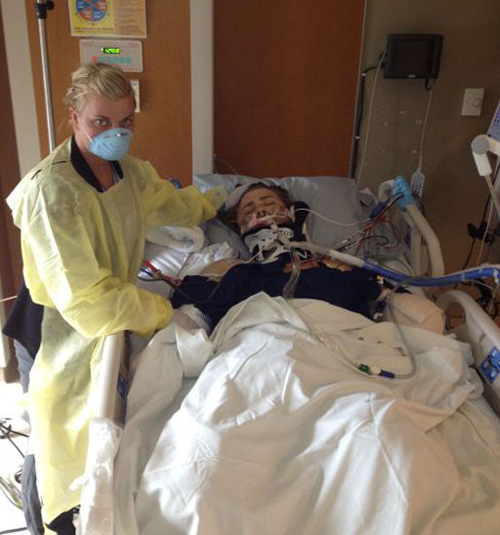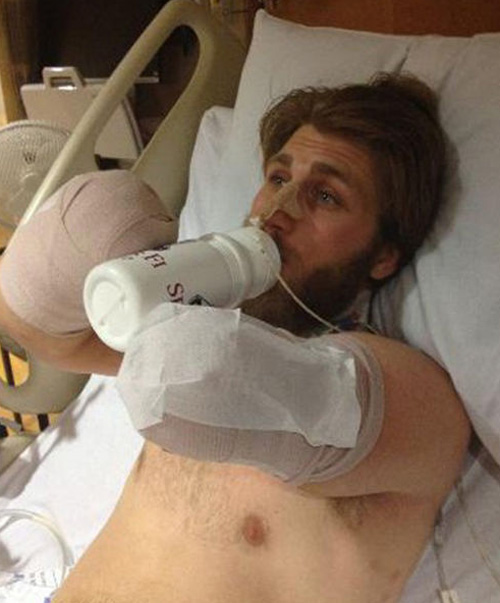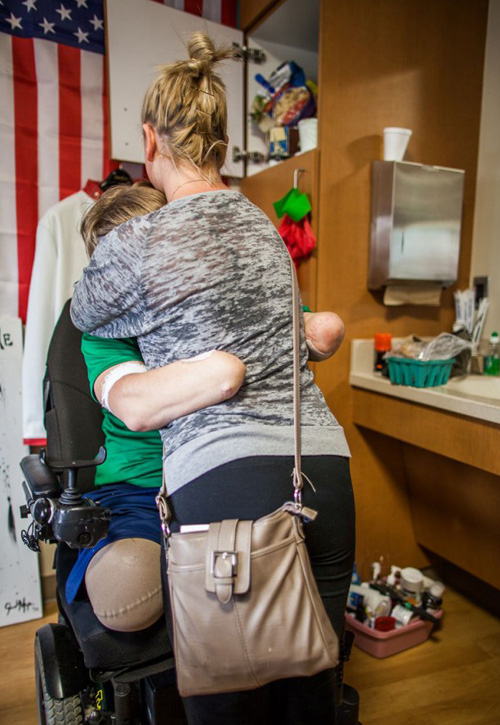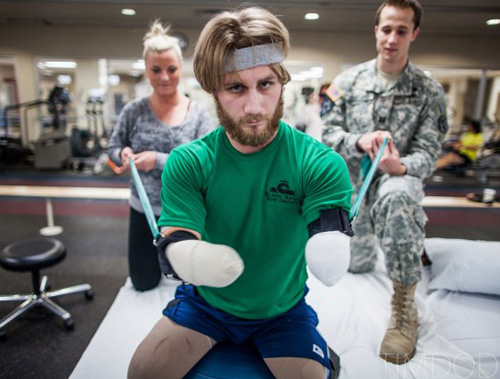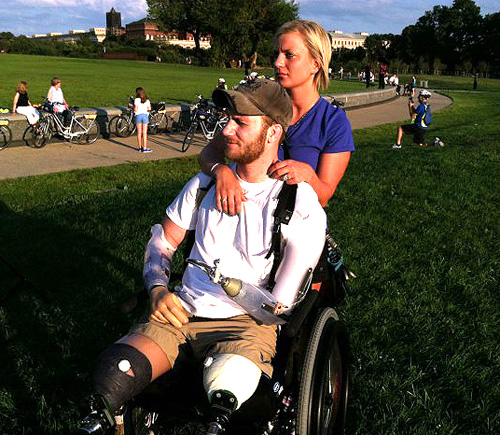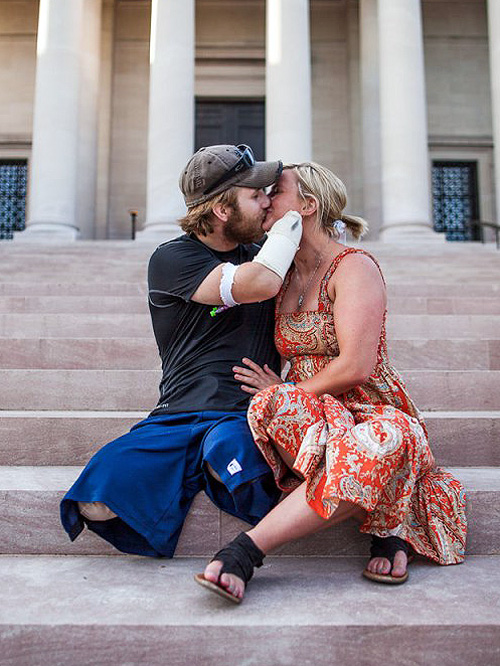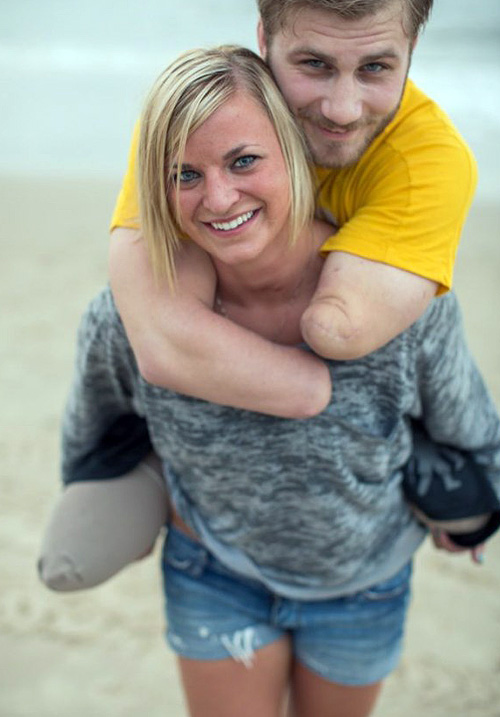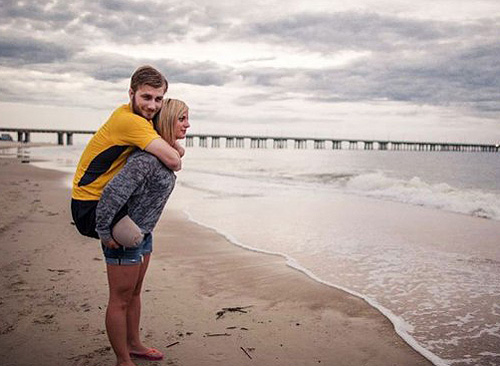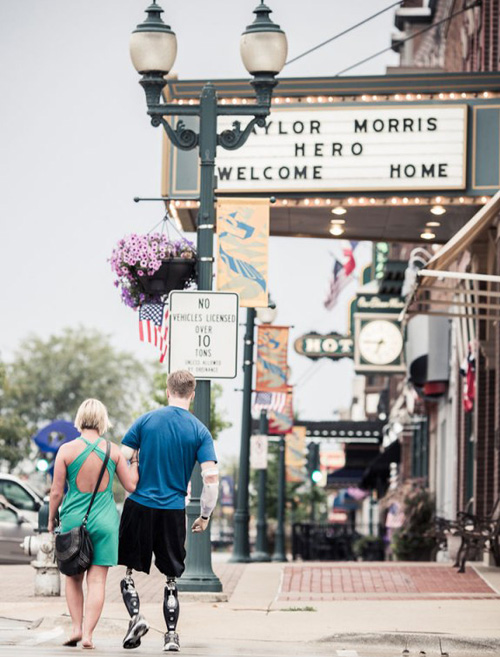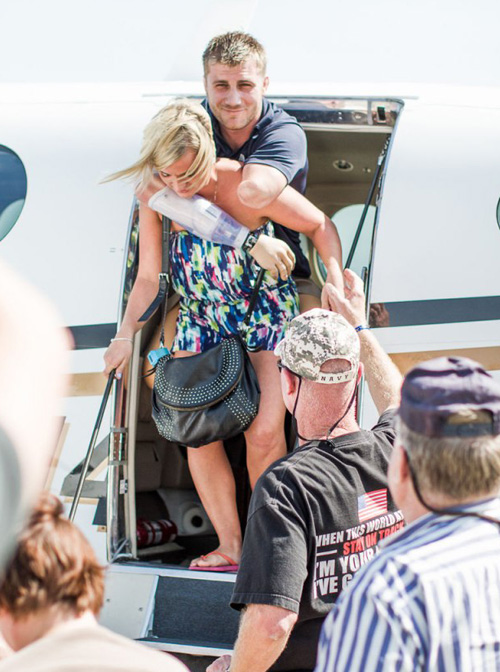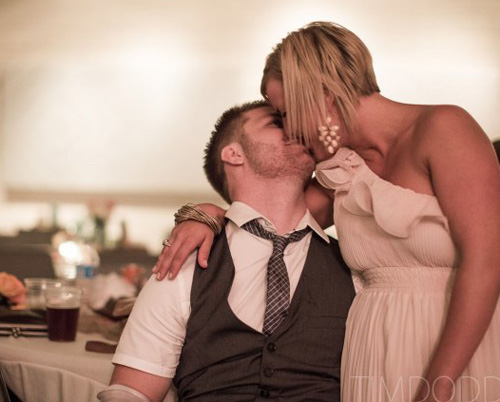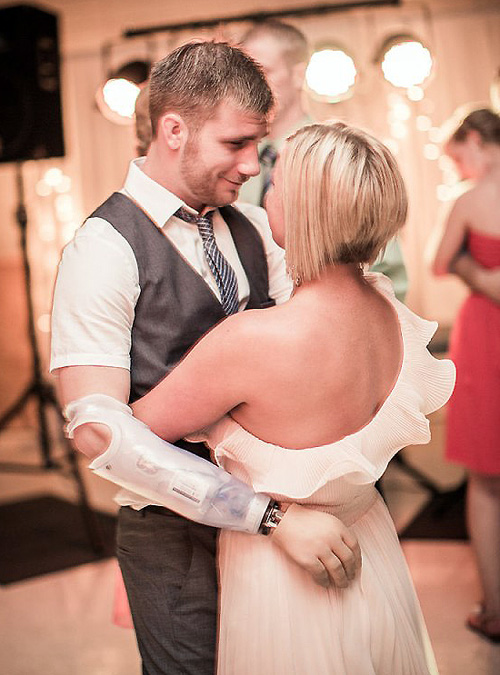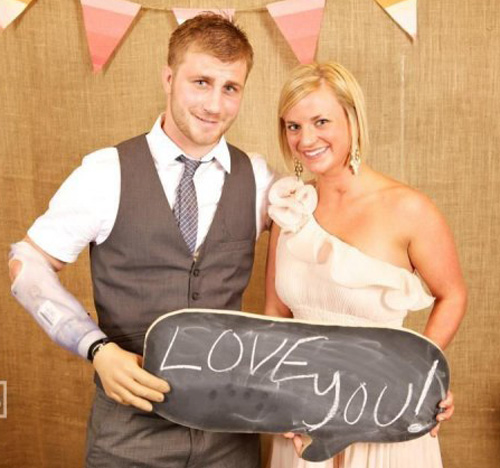 ---
HOMEFRONT HUMOR FROM DUFFELBLOG
---
WASHINGTON, D.C. — After much legal wrangling between the U.S. and the Iraqi government, Duffel Blog has learned that the U.S. military will be sending 10,000 green berets to Iraq.
Defense Secretary Chuck Hagel has confirmed the berets, described by the Defense Logistics Agency as "beret, man's, wool, rifle green, army shade 297," were even now being loaded aboard an Air Force transport for immediate deployment to Iraq.
Hagel said he received the directive in a brief phone call from the White House last week, when President Obama told him "to send as many green berets to Iraq as we could." Hagel added, "We were a little puzzled why he didn't want us to send something more useful, like special forces or military advisers, but orders are orders."
"Whatever, they don't pay me to think," he said.
The berets will be air-dropped to frontline Iraqi Army units in the hopes that the awe-inspiring headgear provides a vital and much-needed morale boost. Hagel said if the green berets work out, the U.S. will also begin surging thousands of similar red, black, and tan berets to Iraq.
In response to Hagel's statement, the White House spokesman Josh Earnest initially said that there had been some "linguistic confusion." He later amended his remarks to say that after careful deliberation President Obama has decided he likes this new plan much better.
"As we saw with our own Army in 2001, change can be difficult," Earnest said. "But as the Iraqi Army transforms from its legacy as checkpoint guards to one which conducts successful combat operations, the green beret will be a symbolic and visible demonstration that they are committed to victory… eventually… somewhere…"
Earnest added that the new strategy also fits with President Obama's decision to keep American boots off the ground and the president has halted the military's current deployment of 300 barefoot American advisers to Iraq.
The use of the berets has not been without controversy. In order to rapidly deploy the berets, the Defense Department tapped into the Army's yearly clothing allowance and has dangerously depleted its domestic supply, leaving some soldiers potentially hatless.
Iraq has a long and controversial history with the beret.

Some officials have also questioned why the U.S. continues to supply headgear and other clothing to Iraq after eleven years of failing to influence the Iraqi dress code. "If they're not wearing green berets now, they're never going to," one highly-placed State Department critic of the policy said. "And how will this look to the Shias? Saddam Hussein used to wear a beret."
"More evidence that we don't understand the culture: we should have issued them green turbans instead."
Hagel admitted there have been problems with the Iraqis too. The deployment of green berets, instead of more culturally appropriate keffiyeh, has been referred to by some members of the Iraqi parliament as a great insult, "as well as the decision to send them during Ramadan, since apparently these people can't wear hats then too," Hagel said.
Bussed, Obama Style
WASHINGTON, D.C. — Top administration aides confirmed Monday that the official Presidential Bus (codenamed "Bluebird One") suffered severe damage last week when it ran over Defense Secretary Chuck Hagel.
"So there we were, on the way back to the White House for the weekly fundraiser with Jay-Z, when there was this loud, like, WHUMP, followed by this inhuman screeching from the undercarriage," said a White House Press Secretary who asked not to be named. "When we got back to the motor pool, wouldn't you know it, there [Hagel] was, lodged up between the chassis and the muffler, and the drive train and transmission were all [damaged] up."
The bus was returning to the White House from a congressional briefing regarding the prisoner exchange for Army Sgt. Bowe Bergdahl. Unnamed high-ranking officials had related to the panel that it was Hagel who made the final decision to exchange five top-level Taliban prisoners for the soldier, held captive since 2008.
Pressed for further details about who was driving at the time of the accident, the anonymous official declined to speculate.
"One thing is sure, though," he did reluctantly confirm. "[Hagel] was definitely not wearing his reflective belt, eye and ear pro, and Army Values dog tag."
White House motor pool maintenance personnel have had to completely rebuild much of the steering and transmission over the last several days, as well as replace all tires and mop up spilled Hypnotiq from around the driver's seat.
"Sure it was bad last month after Bluebird One ran over Secretary Shinseki, but honestly, I haven't seen damage this bad on the White House Bus since it ran over General McChrystal," said one mechanic, who also spoke on condition of anonymity.
---
A BUMP IN THE ROAD
---
"A bump in the road" ... remember that calloused statement?
I do recall, the President referring to the Benghazi incident as "a bump in the road." Today I heard an ex-Navy Seal being interviewed on Fox News regarding a book he has written about how to handle crisis situations in our lives. At the end of the interview he asked if he could make a comment on Benghazi and of course the anchor said yes. He then thanked Fox News for keeping the Benghazi story in the news, since other news organizations are not. He said the Seals who died deserve the public knowing the truth about the whole affair.
The poem was written by a MARINE CORPS Officer (ANON).
THE BATTLING BOYS OF BENGHAZI
We're the battling boys of Benghazi
No fame, no glory, no paparazzi.
Just a fiery death in a blazing hell
Defending our country we loved so well.
It wasn't our job, but we answered the call,
fought to the Consulate and scaled the wall.
We pulled twenty Countrymen from the jaws of fate
Led them to safety, and stood at the gate.
Just the two of us, and foes by the score,
But we stood fast to bar the door.
Three calls for reinforcement, but all were denied,
So we fought, and we fought, and we fought 'til we died.
We gave our all for our Uncle Sam,
But Barack Obama didn't give a damn.
Just two dead seals who carried the load
No thanks to us ... we were just "Bumps In The Road".
---
POLITICIANS SAY THE DARNDEST (AND DUMBEST) THINGS
---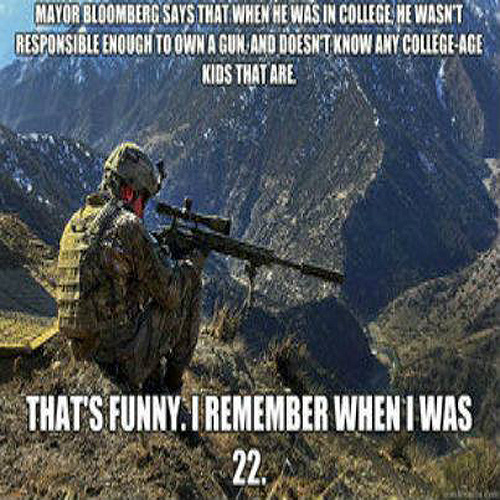 ---
WHAT MEMORIAL DAY IS ALL ABOUT
---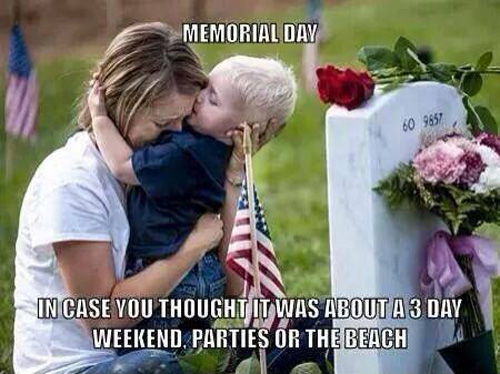 ---
F.U.C.K. V.E.T.S.?!? - COULD THIS HAPPEN TO YOU?
WE DON'T THINK SO
---
*Publisher's Note: The following was lifted from the military and fun-friendly folks at DuffelBlog.com.
The frightening part of this is that someone in Washington may just follow up on this notion.
WASHINGTON, D.C. — Following a second mass shooting at Fort Hood, at least one lawmaker thinks a bill currently under consideration will ensure the safety of American communities by requiring the estimated 2.6 million unstable veterans who served in Iraq or Afghanistan to tell their neighbors of their combat service.
The Fortify & Unite Communities to Keep Veterans' External Threats Secure Act (H.R. 1874) which was introduced on Tuesday, would require military veterans to register with the Department of Homeland Security and periodically "check-in" with a case officer, in addition to going door-to-door in their neighborhood to notify people nearby that they are a powder keg of post traumatic stress, alcoholism, murder, and hate just waiting to blow.
"We really feel that we can drastically minimize the damage to some communities, especially those in troubled 'PTSD hotspots' that have become a haven for these psychopathic troops," said Rep. Jim Moran (D-Va.), who sponsored the legislation. "We are so thankful for their service, and now they can continue to serve on veterans probation."
For the safety of communities, the FCC would also direct cable providers to block access to violent war content popular among veterans, to include The Military Channel and Lifetime. Further, a preliminary letter details instructions sent to providers to censor movies such as "Black Hawk Down" and "Saving Private Ryan" so as "not to place a veteran into a potentially violent mental state and protect the community by not 'poking the bear.'"
The bill is up for vote in the House Veterans Affairs Committee next Thursday where watchers say it's likely to pass before going to the floor for a full vote. However, there's been some controversy surrounding one part of the bill barring veterans from living within 1,000 feet of bars, gun ranges, or liquor stores, as critics claim this would be unfair to local businesses.
Lawmakers are still debating a requirement that veterans need approval before moving to a new community they would eventually terrorize. An amendment requiring case officers to place crazed veterans in a locked safe room for the 24 hours of Independence Day and New Years Eve had already passed.
For More Frontline Fun, Click Below:
>>> Duffleblog >>>
---
IDENTIFYING A REAL HERO
---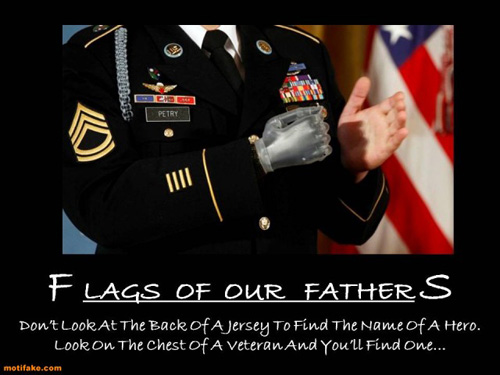 ---
PROTECTING OLD GLORY
---
Click the image below and watch as two U.S. Marines chase down protesters disrespecting the American flag.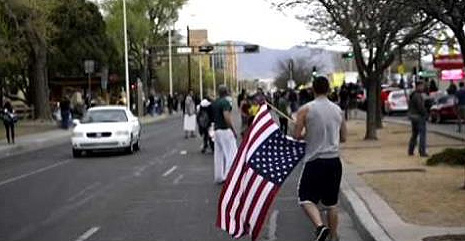 ---
WE WERE MEN
---
Unless your at least over sixty you will NOT recognize many of these names.

Stewart Hayden, US Marines and OSS. Smuggled guns into Yugoslavia and parachuted into Croatia.James Stewart, US Army Air Corps. Bomber pilot who rose to the rank of General.
Ernest Borgnine, US Navy. Gunners Mate 1c, destroyer *USS Lamberton*.
Ed McMahon, US Marines. Fighter Pilot. (Flew OE-1 Bird Dogs over Korea as well.)
Telly Savalas, US Army.
Walter Matthau, US Army Air Corps., B-24 Radioman/Gunner and cryptographer.
Steve Forrest, US Army. Wounded, Battle of the Bulge.
Jonathan Winters, USMC. Battleship *USS Wisconsin* and Carrier *USS Bon Homme Richard*. Anti-aircraft gunner, Battle of Okinawa.
Paul Newman, US Navy Rear seat gunner/radioman, torpedo bombers of *USS Bunker Hill*
Kirk Douglas, US Navy. Sub-chaser in the Pacific. Wounded in action and medically discharged.
Robert Mitchum, US Army.
Dale Robertson, US Army. Tank Commander in North Africa under Patton. Wounded twice. Battlefield Commission.
Henry Fonda, US Navy. Destroyer *USS Satterlee*.
John Carroll, US Army Air Corps. Pilot in North Africa. Broke his back in a crash.
Lee Marvin US Marines. Sniper. Wounded in action on Saipan. Buried in Arlington National Cemetery, Sec. 7A next to Greg Boyington and Joe Louis.
Art Carney, US Army. Wounded on Normandy beach, D-Day. Limped for the rest of his life.
Wayne Morris, US Navy fighter pilot, *USS Essex*. Downed seven Japanese fighters.
Rod Steiger, US Navy. Was aboard one of the ships that launched the Doolittle Raid.
Tony Curtis, US Navy. Sub tender *USS Proteus*. In Tokyo Bay for the surrender of Japan.
Larry Storch. US Navy. Sub tender *USS Proteus* with Tony Curtis.
Forrest Tucker, US Army. Enlisted as a private, rose to Lieutenant.
Robert Montgomery, US Navy.
George Kennedy, US Army. Enlisted after Pearl Harbor, stayed in sixteen years.
Mickey Rooney, US Army under Patton. Bronze Star.
Denver Pyle, US Navy. Wounded in the Battle of Guadalcanal. Medically discharged.
Burgess Meredith, US Army Air Corps.
DeForest Kelley, US Army Air Corps.
Robert Stack, US Navy. Gunnery Officer.
Neville Brand, US Army, Europe. Was awarded the Silver Star and Purple Heart.
Tyrone Power, US Marines. Transport pilot in the Pacific Theater.
Charlton Heston, US Army Air Corps. Radio operator and aerial gunner on a B-25, Aleutians.
Danny Aiello, US Army. Lied about his age to enlist at 16. Served three years.
James Arness, US Army. As an infantryman, he was severely wounded at Anzio, Italy.
Efram Zimbalist, Jr., US Army. Purple Heart for a severe wound received at Huertgen Forest.
Mickey Spillane, US Army Air Corps, Fighter Pilot and later Instructor Pilot.
Rod Serling. US Army. 11th Airborne Division in the Pacific. He jumped at Tagaytay in the Philippines and was later wounded in Manila.
Gene Autry, US Army Air Corps. Crewman on transports that ferried supplies over "The Hump" in the China-Burma-India Theater.
Wiliam Holden, US Army Air Corps.
Alan Hale Jr, US Coast Guard.
Harry Dean Stanton, US Navy. Battle of Okinawa.
Russell Johnson, US Army Air Corps. B-24 crewman who was awarded Purple Heart when his aircraft was shot down by the Japanese in the Philippines.
William Conrad, US Army Air Corps. Fighter Pilot.
Jack Klugman, US Army.
Frank Sutton, US Army. Took part in 14 assault landings, including Leyte, Luzon, Bataan and Corregidor.
Jackie Coogan, US Army Air Corps. Volunteered for gliders and flew troops and materials into Burma behind enemy lines.
Tom Bosley, US Navy.
Claude Akins, US Army. Signal Corps., Burma and the Philippines.
Chuck Connors, US Army. Tank-warfare instructor.
Harry Carey Jr., US Navy.
Mel Brooks, US Army. Combat Engineer. Saw action in the Battle of the Bulge.
Robert Altman, US Army Air Corps. B-24 Co-Pilot.
Pat Hingle, US Navy. Destroyer *USS Marshall*
Fred Gwynne, US Navy. Radioman.
Karl Malden, US Army Air Corps. 8th Air Force, NCO.
Earl Holliman. US Navy. Lied about his age to enlist. Discharged after a year when they Navy found out.
Rock Hudson, US Navy. Aircraft mechanic, the Philippines.
Harvey Korman, US Navy.
Aldo Ray. US Navy. UDT frogman, Okinawa.
Don Knotts, US Army, Pacific Theater.
Don Rickles, US Navy aboard *USS Cyrene*.
Harry Dean Stanton, US Navy. Served aboard an LST in the Battle of Okinawa.
Robert Stack, US Navy. Gunnery Instructor.
Soupy Sales, US Navy. Served on USS Randall in the South Pacific.
Lee Van Cleef, US Navy. Served aboard a sub chaser then a mine sweeper.
Clifton James, US Army, South Pacific. Was awarded the Silver Star, Bronze Star, and Purple Heart.
Ted Knight, US Army, Combat Engineers.
Jack Warden, US Navy, 1938-1942, then US Army, 1942-1945. 101st Airborne Division.
Don Adams. US Marines. Wounded on Guadalcanal, then served as a Drill Instructor.
James Gregory, US Navy and US Marines.
Brian Keith, US Marines. Radioman/Gunner in Dauntless dive-bombers.
Fess Parker, US Navy and US Marines. Booted from pilot training for being too tall, joined Marines as a radio operator.
Charles Durning. US Army. Landed at Normandy on D-Day. Shot multiple times. Awarded the Silver Star and Bronze Star and three Purple Hearts. Survived Malmedy Massacre.
Raymond Burr, US Navy. Shot in the stomach on Okinawa and medically discharged.
Hugh O'Brian, US Marines.
Robert Ryan, US Marines.
Eddie Albert, US Coast Guard. Bronze Star with Combat V for saving several Marines under heavy fire as pilot of a landing craft during the invasion of Tarawa.
Cark Gable, US Army Air Corps. B-17 gunner over Europe.
Charles Bronson, US Army Air Corps. B-29 gunner, wounded in action.
Peter Graves, US Army Air Corps.
Buddy Hackett, US Army anti-aircraft gunner.
Victor Mature, US Coast Guard.
Jack Palance, US Army Air Corps. Severely injured bailing out of a burning B-24 bomber.
Robert Preston, US Army Air Corps. Intelligence Officer
Cesar Romero, US Coast Guard. Coast Guard. Participated in the invasions of Tinian and Saipan on the assault transport *USS Cavalier*.
Norman Fell, US Army Air Corps., Tail Gunner, Pacific Theater.
Jason Robards, US Navy. was aboard heavy cruiser USS Northampton when it was sunk off Guadalcanal. Also served on the *USS Nashville* during the invasion of the Philippines, surviving a kamikaze hit that caused 223 casualties.
Steve Reeves, US Army, Philippines.
Dennis Weaver, US Navy. Pilot.
Robert Taylor, US Navy. Instructor Pilot.

Randolph Scott. Tried to enlist in the Marines but was rejected due to injuries sustained in US Army, World War 1.
Ronald Reagan. US Army. Was a 2nd Lt. in the Cavalry Reserves before the war. His poor eyesight kept him from being sent overseas with his unit when war came so he transferred to the Army Air Corps Public Relations Unit where he served for the duration.

John Wayne. Declared "4F medically unfit" due to pre-existing injuries, he nonetheless attempted to volunteer three times (Army, Navy and Film Corps.) so he gets honorable mention.
And of course we have Audie Murphy, America's most-decorated soldier, who became a Hollywood star as a result of his US Army service that included his being awarded the Medal of Honor.

*Would someone please remind me again how many of today's Hollywood elite put their careers on hold to enlist in Iraq or Afghanistan?*

The only one who even comes close was Pat Tillman, who turned down a contract offer of $3.6 million over three years from the Arizona Cardinals to enlist in the US Army after September 11, 2001 and serve as a Ranger in Afghanistan, where he died in 2004. But rather than being lauded for his choice and his decision to put his country before his career, he was mocked and derided by many of his peers.

Ladies and Gentlemen, I submit to you that this is not the America today that it was seventy years ago. And I, for one, am saddened.
---
VIRTUAL TOUR OF THE VIETNAM WALL MEMORIAL
---
First click on a state. When it opens, scroll down to the city and the names will appear.
Then click on their names. It should show you a picture of the person, or at least their bio and medals.

Someone spent a lot of time and effort to create it. I hope that everyone who receives this appreciates what those who served in Vietnam sacrificed for our country.

The link below is a virtual wall of all those lost during the Vietnam war with the names, bio's and other information on our lost heroes. Those who remember that time frame, or perhaps lost friends or family can look them up on this site.
Pass the link on to others, as many knew wonderful people whose names are listed.
>>> http://www.virtualwall.org/iStates.htm >>>
---
EXPLAIN, PLEASE
---
---
MARINE QUOTES
---
There are only two kinds of people that understand Marines: Marines and the enemy. Everyone else has a second-hand opinion.

- Gen. William Thornson, U.S. Army
I come in peace, I didn't bring artillery. But I am pleading with you with tears in my eyes: If you fuck with me, I'll kill you all.
- Marine General James Mattis, to Iraqi tribal leaders
The safest place in Korea was right behind a platoon of Marines. Lord, how they could fight!
- MGen. Frank E. Lowe, USA; Korea, 26 January 1952
The Marines I have seen around the world have the cleanest bodies, the filthiest minds, the highest morale, and the lowest morals of any group of animals I have ever seen. Thank God for the United States Marine Corps!

- Eleanor Roosevelt, First Lady of the United States, 1945
---
FROM A MARINE MOM
---
For all of those that have son's or daughter's at bootcamp let me pass on what I found.
Let me give you a little back ground first. When my son left home he had no motivation, he was lazy, slobby, no pride, no self worth. This is the boy that got off the bus March 18th at Parris Island. The man that I met on Thursday for parents day is AWESOME.
There is no way I can describe to you all the difference. He looks different, he walks different, he talks different, he has such a sense of bearing and pride all I could do was look at him in awe.
Oh yes, the training is hard, what he went through is unimaginable to any one that has not been there. They are definitely taught to be Warriors. Let me tell you the surprise of what else they are taught.
My Marine son has better values, better morals, better manners than any one I know. It is so much more than Yes Sir, Yes Mam...so much more. He cares about how he looks, he cares about what he does, and its not a boastful, bad ass thing.
He is a true gentleman. I saw patience, and a calmness in him that I have never seen. I could never express my gratitude enough to the Marine Corps for what they have given my son.
I know this, I have an 11 year old Devil pup still at home. When the time comes for his turn if I had to I would take him kicking and screaming all the way. Although I'm sure that will not happen.
The hero worship I see in my younger sons eyes for his Marine brother tells me I will have two Marines in the family, and I will be one very proud mother.

"Cybil", Mother of a Marine writing to the myMarine Group
---
THAT'S THE SPIRIT
---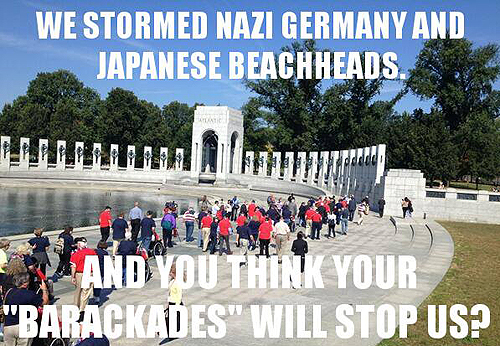 ---
HAMMUNITION
---
The following link was submitted by J-Cro regarding an American style "Final Solution" to the pests known as radical Islams that infest our liberties and way of life with their terrorist ways.
---
THE HIGH COST OF BOO-BOO'S
---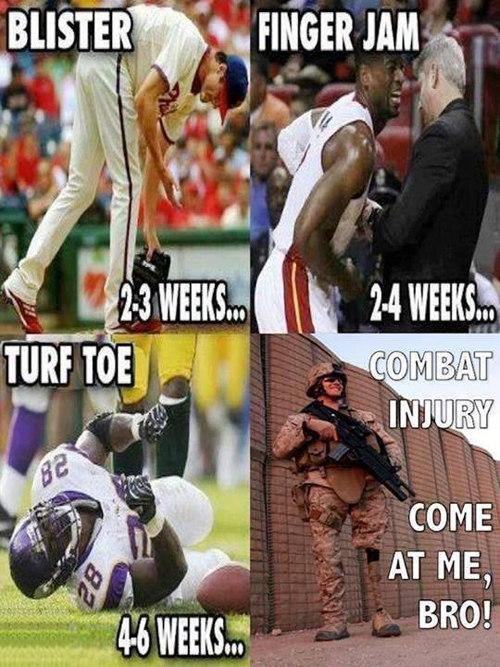 ---
S.E.A.L.'ED WITH A BIG WET ONE RIGHT BETWEEN THE EYES
---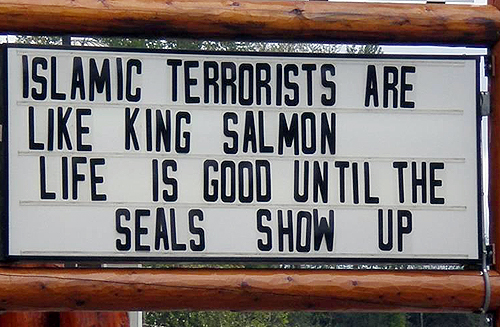 ---
ACCESSORIZING: MILITARY STYLE
---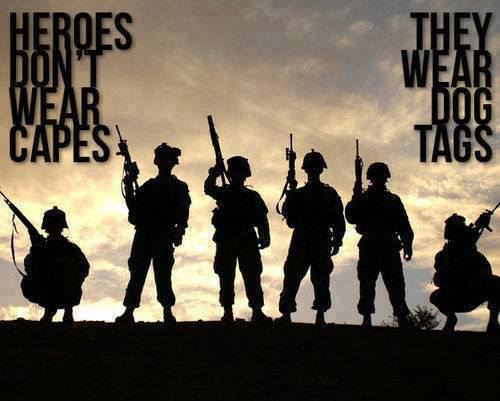 ---
END OF THE AMERICAN DREAM
---
Attributed to a USMC Vet... the saddest, and possibly most accurate short message of our time.

He wrote:

The American Dream ended (on November 6th). The second term of Barack Obama will be the final nail in the coffin for the legacy of the white Christian males who discovered, explored, pioneered, settled and developed the greatest Republic in the history of mankind.

A coalition of Minorities, Government Workers, Union Members, Environmental Extremists, The Media, Hollywood, uninformed young people, the "forever needy," the chronically unemployed, illegal aliens and other "fellow travelers" have ended Norman Rockwell's America. The Cocker Spaniel is off the front porch...the Pit Bull is in the back yard.

The American Constitution has been replaced with Saul Alinsky's "Rules for Radicals" and Chicago shyster, David Axelrod, along with international Socialist George Soros will be pulling the strings on their beige puppet to bring us Act 2 of the New World Order.

Our side ran two candidates who couldn't even win their own home states, and the circus fatty Chris Christie helped Obama over the top with a glowing "post Sandy" tribute that elevated the "Commander-in-Chief" to Mother Teresa status.

People like me are completely politically irrelevant, and I will never again comment on or concern myself with the aforementioned coalition which has surrendered our culture, our heritage and our traditions without a shot being fired.

You will never again out vote these people. It will take individual acts of defiance and massive displays of civil disobedience to get back the rights we have allowed them to take away. It will take Zealots, not moderates—not reach-across-the-aisle RINOs to right this ship and restore our beloved country to its former status.

Those who come after us will have to risk their lives, their fortunes and their sacred honor to bring back the Republic that this generation has timidly frittered away due to "white guilt" and political correctness.. I'm done.

At least in "OUR" time, we knew and understood "Valor!" An additional thought: There would have been no "Greatest Generation" with the current coalition of minorities overwhelming the body politic – no American resolve to engage our economic and military might to check the march of tyranny throughout the 20th century. Just think how different the world would be today.
---
FOR THE MARINES
---
The following was found while doing some online loitering. You don't have to be a Marine to want to learn of the lifestyles, comments, publications and current events of the U.S. Marines.

This site is a goldmine of information for Marines, their families and friends.

You just may leave that site having learned a few things about the Marine Corps.

For more, click the link below: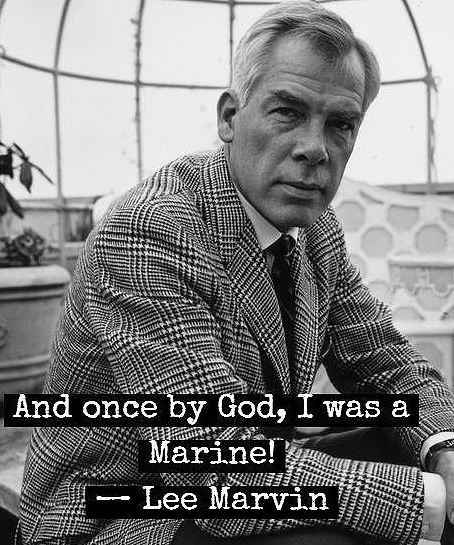 ---
THE U.S.S. ARIZONA & U.S.S. MISSOURI
---
PIGster J-Cro recently found himself on the island of Oahu and took a little tour of the U.S.S. Arizona and U.S.S. Missouri and submitted the following photos.

THE U.S.S. ARIZONA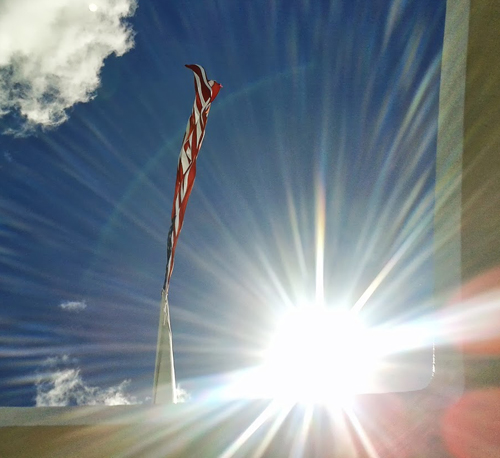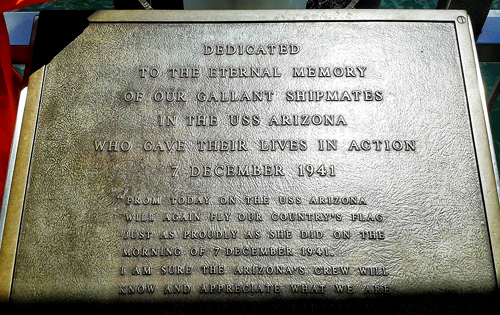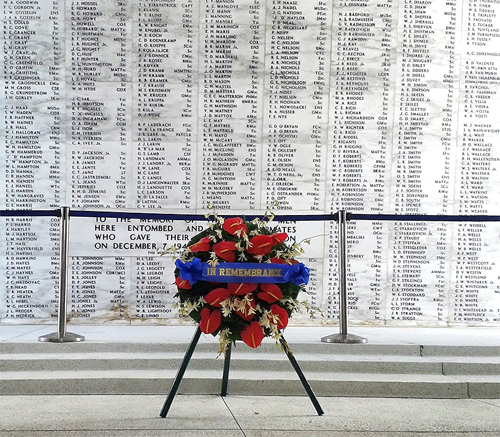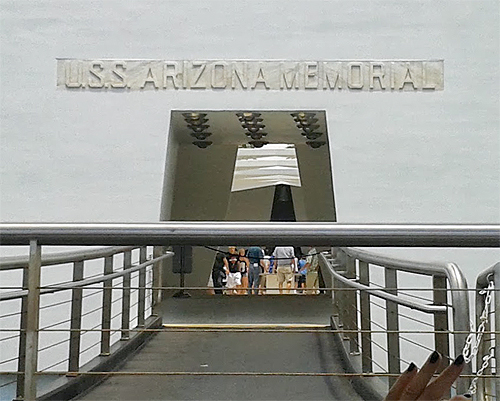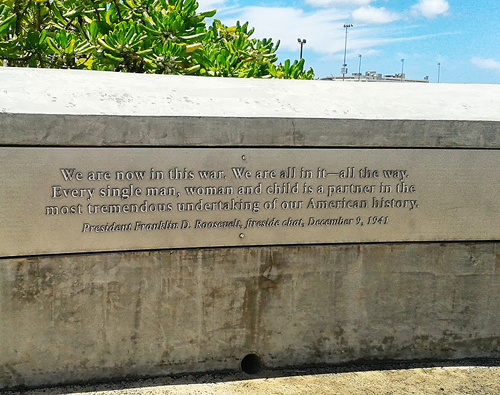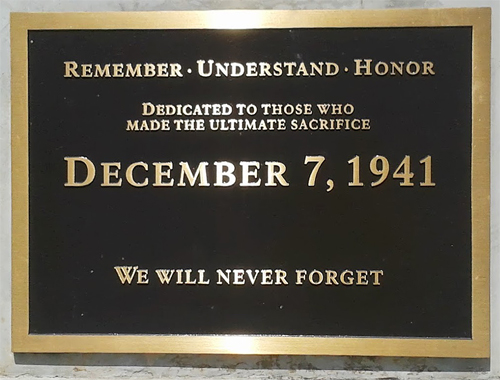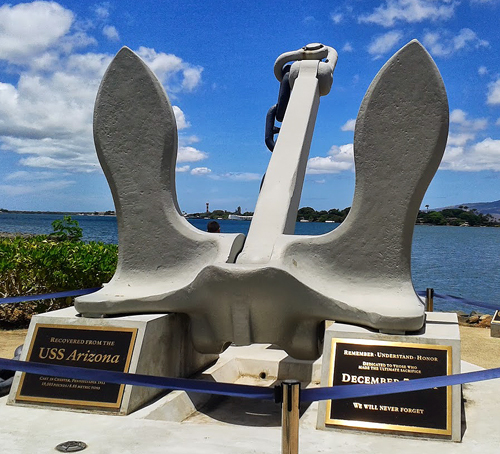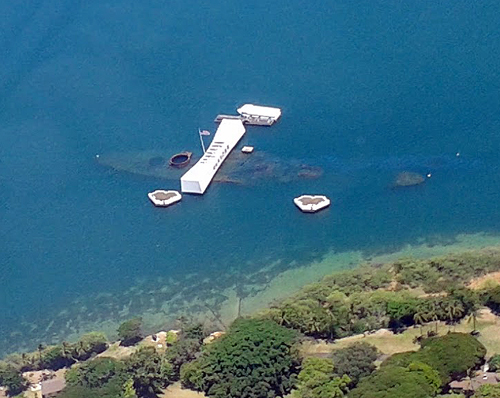 THE U.S.S. MISSOURI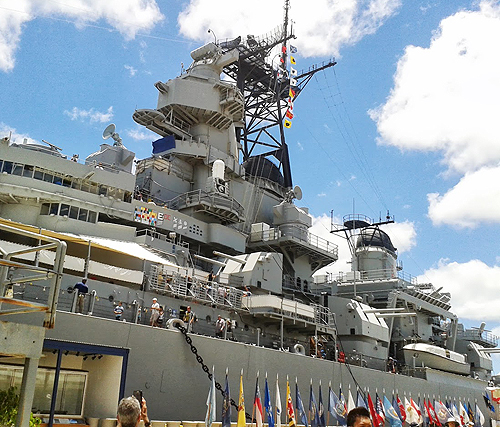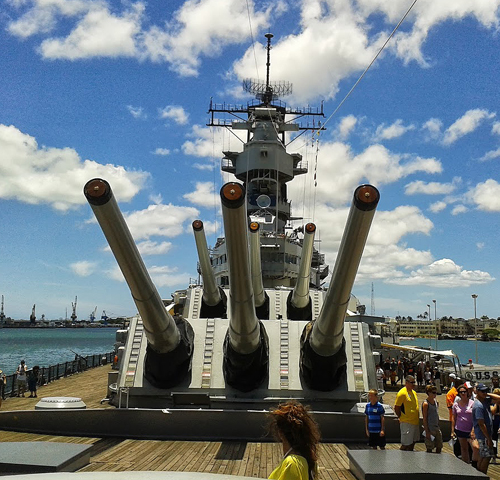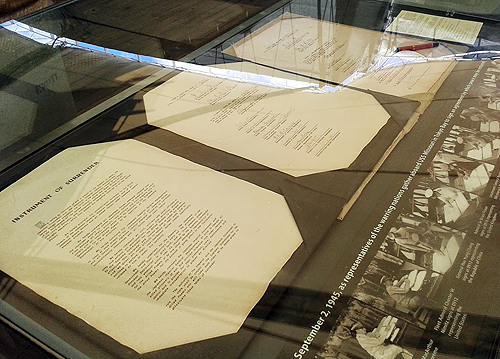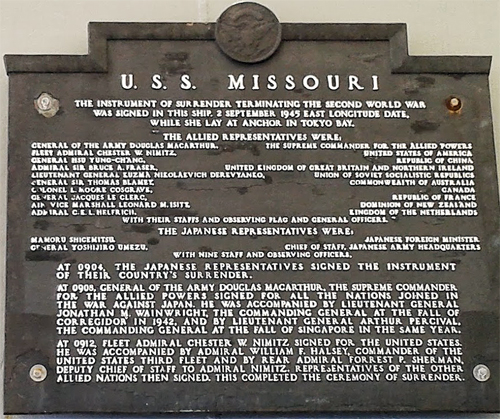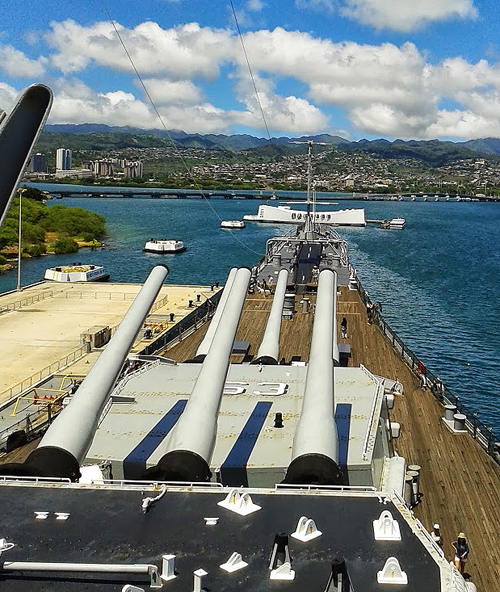 ---
A TIMELESS PHOTO
---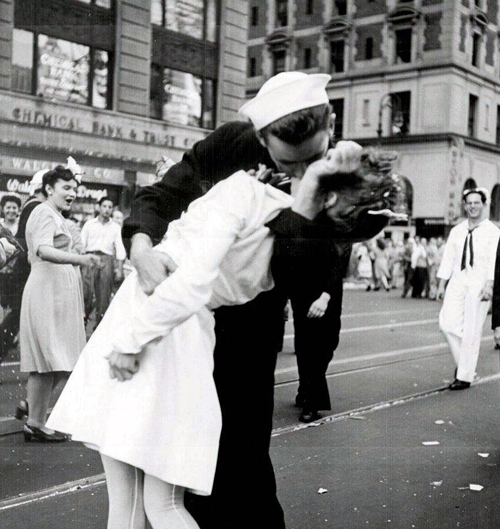 ---
HOMECOMINGS AND REUNIONS FOR OUR TROOPS
---
If the following clips don't tug your heart strings, I don't know what will.
---
WORKING AND SERVING WITHOUT AN UMBRELLA
---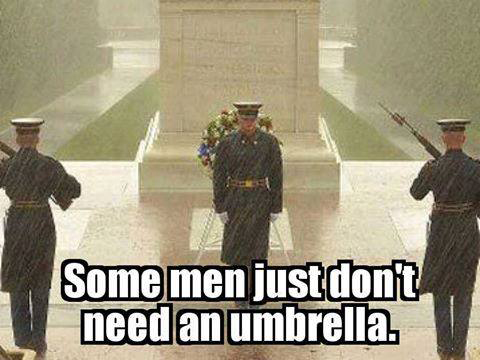 ---
THIS TAKES JUST A MOMENT...
---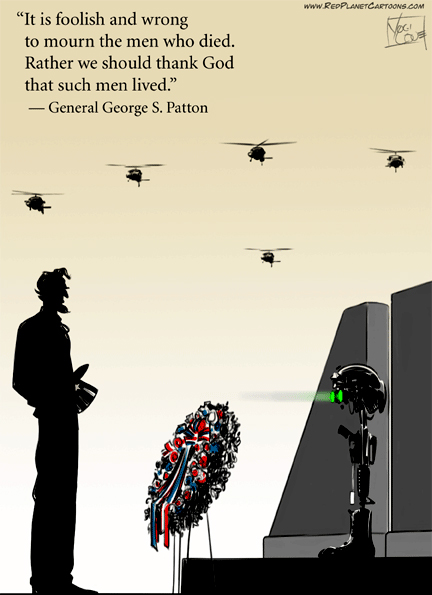 ---
SMOKE BREAK
---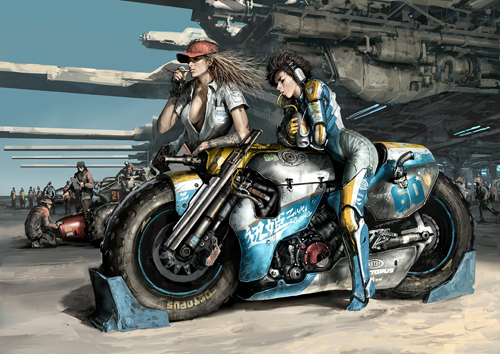 ---
THE FINAL INSPECTION
---
Submitted By: Swine Flew

The soldier stood and faced God,
Which must always come to pass.
He hoped his shoes were shining,
Just as brightly as his brass.

'Step forward now, soldier,
How shall I deal with you?
Have you always turned the other cheek?
To My Church have you been true?'

The soldier squared his shoulders and said,
"No, Lord, I guess I ain't,"
Because those of us who carry guns,
Can't always be a saint.

I've had to work most Sundays,
And at times my talk was tough.
And sometimes I've been violent,
Because the world is awfully rough.

But, I never took a penny,
That wasn't mine to keep...
Though I worked a lot of overtime,
When the bills just got too steep.

And I never passed a cry for help,
Though at times I shook with fears...
And sometimes, God, forgive me,
I've wept unmanly tears.

I know I don't deserve a place,
Among the people here.
They never wanted me around,
Except to calm their fear.

If you've a place for me here, Lord,
It needn't be so grand.
I never expected or had too much,
But if you don't, I'll understand.

There was a silence all around the throne,
Where the saints had often trod.
As the soldier waited quietly,
For the judgment of his God.

"Step forward now, you soldier,
You've borne your burdens well.
Walk peacefully on Heaven's streets,
You've done your time in Hell."
— Author Unknown
---
GLAD THEY'RE ON OUR SIDE
---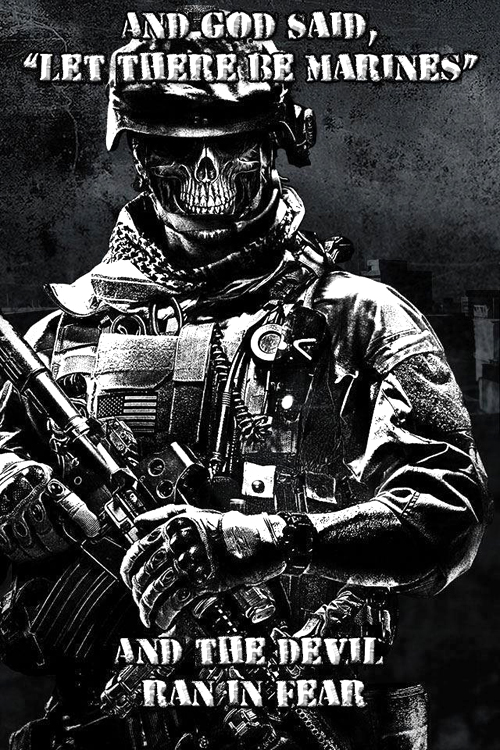 ---
CLIPS! I NEED MORE PAPER CLIPS, STAT!
---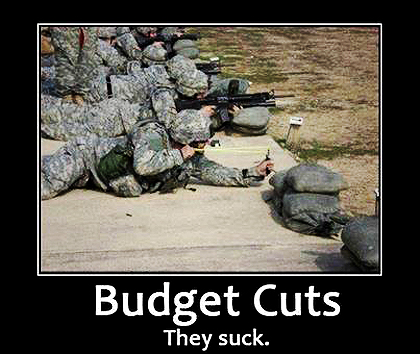 ---
GOOD MORNING MR. KIM!
---
---
TOP GUN AT SANDWICH SHOP
---
Plantation, Florida:
Last week police were called to investigate an attempted armed robbery: The 71-year-old retired Marine who opened fire on two robbers at a Plantation, Florida, Subway shop late Wednesday, killing one and critically wounding the other, is described as John Lovell, a former helicopter pilot for two presidents. He doesn't drink, he doesn't smoke, and he works out every day. Mr. Lovell was a man of action Wednesday night.
According to Plantation police, two masked gunmen came into the Subway at 1949 N. Pine Rd. just after 11 p.m.
There was a lone diner, Mr. Lovell, who was finishing his meal.
After robbing the cashier, the two men attempted to shove Mr. Lovell into a bathroom and rob him as well.
They got his money, but then Mr. Lovell pulled his handgun and opened fire.
He shot one of the thieves in the head and chest and the other in the head.

When police arrived, they found one of the men in the shop, K-9 Units found the other in the bushes of a nearby business. They also found cash strewn around the front of the sandwich shop according to Detective Robert Rettig of the Plantation Police Department.

Both men were taken to the Broward General Medical Center , where one, Donicio Arrindell, 22, of North Lauderdale died.
The other, 21-year-old Frederick Gadson of Fort Lauderdale is in critical but stable condition.

Mr. Lovell was a pilot in the Marine Corps, flying former Presidents John F. Kennedy and Lyndon B. Johnson.
He later worked as a pilot for Pan Am and Delta Airlines.

He is not expected to be charged authorities said. ''He was in fear for his life,''
Detective Rettig said, "These criminals ought to realize that most men in their 70's have military backgrounds and aren't intimidated by idiots."

Something tells me this old Marine wasn't 'in fear for his life', even though his life was definitely at risk.
The only thing he could be charged with is participating in an unfair fight.
One 71- year young Marine against two punks. Two head shots and one center body mass shot.

Outstanding shooting! That'll teach them not to get between a Marine and his meal.

Florida law allows eligible citizens to carry a concealed weapon.
Don't you just love a story with a happy ending?
---
AMERICA'S SMOKIN' HOT HEROINES
---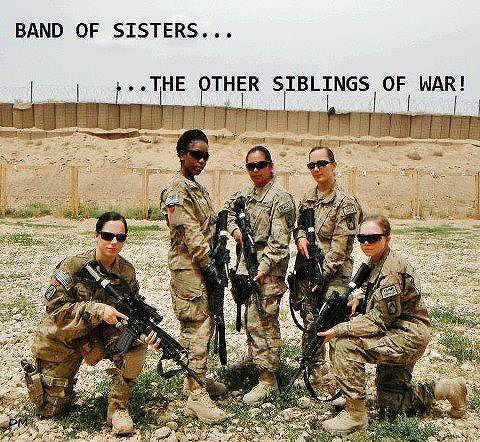 ---
ANOTHER DAY AT HE OFFICE FOR THE SEALS
---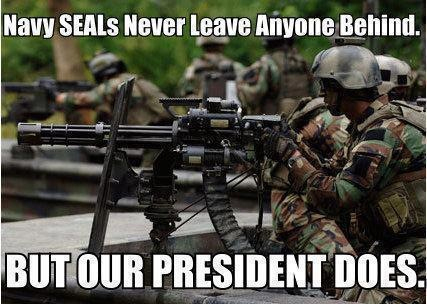 ---
FULL METAL JACKET
---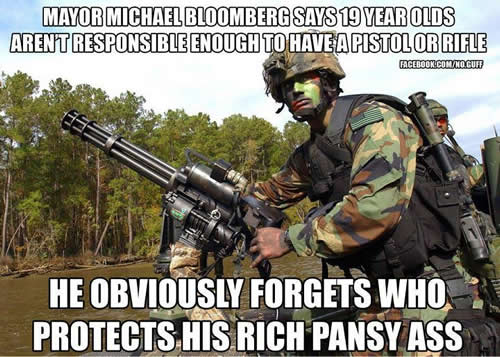 ---
OOPS!
---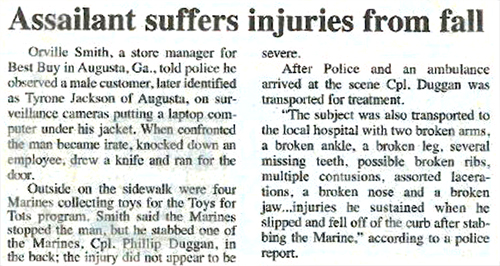 ---
THINK YOU HAVE IT TOUGH?
---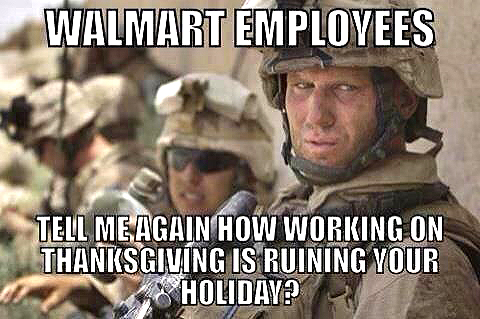 ---
THANKS
---
---
TARGETS
---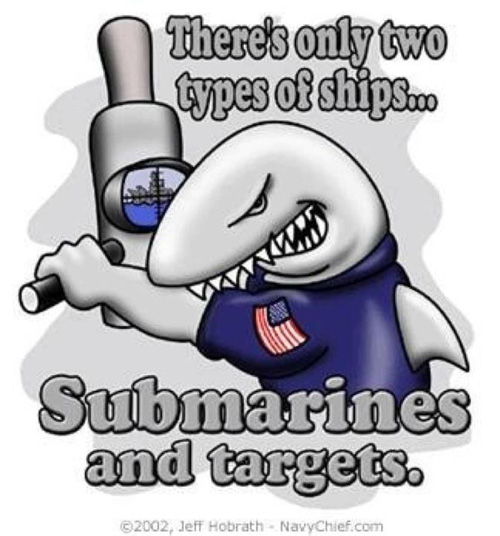 ---
WANNA MAKE A FRIEND FOR LIFE? PAY OUR WOUNDED A VISIT
---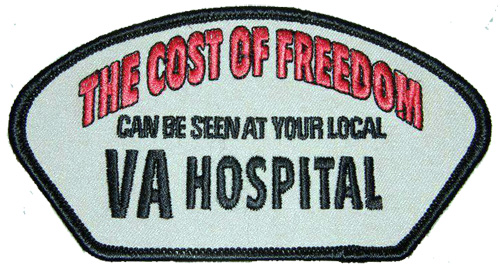 ---
PROPS TO WALMART
---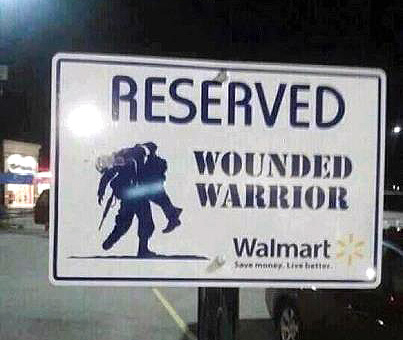 ---
ABOVE AND BEYOND...ALWAYS
---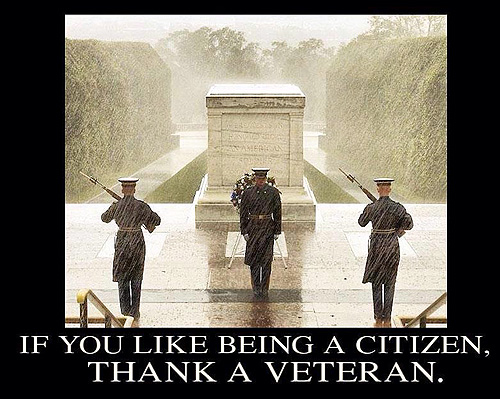 ---
BLACK JACK PERSHING
---
---
THE MAN OF THE HOUSE
---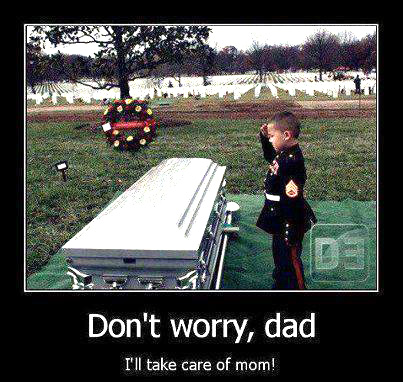 ---
BOMBS AWAY
---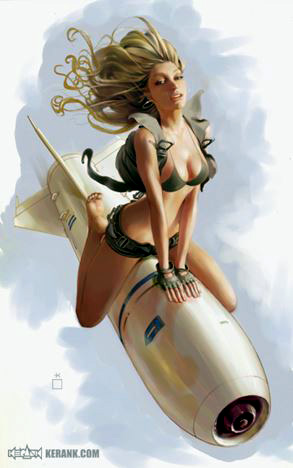 ---
GET ON YOUR KNEES AND PRAY, WESTBORO
---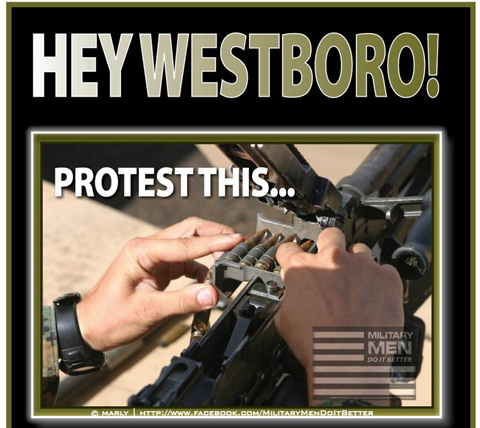 ---
GRATITUDE
---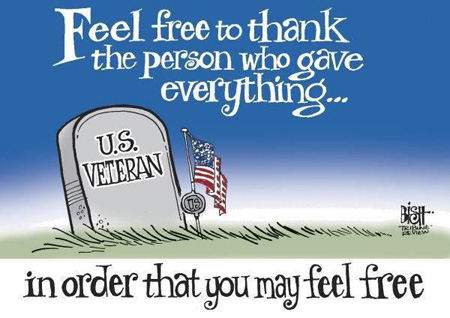 ---
REMEMBRANCE
---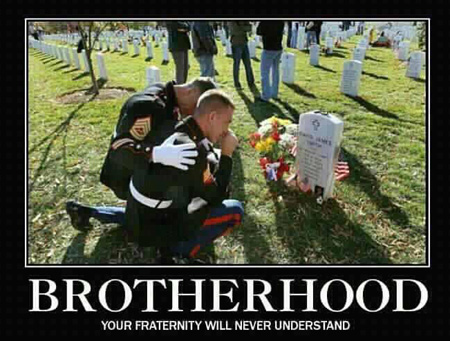 ---
EVERY VOTE COUNTS
---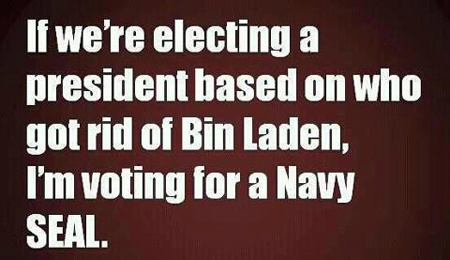 ---
SEALS THAT SAY IT ALL
---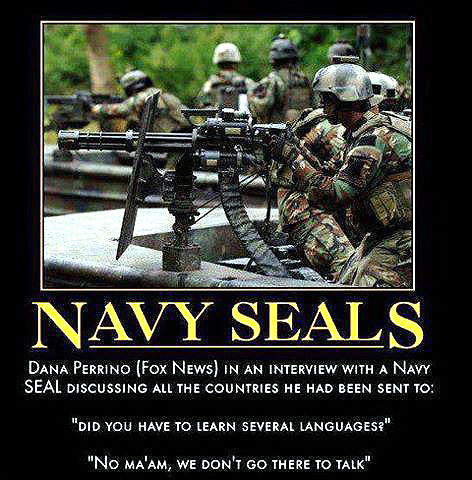 ---
---
TAKE A BITE OUT OF CRIME... VOTE OUT DOMESTIC TERRORISTS
---
---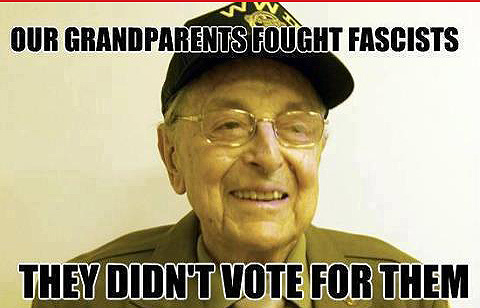 ---
SERGEANT PORK
WILL TAKE IT FROM HERE
---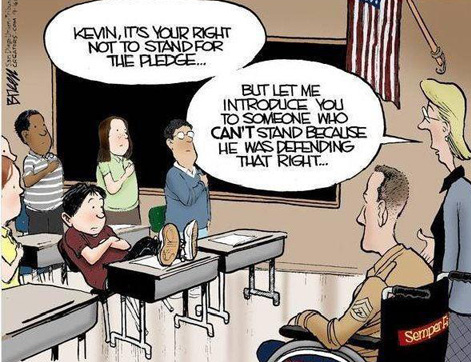 ---
PIG NEVER FORGETS & ALWAYS REMEMBERS
---
Graphics Courtesy Of Jose Cruz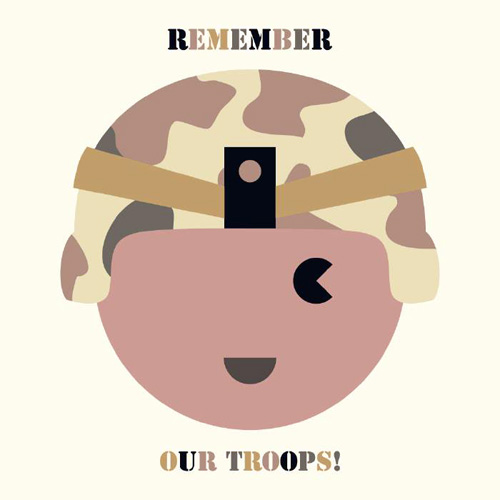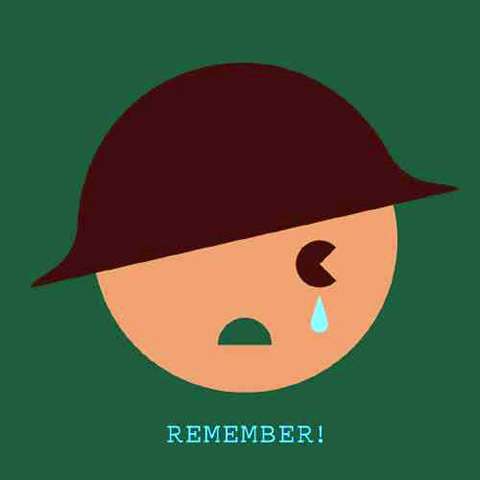 ---
QUIT YER BELLYACHIN' PUNK
---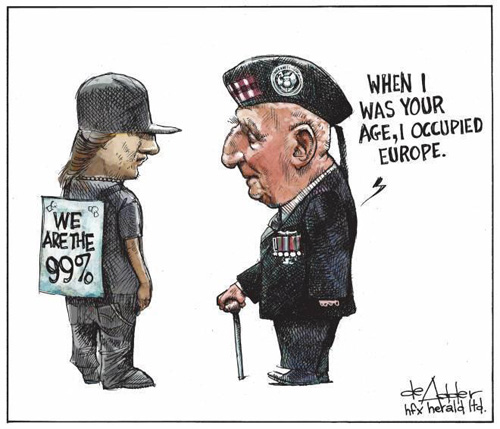 ---
SPECIAL DELIVERY
---

---
FOR THE TROOPS
---

One for the guys...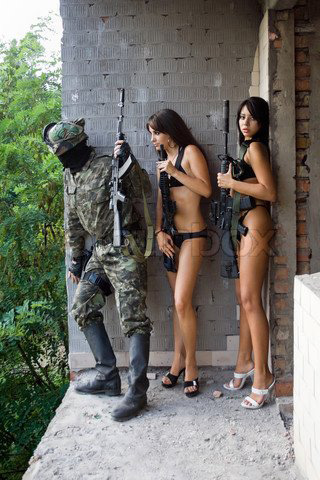 ---
DEVIL DOG AND HIS DEVIL PUP
---

---
GRATITUDE
---

---
THE REAL HEROES
---

An organization which includes Navy S.E.A.L.S has a bone to pick with Obama doing end zone dances in the form of an ad regarding who gets credit for taking out Bin Laden.
The organization is called Veterans For A Strong America.
Here's the link and their quote:
http://www.veteransforastrongamerica.org/
President Obama has spiked the Bin Laden Football so hard that Navy SEALS, retired and active duty, are hammering him over his zealous efforts to take credit for their handiwork.
In response to President Obama hiding behind our troops and taking credit for their actions – we've released our newest ad entitled CREDIT.
The ad tells a simple but powerful truth: Our service members sacrifice greatly to protect this nation and deserve the credit for keeping America safe, secure and strong.
---
GRRR! RUFF! GROWL!
---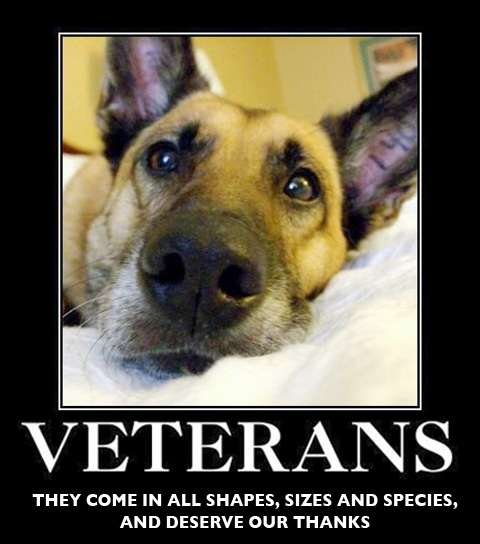 ---
USMC RULES vs THE OTHER SERVICE RULES - UPDATED
---
"The Marines I have seen around the world have the cleanest bodies, the filthiest minds, the highest morale, and the lowest morals of any group of animals I have ever seen. Thank God for the United States Marine Corps!"
- Eleanor Roosevelt

Marine Corps Rules:

1. Be courteous to everyone, friendly to no one.
2. Decide to be aggressive enough, quickly enough.
3. Have a plan.
4. Have a back-up plan, because the first one probably won't work.
5. Be polite. Be professional. But, have a plan to kill everyone you meet.
6. Do not attend a gunfight with a handgun whose caliber does not start with a '4.'
7. Anything worth shooting is worth shooting twice. Ammo is cheap.
Life is expensive.
8. Move away from your attacker. Distance is your friend.
(Lateral & diagonal preferred.)
9. Use cover or concealment as much as possible.
10. Flank your adversary when possible. Protect yours.
11. Always cheat; always win. The only unfair fight is the one you lose.
12. In ten years nobody will remember the details of caliber,
stance, or tactics. They will only remember who lived.
13. If you are not shooting, you should be communicating your intention to shoot.

Navy SEAL's Rules:

1. Look very cool in sunglasses.
2. Kill every living thing within view.
3. Adjust Speedo.
4. Check hair in mirror.

US Army Rangers Rules:

1. Walk in 50 miles wearing 75 pound rucksack while starving.
2. Locate individuals requiring killing.
3. Request permission via radio from 'Higher' to perform killing.
4. Curse bitterly when mission is aborted.
5. Walk out 50 miles wearing a 75 pound rucksack while starving.

US Army Rules:

1. Curse bitterly when receiving operational order.
2. Make sure there is extra ammo and extra coffee.
3. Curse bitterly.
4. Curse bitterly.
5. Do not listen to 2nd LTs; it can get you killed.
6. Curse bitterly.

US Air Force Rules:

1. Have a cocktail.
2. Adjust temperature on air-conditioner.
3. See what's on HBO.
4. Ask 'What is a gunfight?'
5. Request more funding from Congress with a 'killer' Power Point presentation.
6. Wine & dine ''key' Congressmen, invite DOD & defense industry executives.>>
7. Receive funding, set up new command and assemble assets.
8. Declare the assets 'strategic' and never deploy them operationally.
9. Hurry to make 13:45 tee-time.
10. Make sure the base is as far as possible from the conflict but
close enough to have tax exemption.

US Navy Rules:

1. Go to Sea.
2. Drink Coffee.
3. Deploy Marines
And the next... (You've got to love the military, and God bless them all.)

U.S. Navy Directive 16134 ( Inappropriate T-Shirts )

The following directive was issued by the commanding officer of all
naval installations in the Middle East .
(It was obviously directed at the Marines.)

To: All Commands

Subject : Inappropriate T-Shirts
Ref : ComMidEast For Inst 16134 / / 24 K

All commanders promulgate upon receipt . The following T-shirts are no
longer to be worn on or off base by any military or civilian personnel
serving in the Middle East :

1. 'Eat Pork or Die' [both English and Arabic versions]
2. 'Shrine Busters' [Various. Show burning minarets or bomb/artillery shells impacting
Islamic shrines. Some with unit logos.]
3. 'Goat - it isn't just for breakfast any more.' [Both English and Arabic versions]
4. 'The road to Paradise begins with me.' [Mostly Arabic versions, but some in English. Some show sniper scope cross-hairs.]
5. 'Guns don't kill people. I kill people.' [Both Arabic and English versions]
6. 'Pork. The other white meat.' [Arabic version]
7. 'Infidel' [English, Arabic and other coalition force languages .]
The above T-shirts are to be removed from Post Exchanges upon receipt of this directive.

In addition, the following signs are to be removed upon receipt of this message:
1. 'Islamic Religious Services Will Be Held at the Firing Range at 0800 Daily.'
2. 'Do we really need 'smart bombs' to drop on these dumb bastards?'

All commands are instructed to implement sensitivity training upon receipt
---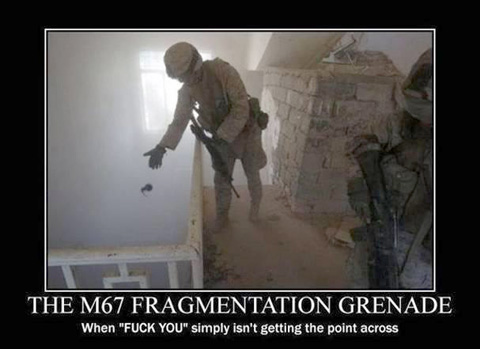 This is a poem being sent from a Marine to his Dad. For those who take the time to read it, you'll see a letter from him to his dad at the bottom. It makes you truly thankful for not only the Marines, but ALL of our troops.

THE MARINE

We all came together,
Both young and old
To fight for our freedom,
To stand and be bold.

In the midst of all evil,
We stand our ground,
And we protect our country
From all terror around..

Peace and not war,
Is what some people say.
But I'll give my life,
So you can live the American way.

I give you the right
To talk of your peace.
To stand in your groups,
And protest in our streets.

But still I fight on,
I don't bitch, I don't whine.
I'm just one of the people
Who is doing your time.

I'm harder than nails,
Stronger than any machine.
I'm the immortal soldier,
I'm a U..S. MARINE

So stand in my shoes,
And leave from your home.
Fight for the people who hate you,
With the protests they've shown.

Fight for the stranger,
Fight for the young.
So they all may have,
The greatest freedom you've won.

Fight for the sick,
Fight for the poor.
Fight for the cripple,
Who lives next door.

But when your time comes,
Do what I've done.
For if you stand up for freedom,
You'll stand when the fight's done
By: Corporal Aaron M. Gilbert , US Marine Corps
USS SAIPAN, PERSIAN GULF

July 23
Hey Dad,
Do me a favor and label this 'The Marine' and send it to everybody on your email list. Even leave this letter in it.I want this rolling all over the US and Canada and The World. I want every home reading it. Every eye seeing it. And every heart to feel it. So can you please send this for me? I would but my email time isn't that longand I don't have much time anyway.
You know what Dad?I wondered what it would be like to truly understand what JFK said in his inaugural speech.'When the time comes to lay down my life for my country, I do not cower from this responsibility. I welcome it.' Well, now I know.And I do.. Dad, I welcome the opportunity to do what I do. Even though I have left behind a beautiful wife, and I will miss the birth of our first born child, I would do it 70 times over to fight for the place that God has made for my home. I love you all and I miss you very much. I wish I could be there when Sandi has our baby,but tell her that I love her, and Lord willing,I will be coming home soon.Give Mom a great big hug from me and give one to yourself too.
Aaron

This is what the Navy Seal team looked like when they went in to get Bin Laden.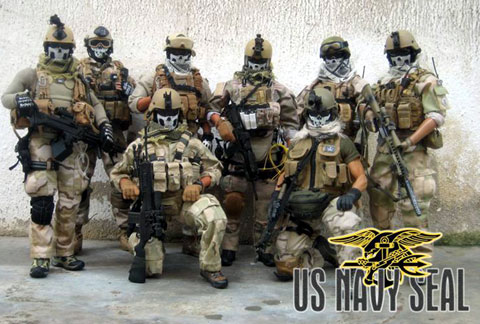 A couple of things to notice:
50 caliber sniper on the right. Knee, knuckle and forearm protection.
Various plastic/wire ties.
Absolute identity denial to protect their families.
Free choice of footwear.
Fourth from the right has three artillery simulators and CS gas grenades on his belly. He's the 'shock and awe' guy.
Group Photo of Seal Team Six, . . . and you can imagine the look on Bin Laden's face when these guys came through the door?
Let's be clear on this: OBAMA did NOT kill Bin Laden. An American sailor, who Obama, just a few weeks ago, was debating on whether or not to PAY, did. In fact, if you remember a little less than two years ago, his administration actually charged and attempted to court-martial 3 Navy Seals from Seal Team Six, when a terrorist suspect they captured, complained they had punched him during the take down and bloodied his nose. His administration further commented how brutal they were. The left were calling them Nazi's and Baby Killers. Now all of a sudden, the very brave men they vilified are now heroes when they make his administration look good in the eyes of the public. Obama just happened to be the one in office when the CIA finally found the b...... and our sailors took him out. Essentially, Obama only gave an answer. Yes or No, to him being taken out. This is NOT an Obama victory, but an AMERICAN victory!!
Ed Schreiber
Col. USMC (Ret.)
"Semper Fi"
OBAMA'S OWN WORDS TRAP HIM:
2008: "Navy Seal Team 6 is Cheney's private assassination team."
2011: "I put together Seal Team 6 to take out Bin Laden."

2008: "Bin Laden is innocent until proven guilty, and must be captured alive and given a fair trial."
2011: "I authorized Seal Team 6 to kill Bin Laden."

2008: " Guantanamo is entirely unnecessary, and the detainees should not be interrogated."
2011: "Vital intelligence was obtained from Guantanamo detainees that led to our locating Bin Laden."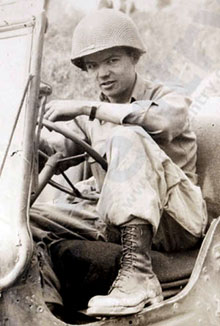 IF YOU CAN REMEMBER THE RADIO NEWS OF WW2, THE CARTOONS, THE WALTER WINCHELL, THE FAMOUS "GOOD NIGHT MR & MRS AMERICA AND ALL THE SHIPS AT SEA," AND THE NEWSREELS IN THE MOVIE HOUSES, THEN YOU MAY REMEMBER BILL MAULDIN'S CARTOONS DURING WW2.
Get out your history books and open them to the chapter on World War II. Today's lesson will cover a little known but very important hero of whom very little was ever really known. Here is another important piece of lost US history, which is a true example of our American Spirit.
Makes ya proud to put this stamp on your envelopes...
Bill Mauldin stamp honors grunt's hero. The post office gets a lot of criticism. Always has, always will. And with the renewed push to get rid of Saturday mail delivery, expect complaints to intensify.
But the United States Postal Service deserves a standing ovation for something that happened last month: Bill Mauldin got his own postage stamp.
Mauldin died at age 81 in the early days of 2003. The end of his life had been rugged. He had been scalded in a bathtub, which led to terrible injuries and infections; Alzheimer's disease was inflicting its cruelties. Unable to care for himself after the scalding, he became a resident of a California nursing home, his health and spirits in rapid decline

He was not forgotten, though. Mauldin, and his work, meant so much to the millions of Americans who fought in World War II, and to those who had waited for them to come home.
He was a kid cartoonist for Stars and Stripes, the military newspaper; Mauldin's drawings of his muddy, exhausted, whisker-stubbled infantrymen Willie and Joe were the voice of truth about what it was like on the front lines.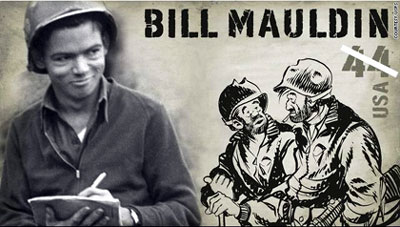 Mauldin was an enlisted man just like the soldiers he drew for; his gripes were their gripes, his laughs their laughs, his heartaches their heartaches. He was one of them. They loved him.

He never held back. Sometimes, when his cartoons cut too close for comfort, superior officers tried to tone him down. In one memorable incident, he enraged Gen. George S. Patton, who informed Mauldin he wanted the pointed cartoons celebrating the fighting men, lampooning the high-ranking officers to stop. Now!

"I'm beginning to feel like a fugitive from the' law of averages."
The news passed from soldier to soldier. How was Sgt. Bill Mauldin going to stand up to Gen. Patton? It seemed impossible.

Not quite. Mauldin, it turned out, had an ardent fan: Five-star Gen. Dwight D. Eisenhower, supreme commander of the Allied forces in Europe. Ike put out the word: Mauldin draws what Mauldin wants. Mauldin won. Patton lost.

If, in your line of work, you've ever considered yourself a young hotshot, or if you've ever known anyone who has felt that way about him or herself, the story of Mauldin's young manhood will humble you. Here is what, by the time he was 23 years old, Mauldin accomplished:

"By the way, wot wuz them changes you wuz gonna make when you took over last month, sir?"
He won the Pulitzer Prize, was featured on the cover of Time magazine. His book "Up Front" was the No. 1 best-seller in the United States.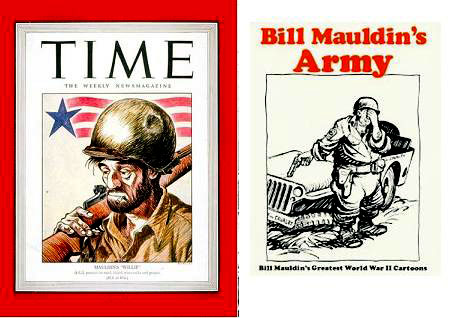 All of that at 23. Yet, when he returned to civilian life and grew older, he never lost that boyish Mauldin grin, never outgrew his excitement about doing his job, never big-shotted or high-hatted the people with whom he worked every day.

I was lucky enough to be one of them. Mauldin roamed the hallways of the Chicago Sun-Times in the late 1960s and early 1970s with no more officiousness or air of haughtiness than if he was a copyboy. That impish look on his face remained.

He had achieved so much. He won a second Pulitzer Prize, and he should have won a third for what may be the single greatest editorial cartoon in the history of the craft: his deadline rendering, on the day President John F. Kennedy was assassinated, of the statue at the Lincoln Memorial slumped in grief, its head cradled in its hands. But he never acted as if he was better than the people he met. He was still Mauldin, the enlisted man.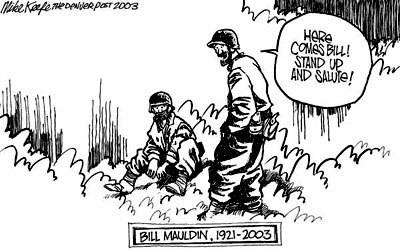 During the late summer of 2002, as Mauldin lay in that California nursing home, some of the old World War II infantry guys caught wind of it. They didn't want Mauldin to go out that way. They thought he should know he was still their hero.

"This is the' town my pappy told me about."
Gordon Dillow, a columnist for the Orange County Register, put out the call in Southern California for people in the area to send their best wishes to Mauldin. I joined Dillow in the effort, helping to spread the appeal nationally, so Bill would not feel so alone. Soon, more than 10,000 cards and letters had arrived at Mauldin's bedside.
Better than that, old soldiers began to show up just to sit with Mauldin, to let him know that they were there for him, as he, so long ago, had been there for them. So many volunteered to visit Bill that there was a waiting list. Here is how Todd DePastino, in the first paragraph of his wonderful biography of Mauldin, described it:
"Almost every day in the summer and fall of 2002 they came to Park Superior nursing home in Newport Beach, California, to honor Army Sergeant, Technician Third Grade, Bill Mauldin. They came bearing relics of their youth: medals, insignia, photographs, and carefully folded newspaper clippings. Some wore old garrison caps. Others arrived resplendent in uniforms over a half century old. Almost all of them wept as they filed down the corridor like pilgrims fulfilling some long-neglected obligation."

One of the veterans explained to me why it was so important: "You would have to be part of a combat infantry unit to appreciate what moments of relief Bill gave us. You had to be reading a soaking wet Stars and Stripes in a water-filled foxhole and then see one of his cartoons."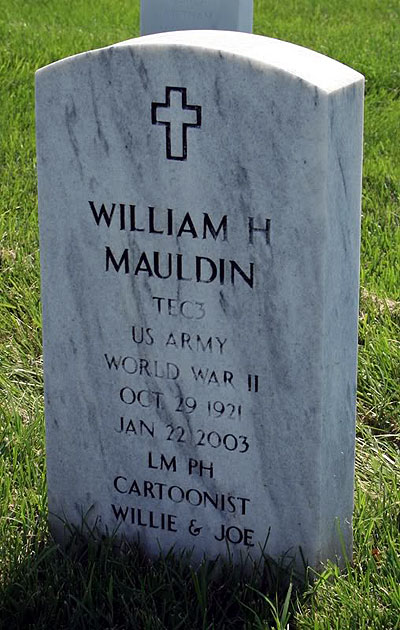 "Th' hell this ain't th' most important hole in the world. I'm in it."
Mauldin is buried in Arlington National Cemetery. Last month, the kid cartoonist made it onto a first-class postage stamp. It's an honor that most generals and admirals never receive.

What Mauldin would have loved most, I believe, is the sight of the two guys who keep him company on that stamp.
Take a look at it.
There's Willie. There's Joe. And there, to the side, drawing them and smiling that shy, quietly observant smile, is Mauldin himself. With his buddies, right where he belongs. Forever.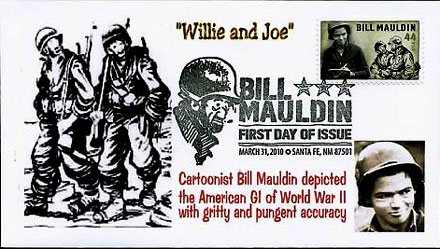 What a story, and a fitting tribute to a man and to a time that few of us can still remember. But I say to you youngsters, you must most seriously learn of and remember with respect the sufferings and sacrifices of your fathers, grand fathers and great grandfathers in times you cannot ever imagine today with all you have. But the only reason you are free to have it all is because of them.
---
A TOON-ISH SALUTE FOR MEMORIAL DAY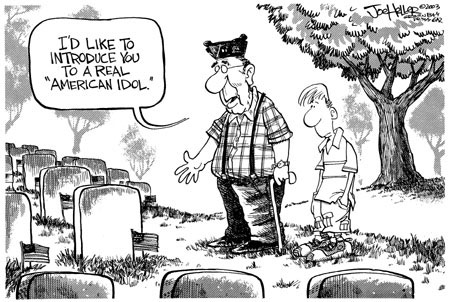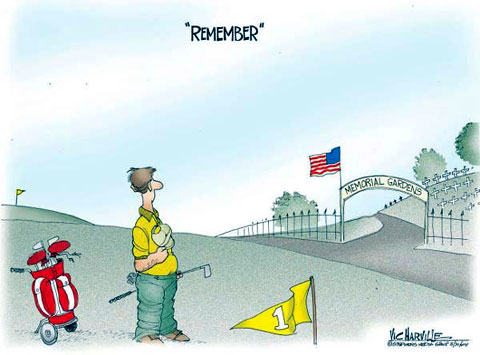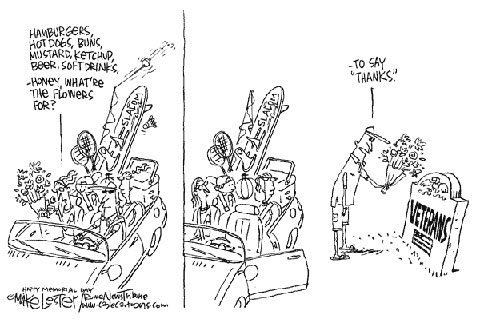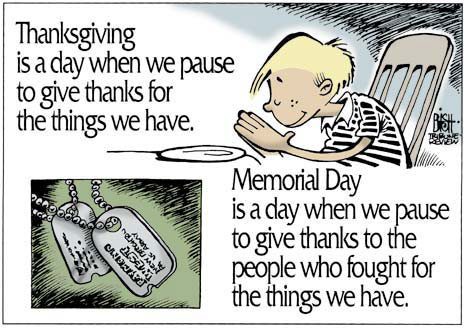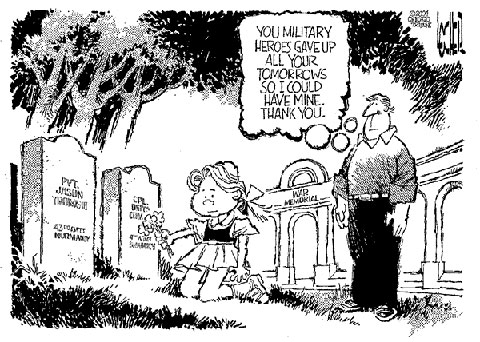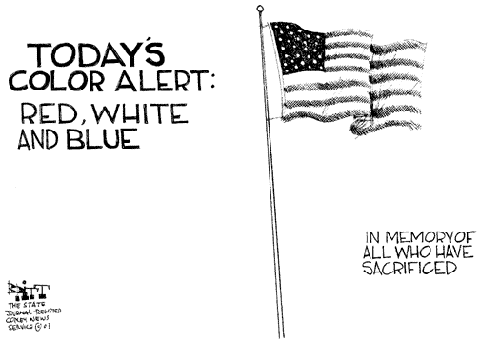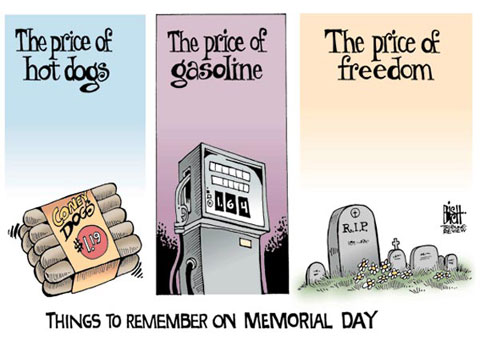 ---
WARNING! THERE'S A SIGNPOST UP AHEAD...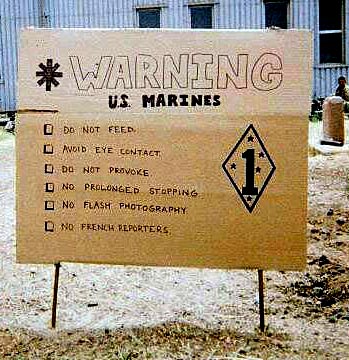 ---
COMIC RELIEF ON THE FRONT LINES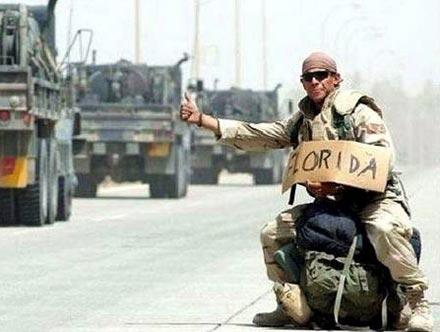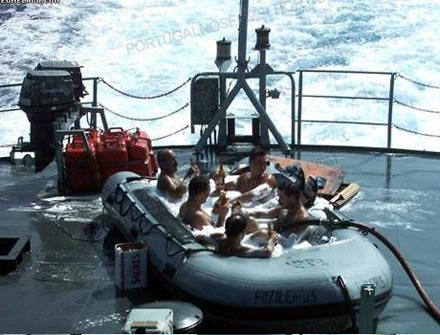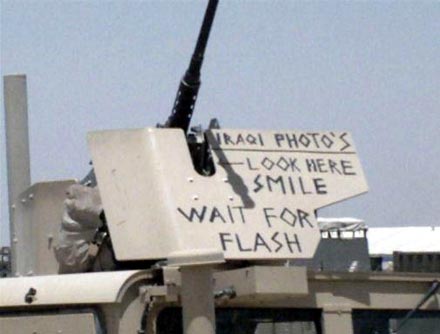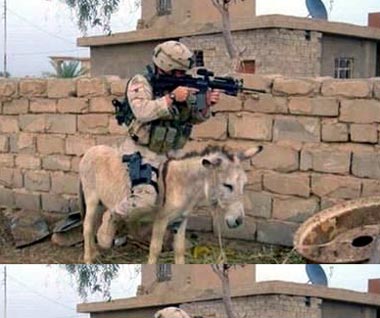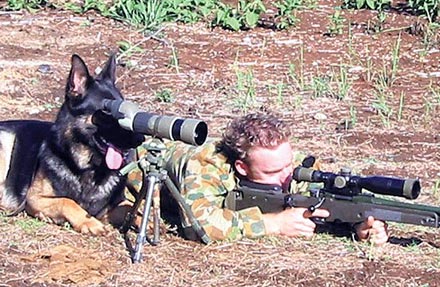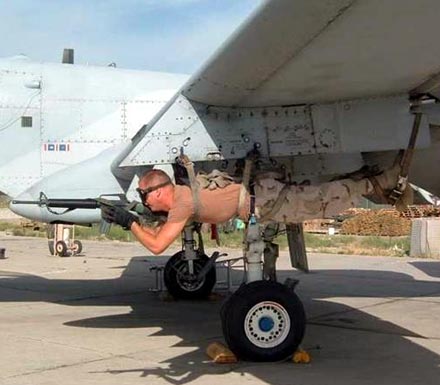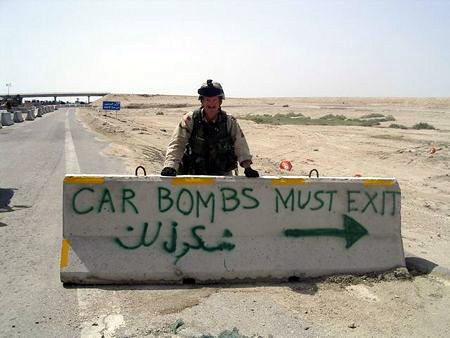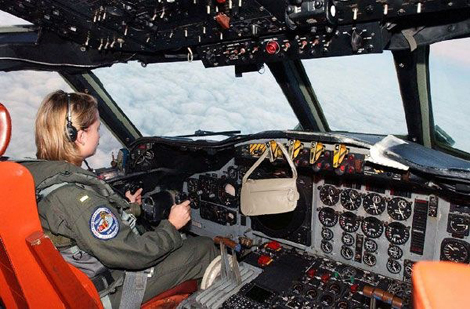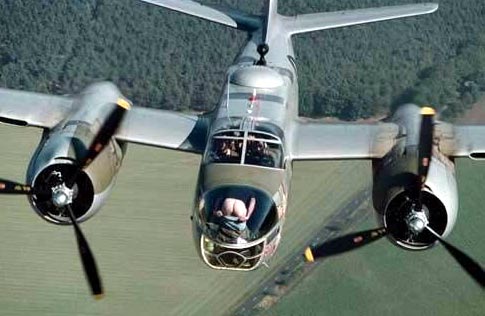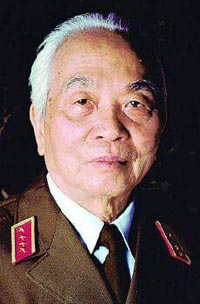 General Vo Nguyen Giap of the North Vietnam military. The following quote is from his memoirs currently found in the Vietnam war memorial in Hanoi :
What we still don't understand is why you Americans stopped the bombing of Hanoi.You had us on the ropes. If you had pressed us a little harder, just for another day or two, we were ready to surrender! It was the same at the battle of TET. You defeated us!
We knew it, and we thought you knew it.
But we were elated to notice your media was helping us. They were causing more disruption in America than we could in the battlefields. We were ready to surrender.
'You had won!' General Giap has published his memoirs and confirmed what most Americans knew. The Vietnam war was not lost in Vietnam -- it was lost at home.
The same slippery slope, sponsored by the US media, is currently underway. It exposes the enormous power of a Biased Media to cut out the heart and will of the American public.
---
NO CAPTION NEEDED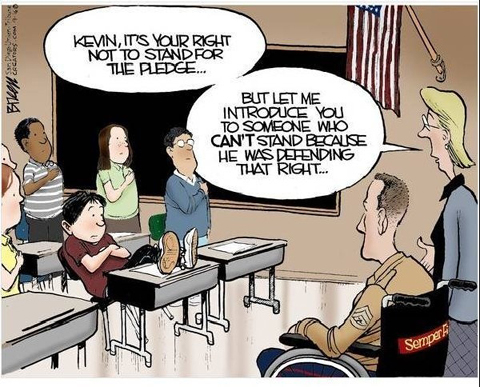 ---
LET'S SAY THANKS
*Publishers Note: The following was found in our inbox and provided by PIGster and Patriot, Rod. Don't just read, but take heed and take action.
I am.
I found this web site that allows one to send our troops cards. It is free. Please send our troops a card to show our appreciation and share this with your friends and blog readers so they too can send our troops cards to show they are appreciated.
---
AND NOW A MESSAGE FROM OUR SPONSER...WE THE PEOPLE
---
The following was sent our way by dedicated PIGster, Lone Star.
It's a little message from We The People to our Sellout-In-Chief.
After viewing the clip, please pass it along to any uninformed Zombie that still blindly believes The One is, "The One."
Enjoy, and while viewing it, be sure to turn up the volume, so We The People can be heard loud and clear from sea to shining sea.
---
USMC TO IRANIAN'S: "BRING IT ON!"
---
Conversation overheard on the VHF Guard (emergency) frequency 121.5 MHz while flying from Europe to Dubai.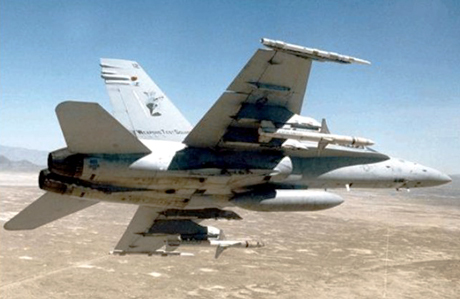 The conversation went like this...
Iranian Air Defense Radar: 'Unknown aircraft you are in Iranian airspace. Identify yourself.'
Aircraft: 'This is a United States aircraft. I am in Iraqi airspace.'
Air Defense Radar: 'You are in Iranian airspace. If you do not depart our airspace we will launch interceptor aircraft!'
Aircraft: 'This is a United States Marine Corps FA-18 fighter. Send 'em up, I'll wait!'
Air Defense Radar: (No response ....total silence)

God bless our troops.
---
ADVANTAGES OF HELICOPTERS OVER FIXED WINGS
---
This gets a bit technical.
I'm sure most of you can recall those early days when, either as an enlisted person or Midshipman, you and your peers would discuss the merits of rotary wing versus fixed wing operations.
Those with "fighter" awareness would talk about high G, energy, turning radius, roll rate and throttle response.
Attack types would address weapon loads, dive stability, sure weapon release, range and getaway speed.
Tanker and transport folk would talk about endurance, load shifting.
Air Force and Navy would endlessly discuss tail hook deployment, engagement, trap snaps and rollout issues.
Most everyone would look somewhat disdainfully at the graceless pile of wire and metal with its rotating wings and deride its one advantage of being able to hover while the pilot found the sweet spot.
Well, maybe it's time to give a second thought to the lowly helo.
Until now I would have said that there was no such thing as rotary wing advantages over fixed wing...
John Haddick`62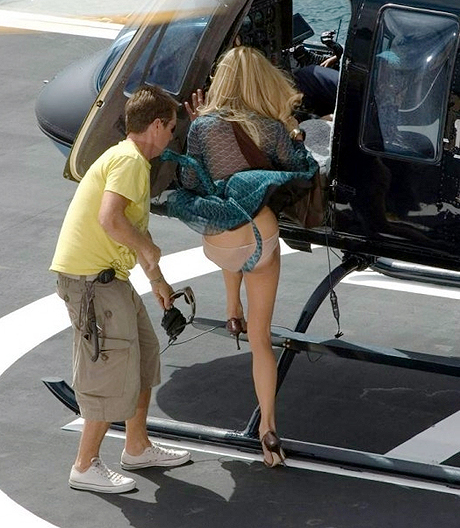 ---
THE MEANING OF COURAGE
---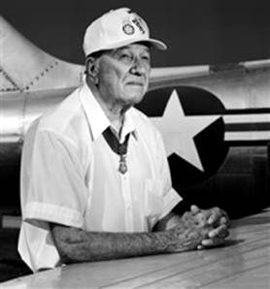 Courage.

You're a 19 year old kid.

You're critically wounded and dying in the jungle somewhere in the Central Highlands of Viet Nam.

It's November 11, 1967.

LZ (landing zone) X-ray.
Your unit is outnumbered 8-1 and the enemy fire is so intense, from 100 yards away, that your CO (commanding officer) has ordered the MedEvac helicopters to stop coming in.

You're lying there, listening to the enemy machine guns and you know you're not getting out.

Your family is half way around the world, 12,000 miles away, and you'll never see them again.

As the world starts to fade in and out, you know this is the day.
Then - over the machine gun noise - you faintly hear that sound of a helicopter.

You look up to see a Huey coming in. But ... it doesn't seem real because no MedEvac markings are on it.

Captain Ed Freeman is coming in for you.

He's not MedEvac so it's not his job, but he heard the radio call and decided he's flying his Huey down into the machine gun fire anyway.
Even after the MedEvacs were ordered not to come. He's coming anyway.

And he drops it in and sits there in the machine gun fire, as they load 3 of you at a time on board.

Then he flies you up and out through the gunfire to the doctors and nurses and safety.

And, he kept coming back!! 13 more times!! Until all the wounded were out. No one knew until the mission was over that the Captain had been hit 4 times in the legs and left arm.
He took 29 of you and your buddies out that day. Some would not have made it without the Captain and his Huey.

Medal of Honor Recipient, Captain Ed Freeman, United States Air Force, died last Wednesday at the age of 70, in Boise, Idaho.

May God Bless and Rest His Soul.

I bet you didn't hear about this hero's passing, but we've sure seen a whole bunch about Michael Jackson, Tiger Woods and the bickering of congress over Health Reform.


---
UNCOMMON VALOR
---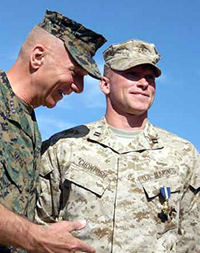 Those of you who might not know, the man on the left is the Commandant of the Marine Corps, and he is proud to know the man on the right.
Maybe you'd like to hear about a real American, somebody who honored the uniform he wears.
Meet Brian Chontosh Churchville-Chili Central School Class of 1991.
Proud graduate of the Rochester Institute of Technology.
Husband and about-to-be father. First lieutenant (now Captain) in the United States Marine Corps. And a genuine hero, the secretary of the Navy said so yesterday.
At 29 Palms in California Brian Chontosh was presented with the Navy Cross, the second highest award for combat bravery the United States can bestow.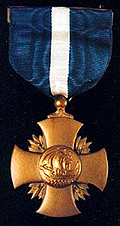 That's a big deal. But you won't see it on the network news tonight
And all you'll read in Brian's hometown newspaper is two paragraphs of nothing. The odd fact about the American media in this war is that it's not covering the American military. The most plugged-in nation in the world is receiving virtually no true information about what its warriors are doing.
Oh, sure, there's a body count. We know how many Americans have fallen. And we see those same casket pictures day in and day out.
And we're almost on a first-name basis with the jerks who abused the Iraqi prisoners. And we know all about improvised explosive devices and how we lost Fallujah and what Arab public-opinion polls say about us and how the world hates us.
We get a non-stop feed of gloom and doom but we don't hear about the heroes. The incredibly brave GIs who honorably do their duty. The ones our grandparents would have carried on their shoulders down Fifth Avenue.
The ones we completely ignore, like Brian Chontosh. It was a year ago on the march into Baghdad. Brian Chontosh was a platoon leader rolling up Highway 1 in a Humvee.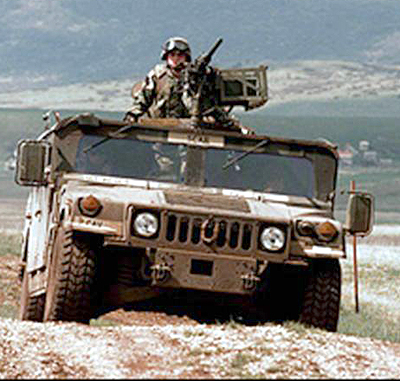 When all hell broke loose, ambush city. The young Marines were being cut to ribbons. Mortars, machine guns, rocket propelled grenades.
And the kid out of Churchville was in charge. It was do or die and it was up to him. So he moved to the side of his column, looking for a way to lead his men to safety. As he tried to poke a hole through the Iraqi line his humvee came under direct enemy machine gun fire. It was fish in a barrel and the Marines were the fish. And Brian Chontosh gave the order to attack...
He told his driver to floor the humvee directly at the machine gun emplacement that was firing at them. And he had the guy on top with the 50 cal unload on them.
Within moments there were Iraqis slumped across their machine guns and Chontosh was still advancing, ordering his driver now to take the H umvee directly into the Iraqi trench that was attacking his Marines.
Over into the battlement the humvee went and out the door Brian Chontosh bailed, carrying an M16 and a Beretta and 228 years of Marine Corps pride.
And he ran along the trench, with its mortars and riflemen, machine guns and grenadiers. And he killed them all. He fought with the M16 until it was out of ammo. Then he fought with the Beretta until it was out of ammo. Then he picked up a dead man's AK4 and fought with that until it was out of ammo.
Then he picked up another dead man's AK47 and fought with that until it was out of ammo.
At one point he even fired a discarded Iraqi RPG into an enemy cluster, sending attackers flying with its grenade explosion.
When he was done Brian Chontosh had cleared 200 yards of entrenched Iraqis from his platoon's flank. He had killed more than 20 and wounded at least as many more.
But that's probably not how he would tell it. He would probably merely say that his Marines were in trouble, and he got them out of trouble.
"By his outstanding display of decisive leadership, unlimited courage in the face of heavy enemy fire, and utmost devotion to duty, 1st Lt. Chontosh reflected great credit upon himself and upheld the highest traditions of the Marine Corps and the United States Naval Service."
That's what the citation says. And that's what nobody will hear. That's what doesn't seem to be making the evening news.
Accounts of American valor are dismissed by the press as propaganda, yet accounts of American difficulties are heralded as objectivity. It makes you wonder if the role of the media is to inform or to depress - to report or to deride. To tell the truth, or to feed us lies.
But I guess it doesn't matter. We're going to turn out all right as long as men like Brian Chontosh wear our uniform.
---
TRUE STORY OF A TRUE HERO
---
Head east from Carthage on Mississippi 16 toward Philadelphia and after a few miles a sign says you're in Edinburg. It's a good thing the signs there, because there's no other way to tell.
On June 15, 1919, Van T. Barfoot was born in Edinburg. Probably didn't make much news.
Twenty-five years later, on May 23, 1944, near Carano, Italy, Van T. Barfoot, who had enlisted in the Army in 1940, set out to flank German machine gun positions from which fire was coming down on his fellow soldiers. He advanced through a minefield, took out three enemy machine gun positions and returned with 17 prisoners of war.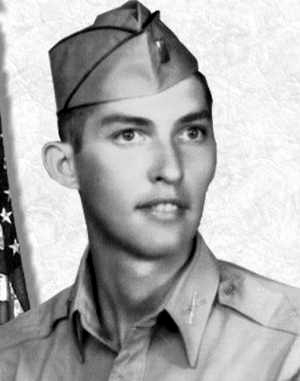 If that wasnt enough for a days work, he later took on and destroyed three German tanks sent to retake the machine gun positions.
That probably didn't make much news either, given the scope of the war, but it did earn Van T. Barfoot, who retired as a colonel after also serving in Korea and Vietnam, a Congressional Medal of Honor.
What did make news last week was a neighborhood associations quibble with how the 90-year-old veteran chose to fly the American flag outside his suburban Virginia home. Seems the rules said a flag could be flown on a house-mounted bracket, but, for decorum, items such as Barfoot's 21-foot flagpole were unsuitable.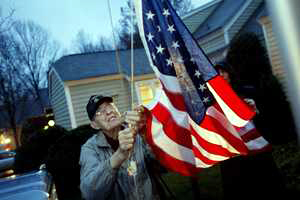 He had been denied a permit for the pole, erected it anyway and was facing court action if he didn't take it down. Since the story made national TV, the neighborhood association has rethought its position and agreed to indulge this old hero who dwells among them.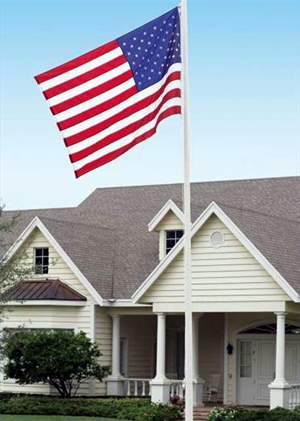 "In the time I have left I plan to continue to fly the American flag without interference", Barfoot told The Associated Press.
As well he should.
And if any of his neighbors still takes a notion to contest him, they might want to read his Medal of Honor citation. It indicates he's not real good at backing down.
Van T. Barfoot's Medal of Honor citation: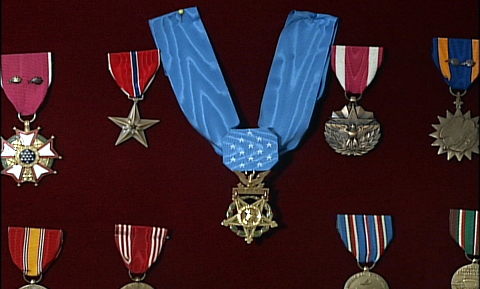 This 1944 Medal of Honor citation, listed with the National Medal of Honor Society, is for Second Lieutenant Van T. Barfoot, 157th Infantry, 45th Infantry:
For conspicuous gallantry and intrepidity at the risk of life above and beyond the call of duty on 23 May 1944, near Carano, Italy. With his platoon heavily engaged during an assault against forces well entrenched on commanding ground, 2d Lt. Barfoot moved off alone upon the enemy left flank. He crawled to the proximity of 1 machinegun nest and made a direct hit on it with a hand grenade, killing 2 and wounding 3 Germans. He continued along the German defense line to another machinegun emplacement, and with his tommygun killed 2 and captured 3 soldiers. Members of another enemy machinegun crew then abandoned their position and gave themselves up to Sgt. Barfoot. Leaving the prisoners for his support squad to pick up, he proceeded to mop up positions in the immediate area, capturing more prisoners and bringing his total count to 17. Later that day, after he had reorganized his men and consolidated the newly captured ground, the enemy launched a fierce armored counterattack directly at his platoon positions. Securing a bazooka, Sgt. Barfoot took up an exposed position directly in front of 3 advancing Mark VI tanks. >From a distance of 75 yards his first shot destroyed the track of the leading tank, effectively disabling it, while the other 2 changed direction toward the flank. As the crew of the disabled tank dismounted, Sgt. Barfoot killed 3 of them with his tommygun. He continued onward into enemy terrain and destroyed a recently abandoned German fieldpiece with a demolition charge placed in the breech. While returning to his platoon position, Sgt. Barfoot, though greatly fatigued by his Herculean efforts, assisted 2 of his seriously wounded men 1,700 yards to a position of safety. Sgt. Barfoots extraordinary heroism, demonstration of magnificent valor, and aggressive determination in the face of point blank fire are a perpetual inspiration to his fellow soldiers.
---
RULES FOR KICKIN' ASS
---
(Rules for the Non-Military Make sure you read #12)
Dear Civilians, 'We know that the current state of affairs in our great nation has many civilians up in arms and excited to join the military. For those of you who can't join, you can still lend a hand. Here are a few of the areas where we would like your assistance:
1. The next time you see any adults talking (or wearing a hat) during the playing of the National Anthem - kick their ass.
2. When you witness, firsthand, someone burning the American Flag in protest - kick their ass.
3. Regardless of the rank they held while they served, pay the highest amount of respect to all veterans. If you see anyone doing otherwise, quietly pull them aside and explain how these veterans fought for the very freedom they bask in every second. Enlighten them on the many sacrifices these veterans made to make this Nation great. Then hold them down while a disabled veteran kicks their ass.
4. If you were never in the military, DO NOT pretend that you were. Wearing battle dress uniforms (BDUs) or Jungle Fatigues, telling others that you used to be 'Special Forces'.
Collecting GI Joe memorabilia, might have been okay when you were seven years old, now, it will only make you look stupid and get your ass kicked.
5. Next time you come across an Air Force member, do not ask them, 'Do you fly a jet?' Not everyone in the Air Force is a pilot. Such ignorance deserves an ass-kicking (children are exempt).
6. If you witness someone calling the US Coast Guard 'non-military', inform them of their mistake - and kick their ass.
7. Next time Old Glory (the US flag) prances by during a parade, get on your damn feet and pay homage to her by placing your hand over your heart. Quietly thank the military member or veteran lucky enough to be carrying her - of course, failure to do either of those could earn you a severe ass-kicking.
8. 'Your mama wears combat boots' never made sense to me - stop saying it! If she did, she would most likely be a vet and therefore would kick your ass!
9. 'Flyboy' (Air Force), 'Jarhead' (Marines), 'Grunt' (Army), 'Squid' (Navy), 'Puddle Jumpers' (Coast Guard), etc., are terms of endearment we use describing each other. Unless you are a service member or vet, you have not earned the right to use them. Using them could get your ass kicked.
10. Last, but not least, whether or not you become a member of the military, support our troops and their families. Every Thanksgiving and religious holiday that you enjoy with family and friends, please remember that there are literally thousands of soldiers, sailors, marines and airmen far from home wishing they could be with their families. Thank God for our military and the sacrifices they make every day. Without them, our Country would get it's ass kicked.
11. 'It's the Veteran, not the reporter, who has given us the freedom of the press.' 'It's the Veteran, not the poet, who has given us the freedom of speech.' 'It's the Veteran, not the community organizer, who gives us the freedom to demonstrate.' 'It's the Military who salutes the flag, who serves beneath the flag, and whose coffin is draped by the flag, who allows the protester to burn the flag.'
AND ONE MORE:

12. If you ever see anyone singing the National Anthem in Spanish - KICK THEIR ASS.
ONE LAST THING:
If you got this email and didn't pass it on - guess what - you deserve to get your ass kicked!
I sent this to you, because I didn't want to get my ass kicked.
We live in the land of the free, only because of the brave! In God we trust.
---
DRESSED DOWN
---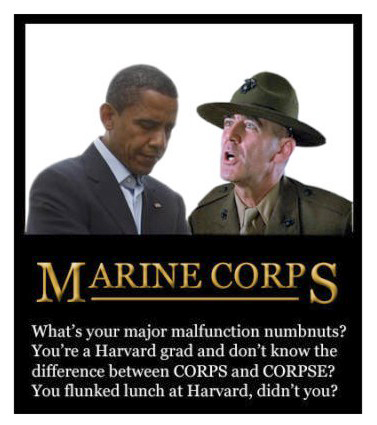 ---
VIRTUAL VIET NAM MEMORIAL WALL
---
For those that served in Viet Nam or had a loved one fall, we encourage you to visit the Virtual Wall.
http://www.virtualwall.org/iStates.htm
---
BLACK JACK
---
---
ROLLING...INTO THE WILD BLUE YONDER
---
This "Trike" owned by a Vet, on display at a car show. Check the power plant he used, it should haul. The work that went into the paint job is priceless, and we can only imagine if this had wings.
If anyone knows the owner of this ride, please let him/her know it has been enshrined in The Free State Of PIG.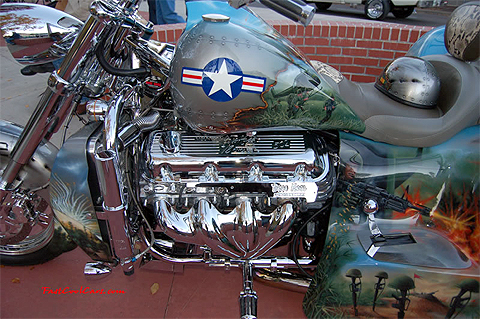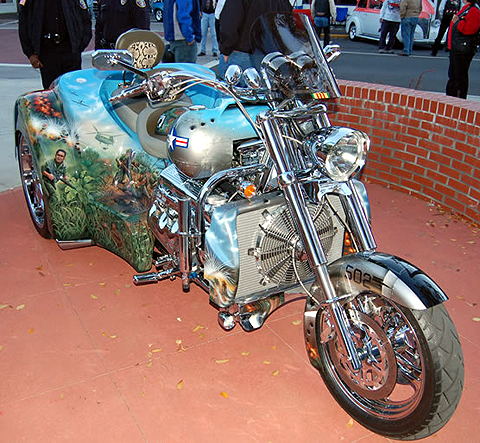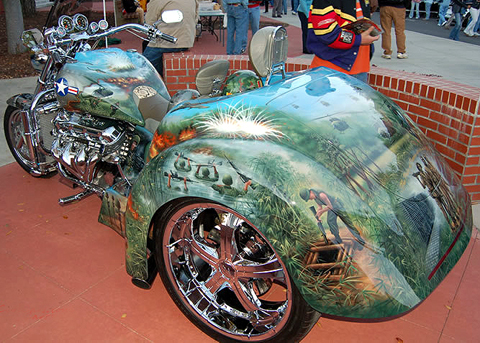 ---
DO YOUR PART!
---
Soldiers' Angels Reaches Out To Fort Hood

When he's not serving as the Free State of PIG's Professor of Piety, PIGster J spends quality time supporting one of the great military support groups: Soldiers' Angels.
When I checked out their Internet site, I found this posting on their efforts to support the Fort Hood soldiers and families whose lives were devastated by that Islamikaze rat bastard:
Soldiers' Angels is assessing the needs and--with our founder currently residing in Texas--standing by to offer physical and emotional support to our heroes and their families at Fort Hood.

RIGHT NOW: Collecting encouraging notes and NEW stuffed animals for the families and children of the injured or killed. Please send cards/letters and stuffed animals (and anything NEW that may brighten the life of a child) to:

Soldiers' Angels
4408 PanAm Expressway
San Antonio, TX 78218

Plans are still developing, but the goal is to give these families and injured heroes something big to smile about when Christmas rolls around. It starts with the $2,000 gift certificate for Christmas for an experience on Christmas Day that will make them forget about it all for at least a little while. To contribute to the effort, click the donation button in the upper left and add type "For Ft. Hood" in the comment box that pops up (donations marked this way will be used only for Ft. Hood survivors).
When I checked back with PIGster J, he provided this information:
As of right now, Soldiers Angels is collecting cards of sympathy and support, stuffed animals for the families and children, and monetary donations as well for each of the 43 families affected by the Fort Hood disaster. Per [Soldiers' Angels leader, Patti Patton-Bader], Soldiers' Angels has pledged "come hell or high water" to provide $2000 for each of those families. If the donations come in sufficient quantities, SA will be able to give even more. SA is also helping to pay for family members who normally would not be able to get to the side of a wounded hero in TX to have air fare to get there.

Patti's idea is, per her (she said it better than I could): "When the media goes away and the last casseroles are eaten, you're going to have 43 families sitting around looking at the walls for the holidays. That's why Soldiers' Angels wants to give them the financial donation – because it will help them to forget, even if for a moment, and to enjoy their holidays. Soldiers' Angels wants to show them that together, we'll all pull through this. We want to be there even after all the hype dies down and people move on."
If you want to participate in this worthy venture - Tis the season, after all - you can get all the pertinent information, here: Soldiers' Angels Fort Hood Campaign
---
NAVAL AVIATORS
---
Our skies are free and safe due to the brave, highly skilled guardians of the sky from the United States Navy's fighter pilots.
We should thank our lucky stars that these aviators that patrol the clouds to keep us safe, disregarding any personal risk to themselves, are on our team.
Think of what they do. Taking off and landing on an aircraft carrier with enough of an arsenal to blow up a whole damn town or jungle village, with extreme accuracy and precision.
Too cool.
Not too many people can do what they do. Tom Cruise in Top Gun as a Naval Aviator? Right. I wouldn't trust him with my nephew's tricycle.
However, to those rare few that can, and do, some Patriot put together a You Tube clip in honor of those fighter pilots.
The F.S.O.P. doesn't claim to be the USO, but we hope that those that patrol the skies for our security and freedom may enjoy the following.
If you do send this along to a Naval Aviator, tell them it's compliments of PIG and an anonymous patriot, and tell them we said thank you.
Enjoy.
Link: Magic Carpet Ride
---
SOLDIERS ANGELS NEEDS YOUR HELP
---

There's no doubt that we of the United States owe a debt to our men and women in uniform that never can be repaid. However, that doesn't mean we shouldn't try like hell anyway!
One of the best ways to say "Thank you" to those who serve, as well as their families, is through a group called "Soldiers' Angels." (www.soldiersangels.org) 99.9% volunteer, the organization was founded by Patti Patton-Bader, who just happens to be the great-niece of one of the most ass kicking, no-nonsense, take no prisoners warriors that has ever graced a battlefield; General George S. Patton, Jr. She began the group when her son, serving overseas, made her aware that many of his buddies were going without any kind of care, encouragement, or word from home. In true PIG fashion, she rolled up her sleeves and put her can-do attitude to work. In a few short years the group has expanded from herself and some friends supporting one unit to a worldwide organization that supports tens of thousands of troops annually as they do the all too often thankless job of keeping our freedoms secure for we who are safely at home.
What can you do? Head over to www.soldiersangels.org Click Here and see for yourself what can be done. There's no such thing as an attitude of "Oh, is that ALL you can do?" It's a matter of "You can do THAT? Great! Here's where we can plug you in." They have teams that sew, teams that make crafts, teams that bake, teams that send cards, teams that support the families of deployed soldiers; you name it, they've probably damned well got a team for it. SA has a store in which you can purchase items and have them sent to soldiers who need them, whether a specific soldier or any soldier who is in need. 100% of the money that is spent in the SA store goes directly back into the Angels organization, to be used to help others. Most importantly, perhaps, you can "adopt" a soldier, pledging to send letters and care packages to encourage and uplift them throughout their deployment. If you can't join a team, you can contribute financially, or perhaps send some cards of encouragement that will then be passed on to other soldiers. There's far more here than I can ever tell you – check it out for yourselves. Read the FAQ. Get your questions answered. And then get cracking.
And don't let it stop there. That man or woman in uniform, waiting for a cup of coffee or a meal at your local food joint? Why not step up, shake their hand and say "Thank you!" from the bottom of your heart, and maybe pick up their tab? There are so very many ways to do this – Soldiers' Angels is a springboard, to be sure, but even beyond that, there are ways.
As of this moment there are over 1100 soldiers waiting to be adopted; waiting, perhaps, for you. Let's roll up our sleeves, channel our inner PIGs and get to work! In the words of the Soldiers' Angels motto,
"May no soldier go unloved.
May no soldier walk alone.
May no soldier be forgotten,
Until they all come home"
What will YOU do?
PIGster J

---
CONGRESS HAS NO COMMON SENSE
---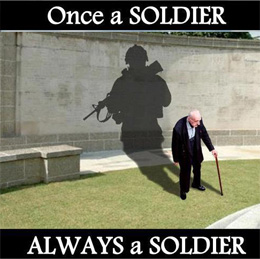 By Rush Limbaugh:
I think the vast differences in compensation between victims of the September 11 casualty and those who die serving our country in Uniform are profound. No one is really talking about it either, because you just don't criticize anything having to do with September 11. Well, I can't let the numbers pass by because it says something really disturbing about the entitlement mentality of this country. If you lost a family member in the September 11 attack, you're
going to get an average of $1,185,000. The range is a minimum guarantee of
$250,000, all the way up to $4.7 million.?
If you are a surviving family member of an American soldier killed in action, the first check you get is a $6,000 direct death benefit, half of which is taxable.

Next, you get $1,750 for burial costs. If you are the surviving spouse, you get $833 a month until you remarry. And there's a payment of $211 per month for each child under 18. When the child hits 18, those payments come to a screeching halt.

Keep in mind that some of the people who are getting an average of $1.185 million up to $4.7 million are complaining that it's not enough ? Their deaths were tragic, but for most, they were simply in the wrong place at the wrong time. Soldiers put themselves in harms way FOR ALL OF US, and they and their families know the dangers. (Actually, soldiers are put in harms way by politicians and commanding officers.)

We also learned over the weekend that some of the victims from the Oklahoma City bombing have started an organization asking for the same deal that the September 11 families are getting. In addition to that, some of the families of those bombed in the embassies are now asking for compensation as well.

You see where this is going, don't you? Folks, this is part and parcel of over 50 years of entitlement politics in this country. It's just really sad. Every time a pay raise comes up for the military, they usually receive next to nothing of a raise. Now the green machine is in combat in the Middle East while their families have to survive on food stamps and live in low-rent housing Make sense?

However, our own US Congress voted themselves a raise. Many of you don't know that they only have to be in Congress one time to receive a pension that is more than $15,000 per month. And most are now equal to being millionaires plus. They do not receive Social Security on retirement because they didn't have to pay into the system. If some of the military people stay in for 20 years and get out as an E-7, they may receive a pension of $1,000 per month, and the very people who placed them in harm's way receives a pension of $15,000 per month..

I would like to see our elected officials pick up a weapon and join ranks before they start cutting out benefits and lowering pay for our sons and daughters who are now fighting.
---
NAVY PETTY OFFICER MIKE MONSOOR
---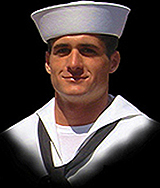 PO2 (EOD2) (Explosive Ordnance Disposal) Mike Monsoor, a Navy EOD Technician, was awarded the Congressional Medal of Honor posthumously for jumping on a grenade in Iraq, giving his life to save his fellow Seals. (Notice: Mike was not a Navy SEAL, he was EOD. He gave his life to save a group of Navy SEALS.)
During Mike Monsoor's funeral in San Diego, as his coffin was being moved from the hearse to the grave site at Ft. Rosecrans National Cemetery, SEAL's were lined up on both sides of the pallbearers route forming a column of two's, with the coffin moving up the center. As Mike's coffin passed, each SEAL, having removed his gold Trident from his uniform, slapped it down embedding the Trident in the wooden coffin.
The slaps were audible from across the cemetery; by the time the coffin arrived grave side, it looked as though it had a gold inlay from all the Tridents pinned to it.
This was a fitting send-off for a warrior hero. This should be front-page news instead of the crap we see every day. Since the media won't make this news, I choose to make it news by forwarding it.
I am very proud of our military. If you are proud too, please pass this on. If not then rest assured that these fine men and women of our military will continue to serve and protect.
God Bless our Troops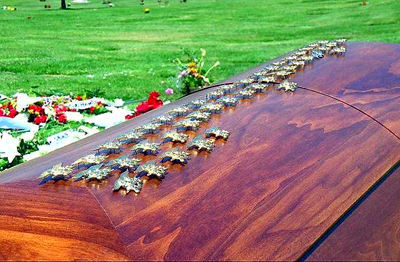 Contributed By Proud PIGster, Terri T.
---
THE SWEET TASTE OF VICTORY
---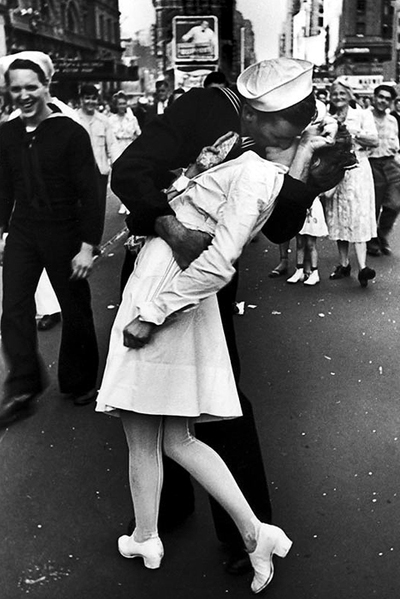 One of the most famous photographs ever published by Life, V-J Day In Times Square was shot in Times Square on August 14, 1945.
Alfred Eisenstaedt was in the square taking candids when he spotted a sailor "running along the street grabbing any and every girl in sight," he later explained. "Whether she was a grandmother, stout, thin, old, didn't make any difference. I was running ahead of him with my Leica looking back over my shoulder... Then suddenly, in a flash, I saw something white being grabbed. I turned around and clicked the moment the sailor kissed the nurse." Eisenstadt was very gratified and pleased with this enduring image, saying: "People tell me that when I am in heaven they will remember this picture."
The participants in the kiss were never confirmed by Eisenstaedt, whose notes on the photo were not found after his death in 1995. Life, however, accepted nurse Edith Cullen Shain's claim to this honor in a handwritten letter to Eisenstaedt 35 years later. Shain was 27 on V-J Day. Over 20 men have claimed to be the sailor, but none has been positively identified. The sailor was identified by a team of volunteers at the Naval War College in August 2005 as George Mendonça, of Newport, Rhode Island, although many other men have claimed the honor.
Shain then identified the sailor to be former New York City police detective Carl Muscarello.
---
SACRIFICES
---
PIGster J wrote: "[This image] really drives home the sacrifices people make, and have made, so that we can have the freedoms we do. It's an actual picture of a WW II veteran who survived Pearl Harbor, hugging a Staff Sergeant in the Marine Corps who lost an eye, a leg and a hand defusing live ordnance."
He's right, this compelling image does its own talking, and its eloquence is humbling.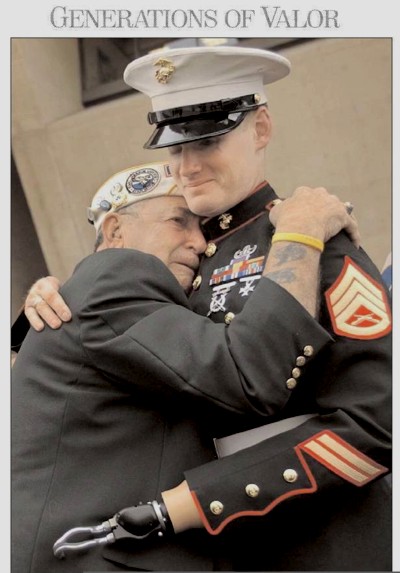 ---
YES AMERICA, THERE IS A SANTA CLAUS
---
The following was sent our way by personal friend, Bruce B.
After reading it, won't you click on any links to the right, and maybe begin a pen pal correspondence with one of our troops from any branch of our brave warriors?
No doubt, if you sent a care package with some warm socks, crosswords, books, candy, and some kind, stateside words, you would gain a loyal friend for life.
TWAS THE NIGHT BEFORE CHRISTMAS,
HE LIVED ALL ALONE,
IN A ONE BEDROOM HOUSE MADE OF
PLASTER AND STONE.
I HAD COME DOWN THE CHIMNEY
WITH PRESENTS TO GIVE,
AND TO SEE JUST WHO
IN THIS HOME DID LIVE.
I LOOKED ALL ABOUT,
A STRANGE SIGHT I DID SEE,
NO TINSEL, NO PRESENTS,
NOT EVEN A TREE.
NO STOCKING BY MANTLE,
JUST BOOTS FILLED WITH SAND,
ON THE WALL HUNG PICTURES
OF FAR DISTANT LANDS.
WITH MEDALS AND BADGES,
AWARDS OF ALL KINDS,
A SOBER THOUGHT
CAME THROUGH MY MIND.
FOR THIS HOUSE WAS DIFFERENT,
IT WAS DARK AND DREARY,
I FOUND THE HOME OF A SOLDIER,
ONCE I COULD SEE CLEARLY.
THE SOLDIER LAY SLEEPING,
SILENT, ALONE,
CURLED UP ON THE FLOOR
IN THIS ONE BEDROOM HOME.
THE FACE WAS SO GENTLE,
THE ROOM IN SUCH DISORDER,
NOT HOW I PICTURED
A UNITED STATES SOLDIER.
WAS THIS THE HERO
OF WHOM I'D JUST READ?
CURLED UP ON A PONCHO,
THE FLOOR FOR A BED?
I REALIZED THE FAMILIES
THAT I SAW THIS NIGHT,
OWED THEIR LIVES TO THESE SOLDIERS
WHO WERE WILLING TO FIGHT.
SOON ROUND THE WORLD,
THE CHILDREN WOULD PLAY,
AND GROWNUPS WOULD CELEBRATE
A BRIGHT CHRISTMAS DAY.
THEY ALL ENJOYED FREEDOM
EACH MONTH OF THE YEAR,
BECAUSE OF THE SOLDIERS,
LIKE THE ONE LYING HERE.
I COULDN'T HELP WONDER
HOW MANY LAY ALONE,
ON A COLD CHRISTMAS EVE
IN A LAND FAR FROM HOME.
THE VERY THOUGHT
BROUGHT A TEAR TO MY EYE,
I DROPPED TO MY KNEES
AND STARTED TO CRY.
THE SOLDIER AWAKENED
AND I HEARD A ROUGH VOICE,
'SANTA DON'T CRY,
THIS LIFE IS MY CHOICE;
I FIGHT FOR FREEDOM,
I DON'T ASK FOR MORE,
MY LIFE IS MY GOD,
MY! COUNTRY, MY CORPS.'
THE SOLDIER ROLLED OVER
AND DRIFTED TO SLEEP,
I COULDN'T CONTROL IT,
I CON TINUED TO WEEP.
I KEPT WATCH FOR HOURS,
SO SILENT AND STILL
AND WE BOTH SHIVERED
FROM THE COLD NIGHT'S CHILL.
I DIDN'T WANT TO LEAVE
ON THAT COLD, DARK, NIGHT,
THIS GUARDIAN OF HONOR
SO WILLING TO FIGHT.
THEN THE SOLDIER ROLLED OVER,
WITH A VOICE SOFT AND PURE,
WHISPERED, 'CARRY ON SANTA,
IT'S CHRISTMAS DAY, ALL IS SECURE.'
ONE LOOK AT MY WATCH,
AND I KNEW HE WAS RIGHT.
'MERRY CHRISTMAS MY FRIEND,!
AND TO ALL A GOOD NIGHT.'
This poem was written by a Marine.
The following is his request. I think it is reasonable.....
PLEASE. Would you do us the kind favor of sending
this to as many people as you can?
Christmas will be coming soon and some credit is due to our US. service men and
women for our being able to celebrate these festivities.

Let's try in this small way to pay a tiny bit of what we
owe. Make people stop and think of our heroes, living and
dead, who sacrificed themselves for us. Please, do your
small part to plant this small seed

---
STARS & STRIPES | FROM WALTER REED MEDICAL CENTER
---
WASHINGTON Dec. 1, 2006
Officials at Walter Reed Army Medical Center are seeking donations for wounded troops who are forced to leave behind personal belongings when medically evacuated from war zones.
Many of the troops "arrive with nothing," said officials from the hospital's Family Assistance Center. Because of the speed with which the most serious wounded are evacuated from Iraq or Afghanistan, their belongings are often left behind and don't catch up.
So the center is looking for everything from shoes, gloves and winter jackets to postage stamps, prepaid phone cards and razors.
The Family Assistance Center requests that no cash or used items be donated. Among some of the more specialized needs are weightlifting gloves (for use by wheelchair patients); trousers with snaps or zips along the legs; umbrellas; and prepaid gas or grocery cards.
The center also helps patients file claims for personal belongings that were left behind during a medical evacuation. Loss or damage to items can be reimbursed through the system.
Donations can be sent to:
Walter Reed Army Medical Center
Medical Family Assistance Center
Bldg. 2, 3rd Floor, Room 3E01
6900 Georgia Ave, N.W.
Washington, D.C. 2001
BULLETIN AND BLOG APPROVED BY
OPERATIONBACKPACKS ON DECEMBER 6TH, 2006
• • • • • • • • • • • • • • • • • • •
Our first letter comes from a long time Friend of PIG, Gunnery Sergeant John, aka, Jarhead John, serving in Okinawa.

Senator Kerry,

It is with the usual disgust that you have inspired over the years that I write this open letter to you. I would like you to be very aware of my reasons for serving my country.

I have spent the last 15 years on active duty in the United States Marine Corps. I enlisted, and continue to do so every four years, out of patriotism, pride in my fellow Americans, and a strong desire to defend the country that I love. I did NOT enlist because I couldn't hack it in college. While partying in college, where the greatest challenge that I would face is liberal professors is appealing, it would not be nearly as rewarding as my current career.

I would also like to point out that I am currently enrolled at the University Of Maryland, pursuing my degree in Management Studies. I work with countless Marines who either already hold a degree (some of them advanced degrees) or are currently enrolled in a college or university.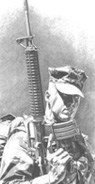 Your "botched joke" simply underscores your trend of anti-military remarks and votes. Nobody is fooled by your rhetoric. Your late apology, which only came forth after the outcry that your verbal bumbling caused, has not been viewed as heartfelt or sincere. You personify the stereotype of the career politician, and it's disturbing that the people of Massachusetts don't see through you like the rest of the country does.

Gunny John adds:
I have a slight problem with what a previous pinhead (SPQR44BC) wrote in PIGPEN/FORUM:
"Your website...has absolutely no redeeming value whatsoever and promotes...nothing but intolerance and hate."
If stating the obvious (well, obvious to those that don't have their heads shoved up their asses) is promoting hate, then I guess you folks are indeed promoting hate. Let me pop a midol, chug some T-bird and get this right: being pro-individual rights is promoting hate? This genius might be on to something! By George, he does indeed have the right to spew forth his hatred of you! Isn't that dandy? Unfortunately for him, it also means that you have the right to mock professional victims, border hopping criminals, and anyone else that thinks they are entitled to a handout.

Perhaps he/she/it should get out of their parents' basement and see the real world. Then (maybe) he/she/it would have a rational opinion to offer. Simply quoting whatever drivel du jour one reads on the Daily Kos doesn't count as forming a rational opinion.

Keep up the good work PIG, millions of "offense junkies" are counting on you!

Semper Fi,

Gunny John