When it comes to picking our nation's leaders, We the People can't seem to get it right. Blinded by idealism and optimism, we've elected reprobates, retards and rank amateurs. While searching for the second coming of a Founding Father, we've elected meatheads, morons and Moonbats. In our zeal who pick someone to represents the best in us, we've elected Caesars and appeasers.
Our motives were noble and the underlying idea was a good one, in the abstract. We reasoned that someone who represented the very best in us, would inspire our friends and favorably impress our foes with their dignity, intellect and inner strength. It should have worked, but it didn't.
We, quite rightly, tried to elect a rational adult, but it's a bigger challenge than we realized, because no self-respecting rational adult wants any part of that three-ring circus we call our government. If we aren't entrusting our government to rational adults who are we putting into positions of authority from sea to shining sea? Who indeed? Let's look at a few of our most memorable Elected Tormentors:
Gary Hart
After serving two terms as U.S. Senator for Colorado, Gary Hart painted a bull's-eye on the Oval Office on April 13, 1987. In short order, two things happened, two things that teamed up to set the stage for one of the most spectacular political flameouts in American history. The first essential element was the fact that Hart's blow dried voter appeal made him the frontrunner for the Jackass Party POTUS nomination, in January 1987. The second essential element was the plethora of stories reciting rumors that Hart was embroiled in an extramarital affair.
On May 3rd, 1987, Hart sealed his fate, when he double dog dared the press to prove he was cheating: "Follow me around. I don't care. I'm serious. If anybody wants to put a tail on me, go ahead. They'll be very bored." As luck would have it, the Miami Herald was way ahead of him.
Two reporters from The Miami Herald had staked out his residence and observed a young woman leaving Hart's Washington, D.C., townhouse on the evening of May 2. The Herald published the story on May 3, the same day Hart's dare appeared in print, and the scandal spread rapidly through the national media.
The Miami Herald reporter had flown to Washington, D.C. on the same flight as the woman, identified as 29-year-old model Donna Rice. (Wikipedia)
Although he'd lost his frontrunner status, Hart might have talked his way out of trouble, if it wasn't for the next bomb shell:
On May 5, the Herald received a further tip that Hart had spent a night in Bimini on a yacht called the Monkey Business with a woman who was not his wife. The Herald obtained a photograph of Hart sitting on a dock wearing a Monkey Business T-shirt, with Rice sitting on his lap.
Hart quit the race on May 8, 1987. In November1988, Bush 41 beat Mike Dukakis in the Oval Office Derby, in an Electoral College landslide: 426 to 111.
Bubba (Bill Clinton)
In 1995, Monica Lewinsky was hired to work as an intern at the White House during Clinton's first term. It didn't take long for Bubba to spot her, then assign her some very special duties. If you've seen her picture, you, too, might wonder 'why did he pick her'. Maybe she's 'hot' in Bubba's world. Maybe it's her willingness to go the extra mile to please her man. Apparently, what she lacks in looks, she makes up for by using her nether regions as the presidential cigar humidor.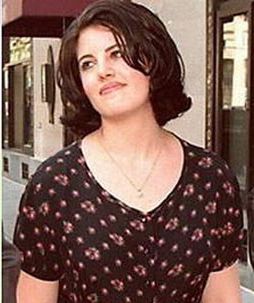 I find Bubba's peccadillos very entertaining. I especially enjoyed watching Bubba try to 'aw shucks' his way out of trouble. I'm also amused by this taste in women (Trailer Trash). Apparently you can take the Bubba out of Arkansas, but you can't take the Arkansas out of the Bubba.
Bubba is the fun kind of guy you'd throw down a few adult beverages with in a local watering hole. But, he's not the kind of dude I want in a position of political authority.
James Traficant
James Traficant was a congressman from Ohio's17th district for17 years, until the feds sent him to the slammer for 10 felony counts including bribery, racketeering, and tax evasion. Demoncrat? Yup. Worst hairpiece in history? Yup. A bribe taking, tax evading, racketeering, political hack? Yup. Despite that, I like him. Flawed or not, he was colorful and prone to serving up a PIG-worthy quote.
"Mr. Speaker, John Hinckley shot President Reagan, James Brady, and two security guards with intent to kill. Hinckley also planned to kill President Carter. Deemed insane, Hinckley was put in the hospital. And now that hospital says Hinckley has regained his health, he is no longer insane, and he should be entitled to and they are granting him `supervised leave.' And the Government will not appeal it. Unbelievable.
What is next, Mr. Speaker? White House tours? Disney World? Beam me up."
If we can't have a government comprised of rational adults, a dude like James Traficant does at least entertain us. But, that bribery conviction means he's for sale to the highest bidder and therefore not someone I'd want in a position of authority.
Hank Johnson, Jr.
Now in his 4th term as congressman for Georgia's 4th district, Hank Johnson, Jr hit his political high watermark in March of 2010. That's when, during a congressional hearing, he stated his fear that stationing an additional 8,000 Marines on Guam could make the entire island capsize. Yes, that's funny, but it's far from thrilling that this fool gets to vote on bills which can/do hit us where we live.
Eliot Spitzer
In March 2008, a sex scandal involving VERY high priced call girls from the Emperors Club VIP forcibly ejected Empire State Governor Eliot Spitzer from office. I will give him props for good taste, when it comes to pay for play booty, which cost him a total of $15,000 (7 transactions over a 6-month period). His total hooker tab is reputed to be $80,000 over several years, including his stint as Attorney General.
When Spitzer resigned, rational Empire State adults probably thought good riddance, until they got a close look at Spitzer's replacement, David Paterson. What a steaming load he turned out to be, but the worst was yet to come when current governor, Andrew Cuomo replaced Davie boy. All things considered, the state's rational adults might be feeling nostalgic about Spitzer and his high priced hookers.
Mark Sanford
In 2009, South Carolina Governor Mark Sanford was touted as a rising Elephant Clan star who had a good shot at being the Republican POTUS nominee in 2012. Sanford flushed that down the crapper, in June of 2009, when his 'little head' overruled his big head and made him disappear, without a trace for for almost a week.
From June 18 until June 24, 2009, the whereabouts of Sanford were unknown to the public, as well as to his wife and the State Law Enforcement Division, which provides security for him, garnering nationwide news coverage. The absence of Governor Sanford was first reported by Jim Davenport of the Associated Press. Lieutenant Governor André Bauer announced that he could not "take lightly that his staff has not had communication with him for more than four days, and that no one, including his own family, knows his whereabouts."
Before his disappearance, Sanford told his staff that he would be hiking on the Appalachian Trail and while he was gone he did not answer 15 cell phone calls from his chief of staff Scott English; he also failed to call his family on Father's Day. [WIkipedia]
So where was he? In Argentina humping his soul mate, María Belén Chapur, a 43-year-old Argentine divorcee. I hope she's worth it, because it cost him his family, and his shot at the presidency.
Sanford's fatally flawed character makes him unsuitable for any degree of authority. Unhappily, chad punchers in South Carolina's 1st district didn't get the memo, so, in May 2013, they sent this horndog to congress as their representative, in a special election to fill the empty seat.
Anthony Weiner
The appropriately named Anthony Weiner is another Empire State Elected Tormentor whose political career was prematurely ended due to his inability to keep IT in his pants. He was in his 7th term as congressman for New York's 9th district, when he Tweeted a selfie of his junk, a brainfart that turned his name, 'Weiner', into a late night monolog punch line.
After several days of denying media reports that he had posted the image, he admitted to having sent a link to the photo, and also other sexually explicit photos and messages to women both before and during his marriage. On June 16, 2011, Weiner announced his intention to resign from Congress with his official resignation occurring on June 23, 2011.
It was a hard lesson...It should have been...but in July of 2013, he demonstrated conclusively that he hadn't learned anything from it. That's right, he did it again, while he was running for mayor of NYC. A longshot, at best, he was just getting some momentum, when...he Tweeted himself out of contention with another selfie of his junk.
A second scandal began on July 23, 2013, after Weiner returned to politics in April 2013 by entering the New York City mayoral election, when more pictures and sexting by Weiner were released by the website The Dirty. They were allegedly sent under the alias 'Carlos Danger' to a 22-year-old woman with whom Weiner had contact in late 2012, and as late as April 2013, more than a year after Weiner had left Congress.
Carlos Danger? Seriously? I was - and still am - bummed that he didn't win. There's something irresistibly PIGish about a serial flasher becoming Mayor of New York.
Daniel Patrick Moynihan
A four-term U.S. Senator for New York, Moynihan was, despite being a Demoncrat, by and large, a rational adult. He was, we freely admit, a master of enlightening prose.
Here are a few Daniel Patrick Moynihan Quotes:
Everyone is entitled to his own opinion, but not his own facts.
Somehow liberals have been unable to acquire from life what conservatives seem to be endowed with at birth: namely, a healthy skepticism of the powers of government agencies to do good.
The liberal left can be as rigid and destructive as any force in American life.
The single most exciting thing you encounter in government is competence, because it's so rare.
The great corporations of this country were not founded by ordinary people. They were founded by people with extraordinary intelligence, ambition, and aggressiveness.
They don't make them like that, anymore, but if they did, the Marxist Jackass Party wouldn't elect him.
When one of the few rational adults in the Jackass Party gives up his seat in the U.S. Senate, how do voters replace him? If you're an Empire State chad puncher, you plunge into the very bowels of Hell to put a militantly Marxist bitch named Hillary Clinton in Moynihan's vacated Senate seat.
I barely scratched the surface, and it's already time to wrap this up. I guess Coleman Young, who put the Motor City on the fast track to destruction, and Jerry Brown, who did the same thing to Mexifornia, will have to wait for Part II. The same is true of the likes of Chuck Schumer, Nancy Pelosi, Harry Reid, Juan McCain, Eric Holder, Al Franken, Joe Biden, John Edwards and too damn many others.
Thanks to an electorate which has been deliberately dumbed down, government - at all levels - has changed, for the worst. Not too long ago, government atoned for its sins against our liberty via the entertaining pratfalls perpetrated by Elected Tormentor clowns like Gary Hart, Bubba, Eliot Spitzer, Anthony (would you like to see my) Weiner, and Hank (Guam might capsize) Johnson, Jr.
Now, with a critical mass of assholes like Reid, Pelosi and McCain, there's nothing entertaining, or amusing, about the circle of Hell the Nanny State has become.
What can we do about this intolerable situation? I don't have any ready answers, so I'm open to your suggestions.