America, (United States of), n. :
A noble experiment in individual liberty that met an untimely end when it was betrayed by the craven cowards and traitors in its political leadership. (Dictionary of Obscure Historical Terms, Circa 2099 CE)
America's chickens have come home to roost and that's not my idea of a good time. If American history were a fairy tale, we're in a very dangerous point of our story. The clock just struck Midnight, breaking the spell which made America a beacon of liberty which attracted the best, the brightest, from all over the world. Now that the spell is broken, Uncle Sam is no longer the caretaker for a shining city on a hill. Now, he's a slum lord, who presides over the rat infested hovels which replaced the shining city.
A few decades from now, when the history of a noble experiment in inalienable individual liberty called the United States of America is written, it will be recorded that this unprecedented beacon of liberty reached an untimely end after its core concepts were betrayed by its own elected officials. These future historians will invoke images of Brutus plunging his knife into Julius Caesar when they cite such reviled American traitors as Senator Juan McCain, Senator Harry Reid, Senator Lindsey Grahamnesty, Jihad Janet Napolitano, Senator Upchuck Schumer, and President Barack Obama. On the other hand, these same future historians might cast a U.S. Senator named Rand Paul in the role Mark Anthony, for vilifying the traitors' treachery.
These future historians will discuss America's self-destructive immigration policy and try to make some sense out of it. Why, they'll ask, rhetorically, did America discourage the kind of exceptional legal immigrants who helped construct the American dream? Why, they'll inquire, did American officials open the immigration floodgates by encouraging nations near and far to export their poverty? Why did American officials allow nations around the world to disgorge their disease-ridden, chronically-needy parasites across the American border like a swarm of invading cockroaches? Why, ultimately, didn't American officials take meaningful steps to stem this invasion by securing its own national borders?
Future historians will find America's economic policy equally puzzling. Why, they'll wonder, did America willfully import the world's poverty? Why did America willfully auction off its own prosperity via a ruinous outsourcing of our oil production that eviscerated its own citizens' standard of living? Why, they'll ask, did America's political leaders allow its capitalists to hobble government services - heath, education, infrastructure - by dumping the insatiable "needs" of illegal immigrants on the American taxpayer? Why, they'll wonder, did America place such a high value on workers who sent the lion's share of their earnings back to their native country? Why did America place such a high value on illegal workers whose "contributions" to the American economy and its tax coffers were overwhelmed by the amount they consumed in taxpayer funded services?
Our future historians will find it incomprehensible that America allowed millions of invaders to set up colonies inside America's borders. They'll find it utterly insane that Americans tolerated these festering colonial sores in their midst where the colonizers perpetuate the language, crime and culture of the nations they were so eager to leave. Why, they'll demand, did Americans allow these invaders to impose their language, spread their culture and terrorize American citizens with their murderous street gangs? Ultimately these historians will find it incomprehensible that America would, negligently, allow these colonizers to re-introduce diseases like Tuberculosis that were virtually eradicated before the colonizers invaded.
Future historians will pinpoint a section of America named Arizona as the place where the battle for American sovereignty was lost. They'll be stumped by the American government's willingness to cede large sections of the state to drug gangs from Mexico, without putting up a fight. They'll write at length about an American administration which did nothing to stop the invasion from the south, but seemed determined to punish Arizona officials who tried to defend the border.
Future historians will be dumbfounded by the fate of the U.S. Constitution. It was an unambiguous document which set forth non-negotiable limits on the national government. So how, they'll wonder, did it get downgraded to the status of Italian driving laws: suggestions which those for whom it's intended implement or ignore, as they see fit.
Future historians will be mesmerized by the masterful way 60's radicals - ardent hard core lefties - spent the next 4 decades subverting American liberty, a well-executed effort which culminated in a bloodless coup. Due to their patient persistence, by 2010, the embedded 60's radicals had reduced inalienable individual liberty to a minor historical footnote and turned the American Dream into a nightmare.
How did they do it? Looking far down the road, they burrowed into America's colleges and universities. From their tenured enclaves, they worked diligently to control the flow of information/knowledge. How? They targeted the two key professions involved in instilling knowledge and essential information on rank and file Americans. It was as easy as taking over journalism schools and teachers' colleges.
Flooding government schools with suitably radicalized, degreed educrats, the 60's radicals systematically expunged education - instilling basic knowledge plus the ability to think things through - from government schools. Instead of teaching students HOW to think, the radicalized educrats told their captive audience WHAT to think. With their minds crammed with unprocessed, ready-made responses, the idiots with self-esteem were ready to matriculate into that icon of idiocy, the low information voter.
The transition from idiot with self esteem to low information voter was facilitated by so-called journalists who jettisoned any pretense of objectivity. Instead, they became purveyors of Neo-Marxism and propagandists for the Jackass Party. Whenever a government schooled idiot with self-esteem seeks essential info on elections or a hot button issue, he, she, heshe or it will find that the MSM propaganda matches up perfectly with the pre-programmed responses that the educrats stuffed into his, her, hisher, or its brain.
Some future historians will analyze the effects of such rational adult countermeasures as home schooling and the information rich Internet, which offers ample, much more objective reporting. Eventually, our future historians will see the brilliance of the 60's radicals planning. They never wanted or needed to dumb down all of the young minds full of mush. They only needed enough to form an electoral critical mass which was sufficiently large to determine the outcome of an election. They'll point to 2008 and 2012 as prime examples.
For our future historians, one of the thorniest dilemmas will involve POTUS 44. What label will these future historians pin on Barack Hussein Obama. Will it be 'Puppeteer' or will it be 'Puppet'. Given the level of 'assistance' he received every step along his route to the Oval Office, plus his egregiously thin, pre-POTUS, resume, he seems to be someone's useful idiot. In theory, he'd be a glib, photogenic pawn, who could be manipulated/moved as needed. Our future historians will have no problem detecting the fatal flaw in this scenario. Obama, the carefully groomed 'useful idiot' had an out of control ego. That made him cut the puppet strings and strike out on his own.
Puppet master? A puppet who broke free? A useful idiot whose ego was out of control? That's a matter for our future historians. No doubt they'll consider some, or all, of these elements of the Obama Regime which made Sherman's march to the sea seem like kids' stuff, compared to the destruction The One's assault on American liberty left behind.
Our future historians will be astounded by the level of Obama's destruction.
* He muscled the U.S. Supreme Court into making a ruling that turned sovereign American citizens into powerless subjects of an all powerful government. It happened when the court gave the government the power to command that a citizen buy a product - ANY PRODUCT - and make it a criminal offense to refuse.
* He ignored his Cabinet, completely, choosing to implement his imperial edicts through Czars who were answerable only to him.
* He subverted America's military, by imposing racial/gender quotas for promotions, subjecting the troops to political correctness, and forcing American warriors to attend sensitivity training on the front lines.
* He treated parasites like heros and demonized achievers as villains.
* During his regime, his minions in Congress routinely violated the pertinent sections of the Constitution. Destructive legislation - much of it more than 1,000 pages long - was enacted unread, before it was completely written.
* Eventually, he dispensed with Congress completely, by re-writing laws, willfully ignoring those laws he didn't like, and imposing his Marxist bullshit by imperial presidential decree.
* His stimulus plans were, invariably, payoffs to his political supporters.
* He used the IRS, Justice Department, EPA, MLRB, FCC, and numerous other elements of the Federal Government to advance his Marxist political agenda and control the outcome of elections.
* He stockepiled guns and ammo, plus assorted military-level hardware in every department of the government.
* He was a notorious liar who couldn't keep his story straight, a proclivity that the lapdog mainstream media never found interesting enough to mention.
* He pinned a 'terrorist' label on individuals who banded together to end runaway government growth - the TEA Party movement. At the same time, he whitewashed Islamikazes of any/all blame for terrorism.
* He denigrated his own country regularly, throughout his regime.
* He alienated America's friends and gave aid (monetary and military) to its sworn enemies.
* He did everything in his power to weaken, diminish, defeat, and destroy the nation he was elected to lead.
* Driven by his implacable hatred of the U.S. Constitution, he attacked it...he subverted it...at every opportunity.
He wasn't part of the 60's radicals long-term plan, but they probably anticipated someone like him, to administer the coup de grace, when the clock struck midnight on American liberty. He did singlehandedly, what the 60's crowd thought would unfold under several POTUS puppets.
Has America passed a point of no return? Have the 60's radicals won? Will this once great nation devolve from a shining beacon of inalienable individual liberty into a festering third world cesspool that is populated by teeming hordes of chronically-needy, disease-ridden, crime-spreading parasites? The history I delineated hasn't been written yet, but as matters now stand it's locked and loaded.
As long as the far left has its stranglehold on so called journalism and what passes for education in America, our life, liberty, and pursuit of happiness is finished. Admittedly, the TEA Party Movement is a welcome addition to our fight to preserve/restore our inalienable individual liberty. The problem is that the TEA Party got caught between the Progtards on the left and the 'we suck, but they suck a lot more' Republicans on the right. Desperate to be loved, the pachyderm punks no longer have the balls to defend our inalienable individual liberty. When faced with grim Jackass Party determination, Weasels like Rubio, McCain and Boehner sell out liberty and call it bipartisanship.
Is America finished? Or, will, just in the nick of time, that American icon - its reviled, but endlessly resilient, rugged individuals - shake off their lethargy and put up a fight for the nation they love? Will you take a stand for the American Dream and the Inalienable Individual Liberty which all rational American adults cherish?
I don't kid myself about how fucked up We the People let things get. The destruction of our liberty didn't happen over night and it began long before the Marxist Messiah arrived on the scene. He's the END GAME. Our descent into tyranny began at least a half century ago. If it's going to be undone, it's going to take time.
If you're up to the challenge, the first order of business is salvaging or shit-canning the Elephant Clan. The other high priority matter involves taking control of our schools, even if it means privatizing education. Neither item is a piece of cake, but as difficult as they might be, they're the EASY ones.
If you're going to act, the time is now, because each tick of the clock mires us deeper in tyranny.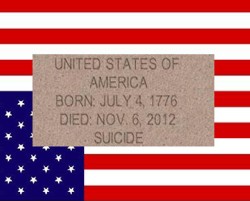 [I originally posted this in Spring 2013, not that it matters. It's at least as pertinent, today, as it was then. In fact in the past two years our headlong plunge into the progtard abyss has accelerated.
Have we passed the point of no return? It's hard to tell, but I do know one thing. If we haven't passed it, we're dangerously close.]