Pairings? Have we lost our minds, and/or our calendar? Do we really think it's Valentine's Day in July? Pairings? Yup. Lost our minds? Nope. Lost our calendar? Nope. Valentine's Day in July? Nope. Trust me, I know what I'm doing. There's a perfectly reasonable, uh, there's a reasonable explanation. Okay, okay! It may no be perfectly reasonable or even plain vanilla reasonable, but there is an explanation.
Like many Top Stories, this one reached critical mass, while Porcus and I were yammering on the phone. It began, when I heard myself say how tired I am of having Miley Cyrus twitching her anemic stuff at us. I'm tired of seeing the twerking twat prancing around in her skivvies. That's when it hit me: we needed to pair her off with someone who would throw a burka on the annoying Pop Tart. That led to a 'people who belong together' brain-storming session.
Unlike our Valentines Day love match extravaganza, these matches aren't always 'romantic'. In many cases, the two bull's-eyes are linked up, because, in our minds, they belong together. In other words, thinking of one, invariably evokes the other. It's like peanut butter & jelly. They pairing is just 'right', in a generic, non-romantic, way.
Since the merely mortal don't necessarily see things our way, we decided to make some pairings and share them with you. You'll be shocked when I confess that some, uh, many, okay I admit it, most of our matches are generously infused with Snarky snippets. I wonder how THAT happened?
I wanted to lighten things up, this week, so the spontaneous combustion this one set off in us came at the perfect time. As always, the usual rules of engagement apply.
1) All pairings are final, but feel free to send us alternatives.
2) Your hypersensitivity is not our responsibility or our concern.
3) We warned you, from our inception, that we don't promise to bull's-eye all your sacred cows, but sooner or later we'll hit one of them. If today's your lucky day, color us thrilled, or something.
4) There is no hidden meaning to the order in which our pairings occur. If you detect one, you're delusional and badly in need of professional help.
Here, warts and all, are the good, the bad, and the ugly of PIGish pairings.
Mike Farrell & Old Sparky: Mike Farrell is a thespian [MASH] who continues to make a hair incinerating spectacle of himself as an anti-death penalty 'activist'. Like too many activists, Mike yammers out of his ass, because it 'feels' like the right thing to do. We think Mike needs to get much closer to his subject. It's time for someone to strap this fool into Old Sparky for a no bull crap hair incinerating spectacle.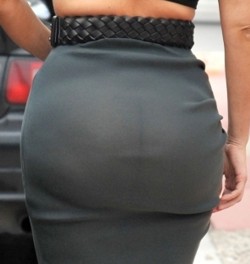 Kim Kardashian & Kanye West: Short 'n Porny is known for, among other things, having a colossal ass. It's ironic that she's married to dude, Kanye, who is known for, among other things, being a colossal ass. We can't improve on a match as colossal as that.
Tom Cruise & a Crash Test Dummy: Both are known for being rather 'wooden' when performing on camera. Both insist on doing their own 'stunts'. Furthermore, both have the mental capacity of rhubarb. If that's not enough for you, there's this: a crash test dummy won't mind spending quality time in 'the closet.'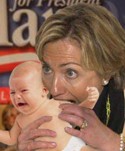 Hillary Clinton & Slim Whitman: When Shrillary gets wound up, her voice will make putting a gun to your head 'an idea whose time has come'. You'll have the same response, when you listen to Slim Whitman singing Indian Love Call. We know Slim died a few years ago, but that's okay, because when Shrillary gets snockered, she looks like death warmed over.

Caitlyn [a lopped and titty topped Bruce Jenner] & Chas [a boned and titty cropped Chastity Bono]: If we need to explain this one to you, you need to up the voltage on your shock treatments.
Ray Rice & Any Female MMA Fighter: She'll make him think twice when he thinks he's He-Man and tries to treat her as a rag doll or punching bag. That match will make HIM her personal punching bag.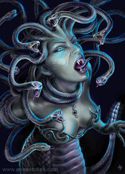 Whoopi Goldberg & Medusa: In Greek mythology Medusa was a monster, a Gorgon, generally described as having the face of a hideous human female with living venomous snakes in place of hair. Gazing directly into her eyes would turn onlookers to stone. That sounds familiar.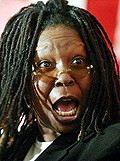 Whoopi Goldberg: Has the face of a hideous human female? Check. Living venomous snakes in place of hair? We're thisclose. Gazing directly into her eyes turn onlookers to stone? Looking at her does 'freeze' people making the viewer wish they were made of stone.
We made this match to see which one turns the other to stone first, although that may be considered incestuous when someone hooks up with their twin sister.

Homer Simpson & Chris "The Tingler" Matthews: Since both are notoriously fond of adult beverage, this one works like gang-busters. We think their ideal male bonding outing is a night at Mo's Tavern where they can drink themselves under the table on a nightly basis.
Bill Cosby & Jessica Rabbit AND The Eveready Bunny: Bunnies are a lot like Bill Cosby, in one important regard, since they can never get enough. When done with Jessica, Bill still has the Eveready Bunny who will keep going and going and going until even Bill says 'that's enough'. [Lorena Bobbett was a finalist on this one.]
Michelle Obama & Bigfoot: Poor Bigfoot, he suffers from jungle fever. That's cruelty to animals and the PETA punks may have something to say about that. [In addition to the obvious risks, a tryst with Bigfoot brings another risk. If you don't give the hairy beast a close inspection, you might accidentally hook up with Sasquatch Kardashian.]
Miley "The Wrecking Ball" Cyrus & Iran's Ayatollah Khamenei: Why? Because we're 'up to here', when it comes to watching this scrawny pop tart twitching her anemic stuff at us. Given that, we're more than ready for this match, since the Imam's first move will involve stuffing the twerker into a burka. In return, the old fart gets an undernourished wench whose jailbait-ish bod will appeal to the pedophile in him. I'd like to think that daily doses of some 'young stuff' would make him lighten up, but I'm not that far gone, yet.

Messiah Barry & E.T.: Despite the fact that Barry acts like he's from a different planet, his antics aren't the immediate cause for this pairing. I admit that this one is simply some wishful thinking on my part. Cutting to the chase, I want this fool gone-o-la, as in no longer reporting for work. Offing him won't work, because it would make him a martyr, and that's unacceptable.
On the other hand, an alien abduction - E.T. beams him aboard his ship - gets it done nicely. Barry would be whisked away into interstellar space on a one way trip to E.T.'s home planet where Barry is put on display as a prime example of human stupidity. Ideally, someone would be playing "They're coming to take me away, ha ha..", during Barry's abduction A pipe dream? Hell yes, but what's wrong with that?
Harry Reid & Room Temp Chicago Voter: Harry looks like death warmed over, anyway, so a room temperature Chicago voter is a perfect match. In fact, given Harry's sorry condition, most room temperature voters are in better shape.
Lance Armstrong & Mr. Peanut: Whenever Lance needs a new nut, Mr. Peanut can serve him up, and spank him with his cane for cheating. [Peter Paul Mounds and Almond Joy ran a close second on this, because like many of us, Lance would probably admit "sometimes you feel like a nut and sometimes you don't."]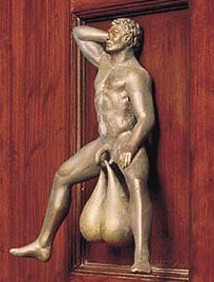 Michael Moore & Mama June: Why? Because I can easily imagine the look of horror on their faces when they crawl out of bed each morning then see each other, naked.
Justin Bieber & Skank Hilton: Justin is a relentlessly obnoxious little bastard who richly deserves a double dose of whatever kind of crotch rotting nastiness that's lurking inside Paris Hilton's diseased nads.
Al Jolson & Rachel Dolezal: This one is a slam dunk. Why? They're both famous for 'performing' their act in black face. Oh, Mammie.
Tom Brady & Pam Anderson: With Tom facing a 4-game suspension for participating in the deflated football fiasco, he'll need to find some distraction to take his mind off it. His supermodel wife, Gisele, is very comforting, no doubt, but she lacks the essential qualification: Pam's football size funbags. When Tom misses the feel of those partially deflated footballs, he can wrap his hand(s) around one - or both of Pam's soft, pliable, football-size cans.
Hank Johnson & Guam: Hank's claim to fame is this: "My fear is that the whole island [Guam] will become so overly populated that it will tip over and capsize," Johnson said.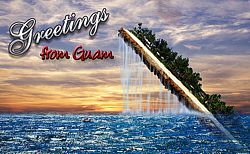 I think we should put this fool on Guam then feed him alarming, to him, population statistics and watch him lose his mind.
Any Border Jumping Scumbag & A Rand McNally Mapmaker: Chico, Lupe, and Juan won't be living in the shadows for very long, after meeting our mapmaker. He's ideally equipped to get them back where they belong, by the shortest, fastest, possible route.
Code Pink & ISIS: Code Pink peaceniks [individually and collectively] are out of their peace puke minds and need to have their heads examined. Thanks to ISIS' legendary removal service, that's deceptively simple. Better still, peace puke doesn't need be there during the head exam.
As usual, I've only scratched the surface on this one. I also have lots of unfinished business, because some names are hard to pair off. Here are a couple of those.
John Boehner: Blubbering John (aka Sobby) always seems to be crying. I don't pretend to know the nature of his problem, but I can tell you one thing. When I look at all the damage done on his watch, it's enough to make ME cry.
Al Sharpton: He's scum, and that's a fact. BUT, when it comes to a pairing, I draw a blank.
Given our oft proclaimed affinity for objective reality, why did We the PIGS travel so far down this 'if only' road that's paved with wishful thinking? Why indeed. We indulged our 'if only' notions because we enjoy it. If we did it justice, you enjoyed it too. If that's the case, I'm ready to unleash our 'Mission Accomplished' banner
Regrettably, We the PIGs don't control these things. That's a shame, in my opinion. If we wielded such power, the world might not be a better place, but it would be a lot more interesting not to mention way more fun. For now we're left with our wishful thinking. I hope it amused you, PIGster Sparky, because we enjoyed the hell out of perpetrating it.
We now return you to your regularly scheduled program: 'Liar Liar Pants on Fire' an unauthorized biography of Barack Obama.