The Libertard mind and the synaptic train wreck it contains, makes the lefties act out, in ways that manage to amaze, annoy, and amuse, all at once. That's why, this week, we decided to analyze some tales that made us stop and take second look. They range from garden variety 'weird' to the ragged edge of what Hambo calls 'deal-breaker weird'.
All of our examples seem much too bizarre to be true, but our sources are solid. Strange, but true is officially in play. So, I hasten to add, is 'what the hell are they smoking'.
Before we spend some quality time delving into a few epic tales which made us do a double-take, we'll give you two quick hits to bludgeon your head into the proper frame of mind.
Ebola
Much closer to the problem, Ivory Coast, Guinea-Bissau and Senegal have slowed the spread of ebola, by closing their borders. This has helped confine the ebola outbreak in Africa to Liberia, Sierra Leone, and Guinea.
It sounds like a winning idea to me, and most rational adults would agree. Since he isn't the least bit rational, and seldom acts like an adult, Barry has his own notions on the subject:
Obama said the experts have advised him that it's more effective to let West Africans into the U.S. than it would be to keep them out.
Instead of confining Ebola to the smallest part of Africa possible, Barry wants to import it.
You can't make this shit up.
Jihadikazes
How does this fool, Kerry, breathe with his head shoved so far up his ass? This week, he spouted off about ISIS, al Qaeda, Muslim Brotherhood, etc - muddying the waters by using the word 'extremists'. Stealing some of his rant from our PIGish satire, Bolt Neck categorically dismissed Islam as the root cause.
"The extremism that we see, the radical exploitation of religion which is translated into violence, has no basis in any of the real religions," he said. "There's nothing Islamic about what ISIL/Daesh stands for, or is doing to people."
Nope, it's all our fault - mostly our fault - because such things as:
Poverty among 'youthful Mideast populations.
Israel - 'the Israeli - Palestinian conflict'
Last but far from least, he blames - TA DA - climate change.
You can't make this shit up.
Okay, okay. Government officials are the proverbial low-hanging fruit. It's time to move higher up the tree.
Our next two epics feature Ivory Tower Eggheads who should be smart enough to know better.
Oh Deer
Located in Ithaca (New York) Cornell University seemed very welcoming for certain Empire State denizens. In fact, it's entirely too welcoming, for the white tail deer who infest the campus in large numbers. What to do?
The normal response would involve bringing in hunters to thin the herd, but tree huggers had issues with that, so the Eggheads took a different approach:
They chose to experiment with sterilizing many of the wild deer on campus while allowing periodic hunting on nearby land — and the result was something that nobody anticipated.
The method of contraception chosen by Cornell was tubal ligation, in which a doe's fallopian tubes are either blocked or severed. This prevents egg cells from reaching the uterus. Unlike chemical forms of birth control, tubal ligation is typically permanent and avoids the expense of capturing the same deer each year to maintain their infertility. At a cost of roughly $1,200 per deer, 77 does were captured and sterilized though tubal ligation. (Without the help of the Cornell University College of Veterinary Medicine, the costs would have been higher.) [Legal Insurrection]
The good: the birthrate went down and so did the number of does, but the number of deer stayed least the same. Mature bucks were arriving on campus in impressive numbers. Eventually some Eggheads understood the problem: they'd disrupted the reproductive cycle of the does they'd operated on.
The bad: At least 3 of the 77 does operated on got pregnant anyway.
The Ugly:
Under normal conditions, all female whitetails go into heat within several weeks of each other and become pregnant at around the same time. This annual event is called the rut. However, if a doe is not impregnated during the rut, it will enter heat again the following month and again the month after that. Because the ligated does were unable to become pregnant, they continued to produce chemical signals of readiness to reproduce — signals that can attract bucks from miles away.
They tried hunting/tapping, but it elicited an outraged howl from campus critter coddlers. Cornell officials decided to try sterilization: removing the ovaries from campus does. They did that to three does, but one of them got urped anyway.
Where there's a will there's a way.
Cornell still has a deer problem. On that subject, Cornell has no clue.
William Jacobson (Legal Insurrection) offered some sage advice to the Cornell clown posse: Stop. STOP. Just stop. STOP!!!!!
A Girl Named Timothy
A student who was born female felt perfectly comfortable identifying as a man at Wellesley College — until people said he shouldn't be class diversity officer because he is now a white male.
Timothy Boatwright was born a girl, and checked off the "female" box when applying to the Massachusetts all-women's school, according to an article in the New York Times. But when he got there, he introduced himself as a "masculine-of-center genderqueer" person named "Timothy" (the name he picked for himself) and asked them to use male pronouns when referring to him.
And, by all accounts, Boatwright felt welcome on campus — until the day he announced that he wanted to run for the school's office of multicultural affairs coordinator, whose job is to promote a "culture of diversity" on campus.
But some students thought that allowing Boatwright to have the position would just perpetuate patriarchy. They were so opposed, in fact, that when the other three candidates (all women of color) dropped out, they started an anonymous Facebook campaign encouraging people not to vote at all to keep him from winning the position.
"I thought he'd do a perfectly fine job, but it just felt inappropriate to have a white man there," the student behind the so-called "Campaign to Abstain" said.
"It's not just about that position either," the student added. "Having men in elected leadership positions undermines the idea of this being a place where women are the leaders."
Boatwright told the Times that his high-school friends knew he was transgender, but he identified himself as female on the application to Wellesley because he didn't want his mom to know. Of course, Wellesley is also a female school, and "it seemed awkward to write an application essay for a women's college on why you were not a woman," he said.
Okay we have a biological female who had one of those trendy, 'I'm really a guy named Timothy' brain farts.
Since she/he hadn't copied mom on that memo, she/he checked off 'girl', on the relevant Wellesley College paperwork.
Once she/he got settled in at the Estrogen Tower, she/he went all in on Timothy. So far, so good.
Timothy's saga hit a speed bump when 'he' decided to run for the school's office of multicultural affairs coordinator. Unwilling to sully themselves three other candidates dropped out. A backlash movement 'Campaign to Abstain' made 'him' bow out, too. So be it.
And now we arrive at the 'punchline', courtesy of the NYT:
"It wasn't about Timothy," the student behind the Abstain campaign told me. "I thought he'd do a perfectly fine job, but it just felt inappropriate to have a white man there. It's not just about that position either. Having men in elected leadership positions undermines the idea of this being a place where women are the leaders."
A white male? You're half right, cupcake, because she/he is melanin-challenged. BUT no matter what name she/he uses, Timothy is FEMALE.
I asked Timothy what he thought about that argument, as we sat on a bench overlooking the tranquil lake on campus during orientation. He pointed out that he has important contributions to make to the MAC position. After all, at Wellesley, masculine-of-center students are cultural minorities; by numbers alone, they're about as minor as a minority can be. And yet Timothy said he felt conflicted about taking a leadership spot. "The patriarchy is alive and well," he said. "I don't want to perpetuate it." [NRO]
"The patriarchy is alive and well. I don't want to perpetuate it." WTF! You're still FEMALE, gender-bender Sparky.
Everyone at Wellesley College is drinking the gender-bender Kool-Aid which is obviously TOXIC.
You can't make this shit up.
Voter Fraud on Steroids
If a Republican ever gets elected to statewide office in Colorado, it will be a miracle:
In 2013, a new Democratic state legislature rammed through a sweeping and highly controversial election law and convinced Democratic governor John Hickenlooper to sign it. The law, known as House Bill 1303, makes Colorado the only state in the country to combine two radical changes in election law: 1) abolishing the traditional polling place and having every voter mailed a ballot and 2) establishing same-day registration, which allows someone to appear at a government office and register and vote on the same day without showing photo ID or any other verifiable evidence that establishes identity. If they register online a few days before, no human being ever has to show up to register or vote. A few keystrokes can create a voter and a "valid" ballot. Once a ballot cast under same-day registration is mixed in with others, there is no way to separate it out if the person who voted is later found ineligible. Other jurisdictions that have same-day registration, such as Washington, D.C., treat the vote as a provisional ballot pending verification. Colorado immediately counts the vote. [NRO]
You can't make this shit up.
Ray Rice Halloween Costume
Ray Rice's claim to infamy is punching out his wife in an elevator, then dragging her out, afterwards. Charming! He's out of the NFL, but far from forgotten.
There are many hilarious, inoffensive costumes to wear for Halloween parties this month — Ray Rice is not one of them.
Plenty of people were disgusted when a picture of a man dressed as the disgraced running back was posted online.
The photo shows a man wearing Rice's No. 27 jersey dragging a blowup doll to represent his wife. [NYDN]
Here's that photo: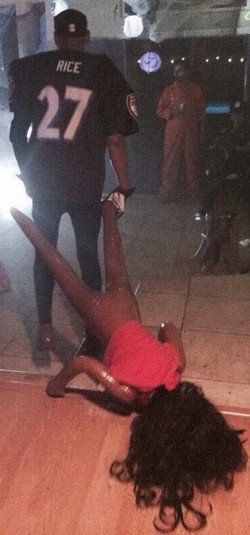 You can't make this shit up.