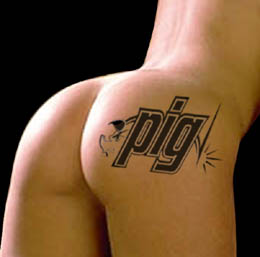 ATTENTION NO-NAD SHRIEKERS:
You demeaned us with your shrill rhetoric, your 'males are dumber than pet rocks' campaign...but we survived. You hounded us with man-hating harpies like Gloria Allred, Catherine McKinnon, Andrea Dworkin and Hillary 'Rod-Envious' Clinton...but we survived. You did your best to criminalize courtship, love and marriage...but we survived. You have lied, cried, shouted, pouted, connived, plotted, and schemed, in a vain effort to make it a capital offense to be born male...but we survived. Mildly annoyed, but otherwise unscathed, we chug our brewskie, belch, set aside our Sports Illustrated swimsuit edition, then take a long hard look at you, to determine why you're being such a pain in the ass. It's not a pretty picture.
Terminally enlightened, we're thrilled spitless that you perpetrated your own cable network...what a crying shame that Oxygen is on life-support, because even you whining NO-NAD's can't stand it. We, on the other hand, have ESPN and Fox Sports, both which are so outrageously popular that they had to clone themselves to handle all the viewers. We'll try to schedule time to feel your pain, if we ever stop laughing.
Now that the government empowered you with womyn-coddling laws, recognized minority status, and all those special privileges, maybe you could do us a favor. Sensitive, to a fault, we remain ready willing and able to ogle you, but we no longer feel a pressing need to listen to your relentless shrieking, so put a god damn sock in it.
Basking in the glow of your self-proclaimed superiority, we feel empowered to point out life's fun facts:
• The conveyance that hauled your wide-load dyke butt to the latest bra burning
was invented by a man.
• The entertainment technology that substantiates your oppression with vacuous
drivel like 'The View', 'Oprah' and 'Dr. Phil' was invented by a man.
• The communications technology that let you hound ABC about the Victoria's
Secret runway show was invented by a man.
• The information technology that helped you link up with the rest of your
relentlessly whining 'sisters' was invented by a man.
• The hovel where you huddle in your man-hating misery was built by men.
• The freedom you abuse so egregiously was paid for by the blood of uniformed
men.
If you want us to take you seriously, give up your car, your television, your phone, your computer, your home, move to Saudi Arabia and go live in a mud hut wearing a burka. Do that and, perhaps, we might consider taking you seriously. As much as we'd enjoy seeing you raise the bar for asinine NO-NAD antics, we're not holding your breath waiting for NO-NAD mental activity that exceeds pond scum intellectualism.
What, you must be wondering, is on our evil horndog minds? We're tired of mere survival...It's time to stand up, dust ourselves off and act like men. You started this fight, this gender war, and we let you get away with it. Those days are over and we're more than ready to fight back, because, when it comes to 'war', men wrote the damn book. You wanna play lumberjack...you damn sure better be ready to handle your end of the log...bitch, because we won't be playing by your rules anymore. Otherwise, shut up, sit down and leave us the hell alone...but bring us another brewskie, first.
– Love and Kisses
ATTENTION: If you are NOT, repeat, NOT a NO-NAD, then this page was in no way meant for you. If you are of the female persuasion, have "Incorrect" thoughts, and want to be on our team, please direct yourself to PIGALs.
– T. D. Treat