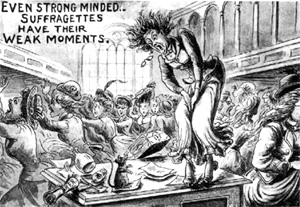 Light me up, again, Ben baby
Believe it or not, Ben Franklin owes the successful outcome of experiments with electricity to the contributions of his significant, female, other - a woman he, affectionately, called 'Zap' for her immeasurable assistance during his experiments with lightning. Before he moved on to his highly publicized antics with his kite and key, Ben had Zap stand on their home's roof...holding a metal rod over her head...during a particularly dramatic thunderstorm. Needless to say it was an...electrifying experience for all concerned.
PIG salutes Zap for her contributions to science.
Don't be a moron, Chris, ask somebody
Christopher Columbus's significant, female, other never gets the credit she deserves for aiding the directionally-challenged Italian's discovery of Amerika. Finding himself severely lost on his way to the exotic East Indies, Chris remembered his sweetie's parting advice, so he, belatedly, grudgingly, stopped to ask for directions. That's how he really blundered into the New World.
PIG salutes Chris's sweetie for her vital role in discovering Amerika.
Put a sock in it, motormouth
Henry Ford was immensely satisfied with his day job, until he got married. A relentless, marathon talker, Henry's bride made any trip - especially the long ones - seem like an eternity. Out of sheer desperation, Henry started his automobile firm so he could shorten those trips to a merciful minimum via his motorized - too noisy to hear the wench - ride.
PIG salutes Henry Ford's gabby bride for her contribution to Amerikan transportation.
A man's gotta do what a man's gotta do
Alexander Graham Bell only required one creature comfort to make him a very happy camper: some peace and quiet while he sat in his favorite chair reading his preferred fishwrap. Unfortunately, the charming Mrs. Bell loved having her galpals over so she could stay up to date on the latest gossip, thus disturbing Alexander's repose. Terminally distracted, a frantic Alexander invented the telephone to keep his bride in constant contact with her chums...from a distance. In addition to inventing the telephone, Alexander restored the peace and quiet he craved.
PIG salutes Mrs. Alexander Graham Bell for her contribution to telecommunications.
Pickles won't cut it this time, Marco
The only reason Marco Polo got up off the sofa was to go out into the world to get some munchies to satisfy his perpetually urped bride's preggers cravings. His epic journey to China began one memorable night when his especially cranky bride demanded: "Something different for a change. I don't care how long it takes or how far you go to get it." We're not told what Mrs. Marco said when her hubby returned, years later, with a tall tale and petrified pasta, but you gotta know she didn't greet her wandering fool's return with the silent treatment.
PIG salutes Mrs. Marco Polo for her contribution to Italian cuisine.
Doomed by wifely hyperbole
George Armstrong Custer's fate was sealed when he took his devoted wife's post-coital praise to heart. When she told him "You're the best, George. They haven't made the man who is your equal." he, erroneously, applied her words to his other manly pursuits. That's why he had no qualms about attacking all those enraged Siberian-Amerikans at the Little Big Horn. George learned, the hardest possible way, that pillow talk has no place on the battlefield.
PIG salutes Libby Custer for her generous contribution to Siberian-Amerikan self-esteem.
– T.D. Treat