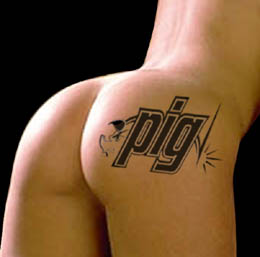 How Sexual Harassment Laws Make Every Man In America A Criminal
Sexual harassment laws were perpetrated by shyster bitches so that womyn could be 'empowered' to get any of their male coworkers fired, any time the mood strikes her and there's nothing a dude can do to stop her. If you've never taken a close look at these public accountability mandates (Federal and State Sexual Harassment laws), you're in the right place to discover why the source of the fear that now dominates the workplace. Not wishing to make you run to your Human Resources department, I'll share the Federal and State sexual harassment statues as they're given in a local company's sexual harassment policy.
The Federal Definitions of Sexual Harassment:
Unwelcome sexual advances, requests for sexual favors, and other verbal, visual or physical conduct of a sexual nature when either:
1) submission to such conduct is made either explicitly or implicitly a term or condition of an individual's employment;
2) submission to or rejection of such conduct by an individual is used as the basis for employment decisions affecting such individual; or
3) such conduct has the purpose or effect of unreasonably interfering with an individual's work performance or creating an intimidating, hostile, or offensive working environment.
No reasonable person has a problem with items 1 or 2, since they embody 'classic' sexual harassment - bed me or you're fired...bed me, if you want that raise/promotion. Item three, the Catherine MacKinnon inspired jewel, is the one that causes all the problems. 'Offensive working environment' is a completely subjective concept which is defined by the harassee (the woman in most cases) based on her feelings/sensitivities. Anything a man does - any man, be he coworker, subordinate or boss - which she 'feels' is sexually motivated can be cited as sexual harassment.
The State of California is even more 'inclusive' in it's definition of Sexual Harassment:
"Harassment because of sex and includes sexual harassment, gender harassment and harassment based on pregnancy, childbirth or related medical conditions."
Verbal harassment - such as epithets, derogatory comments or slurs.
Examples: Name-calling, belittling, sexually explicit or degrading words to describe an individual, sexually explicit jokes, comments about an employee's anatomy and/or dress, sexually orientated noises or remarks, questions about a person's sexual practices, use of patronizing terms or remarks, verbal abuse, graphic verbal commentaries about the body.
Physical harassment - assault, impeding or blocking movement, or any physical interference with normal work movement, when directed at an individual.
Examples: Touching, pinching, patting, grabbing, brushing against or poking another employee's body, hazing or initiation that involves a sexual component, requiring an employee to wear sexually suggestive clothing.
Visual Harassment - derogatory posters, cartoons or drawings.
Examples: Displaying sexual pictures, writing or objects, obscene letters or invitations, staring at an employee's anatomy, leering, sexually-oriented gestures, mooning, unwanted love letters or notes.
Sexual Favors - Unwanted sexual advances which condition an employment benefit upon an exchange of sexual favors.
Examples: Continued requests for dates, any threat of demotion, termination, etc., if requested sexual favors are not given, making or threatening reprisals after a negative response to sexual advances, propositioning an individual.
Using this Californski criteria, any woman could accuse any man of sexual harassment and be right. If I tell a woman 'you look nice, today' or 'that color looks good on you' and she chooses to interpret it as sexually motivated I'm guilty (Verbal Harassment - example includes 'comments on an employee's dress'). If I'm making a mess of my workplace to the extent that a woman is blocked off from a door or aisle, and she chooses to interpret it as sexually motivated, personal and deliberate I'm guilty (Physical Harassment - the definition itself...'impeding or blocking movement, or any physical interference with normal work movement when directed at an individual'.) If I happen to look at a female and she interprets my expression as sexually motivated, I'm guilty (Visual Harassment).
The fun fact about these laws is this: out here in the real world a man must determine which of his female coworkers has the most exaggerated sensitivity and limit his words/expressions/actions to her feelings/sensitivities. His speech and actions are no freer than his most sensitive female coworker will allow, no matter how insanely sensitive she might be. If women had such limitations placed on them their outrage would be deafening. And you wonder why men feel threatened. Maybe, it's because we are being threatened with unwarranted termination the instant a woman, any woman, chooses to accuse us.
It can't happen you say. I've seen it. At a local electronics company, a woman in the sales department accused a certain male coworker, a near minimum wage man in the assembly area, of sexual harassment because he looked at her 'that way'. By all reports, he liked to look at women, any woman, all women. He was one of those guys who stares too much, and probably too hard. Anyway, she went to the Vice President of Finance the focal point for all sexual harassment complaints, and accused this guy. By noon, that very same day, our assembly area horndog had been fired and escorted from the building. All the woman had to say was that 'he looks at me funny' or 'I don't like the way he looks at me' and the guy is GONE!!!!!! Unlike the public sector - where, by most reports, at least 70% of the sexual harassment claims are filed - where it's nearly impossible to terminate anybody, the private sector wastes no time in shedding a man who might be guilty for fear that his alleged actions are inviting a lawsuit or highly damaging investigation by the Department of Housing and Fair Employment or the Fair Employment and Housing Commission.
This sounds like much more than the 'slight equalizing of the power between men and women' that NO-NAD's used to sell this bovine excrement, and it certainly extends far beyond 'boss-subordinate sex'. With companies practicing scorched earth defenses where they instantly terminate a non-management type male just because some woman accuses him of sexual harassment, do you blame men for reacting so strongly? When it comes to sexual harassment, especially for non-management males, a man is guilty until proven innocent and even then he's never fully trusted, again.
I know dudes who go to extreme lengths to shield themselves from an unwarranted accusation: One requested third shift to drastically limit the number of women he encounters at work. Several never initiate a conversation with any female coworker and they keep their responses to women who initiate conversation as brief as possible and usually direct them to someone else for the information they need, even when they know the answer. Most of these dudes avoid making eye contact with female coworkers and make every attempt to avoid looking at them whenever possible. No doubt, their female coworkers judge them harshly for all this, but it's more than justified in this tough job market. Being called an 'asshole' or an 'arrogant bastard' is a lot better than losing your job because you used the wrong word, had the wrong look on your face, or inadvertently did something some hypersensitive female misinterprets as personal and sexual.
The more women's rights 'activists' and their apologists expand the definition of sexual harassment, the more real sexual harassment - bed me or you're fired, egregious groping, etc. - is trivialized. The result is that these NO-NAD zealots alienate well-meaning men who would otherwise support efforts to dismantle the barriers blocking women from realizing their full potential. The ultimate result of this alarming expansion of what constitutes sexual harassment is a dramatic chilling of the social interaction between the sexes. The days when a man might meet, court, eventually marry a woman he met at his workplace, a place where he spends at least a third of his life, are over. It's just not worth the risk.
I find this a very sad commentary on the state of male-female relations.
– T.D. Treat