"As you slide down the
banister of life, may the
splinters never point in
the wrong direction!"
– IRISH BLESSING
---
• PIG PLEDGE •
I Pledge Allegiance To The
Way Cool Dudes That Founded
The Free State Of PIG
Because PIG Is The Place
That Gets In Your Face
Regardless Of
Gender
Orientation
Or Race
---
THE GRINCH REPORT | TALES FROM THE GRINCHDOM
---

During the prime Grinch Season that starts immediately after Halloween Night and runs thru New Year's Day, PIG will keep you up to date - to the best of our ability - on the antics perpetrated by those seasonal pests, the Grinches.
PIG thinks Scrooge had the right idea, but picked on the wrong target, when he vowed to 'drive a stake of holly throught their hearts'. That sounds like a good beginning but shoving a King Kong size candy cane where the sun don't shine sounds like a much better fate to inflict on these pests who seem determined to expunge the Christmas spirit.
PIG promises to do it's best to cover all those pirme Grinch antics: the bans on trees, the hysteria over manger scenes, the panty twisting over the word 'Christmas', and all the other insanity.
Tis the season to be jolly and PIG won't allow these Grinch asshats to spoil it for us.
---
DECEMBER 22, 2012
---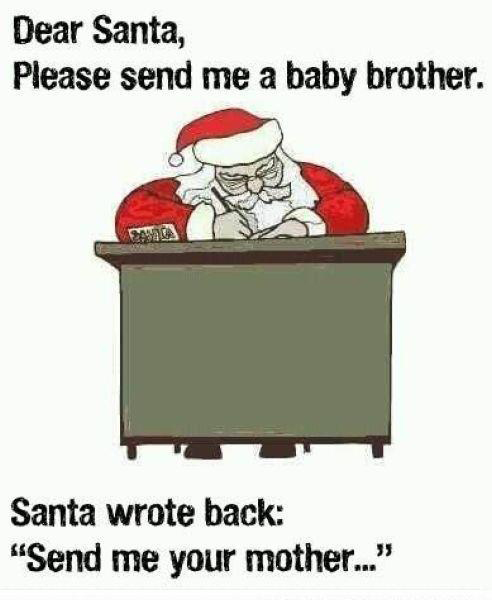 ---
DECEMBER 17, 2012
---
Dear Santa,

How are you? How is Mrs. Claus? I hope everyone, from the reindeer to the elves, is fine. I have been a very good boy this year. I would like an X-Box 360 with Call of Duty IV and an iPhone 4 for Christmas.

I hope you remember that come Christmas Day.

Merry Christmas,
Timmy Jones

Dear Timmy,

Thank you for your letter. Mrs. Claus, the reindeer and the elves are all fine and thank you for asking about them. Santa is a little worried all the time you spend playing video games and texting. Santa wouldn't want you to get fat. Since you have indeed been a good boy, I think I'll bring you something you can go outside and play with.

Merry Christmas,
Santa Claus

Mr. Claus,
Seeing that I have fulfilled the "naughty vs. nice" contract, set by you I might add, I feel confident that you can see your way clear to granting me what I have asked for. I certainly wouldn't want to turn this joyous season into one of litigation. Also, don't you think that a jibe at my weight coming from an overweight man who goes out once a year is a bit trite?

Respectfully,
Tim Jones

Mr. Jones,

While I have acknowledged you have met the "nice" criteria, need I remind you that your Christmas list is a request and in no way is it a guarantee of services provided. Should you wish to pursue legal action, well that is your right. Please know, however, that my attorneys have been on retainer ever since the Burgermeister Meisterburger incident and will be more than happy to take you on in open court. Additionally, the exercise I eluded to will not only improve your health but also improve your social skills and potentially help clear up a complexion that looks like the bottom of the Burger King fry bin most days.

Very Truly Yours,
S Claus

Now look here Fat Man, I told you what I want and I expect you to bring it. I was attempting to be polite about this but you brought my looks and my friends into this. Now you just be disrespecting me. I'm about to tweet my boys and we're gonna be waiting for your fat ass and I'm taking my game console, my game, my phone, and whatever else I want. WHAT EVER I WANT, MAN!

T-Bone

Listen Pizza Face,

Seriously? You think a dude that breaks into every house in the world on one night and never gets caught sweats a skinny g-banger wannabe? "He sees you when you're sleeping; He knows when you're awake". Sound familiar, genius? You know what kind of resources I have at my disposal. I got your sh*t wired, Jack. I go all around the world and see ways to hurt people that if I described them right now, you'd throw up your Totino's pizza roll all over the carpet of your mom's basement. You're not getting what you asked for, but I'm still stopping by your crib to stomp a mud hole in your a** and then walk it dry. Chew on that, Petunia.

Clizzy

Dear Santa,

Bring me whatever you see fit. I'll appreciate anything.

Timmy

Timmy,

That's what I thought, you little bastard.

Santa
---
SATURDAY, DECEMBER 15, 2012
---
Montana
Grinch panties are in a painful - we're going to sue - wad in Missoula (Montana, duh), because the songs selected for Chief Charlo Elementary School's holiday music program aren't secular enough:
[P]arents outlined their concerns in a letter sent to the superintendent of the Missoula County Public Schools district, stating, among many issues, they feel the programming is unfair, unconstitutional and is a form of bullying.

"With many of the children in our neighborhood up here being Jewish and Buddhist, as well as a few Muslim and atheist students, we were assured that this year it would be a secular program," said the letter, which was signed by "concerned parents" but listed no individual names.

"One of the largest complaints last year were the young children singing about 'their lord.' This was concerning to many families and it was clear that several of the students were uncomfortable."

The letter went on to say: "We have no problem with it being called a Christmas concert, it's just the fact the material should be secular. Frosty the Snowman, Santa Claus, Rudolph the Red-nosed Reindeer. These are things that offend no one, but when the children are singing about their lord and savior, Jesus Christ ... public school is not the place." (Missoulan)
Here's what has them setting their hair on fire:
School administrators explained that they take such matters very seriously and work hard to create an inclusive school environment.

This year was no different, and despite the parents' concerns about the school's concerts Wednesday, the programming was in fact quite secular, said John Combs, MCPS fine arts director.

During the morning concert, in which the K-3 classes sang, the song lineup was as follows: "Joy to the World," "Up On a House Top," "Jolly Old St. Nicholas," "O Christmas Tree," "O Come Little Children," "Deck the Halls," a Polish lullaby ( the words of which are sung to baby Jesus), a Hanukkah song, a pinata song, a Nutcracker rhythm piece, concluding with "We Wish You a Merry Christmas."

The afternoon programming, which the grade 4-5 classes performed included: "Season of Bells," "Dreidel Spins," "Good Christian Men Rejoice," "Merry Merry," "Jolly Old St. Nicholas," concluding with "Go in Peace."

"Every year, there will be some kind of complaint about the Christmas music," Combs said. "We hear it from both sides – it's too secular or it's too sacred. There's always something wrong with it.

"I've learned in the years I've been doing this that you can't win."
Get over yourselves, Montana Grinches.
Naval Support Activity (NSA) Bahrain
Thanks to some uniformed Grinches, a venerable Christmas custom has been scuttled:
The "Live Nativity" was a long-standing tradition at NSA Bahrain that featured the children of military personnel dressed as shepherds, wise men, along with Mary and Joseph. It was part of a larger festival that included a tree lighting, Christmas music and photographs with Santa Claus and a camel.

But the Military Association of Atheists and Freethinkers objected to the Nativity and filed a complaint with the Navy's Inspector General. They argued the Nativity promoted "Christianity as the official religion of the base."

The atheist group also worried that the Nativity put service members in danger.

"Also of concern is the likelihood that the predominantly Muslim local population will see the U.S. military as a Christian force rather than a secular military support U.S. – but not necessarily Christian values in their Muslim country," the MAAF wrote in their complaint. "This even threatens U.S. security and violates the Constitution as well as command policy."

"It's unconstitutional, it's bad for the military and in a Muslim country it's dangerous," MAAF spokesman Jason Torpy told Fox News.
Unfortunately, this 'free thinker' caterwauling worked, prompting this response:
"Upon further review, the CRP (Command Religious Program) will be removing the Living Nativity Program from the general base secular holiday festivities and co-locating it more appropriately with some of our other private religious and faith-based observances at the chapel at a separate time."
BITE ME, Grinch assholes.
---
SATURDAY, DECEMBER 08, 2012
---
Hawaii
I'm far from shocked that the state which allegedly spawned the titanic Marxist turd that is stinking up 1600 Pennsylvania Avenue has joined the Grinchdom. After pooping out that traitorous bastard, trampling on a beloved American holiday is kid stuff.
The target of this Grinchiness is a six year old Christmas tradition that involves the award winning musicians in Moanalua High School's orchestra which teamed up with volunteers from the New Hope Church for a concert whose proceeds go to a charity. Over the years, the concert raised $200,000 to treat poor people in Africa. They were on track to raise $30,000, his year, until the usual killjoys went shyster bonkers.
In a letter to the Department of Education, Mitch Kahle, founder of the Hawaii Citizens for the Separation of State and Church, took issue with the involvement of New Hope Church, which handles ticket sales and sells those tickets at its services.

"The issue here is an entanglement between a public school and a Christian church," said Kahle.

"And one of the things about the constitution is that it prohibits the involvement of public schools and churches." (Hawaii News Now)
This OUTRAGED pagan scribbler thinks Mitch Kahle should STFU and crawl back under his rock.
Mexifornia
Located in Newhall (Mexifornia), the Willows is an apartment complex whose residents are senior citizens. This week, in addition to the usual age-related speedbumps, the residents of the Willows have another misery on their hands:
Residents in a Newhall senior apartment complex are protesting an order from management to remove their beloved Christmas tree from the community room because, they were told, it's a religious symbol.

On Tuesday, Tarzana-based JB Partners Group Inc. sent a memo to staff at The Willows senior apartment building demanding they take down Christmas trees and menorahs in communal areas.

The company has owned The Willows for four years, but this is the first time it's given such a directive to staff. (L.A. Daily News)
The Willows residents sent out a "Please Save Our Tree", hoping for a miracle. I'm pleased to report that - due to thunderous outrage from sea to shining sea - the Grinches beat a hasty retreat:
NEWHALL, Calif.--(BUSINESS WIRE)--

Michael Gold, senior director of operations for JB Property Group, the management company for The Willows Senior Apartment Community, responded today to concerns raised by the residents related to the installation of holiday decorations in the community room of the Newhall, CA project.

"We apologize for any misunderstanding that may have arisen in regards to the installation of holiday trees and other holiday decorations in the community room of The Willows Senior Apartment Community," said Gold. "It was never our intention to in any way inhibit the celebration of Christmas, Hanukah, Kwanza or any other religious or cultural holiday which falls at or near year's end. We have always been sensitive to the fact that our properties have a diverse tenant profile which needs to be considered when determining the most appropriate methods for recognizing and celebrating these holidays. With this in mind, we seriously regret the extent to which this has impacted the residents of The Willows, and understand and appreciate their concern about losing their traditional decorations. In light of this, we have authorized the re-installation of a tree, which has been decorated by the residents themselves."
Feedback is a bitch.
Beserkeley (Mexifornia)
On November 14, at Cal Beserkeley, the student politburo passed a Grinchy resolution that would ban the Salvation Army bell ringers from campus, citing the organization for homophobic bias. Isn't liberal tolerance thrilling?
UC Berkeley is "reviewing" whether or not they will prohibit the Salvation Army from operating on campus this Christmas, after students passed a resolution condemning the charity.

The resolution, cleared on November 14, accuses the charity of openly discriminating against gay individuals.

"Salvation Army church services, including charity services, are available only to people 'who accept and abide by the Salvation Army's doctrine and discipline,' which excludes homosexuality," reads the bill, SB 176.

In the resolution, the student body also demands school administrators revoke the Salvation Army's permit, which currently allows them to collect donations on the Berkeley campus.

"Allowing the Salvation Army to collect donations on campus is a form of financial assistance that empowers the organization to spend the money it raises here in order to discriminate and advocate discrimination against queer people," it adds. (Camps Reform)
A free exchange of ideas? Yeah right. Now tell me the one about the Easter Bunny.
Cottondale (Flori-Duh)
For year it enjoyed an honored place on the lawn of Cottondale Elementary School, but not this year. The lights and other decorations are on the job, but not the venerable Nativity which is still in its storage containers. If you're thinking 'Grinch' you're absolutely right.
Principal Brenda Jones told television station WJHG the decision to keep Baby Jesus in the closet came after an official with the Dept. of Education dropped by to discuss the separation of church and state. "The Dept. of Education came in and talked to us about the legalities of religion in the school systems and the separation of the two," Jones told the television station.

In an attempt to be fair to everyone, the principal said, "We decided that we would just not put the Nativity scene out on campus." (Fox News)
This Grinchiness doesn't thrill the snot out of many Cottondale residents and this pagan scribbler isn't thrilled spitless either.
[F]ormer board member Betty Duffee told the Jackson County Floridan that she believes the principal had no choice.

"There are people in the community that are threatening to sue the school board (over separation of church and state issues), and it costs a tremendous amount of money to defend something you know you will lose," she said. "It's not that we're against it; it's just that the federal law prohibits it," she said. "I know it's hard to see this happen, because it feels like we're losing a freedom, but this is the state of affairs in this nation," she said.
Truer words, PIGsters. True words.

---
FRIDAY, NOVEMBER 30, 2012
---
The Grinches are spreading their special brand of joy again, so what else is new?
Colorado Springs (Colorado, duh)
This outburst of Grinchiness isn't a frontal assault on Christmas, but one of the casualties is the iconic Salvation Army bell ringer. Starting on December 1, 2012, the city's newly minted panhandling law goes into effect. In addition to banishing panhandlers, the law also outlaws the Salvation Army, because under this law they're just another panhandler.
If you're getting ready to cast aspersions, make sure you target the right people. The prime movers in this case are downtown business owners, who threatened to abandon the area, if something wasn't done to deal with all the panhanders. Perhaps, it was intentional, perhaps not...whatever the case, the new panhandling law silences Salvation Army bells and boots the bell ringers from the city.
The Salvation Army deserves better.
North Carolina
Another day, another Ivory Tower assault on some students' Freedom of Speech. It happened at Western Piedmont Community College, when a club decided to stage a Christmas tree sale. No harm, no foul? You know better.
Ivory Tower officials decreed that the students were not allowed to invoke the word "Christmas" when promoting their Christmas tree sale. If you think that stinks, you're not alone:
"It's ridiculous that anyone would have to think twice about using the word 'Christmas' as part of a Christmas tree sale," said Matt Sharp, an attorney with Alliance Defending Freedom.

ADF sent a letter to officials at Western Piedmont Community College urging them to either reconsider their decision to censor the word "Christmas" – or else face a possible lawsuit. (Fox)
Nice work Ivory Tower assholes.
Louisiana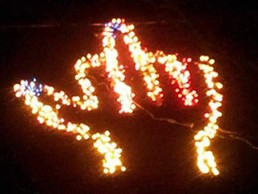 A Denham Springs woman, Sarah Henderson, needed. to send message to her neighbors, so she deployed a very special Christmas light display on her roof in the shape of a human hand flipping the bird. It was amazingly effective, because her neighbors whined about it to the proper authorities.
Denham Springs Police Corporal Shawn Perkins paid her a visit. Corporal Perkins said the woman told him she put the display as a direct message to her neighbors. "It was a message to an ongoing dispute she was having with other homeowners on that same street," Perkins told WWL First News.

Perkins says he informed Henderson that the display was in violation of obscenity laws and that it must come down, or else. "She agreed that it wasn't worth the possible hassle of fines and legal action," Perkins said.
Game, set, match? Not yet, because the Louisiana ACLU infestation jumped in on Sarah's behalf:
"The First Amendment expressly, explicitly, makes clear that even things like the raised middle finger are protected speech," says Executive Director Marjorie Esman. Esman sent an open letter to the Denham Springs Police Department "to ensure that no such fines are levied or other penalties imposed if Henderson chooses to reinstall her controversial holiday display."
Stay tuned.
Arkansas
On Dec. 14, at the Agape Church in Little Rock (Arkansas), some thespians will perform "A Charlie Brown Christmas. Any student at Terry Elementary School who wishes to attend may do so, but each will need to pay $2 to help pay for the bus rides to and from the performance. Since attendance is NOT mandatory, this would appear to be no harm, no foul.
One parent got a wild hair up her ass about it and whined to the Arkansas Society of Freethinkers (an Atheist cabal).
"We're not saying anything bad about Charlie Brown," Anne Orsi, a Little Rock attorney and vice president of the Arkansas Society of Freethinkers, told KARK 4 News. "The problem is that it's got religious content and it's being performed in a religious venue and that doesn't just blur the line between church and state, it oversteps it entirely." (Fox News)
Don't they have anything better to do?
© Copyright 1993-2012 PIG - The Politically Incorrect Gazette
---
---