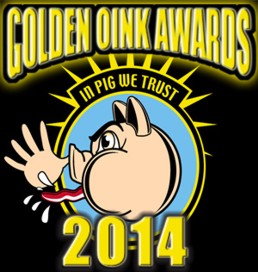 Every week, the PIG staff buries the hatchet - invariably in one another - and sits down for our weekly awards selection shouting match, punchout and melee. Battered, bruised, and amazed that we survived another contentious confab, we try to muster a some semblance of professionalism while we salute those Standup Guys and Gals and administer bitch-slaps on the richly deserving. Originally named Props And Chops we decided to give this awards page a more illustrious name: Golden Oinks 2013.
PIG's Golden Oinks Selection Committee singles out the following individuals and/or groups for special PIG attention.
Panty Twister of the Week:
Some Southern-Fried pinheads in Richmond (Virginia) have their panties in a wad over this piece of urban art.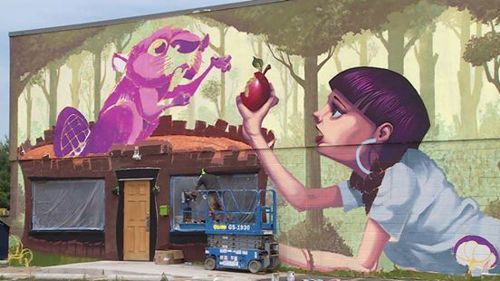 Why? I suspect it's the kind of visceral reaction a rational adult might expect in a state that puts a Clintonista [Terry McAuliffe] in the governor's mansion. Some people never learn. [Sigh.]
So what's the problem? Location, location, location. It's on the side of a 'high end' adult store. So what? What if THE CHILDREN are lured into the store?
RICHMOND, Va. – Some viewers contacted WTVR CBS 6 News when they spotted a mural being painted on the side of an adult bookstore in Richmond.
The vibrant, cartoonish work depicts a female feeding a purple beaver an apple. But some fear the colorful creation may attract children.
Jason Sears has nothing but praise for the mural, but questions where it was installed.
"It's beautiful… It's just scary that a kid might come in and expect to see a children's book store," Sears said.
The Taboo location on Midlothian Turnpike is one of three high-end adult stores owned by Alison Barber.
I'm tempted to get snarky about a beaver being painted on the outside wall of an outpost of adult capitalism, but I'll resist the temptation.
Twisted Twaddle of the Week:
Maybe it's time to stop calling them the GIRL Scouts of America, now that they've succumbed to the Siren song of GLAAD BAAGism. Succumbed? Yup. Henceforth, the genderally confused meet the new, egregiously expanded definition of 'Girl'.
[Breitbart] The Girl Scouts of America (GSA) is the latest organization to cave to pressure from the LGBTIQA lobby, adapting its policies to extend membership to boys who identify as girls.
<snip>
On the GSA website, the association states: "If the child is recognized by the family and school/community as a girl and lives culturally as a girl, then Girl Scouts is an organization that can serve her in a setting that is both emotionally and physically safe."
Maybe it should be called the Girl, Almost Girl, & Transvestite Trainee Scouts.
Mecca Mania Muzzle of the Week:
[Breitbart] While a national debate regarding religious satire and the First Amendment remains ongoing, a group of free speech advocates and artists hoped to become a part of the discussion next month.
Despite months of planning, they were informed Tuesday their series of short plays addressing censorship of arts and culture was canceled by a New York venue over concerns one of the acts might be offensive to Muslims.
According to The New York Times, the "Playwrights for a Cause" event was set to feature four new short plays about censorship of the arts on June 14 at the Sheen Center for Thought and Culture in Greenwich Village.
While the event was intended to combat censorship, William Spencer Reilly, the executive director of the non-sectarian venue, essentially censored it over an act regarding Mohammed, which is sexual in nature.
The title in question: Mohammed Gets a Boner.
The act is a monologue by Neil LaBute, a critically acclaimed screenwriter, filmmaker and playwright, and is at odds with the Sheen Center's mission statement, which states the venue hopes to serve both Catholic and non-Catholic audiences.
"When an artistic project maligns any faith group, that project clearly falls outside of our mission to highlight the good, the true, and the beautiful as they have been expressed throughout the ages," Reilly told the Times.
Reilly reportedly green-lit the event in February, but told the paper he had only become aware of the title of the play earlier this week, after a staff member noticed it online.
A group of free speech advocates censors themselves? What the hell are they really advocating? Whatever it is, it has nothing to do with Freedom of Speech.
Mohammed Gets A Boner! I'm green with envy that I didn't think of it.
Korrectniks of the Week:
The Eggheads running ASU (Arizona State University) decided to create some user friendly areas on campus, where cars, bicycles and motorcyles were banned. Meant for pedestrian traffic only, the Ivory Tower named them 'walk-only' zones.
No harm, no foul? You know better.
College Insurrection reports:
Students at Arizona State University are petitioning the college to drop the name of "walk-only" zones, claiming the word "walk" is both offensive and "ableist."
Walk-only zones on ASU, according to the campus website, prohibits cars, bikes, and motorcycles from using the path. The name, however, has a number of students upset.
Some ASU students have taken offense to the term and have posted their grievances online and have started a petition.
"ASU is one of the largest universities in the United States and is a place of work, learning, and leisure to over 75,000 people on campus," the petition begins. "Enforcing "Walk Only" zones onto campus property marginalizes disabled bodies who cannot walk."
The title of the petition is named "Change the name to "Pedestrian Only" or any other inclusive title." Asking to change the zones to "Pedestrian Only," however, is an extremely odd request, because "pedestrian" comes from the Latin word "pedester," which means someone is literally "on foot" walking.
The petition concludes, "This petition is in effort to make a more blanket title for these zones that encompasses the diversity of all bodies who occupy the community that is ASU."
If this is as bad as it gets for these hypersensitive whiners, life is good and they should STFU and get on with it.

Moonbats of The Week:
When it comes to giving objective reality the finger, nobody matches the moonbats who infest government cess schools, in such large numbers. The A IS REALLY B crowd has outdone themselves, this time, as demonstrated by this prose from Moonbattery.
One of the nation's largest public school systems is preparing to include gender identity to its classroom curriculum, including lessons on sexual fluidity and spectrum – the idea that there's no such thing as 100 percent boys or 100 percent girls.
Except in biological reality. But objective reality has no place in realms where liberals have achieved total dominance.
Fairfax County Public Schools released a report recommending changes to their family life curriculum for grades 7 through 12. The changes, which critics call radical gender ideology, will be formally introduced [this] week.
This why once-proud Virginia is a purple state now. The toxic slime that characterizes the Beltway has been seeping into the DC suburbs.
Here's what middle school kids will be taught:
"Students will be provided definitions for sexual orientation terms heterosexuality, homosexuality and bisexuality; and the gender identity term transgender," the district's recommendations state. "Emphasis will be placed on recognizing that everyone is experiencing changes and the role of respectful, inclusive language in promoting an environment free of bias and discrimination."
That is to say, an environment free of thought criminals who are slow to embrace sexual perversion.
This same school allows boys who "identify as girls" to use the girls restrooms and locker rooms. Progressives regard this as progress. If you want to feel a cold chill up your spine, just ask yourself: progress toward what?
George Orwell was an optimist!
Fugitive of the Week:
[CBC] Randy Quaid and his Canadian wife kept a low profile while living in what appears to be an above-garage apartment on a secluded Montreal street, says next-door neighbour Ivan Mulkeen.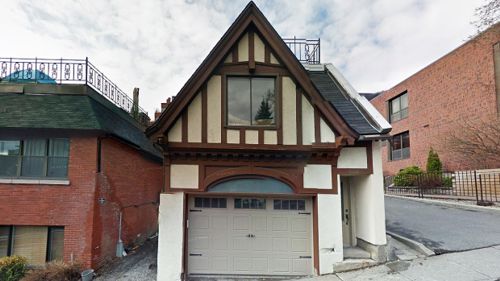 "I was as surprised as anyone, I think," said Mulkeen, who lives near the corner of Simpson and Doctor-Penfield avenues.
He said he'd been casually following Quaid's escapades after the actor disappeared a few years ago.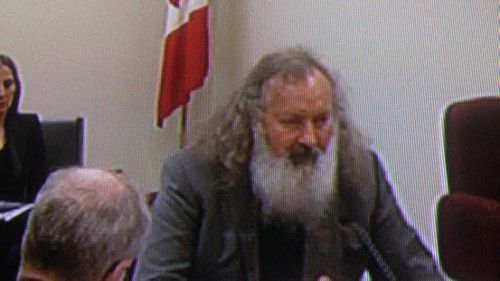 Actor Randy Quaid appeared before a member of the Immigration and Refugee Board on Tuesday, at the Guy-Favreau Complexe in downtown Montreal. (Steve Rukavina/CBC News)
Quaid and his Canadian wife Evi applied for refugee status in Canada in 2010, claiming they were being persecuted in the U.S. and were possible targets of so-called "Hollywood star-whackers" who were bent on killing actors.
Until last Thursday, the government had no idea where Quaid had been living after he failed to show up for an Immigration and Refugee Board interview in 2013.
"He was living in a small sort of building that's right behind our garage, it turns out," Mulkeen said.
"Our garage has a finished suite above it and i think he was living in a sort of equivalent one."
Mulkeen was home while the police arrested Quaid, but didn't even notice until his partner's mother told them about it.
"There were a lot of cops here, yeah — that's what tipped us off to something going on, but I was fairly oblivious to what was happening," Mulkeen said.
Randy Quaid: A Gift That Keeps On Giving
correct one?

.
Have you seen our 2014 Golden Oinks of the Year?