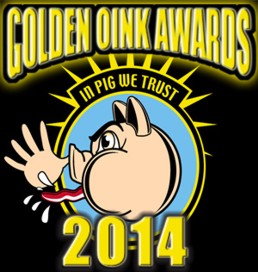 Every week, the PIG staff buries the hatchet - invariably in one another - and sits down for our weekly awards selection shouting match, punchout and melee. Battered, bruised, and amazed that we survived another contentious confab, we try to muster a some semblance of professionalism while we salute those Standup Guys and Gals and administer bitch-slaps on the richly deserving. Originally named Props And Chops we decided to give this awards page a more illustrious name: Golden Oinks 2013.
PIG's Golden Oinks Selection Committee singles out the following individuals and/or groups for special PIG attention.
Date Awards Bestowed: July 26, 2014
Human Genepool Improvement Volunteer of the Week: The key ingredients in this HGPI epic are a risk-taking moron, his couldn't hit the broad side of a barn friend, a bulletproof vest, and a .22caliber firearm.
Our eager HGPI hero, Darnell Mitchell filed his volunteer application when he put on this aforementioned bulletproof vest then asked his friend, Mark Ramiro to shoot him.
Standing at point blank range, Ramiro sealed his fate, and Mitchell's when he aimed at the bulletproof vest, and missed it. Mitchell's application was immediately stamped accepted. The fates, aided by the proper authorities had thrilling news for 'dead-eye' Ramiro, who faces homicide and weapons charges.
Bitch-Slap of the Week: I laughed like a mental patient, when I read about 'it'. It, in this context, happened during a recent visit by 'bolt neck' - John Kerry - to Egypt.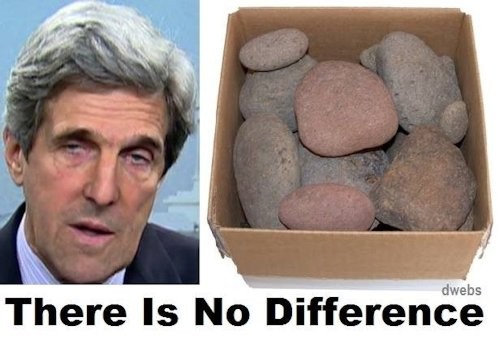 An unusual screening process occurred involving Kerry and his State Department team as they were subjected to a metal detector before meeting with President Abdel-Fattah el-Sissi at the Egyptian presidential palace.

Reuters reports that Kerry and his aides were checked with a metal detector. Security personnel reportedly raised a handheld metal-detector wand to Kerry's suit jacket before waving him through.

Kerry's aides were also subjected to the handheld wand and were told to walk through a metal detector. [CBS]
Now that's funny. I don't care who you are.
Diversity Dunces of the Week: Already egregiously diversity bonkers, the University of Wisconsin (Madison) is taking affirmative action into the Twilight Zone, by demanding proper diversity in grades. In other words, grades will be awarded based on race and/or ethnicity.
When UW economics professor W. Lee Hanson analyzed the voluminous diversity plan, he took special notice of affirmative action grading:
Professor Hansen writes: "Professors, instead of just awarding the grade that each student earns, would apparently have to adjust them so that academically weaker, 'underrepresented racial/ethnic' students perform at the same level and receive the same grades as academically stronger students.

"At the very least, this means even greater expenditures on special tutoring for weaker targeted minority students. It is also likely to trigger a new outbreak of grade inflation, as professors find out that they can avoid trouble over 'inequitable' grade distributions by giving every student a high grade." [CI]
The mighty hyphen trumps academic excellence at UW, making the degrees it bestows meaningless.

Bimbo Eruption of the Week: Shrillary has her tongue candy - Huma - so it's only fair that Bubba has his 'Energizer'. Energizer? Exactly.
The New York Post dished these juicy morsels.
Bill Clinton reportedly has a buxom blond mistress who visits so often when Hillary Clinton isn't home in Chappaqua that the former president's Secret Service detail have given her an unofficial code name: Energizer.

This is according to Ronald Kessler in "The First Family Detail: Secret Service Agents Reveal the Hidden Lives of Presidents," due Aug. 5 from Crown Forum.

Kessler is no stranger to the controversies surrounding the Secret Service.

He broke the story that Secret Service agents protecting President Obama in Cartagena, Colombia, hired prostitutes, and put the president in jeopardy.

The book, portions of which I've obtained, says none of the normal protocols are followed when Energizer arrives in her SUV, sometimes just minutes after Hillary has left the Westchester house.

Kessler quotes a supervisor informing a new agent: "You don't stop her, you don't approach her, you just let her go in."

Energizer, who is described as charming and friendly, sometimes brought cookies to the agents, according to the book excerpts.

One told Kessler: "It was a warm day, and she was wearing a low-cut tank top, and as she leaned over, her breasts were very exposed. They appeared to be very perky and very new and full…There was no doubt in my mind they were enhanced."

Kessler also reports that Hillary's Secret Service detail informs Bill's Secret Service detail when the former First Lady is coming home, so Bill has time to get Energizer off the property and clean up any evidence.

But once, the warning came late. "The agents had to scramble to get Energizer out of there so there wasn't some kind of big confrontation."
Bubba is still a relentlessly fun guy.
Excuse of the Week: The magic moment happened while 25 -year-old Prionda Hill was motoring on a Fort Wayne (Indiana) byway. That's when Old Ka-Boom stepped in, according to our heroine: 'God tole me he would take it from here'. What did she do?
She let go.
The car veered off the road and hit a motorcycle ridden by Anthony Olivery.
Anthony was knocked off his motorcycle, then run over by Prionda's ride.
Folded, spindled, and mutilated, Anthony survived the incident which left him in constant pain. 'The accident broke all of Olivery's ribs on his left side, cut his spleen, bruised his kidney and caused severe injuries to his left arm and leg.'
Bagged, tagged, and dragged, Prionda will need a much better excuse if she's going to ward off a laundry list of charges: failure to stop after an accident and criminal recklessness with a deadly weapon.
Moron of the Week: Dumb is playing chicken with rampaging bovines at annual running of the bulls in Pamplona (Spain).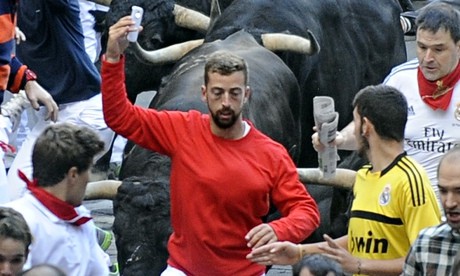 Stupidity on steroids is this fool who took a selfie of himself playing chicken with the rampaging bulls:
Police in Pamplona are searching for a bull runner who they believe snapped a selfie as he ran just inches ahead of several charging bulls weighing more than a half a tonne each.

As the young man slowed to take a photo in one of the final stretches of the fifth bull run of the San Fermín festival on Friday, he was captured on camera by several Spanish media. He now faces a fine of up to €3,000 under regulations passed this year by the city of Pamplona. The regulations, designed to crack down on dangerous behaviour during the festival, prohibit the unauthorised use of any kind of recording device during the bull runs. [Guardian]
It's a pity that the fickle fates weren't paying attention.
Flori-DOLT of the Week: A boob tube reporter did a header into jaw-dropping stupidity at the TSA checkpoint in Orlando International Airport (Flori-DUH). When asked for some valid I.D., Justin Gray served up his District of Columbia driver's license.
When Gray handed the man his driver's license the agent demanded to see Gray's passport.

Gray told the agent he wasn't carrying his passport and asked why he needed it.

The agent said he didn't recognize the license.

Gray said he asked the agent if he knew what the District of Columbia is, and after a brief conversation Gray realized the man did not know.

Gray was able to get through security and then stopped to complain to a TSA supervisor.
Is this the smoking gun on government cess-schooled idiots with self esteem? Perhaps, but since it's Florida, the TSA twerp could be a self-made idiot.
Brass Nads of the Week: Later identified as a banker, our hero is a hot handed horndog who must have brass nads. Dressed in khaki pants a blue polo shirt, and TSA issue plastic blue gloves, Horndog lurked near the TSA checkpoint, looking for likely victims.
He managed to waylay two women, both foreigners, then got them to accompany him into a private booth used for pat downs. That's right, he groped the two women right under the TSA's nose.
Real TSA agents became suspicious of the man when he was seen ushering another woman into the private screening area, because men are only allowed to screen women in the booths if a female agent is present.

The 53-year-old man was detained until police arrived. He faces a public drunkenness charge, but could face additional charges. [CBS SF]

The real TSA twerps must have finally heard the clanging of his brass nads.
Heroes of the Week: A veteran, Michael Sulsona, knew his wheelchair was thrashed, but the V.A. was taking its time getting him a new one. Unable to wait, he decided to fix it himself. Fate took that matter out of his hands, when his chair broke down in a Staten Island Lowe's.
When Michael made noises about fixing it, three Lowe's employees took charge of the matter.
"They tore the wheelchair apart. They tried all different types of bolts. I was thanking them, and they said, 'You're not leaving here until the wheelchair is like new.'" [AOL]
That's a shining example of the America I venerate.
Devoted Daughter of the Week: When her step-dad, Dave, married Kristin Russell's mother, he made a very difficult decision. Beset by financial challenges, Dave sold his prize possession, a 1973 Porsche 914 2.0L. Since then, he has proved himself, time and time again, as Kristin's dad, a fact that made her want to give him a memorable 'thank you'.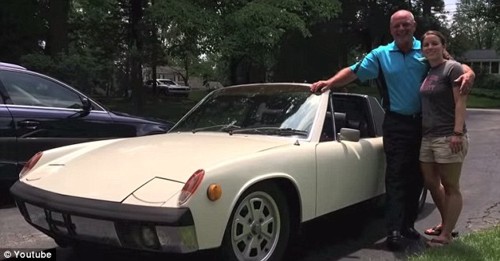 In 2012, Kristen launched a 2-year search for a car identical to the one he sold. When she found it in Arizona, Kristen traveled the 700 miles from her Mexifornia home to pick it up. Just getting started, she had it transported to a car wrangler near her parents' Philly home.
Kristen succeeded in getting the car ready, for a Father's Day delivery. The Daily Mail shared these details of that very special day, describing the video of the events as follows:
At first Kristin appears in the living room at home giving her stepdad a card before telling him that she can hear something outside.

The two then exit through the front door and Dave immediately spots his former dream car parked in the driveway.

Woman surprises stepdad with replica of his old, beloved Porsche

'Who's is this?' he asks Kristin as he gives the motor an admiring glance.

When he's told it is his, Dave is left lost for words.

'Get the hell out of here . . . I don't believe!' he exclaims, beaming from ear to ear.

He and Kristin then share a long embrace with other family members heard cheering in the background.

After standing stunned for a moment Dave is then encouraged to get into his new car and take it for a spin.

Reliving his youth, he is seen playing with the Porsche's pop-up headlights.

He then revs up and drives off down the road.

Kristin didn't reveal how much she paid for the Porsche but according to the car insurance company Hagerty, the average market price for that particular model is $14,822.

She said that it was a great feeling 'do something nice for a guy who has always done absolutely anything he could for me.'
Dave, dude, you're a hell of a dad who has an awesome daughter.

.
Have you seen our 2013 Golden Oinks of the Year?