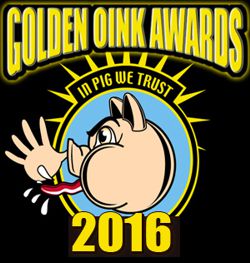 Once again, the PIG staff buried the hatchet - invariably in one another - and sat down for our awards selection shouting match, punchout and melee. Battered, bruised, and amazed that we survived another contentious confab, we try to muster a some semblance of professionalism while we salute those Standup Guys and Gals and administer bitch-slaps on the richly deserving. Originally named Props And Chops we decided to give this awards page a more illustrious name: Golden Oinks.
PIG's Golden Oinks Selection Committee singles out the following individuals and/or groups for special PIG attention for their amazing, amusing, and or inspiring antics.

Hero of the Week
[Mbatt] Curt Schilling Commits More Thought Crime on Social Media
Legendary baseball great and infamous thought criminal Curt Schilling has really done it now: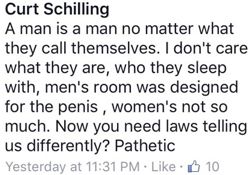 If that wasn't enough to make him persona non grata for life at militantly leftist ESPN, how about sharing this: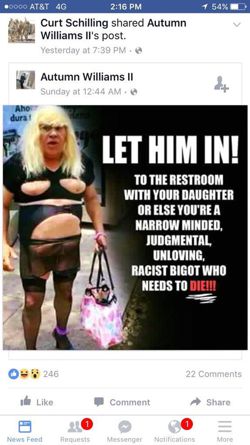 Schilling was already in the dog house at ESPN for warning about the threat posed by Islam, which got him suspended. Now,
An ESPN spokesman told Boston.com in a statement Tuesday evening, "We are taking this matter very seriously and are in the process of reviewing it."
Transsexuals are of course sacred to liberals, who regard it as so intolerable that anyone would not encourage male perverts to use private facilities intended for women and girls that many musicians who are past their prime and struggling to regain relevance (Bruce Springsteen, Ringo Starr, Pearl Jam, Bryan Adams) noisily refuse to perform in states like North Carolina where this is not allowed.
To the ultra-lefties running ESPN, Schilling's ideological intransigence must be sheer blasphemy. This is the outfit that at the ESPY awards last summer gave its Arthur Ashe Courage Award to Bruce Jenner on the grounds that he was an athlete decades before becoming a transvestite.
Schilling has also provoked controversy by opining that Hillary Clinton should go to jail for her crimes.
His athletic career is worthy of the Hall of Fame, but it will not save his job.
Schilling will be made an unperson. But fans of the 1993 Phillies, 2001 Diamondbacks, and 2004 and 2007 Red Sox will remember him forever.

Convert of the Week
LiLo is converting to Islam:
Page Six reports:
"I'm a very spiritual person and I'm really open to learning," the Catholic-born actress told The Sun on her conversion to Islam.
Lohan, 29, who was spotted carrying a copy of the Koran while tending to her community service in New York last summer, also said there's more to the text than what many people have been led to believe.
Good luck with that, Cupcake.
Gender Unbender of the Week
[NYDN] Bruce Jenner is back. Kind of.
A Florida actor and bodyguard changed his name to the former moniker of the transgender Olympic gold medalist — who now goes by Caitlyn — in a bizarre bid to preserve its "heterosexual roots" and keep the name of an icon alive.
Mark Behar — who once worked as a body guard on the set of "Keeping Up with the Kardashians" — legally changed his name to Bruce Jenner in February, he told the Daily News Tuesday.
"This name once stood for America, and I just want to keep it alive," he said. "I've been seeing so many idols and athletes and icons die because of stupid stuff like drugs, die because of age … We're losing icons. Were' losing names. We're losing people faster than we ever have."
The body guard formerly known as Mark Behar has worked for the Kardashian family.
The Delray Beach body guard insisted he isn't homophobic — but claimed the actor-turned-reality TV star transitioned to gain attention and fame, not to be true to her identify.
"I am not anti-gay and I have no problem with him changing his sex, but the way he did it, in my mind it was not proper," the new Jenner said. "It was all for hype."
The Florida man wants people to remember Bruce Jenner as an Olympic athlete — not as Caitlin Jenner.
Feel Good Story of the Week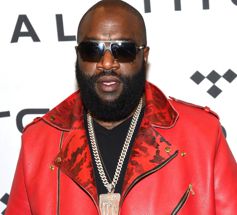 [Mbatt] White House Guest's Ankle Monitor Goes Off
Making an unsavory community organizer the President of the United States means bringing people like this into the White House:
Rick Ross was like a loud fart in a quiet room when his ankle bracelet went off over the weekend at the White House.
Ross was there along with a bunch of other rappers — Nicki Minaj, Busta Rhymes, J. Cole, Wale and DJ Khaled — to support Obama's Brother's Keeper youth initiative, ironically to keep men of color out of trouble.
It was a serious and fancy affair … enough to get Ross in a suit, which covered the ankle monitor he has to wear … a condition of release in his kidnapping case.
Sources on scene tell TMZ Obama finished his speech when Ross' anklet ripped through the silence.
No wonder Obama wrapped up the speech. The ankle monitor spoke more eloquently than anything he was likely to read off his teleprompter.

Girls Wanna Have Fun Award
DES MOINES, Iowa — A Des Moines school district spokesman has confirmed that ninth-grade girls hired a male stripper to perform at their school's synchronized swimming club's annual banquet.
District spokesman Phil Roeder told The Des Moines Register on Wednesday that the Roosevelt High School principal will decide whether the girls violated school policies and punishment is merited.
A father of one of the team members says the girls employed the stripper as a joke, and that the stripper didn't totally disrobe at Friday evening's event at the Des Moines Social Club.
Roeder said a club employee asked the stripper to leave, deeming the appearance inappropriate for the students.
The Sharks synchronized swimming club is run and funded by students in grades nine through 12.
[Arkansas Democrat-Gazette, Inc.]
Tourist Attraction of the Week
[Metro ]This isn't really a park where you'd take your children for a picnic.
Todgers to the left, tackle to the right, which ever way you come and go, there are literally wangers everywhere!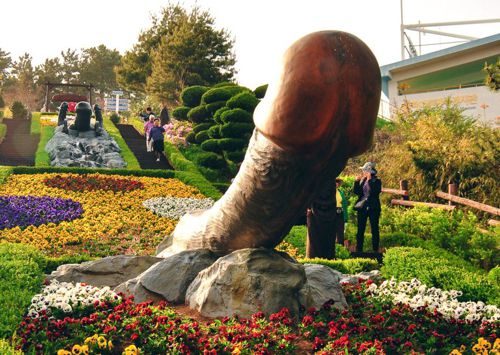 No, you haven't stumbled into one of Soho's sex shops – this is Haesindang Park, in South Korea.
Dozens of sculptures have been erected… uh-hum… showing the phallic form in a variety of interesting ways.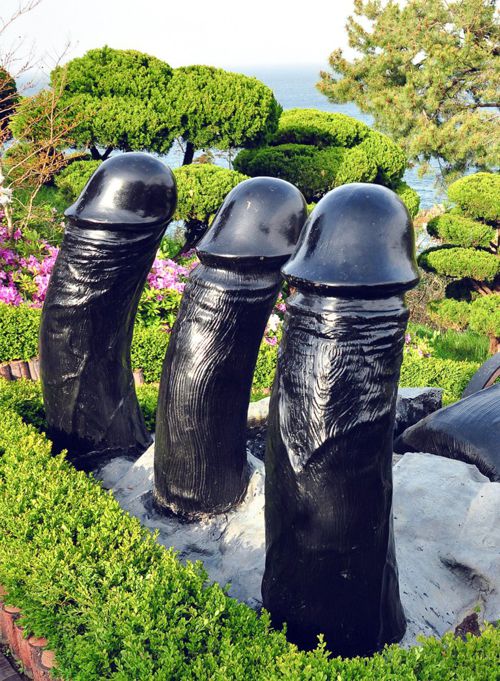 This isn't down to a couple of architects having a laugh, there's actually a tragic legend behind it all.
It is believed a virgin drowned off the rocks near the park which caused a local fishing business to dry up.
The town was said to be cursed until a fisherman relieved himself in the sea and he was suddenly able to catch fish again… gross!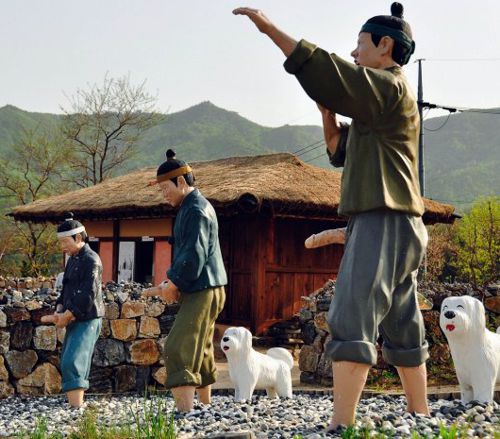 But villagers detected an angry virgin spirit left in the air.
So they decided to make giant phallic statues to appease her horny ghost. Obviously.
Have you seen our 2015 Golden Oinks of the Year?