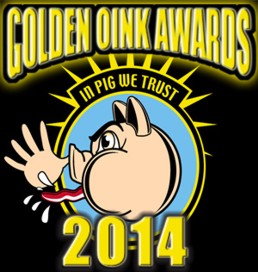 Every week, the PIG staff buries the hatchet - invariably in one another - and sits down for our weekly awards selection shouting match, punchout and melee. Battered, bruised, and amazed that we survived another contentious confab, we try to muster a some semblance of professionalism while we salute those Standup Guys and Gals and administer bitch-slaps on the richly deserving. Originally named Props And Chops we decided to give this awards page a more illustrious name: Golden Oinks 2013.
PIG's Golden Oinks Selection Committee singles out the following individuals and/or groups for special PIG attention.
Escape of the Week
In the wee hours of the morning, a trio of Brazilian hotties wearing sexy police costumes waltzed into the Nova Mutum graybar hotel, where they dazzled the trio of guards with promises of pleasure. When prison authorities arrived in the morning, they found the three guards naked and handcuffed. They also found an undisclosed number of empty cells.
The Daily Mail shared these seductive snippets:
Investigators say the women drugged the guards with spiked whisky after convincing them to take part in an orgy.

They arrived at around 3am on Thursday morning and asked if they could come inside to 'chat and drink', police say.

The prison guards obliged and were soon persuaded to leave their posts, before heading to the sleeping quarters with the scantily clad women.

After drugging and handcuffing the wardens, they took their keys and unlocked all the prison's cells according to police chief Angelina de Andrades Ferreira.

She told a news conference: 'The plan was to seduce them. They served them cheap whisky with some substance to knock them out, then unlocked the central gate which accesses the internal cells.

'Whoever wanted to escape left by the front door. From the moment they drank the whisky the agents don't remember a thing.

'One was found dizzy, trying to wake up. Another slept for the whole afternoon and couldn't even be questioned.'

Dozens of prisoners walked straight out the main door carrying guns and ammunition they took from the prison caches.
Our relentlessly horny guards are poised to learn how the other half lives:
The police chief said the three prison officers had been arrested and will be charged with 'facilitating a jailbreak' and 'culpable embezzlement' due of the theft of firearms.
Morons!
Mom of the Week
[promoted from Headliners]
She's The Bomb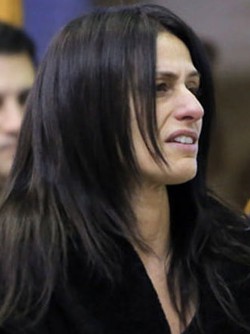 Many rational adults whine that too many parents aren't sufficiently involved in their kids education. The mom featured in this SILive story took involved to a whole new level:
STATEN ISLAND, N.Y. -- The New Springville mom who allegedly threatened to bomb her daughter's high school pleaded not guilty when she appeared in Stapleton Criminal Court on Friday.
Karen Shearon, 48, dressed in a black fur coat with tall high-heel boots, was released on a $1,000 bail after she was charged with misdemeanor aggravated harassment in the second degree.
"I never made such a phone call," said Ms. Shearon to reporters after her arraignment. "If I was so dangerous and I said such a threat like that, wouldn't you evacuate the school?"
Ms. Shearon said she was confused as to why officials came to her home hours after the alleged threat.
"They harassed my children and that's not correct," she said. "And they waited 12 hours because it happened at 8:54 [in the morning], but they came at eight o'clock at night."
Ms. Shearon said that a representative from the school called her numerous times that day when she was at work.
She expressed that she would like to take legal action against the school.
Ms. Shearon has three children ages seven, 15 and 17. The two teenagers both attend Susan Wagner High School.
Ms. Shearon is accused of threatening the guidance counselor at Susan Wagner High School after the school administrator called the defendant to inform her that her daughter had failed the regents exam, according to a law enforcement source.
She was arrested Thursday morning.
According to a Department of Education official, the school immediately notified the NYPD, and cops investigated and addressed the issue.
"Safety and security of students and school staff is always [a] top priority," the official said.
Ms. Shearon is due back at court on March 30.

Word Games of the Week
Providing a safe haven for cretins like Catherine McKinnon has taken its toll on the University of Michigan. Once a great institution of higher learning, it has sunk so low it is now taking words out of an inmate's mouth.
The name of this lunacy - Inclusive Language Campaign - tells you how Korrect this crap is. It targets utterly PIGish terms like: "crazy," "insane," "retarded," "gay," "tranny," "gypped," "illegal alien," "fag," "ghetto" and "raghead." If, like us, you love gibberish, the accompanying image of a ILC poster will give you a thrill.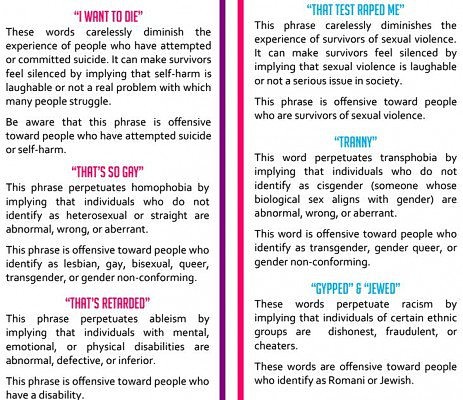 College Insurrection shared these noxious nuggets:
University spokesman Rick Fitzgerald told The College Fix in an email the campaign aims to "address campus climate by helping individuals understand that their words can impact someone and to encourage individuals to commit to creating a positive campus community."ILCinside

Students have been asked to sign a pledge to "use inclusive language" and to help their peers "understand the importance of using inclusive language," according to campaign materials.
The mythical 'right' that prevents you from being offended is thriving at U of M.
Hambo's Pig Shit Award
Saleh al-Sasdoon is what passes for an intellectual in the Sandbox (Saudi Arabia). During a boob tube interview this 'historian' pulled a titanic stinker out of his ass while discussing women drivers.
After bragging about protecting Sandbox women from the inherent dangers of driving alone, this fool painted a bull's-eye on the evil Infidels who let women drive.
A Saudi Arabian historian trying to justify the nation's ban on female drivers says women who drive in other countries such as the United States don't care if they're raped and that sexual violence "is no big deal to them."

Saleh al-Saadoon claimed in a recent TV interview that women can be raped when a car breaks down, but unlike other countries, Saudi Arabia protects its women from that risk by not allowing them to drive in the first place, according to a translation posted online by the Middle East Media Research Institute.

"They don't care if they are raped on the roadside, but we do," al-Saadoon said on Saudi Rotana Khalijiyya TV.
Attention asshole! The reason Saudi women are targets has nothing to do with women who shrug off rape. They're in constant danger, because Islamikaze so-called 'men' have no control whatsoever over their sexual impulses. Why don't you say something about THAT, shit for brains?
Second Amendment Heroes of the Week
[Promoted from Headliners]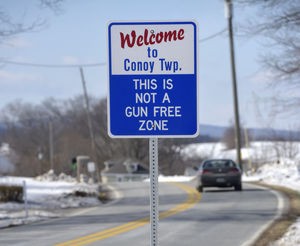 Located in Southeastern Pennsylvania, Conoy Township is a charmingly rural piece of America which seems an unlikely place to grab our PIGish attention. I think the photo will solve that mystery.
If not, this story from Lancaster Online will git 'er done:
Conoy Township has a message for criminals who might be thinking about preying on its residents: This is not a gun-free zone.
And that's exactly what visitors will see once all the signs are securely in place along every road leading into the township.
Four of the signs have been posted. Twelve more are scheduled to go up over the next few weeks.
Stephen Mohr, a Conoy Township supervisor and lifetime member of the National Rifle Association, said the signs cost about $500 for all 16.
Mohr said the feedback so far has been positive.
"You have to realize that to most people in this township God, guns, family and friends are the four most important things," he said.
But he acknowledges there will probably be critics.
Deb Garber and April Ellis are two of them.
The women, who were dining Thursday afternoon at Little Italy Italian Restaurant in Bainbridge, said the signs are not a good idea.
"I think it gives the area a feeling that I'm not sure the people want to convey," said Garber of West Donegal Township, who often hikes the Northwest Lancaster County Trail through the township. "Knowing guns are around doesn't make me feel any safer."
"It's fine with me if people have guns but I don't think it needs to be advertised," added Ellis of East Donegal Township.
Mohr said he came up with the idea and township supervisors unanimously approved the decision to create and post the signs last fall.
"Over the last six months we've seen more and more home invasions and petty crime, so we thought these signs would show people we take pride in what we own," he said.
Moonbats of the Week
Perpetrated in 1885, Bryn Mawr is a women's liberal arts Ivory Tower. In 1931, the grad school began accepting men, but the rest of the college is still for womyn only.
Yes, Bryn Mawr is a women's college. That hasn't changed. What has changed, recently, is the Petticoat Tower's definition of 'female'. College Insurrection explains it this way:
The Board of Trustees sent an email announcing that it had voted unanimously to update its admission rules, which were previously open to "female students only."

"During its meetings this past weekend, the College's Board of Trustees discussed and approved a recommendation from a Board working group that was created at the September 2014 Board meeting to examine the mission of the College with respect to transgender, non-binary, and gender nonconforming applicants," an email from the Board of Trustees said.

<snip>

"The Board approved the working group's recommendation that in addition to those applicants who were assigned female at birth, the applicant pool will be inclusive of transwomen and of intersex individuals who live and identify as women at the time of application," the email said. "Intersex individuals who do not identify as male are also eligible for admission."

However, the college will not be inclusive to transmen.

"Those assigned female at birth who have taken medical or legal steps to identify as male are not eligible for admission," the Board of Trustees said.
Confused? I'll simplify if for you.
If you're a, biologically speaking, male, who is convinced he's female, you're good to go.
If you're a, biologically speaking, female, who is convinced she's male, hit the road, Jack.
Put another way, Bruce Jenner would make the Bryn Mawr cut. Chastity (Chas) Bono, wouldn't.
At Bryn Mawr, biology (your real gender) doesn't count. Instead, you are whatever gender you think you are.
Hopelessly twisted? Yup. Completely detached from reality? That too.
.
Have you seen our 2014 Golden Oinks of the Year?