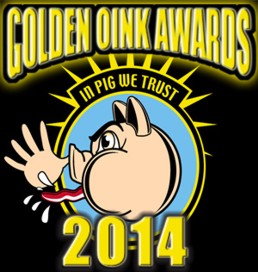 Every week, the PIG staff buries the hatchet - invariably in one another - and sits down for our weekly awards selection shouting match, punchout and melee. Battered, bruised, and amazed that we survived another contentious confab, we try to muster a some semblance of professionalism while we salute those Standup Guys and Gals and administer bitch-slaps on the richly deserving. Originally named Props And Chops we decided to give this awards page a more illustrious name: Golden Oinks 2013.
PIG's Golden Oinks Selection Committee singles out the following individuals and/or groups for special PIG attention.
Holster of the Week:
A Mexas wench took 'concealed carry' off the scale, when she used her hoo ha as a holster for her .22 handgun.
Waco police Sgt. W. Patrick Swanton said officers stopped a 1998 Toyota Land Rover carrying a man and a woman at North 15th Street and Blair Street about 11 p.m. for a traffic violation.
During the stop, officers found 2.7 grams of methamphetamine under the driver's seat and arrested the driver, identified as Gabriel Garcia, 30, on a charge of possession of methamphetamine in a drug-free zone. Police say the stop was within 1,000 feet of West Elementary School.
Another 29.5 grams of methamphetamine and a set of digital weighing scales were in the female passenger's purse, Swanton said.
Ashley Cecilia Castaneda, 31, was arrested on the same charge, but while being transported to the McLennan County Jail, she reportedly told an officer she had a Smith and Wesson .22-caliber semiautomatic handgun lodged inside her vagina.
Officers stopped and called for a female officer, who retrieved the gun. The handgun had a round chambered and a full magazine of bullets, Swanton said. [Bearing Arms Blog]
How do you search that cavity? Very carefully.

Mystery of the Week:
Why are these wild goats doing in a tree in Morocco? I'll let you decide.
1) They were blown up there by a freak burst of wind?
2) They're a sign of the apocalypse?
3) They're up there eating fruit and leaves from the argan tree?
4) They know thousands of Islamikazes are on the move, most of whom are in the prime goat humping demographic, and are taking sensible precautions?
My response is : 1) nope, 2) maybe, 3) nope, and 4) you better believe it Sparky.
Golden Doh of the Week:
Inmate 1 is a murder suspect. Inmate 2 is the primary witness against inmate 1 at a forthcoming legal proceeding.
Obviously inmate 1 would love to get his hands on inmate 2. Thanks to off the scale jail keeper ineptitude, inmate 1 got his wish.
LIMA, Ohio (AP) — A jailed murder suspect and another inmate who was about to testify against him got into a fight in a holding cell after a guard mistakenly put the two together, officials said.
The men weren't handcuffed when the guard put them in a cell during a break in the trial this week, and an investigation will be conducted on how it happened, Allen County Sheriff Sam Crish told The Lima News. He said authorities broke up the altercation within two minutes, and the men suffered only minor injuries.
The holding cell was out of public view, but the fight was recorded on video that the judge allowed the jury in the suspect's trial to see Thursday after denying a defense request for a mistrial because of the fight.
WLIO-TV says the video shows defendant Markelus Carter punch the other inmate, who is then seen putting Carter in a headlock and throwing some punches before Carter bites him on the arm and guards break up the fight. [Yahoo News]
"Oops" won't suffice, this time.
Moron of the Week:
[Metro.uk] World's most stupid bank robber asks cashier to put money in to his own bank account
This has to be one of the stupidest bank robbers ever.
Paul Neaverson, 61, walked in to a branch of NatWest in Rainham, Kent and held a knife to the cashier's neck.
However he was caught out when he asked the clerk to transfer the money in to his own bank account.
And why did he do it? Because he needed money to book a flight to Corfu for a job interview as a golf coach. Of course.
Maidstone Crown Court heard that during the terrifying raid the cashier managed to hit the panic button.
Neaverson fled, but undeterred, he only went as far as the HSBC just 400ft away where tried to hold up that bank too.
Neaverson, of Rainham, Kent, pleaded guilty to two attempted robberies and possession of a blade. He has now been jailed for two years.
I think we have another contender for Loser of the Year.
Zero Tolerance Zombies of the Week:
Zombies: The twerps running Pikesville Middle School [Maryland].
Dastardly Deed: A 13-year-old boy in Maryland has been charged with assault after police say he grabbed a fellow eighth grader and kissed her.
Administrators at Pikesville Middle School notified the school resource officer of the incident on Wednesday morning.
Baltimore County Police say the 14-year-old girl told the officer the boy grabbed her by her shirt near her stomach, pulled her toward him and kissed her against her will. Police say the boy said someone dared him to do it.
Ridiculous Retribution: The boy was charged as a juvenile with second-degree assault and released to his mother. County schools spokesman Mychael Dickerson says the boy faces school disciplinary action for violating the code of conduct.
FSOP: Disciplinary action? Ok. But second-degree assault?
Whine of the Week:
The struggle to be taken seriously in the age of subtle sexism
By Blake Dodge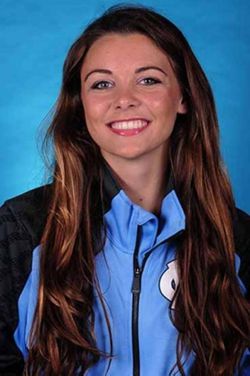 [News Observer] I identify as female. I am apparently a conventionally attractive student-athlete at UNC-Chapel Hill. I grew into my ears a few years back. I have lighter eyes and darker skin, and with the exception of a bit of an eyebrow discrepancy, my face is generally symmetrical.
Writing this now, I feel my stomach drop. In a culture that regularly exploits sexuality, it's ironically unacceptable when women openly acknowledge it themselves. But hear me. The following is a string of subtle and routine occurrences that make me feel less human and should take their rightful place among the larger narrative of sexism in contemporary America.
When I wake up at 6 in the morning for practice, I put on spandex that will ride up and allow my legs to chafe. I know this is because I don't have a thigh gap like most of the distance runners on my cross-country team. I eat an easily-digestible carb and make a note of the calorie count.
After "a good early-morning chafe," as I call it, I change into dry workout clothes, this time being careful not to wear too much "Carolina gear." I do this so as not to give my professors and peers another reason to discount me.
I head to a study space. I sit with a classmate – a good friend of mine since freshman year. He identifies as male. Another male-identifying friend approaches. They engage in a "bro dap": a sort of masculine greeting ritual. The newcomer, my friend, acknowledges me second with a nod of his head: "What's up, Blake?"
I check my email. My student government group co-director, who identifies as male, has taken it upon himself to send a mass email to our organization and relevant tangential members to schedule a meeting. I am CCed along with four others. They are not co-directors. The body of the email bounces between "I" pronouns to set an agenda for the first meeting of year. It concludes with his signature. The first reply thanks him for "getting this started."
I go to class. We are discussing Islam in modern society. I chime in. A neighbor, who identifies as male, leans over from across the aisle: "You can't be pretty and smart." He thinks he's giving me a compliment. There is an awkward pause as he waits for me to meekly deny my sexuality. I do not comply. He turns away. I'm not sure he actually listened to anything I said.
I call home. I tell my dad I'm starting a nonprofit that redistributes collegiate athletic shoes. "Is that so?" he asks with a confused inflection. "Isn't that a bit much?"
He means well.
I head to the gym to cross-train. I mount a sweaty elliptical. I've forgotten my headphones and can't manage to tune out all the curious pairs of eyes: some looking at my butt (big for a white girl, I know), some looking at my chest (small, given my butt), and some daring to meet my own. I cannot help but feel a sting of guilt because I know I just sent them daggers.
I go to afternoon practice. I attend a slew of meetings. I go to the Union because my house of bone-tired runners hasn't had time to schedule a wifi appointment. I work into the night. I have to walk home with a friend who identifies as male because it's dark out. He pokes fun at me for a relationship of sorts I had last year. I don't know how he knows. I hope he's not flirting. I hope I'm not flirting.
I take a shower followed by inventory: an admittedly pathetic and self-deprecating ritual in which every female partakes. Neck: good. Lower stomach: could use some work. Face: breaking out again. Thigh gap: still not a thing.
I go to bed and think about my projects and my callings. Law school. Public service. Economic injustice. Songwriting. Halifax County schools. Filmmaking. Where did I put that SD card? Writing.
I fight others every single day to be taken seriously. But at night, I fight off my own insecurity that I cannot make a difference because of how others perceive me. Sometimes, I do this in vain.
I have the utmost empathy for my male peers. But for every "pretty and smart" comment I get (and for the ones that aren't even that flattering), for every patronizing inflection and for every inadvertent power grab at my expense, you add a grain of sand to the increasingly heavy load we women carry. You perpetuate sexism in environments where it absolutely cannot belong.
I'm sorry if I'm wrong.
Blake Dodge of Beaufort is a sociology and economics major at UNC-Chapel Hill.
Have you seen our 2014 Golden Oinks of the Year?