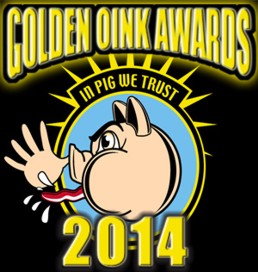 Every week, the PIG staff buries the hatchet - invariably in one another - and sits down for our weekly awards selection shouting match, punchout and melee. Battered, bruised, and amazed that we survived another contentious confab, we try to muster a some semblance of professionalism while we salute those Standup Guys and Gals and administer bitch-slaps on the richly deserving. Originally named Props And Chops we decided to give this awards page a more illustrious name: Golden Oinks 2013.
PIG's Golden Oinks Selection Committee singles out the following individuals and/or groups for special PIG attention.
Date Awards Bestowed: April 12, 2014
Selfie of the Week: If you live in Mexas and your meager jobs skills make getting a job mission impossible, you could find the help you need at TWS (Texas Workforce Solutions). What help do they offer?
The state agency coordinates with a wide network of potential employers and, if necessary, can connect job seekers with adult education classes and vocational training programs. Unsure of how to write a resume or prepare for an interview? TWS can probably help.
One dude gave them some additional bit of data when he contacted them via e-mail. In addition to his job application, he accidentally included a picture of his wang. If he wanted to make a lasting impression, he succeeded. If he expected to get a job, he failed. At best, he might avoid being ticketed for "obscene display or distribution." That's a class C misdemeanor.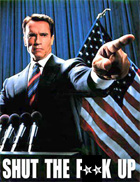 Silencers of the Week: If you wanted to name CAIR's worst nightmare, it's a documentary film name 'Honor Diaries', a film which gives the viewer an unflinching look at the way too many women are treated under Islam. Since CAIR has intimidated the MSM into silence on this, and many other dirty little Islamikaze secrets, you probably haven't heard about it.
Fox News describes this film as follows:
The film showcases nine Muslim women who speak about their experiences with honor practices, forced marriage at young ages and the denial of education. Some of the women are victims or have family members who were victims and describe the painful and up-close realities they endured. The film weaves the experiences of honor violence victims together with commentary from activists and experts.
CAIR is determined to keep the truth from coming out, so they did what comes naturally. First, they vilified it, then they used the Islamikaze's propensity for violence to suppress it:
CAIR convinced officials at University of Michigan to cancel a screening of the film last week, and a CAIR official confirmed a second screening was canceled at the University of Illinois. CAIR has since made attempts to shut down additional showings.

"They utilized tactics of censorship," said clinical therapist Zainab Khan, who appears in the film, giving her expertise as an activist for global women's rights. "It's completely dangerous and shows their mode of operation: bullying, scapegoating, censoring, avoiding issues."

But CAIR officials say they didn't censor the film, they simply told sponsors the people behind the documentary are not presenting the issue fairly, and the sponsors chose to cancel the screenings.

"The screenings were not canceled by CAIR," said spokesman Ibrahim Hooper. "They were canceled by the screening sponsors after they were informed of the hate agenda and Islamophobic history of the film's producers. Replacement events dealings with this issue are now being planned with the screening sponsors and actual representatives of the American Muslim community." [Fox News]
Translation: CAIR lied about the film. CAIR lied about the film makers. CAIR promised to provide an entirely fictional whopperthon about women in Islam.
CAIR deserves to be horse-whipped for this censorship.
Libertard Lipflapper of the Week: Alleged comic genius, Stephen Colbert, stepped in it while discussing the Siberian American hissy fit over 'Redskins'. To say that his joke bombed, is an understatement.
Colbert, who is liberal but parodies a blustery conservative on his late night talk show, took aim at the Washington Redskins football team whose name is considered offensive by many Native Americans.

Colbert mocked team owner Dan Snyder who has announced a fund to support Native Americans while rejecting calls to change the name.

On Twitter and on his "Colbert Report" show on the Comedy Central network, Colbert said: "I am willing to show the Asian community I care by introducing the Ching-Chong Ding-Dong Foundation for Sensitivity to Orientals or Whatever."
It's not a knee-slapper, but it's thisclose to being 'almost funny'.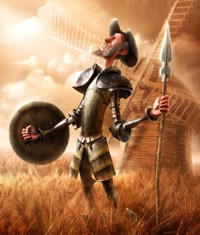 Quixotean Quest of the Week: If you think milk and beef prices are high now, prepare to be thrilled. Barry has declared war on bovine belches and cow farts, both of which release methane, a 'greenhouse gas'.
The Daily Caller spewed this journalistic gas:
The White House has proposed cutting methane emissions from the dairy industry by 25 percent by 2020. Although U.S. agriculture only accounts for about 9 percent of the country's greenhouse gas emissions, according to the Environmental Protection Agency, it makes up a sizeable portion of methane emissions — which is a very potent greenhouse gas.

Some of these methane emissions come from cow flatulence, exhaling and belching — other livestock animals release methane as well.

"Cows emit a massive amount of methane through belching, with a lesser amount through flatulence," according to How Stuff Works. "Statistics vary regarding how much methane the average dairy cow expels. Some experts say 100 liters to 200 liters a day… while others say it's up to 500 liters… a day. In any case, that's a lot of methane, an amount comparable to the pollution produced by a car in a day."

"Of all domestic animal types, beef and dairy cattle were by far the largest emitters of [methane]," according to an EPA analysis charting greenhouse gas emissions in 2012. Cows and other animals produce methane through digestion, which ferments the food of animals.

The only way this works, as far as I know is reducing the number of bovines. Fewer bovines means higher prices for beef and dairy products. Thanks, Barry.
Apocalyptic Signpost of the Week: Everyone's favorite 'voice of reason', that holy huckster, Pat Robertson is off his medications, again. He has concluded that the Nanny State's obsession with forcing every financial transaction to be controlled by computer ushers in the era of the infamous 'Mark of The Beast'.
"The Bible says that they cannot buy or sell without the Mark of the Beast," Robertson noted in a segment about new financial technologies. "And people said, 'Oh, well, that just fanciful Hebrew rhetoric that doesn't apply to anybody real.' Who would have thought that we could live in an age that that could literally come to pass?"

"We don't want to scare people," he insisted. "The times going to come, we're not going to have any cash. We don't need cash."

"We're going into some strange world, ladies and gentlemen," the TV preacher continued. "The pros — the people who are in charge — find that paying cash are an annoyance, and they want everything on your cards. And they want it all by computer."

"I hate to tell you, it's coming. Because it is a control thing. And Satan wants to control the lives of all the world. He wants to be God, he wants to be worshipped as God. And he wants to have control over everybody, and that's how it will be done."

Robertson concluded: "Can't buy, can't sell without the Mark of the Beast." [Fox]
Thanks Pat, now take your meds like a good boy.
Race Card Retards of the Week: Foreign born students attending Warwick University in Coventry (J.O.E) are outraged due to what appear to be racially-motivated by whitey. The reaction from foreign born students is predictable:
*A 24 year old student from India deemed whitey "very annoying and the students feel as though they're being bullied." "Whitey attacks me especially. Whitey focuses straight on me."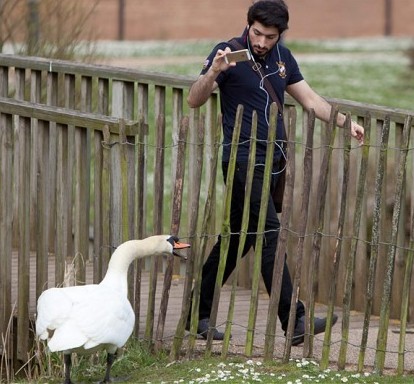 * Italian student Albertina Crocetti, 24, accuses whitey as follows: "[Whitey's] behavior is bezarre. Whitey doesn't seem to like foreigners...Whitey "is a true right winger that's for sure - they certainly seem to be racially motivated incidents."
Is Whitey a racist? I'd ask her, but like all SWANS, whitey doesn't speak English. That's right this dastardly 'racist' is a 4 foot tall SWAN. The 'racist' incidents occur whenever someone strays too close to the nest she's protecting.
Villainous Vitriol of the Week: The Jackass Party, and all the Progtard Pinheads love to yammer about 'the war on women' being waged by the VRWC (Vast Right-Wing Conspiracy). Most of their outrage is built upon the intellectual quicksand of bogus statistics, like that venerable 70 cents on the dollar canard.
At the same time, these staunch defenders of women have nothing to say about a real outrage a REAL war on women. Their silence is deafening, when it comes to things like this:
In a bizarre and grotesque statement, the state Samajwadi Party (SP) chief Abu Azmi said women who were raped should also be punished. The statement came after this reporter questioned Azmi about SP chief Mulayam Singh Yadav's comments on rape.

Yadav had, at a rally in UP, said that the death sentence, as punishment, for rape was too harsh. "Ladkon se aisi galtiyan ho jati hain, to iska matlab yeh to nahi ki unhe phaansi de di jaaye (Boys make mistakes, but this doesn't mean you hang them)," he told the gathering.

When this reporter asked for Azmi's comments on his chief's statements, he replied that rape was punishable by death in Islam. "Rape is punishable by hanging in Islam. But here, nothing happens to women, only to men. Even the woman is guilty."

He further added, "In India, if you have sex with a person with consent, it's fine. But if that same person complains, it's a problem. Nowadays, we see a lot of such cases. Girls complain when someone touches them, and even when someone doesn't touch them. It becomes a problem then, and the man's honour is ruined in this. If rape happens with or without consent, it should be punished as prescribed in Islam."

When asked for a solution to the problem of rapes, Azmi had this to say: "Solution is this: any woman if, whether married or unmarried, goes along with a man, with or without her consent, should be hanged. Both should be hanged. It shouldn't be allowed even if a woman goes by consent." [NDTV]
A rape victim must be hanged? Where's that blowhard Barry's outrage about that?
Zero Tolerance Zombies of the Week:
Zombies: Glen Meadow Middle School (New Jersey)
Rule Breaking Hooligan: Ethan Chaplin (age 13)
Dastardly Deed: Brandishing an assault pencil:
According to Ethan Chaplin, he was suspended for twirling a pencil in math class. He says that a student, who have been allegedly bullying him, yelled to the teacher that "He's making gun motions, send him to juvie." The school responded by suspending Chaplin and the Vernon Schools Superintendent Charles Maranzano insists that it is the only appropriate response because he must investigate any time that a student claims to be uncomfortable or threatened by another student.
Suspended for twirling his pencil? The entire school administration should be tarred and feathered for that crap.
Job-Related Accident of the Week: Daylight Saving Time gave a terrorist a reality check, while the scumbag was affixing a bomb to a Volvo SUV in Dublin (Ireland). We're no sure if he fell back when he should spring forward. Did he spring forward too much, too little? It's hard to say.
We can say that this bomber was still fussing with the bomb when it jumped the gun and fulfilled its prime directive around 11pm. It destroyed the car and inflicted some damage on the bomber. Yes, the bastard lived, if you call having a Volvo gearshift wedged in your ass living. Okay, the gearshift enema is wishful thinking.
.
Have you seen our 2013 Golden Oinks of the Year?