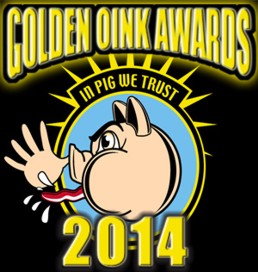 Every week, the PIG staff buries the hatchet - invariably in one another - and sits down for our weekly awards selection shouting match, punchout and melee. Battered, bruised, and amazed that we survived another contentious confab, we try to muster a some semblance of professionalism while we salute those Standup Guys and Gals and administer bitch-slaps on the richly deserving. Originally named Props And Chops we decided to give this awards page a more illustrious name: Golden Oinks 2013.
PIG's Golden Oinks Selection Committee singles out the following individuals and/or groups for special PIG attention.
Date Awards Bestowed: December 05, 2014
Karma's A Bitch Award
Eager to help his fellow protesters burn Ferguson to the ground, Ferguson denizen Tyler Jackson raced hither and yon looking for a suitable target. Finally, spotting what he assumed was a stop and rob [conveniencs store], he hurled his Molotov Cocktail through its window. As the flames spread, he got a special thrill when he, belatedly, realized he just set fire t to his own home.
His header into Karma continued when he called 911 for a fire truck.
"They told me they were too busy with other fires to come help," he lamented. "I couldn't believe it. I mean we pay these people's salaries! What do you mean you're too busy?

"A black person's house burns down and suddenly you're 'too busy' to put the fire out? This is what racism in America looks like."
Believe it or not, he wants to file a Civil Rights lawsuit.
This Week's Newly Minted Racist Term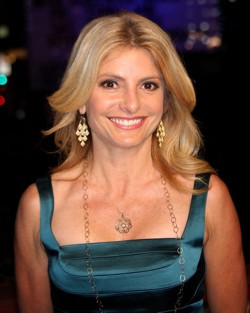 In addition to being Gloria Allred's daughter, Lisa Bloom is billed as a 'legal analyst' for Moonbat News [MSNBC]. While yammering about the Ferguson Grand Jury decision, she got het up over the finding that the gentle giant brought on officer Wilson's lethal response by charging him.
"This issue about charging, which I find to be a racially tinged offensive word in and of itself, but I would have asked him, what exactly does that mean?" [Lisa Bloom]
When a much bigger, enraged dude who out weighs you by at least 100 lbs charges you, he's not doing it because he's eager to exchange pleasantries. He's going to kill you, unless you stop him. Officer Wilson stopped him.
Devilish Detail of the Week
A pair of peace-loving Ferguson protesters decided to spread their special brand of joy by blowing up St. Louis's iconic Gateway Arch. Their plan hit a speed bump when they tried to buy some explosives.
The men wanted to acquire two more bombs, the sources said, but could not afford to do it until one suspect's girlfriend's Electronic Benefit Transfer card was replenished.
Her welfare credit card was maxed out? That speaks volumes about these peaceful protesters.
Loser of the Week
Consumed by a Jihadikaze fervor, Areeb Majeed left his home in India to join ISIS. Apparently ISIS wasn't very impressed, because our hero's duties limited to menial tasks like fetching water and cleaning toilets.
Eventually Areeb returned home, where our toilet cleaning Jihadikaze was arrested on terrorism related charges.
Limerick of the Week
There once was a thug named Brown
Who bum-rushed a cop with a frown
Six bullets later
He met his creator
Then his homies burnt down the town
By: George Mason University student Ashley Ray Goldenberg
Beverage of the Week
It's a PIGishly named Aussie wine called Hal & Al's 72 Virgins. It's on sale to serve a PIG-worthy cause:
Profits from the "fine Australian sparkling wine" will go to the Q Society, which bills itself as "Australia's Leading Islam-critical Movement".

The Q Society warns that Islam is linked to discrimination and violence and run lectures teaching about "the true nature of this totalitarian theocratic ideology". [Advertiser]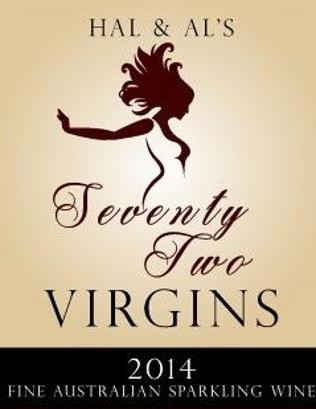 PIGish Kudos are eagerly conferred.
.
Have you seen our 2013 Golden Oinks of the Year?