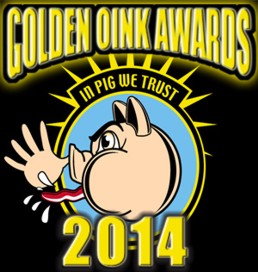 Every week, the PIG staff buries the hatchet - invariably in one another - and sits down for our weekly awards selection shouting match, punchout and melee. Battered, bruised, and amazed that we survived another contentious confab, we try to muster a some semblance of professionalism while we salute those Standup Guys and Gals and administer bitch-slaps on the richly deserving. Originally named Props And Chops we decided to give this awards page a more illustrious name: Golden Oinks 2013.
PIG's Golden Oinks Selection Committee singles out the following individuals and/or groups for special PIG attention.
Quote of the Week

'It's incomprehensible that you turn against freedom like that, but if you don't like this freedom, for heaven's sake, get your suitcase, and leave. There might be a place where you belong, and be honest with yourself about that, don't kill innocent journalists.
This is so backwards, so incomprehensible, go away if you can't find your place in the Netherlands, or accept the society we want to build here, because we only want people, including all those Muslims, and all those well-intentioned Muslims, who may be looked at with suspicion, we want to keep all those people together in what I call the "We Society".
And if you don't like it here because you don't like the humorists who make a little newspaper – if I may dare say so – just f*** off.'
Ahmed Aboutaleb, Mayor of Rotterdam, Muslim
Fatwa of the Week
As usual, when confronting stupidity of this magnitude, we're not shocked to learn it was perpetrated in the Sandbox (Saudi Arabia).
A prominent Saudi cleric described the building of snowmen or snow-animals 'anti-Islamic' and a crude imitation of a Western practice.

Many Saudi people, particularly those living in the north of the Muslim country which receives heavy snowfalls, enjoy building snowmen and even snow-camels each winter.

However now the cleric Sheikh Mohammed Saleh al-Munajjid has said: 'It is not permitted to make a statue out of snow, even by way of play and fun.' [Metro]
Snow in the Sandbox? Yup, and this fool will probably ban that too. If you think he's as crazy as it gets, guess again:
Other people supported the decision, with one Saudi man writing on Twitter that building snowmen 'promotes lustiness and eroticism'.
WOW!
Hate Mail of the Week
A gentleman named Joe Wilson aimed this memorable meltdown at us:
Subject: Fuck You
Fuck you at all you have to fucking do with anything you fucking pieces of shit for you fucking fuck with me you have a bunch of motherfuckers lawn live freedom you fucking piece of shit Long Deb freedom and kiss my ass you give the fuck out of my fucking life Dave the fuck out of my life I'm just fucking jacket off once a while you pieces shit I got to senior that I'm 50 years old I've only got a couple more years to live Brianna hard Jack fuck off you fuckers.
Eloquent to a fault, Joe crammed 13 'F' Bombs in his 95 word message.
Keep those cards, letters and e-mails coming, Joe.
Second Amendment Heroine
Life has made a Detroit woman, 51-year-old Paris Ainsworth, suitably cautious. Her instincts saved her life, when she returned home after working a double shift. Spotting the two men, she did the math, then pulled out her .45 handgun, before exiting her car.
The punks blazed away at our heroine, hitting her 3 times - twice in her side, once in her hand. All they got for their trouble was a fusillade from a pissed of Paris.
"I said, 'You mother (expletive),' and pulled out (my gun) and started shooting," she told WDIV (H/T The Blaze).
Ironically, the wounded punks were arrested at the same local hospital where our heroine was being treated for her own wounds. Nicely done Paris.
Outing of the Week
It happened, while Rachel Hobbs was celebrating her 21st birthday, with members of her family, at a Toby Carvery eatery. It reached critical mass, after Rachel accused the waitress of using dirty plates to parcel out the birthday cake.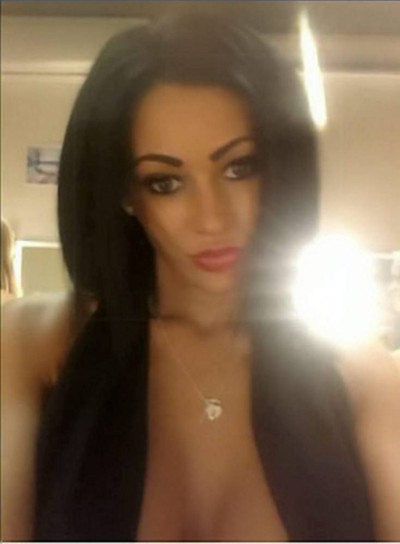 Recognizing Rachel, the waitress spilled the beans about our heroine's dirty little secret: "At least I don't get my tits out on TV!"
That easily, her grandmother and other members of her family learned that birthday girl - using the name Lacey Lorenzo - is an adult actress who regularly appears on X-rated TV channels Babestation and xxXpanded.
She'd been keeping her secret since she started at age 18, and was not thrilled spitless by the outing.
'It ruined my birthday. I was crying. I just wanted to have fun on that day.'
The eatery is making the requisite apologetic noises, and promises to deal with their blabbermouth waitress. Too little, too late is now in play.
Race Card Hissy Fit of the Week
Al Sharpton is pissed at Tinsel Town. When they announced the Academy Award nominees, he went postal, because they're too damn white and that ain't right.
The outspoken civil rights activist said Thursday that it was "appallingly insulting in the year of 2015" that the 20 Academy Awards acting nominations went only to white actors and actresses.

"In the time of Staten Island and Ferguson, to have one of the most shutout Oscar nights in recent memory is something that is incongruous," Sharpton told The News.

The list of Oscar nominations, announced early Thursday morning, was bashed for the lack of diversity in most major categories. The slate marked only the second time since 2000 that no black actors or actresses were nominated.

Among the most notable snubs was David Oyelowo, who was widely praised for his portrayal as the late Rev. Martin Luther King Jr. in "Selma," but was not nominated in the best actor category, and Ava DuVernay, who directed the same movie, but was not nominated for best director. [NYDN]
Is Korrectness poised to target Hollywood libs? Are affirmative action quotas looming large? The answer to both is probably, but I'm feeling smug about that. I love it when libs devour their own.
Korrectnik Cannibals of the Week
In theory Mt. Holioke is an all women's college. It still is, according to the ususal suspects, who have expanded the definition to include Tranny inmates. With 'V' Day looming large, someone got a while hair up their twat over a 'V' Day tradition - that womyn's studies major observance - the beloved 'Vagina Monologues'. What's their damage? What indeed.
Why did Mt. Holioke nuke the ritual?
Apparently the show is no longer feminist enough and actually hurts women because it doesn't include monologues from trans-women. Suddenly, the most feminist play in America is both transphobic and racist.

"At its core, the show offers an extremely narrow perspective on what it means to be a woman," wrote Erin Murphy, a representative for the school's Theatre Board, said in a campus-wide email obtained by Campus Reform. "Gender is a wide and varied experience, one that cannot simply be reduced to biological or anatomical distinctions, and many of us who have participated in the show have grown increasingly uncomfortable presenting material that is inherently reductionist and exclusive."

Murphy also said the play has problems with class, race and "other identities." [CI]
Translation: Men - Trannys - don't have a vagina, a fun fact that makes a dialogue with it, problematic. I love it when Korrectniks eat their own, and they do it without any rational adult intervention.
Best Dumb and Dumber Imitation of the Week
This week, American diplomacy plunged to a stunning new low, thanks to Secretary of State John Kerry and his special musical guest, James Taylor.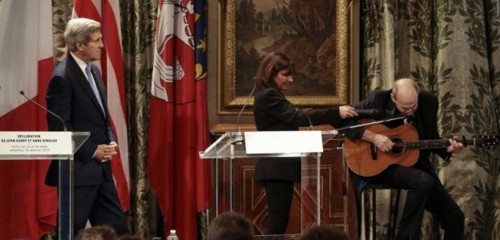 A grovelling John Kerry hugged and kissed French president Francois Hollande in a show of contrition after nobody important from the White House joined a solidarity march in the wake of the terror attack on Paris.

The Secretary of State even brought back-up for his visit in the form of singer James Taylor, who patched up the United States's oldest diplomatic relationship with a rendition of 'You've got a friend'.

Arriving at the presidential Elysée Palace, Kerry reached out his hands for Hollande, embraced him closely, then appeared to kiss him on the cheek in an awkward display for the cameras.

He later gave a message from the American people, delivered in almost-fluent French. [DM]
How low can Uncle Sam go? I don't know, but with Kerry on the job, there's no bottom in sight.
Crimestopper of the Week
In some states the desperados might have succeeded unopposed, but Texas isn't one of them.
A pair of armed robbery suspects reportedly entered a Houston restaurant as the owner was preparing to close for the night on Saturday. The men went after Koy Sam, the owner of the restaurant, and his wife, forcing them to the ground.

"All of a sudden my wife ran back panicking," Sam told KHOU-TV of the moment the men entered the restaurant with guns drawn.

As one of the robbery suspects went for the register, a customer still finishing up his meal in the restaurant turned the tables in the huge way. He got up out of his seat, pulled his own firearm and bravely confronted the suspects, KHOU-TV reports.

The armed good Samaritan reportedly opened fire at one of the suspects when he attempted to run, striking glass windows. He was able to hold the other man at gunpoint until police arrived. [The Blaze]
The beauty of concealed carry is obvious. Since a desperado can't know who's packing heat, it makes any caper he tries to perpetrate a crap shoot.

.
.
Have you seen our 2014 Golden Oinks of the Year?