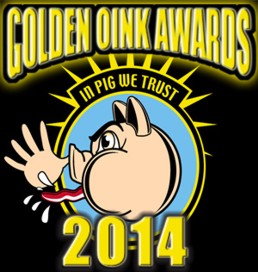 Every week, the PIG staff buries the hatchet - invariably in one another - and sits down for our weekly awards selection shouting match, punchout and melee. Battered, bruised, and amazed that we survived another contentious confab, we try to muster a some semblance of professionalism while we salute those Standup Guys and Gals and administer bitch-slaps on the richly deserving. Originally named Props And Chops we decided to give this awards page a more illustrious name: Golden Oinks 2013.
PIG's Golden Oinks Selection Committee singles out the following individuals and/or groups for special PIG attention.
Date Awards Bestowed: August 22, 2014
Hero of the Week:
"We have now sunk to a depth at which restatement of the obvious is the first duty of intelligent men."
George Orwell
You could wrap an apple in an orange peel, but underneath the rind, it's still an apple. The same is true when it comes to the infamous sex change operation. You can tweak the externals, but beneath that false exterior, the individual is, biologically still the gender he, she, heshe, or it was at birth.
A distinguished medical professional didn't pull his punches on this hot topic:
Dr. Paul R. McHugh, the former psychiatrist-in-chief for Johns Hopkins Hospital and its current Distinguished Service Professor of Psychiatry, said that transgenderism is a "mental disorder" that merits treatment, that sex change is "biologically impossible," and that people who promote sexual reassignment surgery are collaborating with and promoting a mental disorder.

Like Orwell said about "restatement of the obvious."

Only slightly less obvious is McHugh's refutation of the liberal argument that we must pander to the delusions of the sexually perplexed to prevent them from committing suicide.

He also reported on a new study showing that the suicide rate among transgendered people who had reassignment surgery is 20 times higher than the suicide rate among non-transgender people. Dr. McHugh further noted studies from Vanderbilt University and London's Portman Clinic of children who had expressed transgender feelings but for whom, over time, 70%-80% "spontaneously lost those feelings." [Mbatt]
It's reassuring, when, in this era of self-assuring bullshit, someone will stand up and re-affirm that A is still A.
Countermeasure of the Week: From our 'for what it's worth' news pile, I bring you this: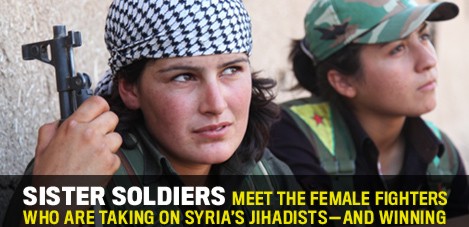 The Kurds have adopted a rather unique strategy for not only eliminating their targets, but also humiliating them along the way.

According to WZ, Kurds are deploying whole units comprised of female fighters to the front line, which has boosted their recruitment numbers, and given them a psychological edge over ISIS. One female fighter explained why the Kurds have decided to put women in the thick of the battle, and it's sure to make radical Islamists go crazy.

"The jihadists don't like fighting women, because if they're killed by a female, they think they won't go to heaven."

Awesome. The Kurds have an understanding of what it will take to stop ISIS, and it isn't peace talks or goodwill offerings. It's bombs, bullets, and brute force. [Clash Daily]
Given the fact that Jihadikazes have their heads up their asses when it comes to women, I'm willing to believe this one.
Zero Tolerance Zombie of the Week: The pinheads running Summerville High School (South Carolina)
Angst-Spawning hooligan: Alex Stone age 16.
Dastardly Deed: For the introductory assignment, Stone's teacher asked him and his classmates to write something about themselves and their current status — like something you might write on Facebook.
Stone decided to write a fictional story wherein he slew a dinosaur. He used the word "gun." He used the words "take care of business" as well.
"I killed my neighbor's pet dinosaur, and, then, in the next status I said I bought the gun to take care of the business," the blond, baby-faced teenager told WCSC.
Zero Tolerance Zombie Brainfart: The teacher apparently failed to understand that he was writing a fictional account about killing a species of animal that went extinct about 65 million years ago.
Then, the teacher contacted school administrators, who promptly suspended Stone for the remainder of the week.
School officials also notified police on Tuesday. When police investigators asked Stone about his writing, he explained that it was a joke.
The police say Stone became "irate," according to The Washington Post, so they arrested him and charged him with disorderly conduct.
When police searched Stone's belongings, they failed to find a gun.
Zero Tolerance Zombies of the Week Runner-up: Pettifogging Pissans running Dyer County High School in Newbern [Tennessee].
Chaos Spawning Hooligan: Kendra Turner, high school senior.
Dastardly Deed: On the website momdot.com, Kendra Turner tells her side of the story in which she said "bless you" to a student in keyboarding class, after the student sneezed.
According to Turner, who is a senior, she was reprimanded by the teacher, who said, "We will not have Godly speaking in my class."
Turner said she then told the teacher that her pastor said she had a "Constitutional right ... First Amendment Freedom of Speech."
Turner said she was sent to the office and suspended from the keyboarding class.
Zero Tolerance Hissy Fit: While the Dyer County Schools superintendent has not commented on the alleged incident, we were told there is a strict policy in the keyboarding classroom against "outbursts," including saying "bless you" when someone sneezes.
We're told the policy is in place to assure students are not distracted, especially during tests.
Nobody in a position of authority wants to talk about it 'on the record'.

Gender Benders of the Week: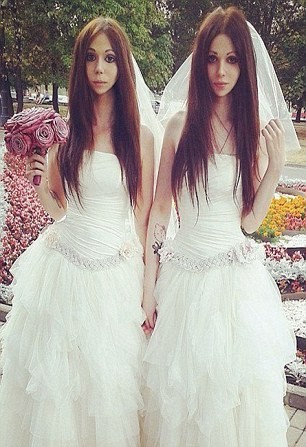 Fun fact: same sex marriage is illegal in Russia.
Fun fact: the individuals shown are legally married in Russia.
Fun fact: The one on the left is the groom, Dmitry Kozhukhov, but he prefers the name Alina Davis.
Dmitry claims he's an 'androgyne', someone who is unable fit neatly into either gender role. He may look like a freak show, but his wiring is squared away where it counts, because he's attracted to women. His bride is a 19-year-old Ruskie wench who calls herself Alison Brooks.
Predictably, their wedding thrilled the proper authorities spitless:
Alina said: 'In May, we filled in the application in the registry office, and our appearance did not cause any questions at all, which surprised us.'

'But just a couple of weeks before the wedding they started to call us. When they could not reach us, they called my mother.'

The registry office was concerned that both would arrive in white bridal dresses, as, indeed, they did.

Alina added: 'The head of the registry office asked her to instruct us that we should not appear both in dresses, because in Russia marriage is between a man and a woman, and no other way.

'She threatened that she would not allow us to come in such clothes.

'When I called her, she threatened me with an administrative punishment, saying something about the insult to the feelings of believers, and so on - although we did not marry in church.'

Eventually the registry office 'surrendered' since, in fact, there are no rules on couples marrying when both are wearing white bridal dresses. [Daily Mail]
Androgyen? If that's how they say 'media whoring twerp' in Ruskie, who am I to argue.
Nanny State Brain Fart of the Week: The Sanctuary City of Angels is worried about low voter turnout during election cycles. What to do? What indeed.
One city government cabal suggested 'bribe them'. Sounds bad, and it is, for a variety of reasons, not the least of which is the fact that buying votes is illegal.
[The cabal] voted Thursday to recommend that the City Council look at using cash prizes to lure a greater number of people to the polls.

On a 3-0 vote, the panel said it wanted City Council President Herb Wesson's Rules, Elections and Intergovernmental Relations Committee to seriously consider the use of financial incentives and a random drawing during its elections, possibly as soon as next year.
[American Thinker]
If that doesn't make your eyes roll, prepare to be thrilled. The cabal that pooped out this vote buying scheme is - trumpet fanfare - Los Angeles Ethics Commission.
And now, you know the rest of the story.
Sighting of the Week: If you were in L.A. and strayed close to the Port of Los Angeles, this week, you probably had a surreal experience. If you thought you spotted a 60 foot tall yellow rubber duck, you weren't imaging it.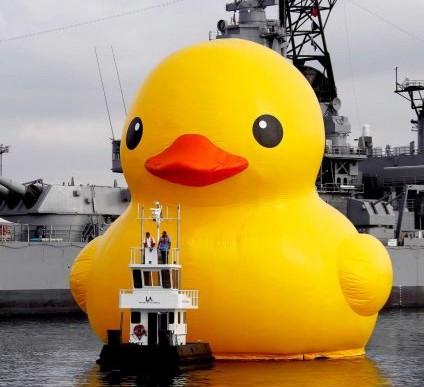 It's the worlds largest bath toy and it's in L.A. for the Tall Ships Festival L.A.
Horny Slut of the Week:
The Good: 53-year-old Shari Walters got horizontal and squishy with a pair of studs.
The Bad: Her studs are German Shepherds belonging to her roommate.
The Ugly: After the dogs' owner caught her, Shari tried to poison her two roommates.
Here's your Paul Harvey Moment:
Walters admitted to having sex with both of the roommate's German shepherds, the woman said.

A male roommate who had been dating Walters broke up with her "because she was having sex with dogs," police said.

While having dinner that night, Walters' ex-boyfriend and the other roommate noticed their food tasted odd and their water wasn't clear.

"Aren't you going to eat?" the roommate said Walters asked her.

Then she said Walters attacked her and admitted to putting rubbing alcohol in their water and toilet bowl cleaner in their food.

She also said she had been having sex with dogs since she was 14. [Raw Story]
Shari was bagged, tagged and dragged for aggravated battery, cruelty or extreme cruelty to animals, and assault with intent to commit a violent felony.
.
Have you seen our 2013 Golden Oinks of the Year?