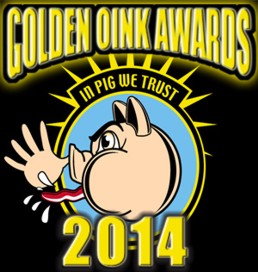 Every week, the PIG staff buries the hatchet - invariably in one another - and sits down for our weekly awards selection shouting match, punchout and melee. Battered, bruised, and amazed that we survived another contentious confab, we try to muster a some semblance of professionalism while we salute those Standup Guys and Gals and administer bitch-slaps on the richly deserving. Originally named Props And Chops we decided to give this awards page a more illustrious name: Golden Oinks 2013.
PIG's Golden Oinks Selection Committee singles out the following individuals and/or groups for special PIG attention.
Capitalists of the Week:
They needed $105 to buy dad a present. Instead of asking mom for a handout, the wenchlets discussed ways to earn the money. Eventually our two enterprising young ladies decided to open a lemonade stand. In the first hour they made $25.
Things looked promising, until City Hall deemed them public enemy #1.
* A cop said they were too close to the curb.
* A code enforcement Nazi...uh...officer demanded that they pay $150 for a city permit - a peddler's permit.
* The city health department insisted on performing a health inspection and demanded that they get a health permit [ka-ching].
As bad as that sounds, it gets worse. It didn't happen in some Progtard infested state, it happened in Overton, TEXAS!
Here are the dastardly capitalists, Andria and Zoey Green: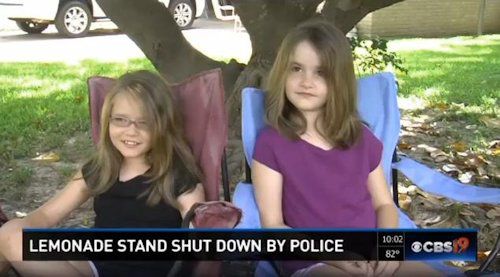 If, like me, you believed Texas was more enlightened about such things, we both know better now.

Self-Inflicted Wound of the Week:
If the following is an example of this dude's critical thinking, I'm surprised that he made it to the ripe old age of 30. I wouldn't bet the proverbial agriculture endeavor that he'll make it to 40.
[HuffPo] Some guys shoot themselves in the foot metaphorically. but only Adam Hirtle knows if it's worse to do it literally. And he did it not once, but twice.
Hirtle, 30, of Colorado Springs, Colorado, told investigators he purposely shot himself in the foot Wednesday night because he was curious how it would feel, the Denver Post reported.
Investigators went to a hospital around 7 p.m. after getting a call about an accidental gun discharge.
Hirtle was quick to correct them that his wounds were anything but accidental.
He told officers he intentionally pointed a .22 caliber, semi-automatic handgun at his foot and pulled the trigger , according to Fox News.
Police said Hirtle told them he was in the garage and decided to take off his boot and shoot his foot. Then he put the boot back on and took another shot, according to KDVR.com.
Hirtle did not sustain life-threatening injuries from his self-inflicted wounds, according to 9News.com.
What Hirtle will do with his newfound knowledge is anyone's guess. However, he will be getting an education in the legal system, according to Westword.
Hirtle has been arrested on suspicion of a prohibited use of weapons, reckless endangerment and child abuse, because one or more kids may have been in the vicinity when he fired the gun.
"Shoot yourself in the foot is a metaphor, dude. So is 'set your hair on fire', in case you want to kick it up a notch.
Sucker of the Week:
I've decided to name our scam impoverished hero 'Mark', since he fell for a classic fortune teller scam.
He met the love of his life, Michelle, while he spent quality time in Arizona. Unfortunately he wasn't the love of her life. A nasty drug habit 'owned' Michelle body, heart and soul. What to do.
Our 32 year old hero returned to his Brooklyn home, determined to find a way to win Michelle's heart. The 'way' he found is a 26 year old psychic named Priscilla Delmaro, whom he hired in August 2013. During the next 20 months, she nailed Mark for $713,975.
In a statement the man and private investigator, Bob Nygaard, presented to detectives last month, he said Delmaro told him that he and Michelle, who lived in Los Angeles, were 'twin flames' being kept apart by negativity.
He had come across her Times Square storefront on August 24, 2013 after he walked across the Williamsburg Bridge, according to the New York Times.
The psychic, who vowed to return most of the money when her work was finished, said spirits talked to her, so he made multiple payments to her over 20 months, he told investigators.
The man told police he had spent hundreds of thousands of dollars before finding out in February 17, 2014 that Michelle had died, possibly from a drug overdose.
But, the man wrote, Delmaro said Michelle's spirit could be reincarnated in the body 31-year-old woman.
More payments and a trip to seek out the 'new' Michelle, who Delmaro said was in Los Angeles, followed before the man said he decided to go to police in May.
At that time, the man had lost his apartment, sold his car, had to borrow $28,000 from a colleague as well as borrow money from family and friends, according to the New York Times. [Daily Mail]
How stupid was Mark? Very:
First visit to psychic: $2,500
Second visit to psychic: $9,000
Diamonds to protect his energy (Tiffany & Co ring): $40,064
Rid him of evil spirit stalking him: $56,000
Fake funeral ritual: $40,000
Time machine to cleanse his past (rose gold Rolex watch): $30,000
80-mile bridge to lure spirit into another realm: $80,000
90-mile bridge for Michelle's spirit: $90,000
Race Card Retard of the Week:
A Federal Black Robe hammered a test used to evaluate Big Apple teachers into oblivion with his gavel. Why? Why indeed:
A federal judge in New York has struck down a test used by New York City to vet potential teachers, finding the test of knowledge illegally discriminated against racial minorities due to their lower scores.
At first glance, the city's second Liberal Arts and Science Test (LAST-2) seems fairly innocuous. …
One sample question from the test asked prospective educators to identify the mathematical principle of a linear relationship when given four examples; another asked them to read four passages from the Constitution and identify which illustrated checks and balances. Besides factual knowledge, the test also checks basic academic skills, such as reading comprehension and the ability to read basic charts and graphs.
Nevertheless, this apparently neutral subject matter contained an insidious kernel of racism, because Hispanic and black applicants had a passage rate only 54 to 75 percent of the passage rate for whites.
It must be RACIST.
LAST-2 hasn't been used in New York since 2012, but the ruling will still have repercussions. Minorities who failed the exam (who number in the thousands) may be owed years of back pay totaling millions of dollars, and those who were relegated to substitute teaching jobs could be promoted to having their own classrooms. In addition, while [former Playboy bunny and now District Judge Kimba] Wood's ruling only applies to New York City, the test was used statewide, and it could serve as a precedent for further lawsuits.
The ruling could also pave the way for another ruling finding New York's current teacher test, the Academic Literacy Skills Test (ALST), to be discriminatory as well. That test is even harder than LAST-2, with a strong focus on literacy skills such as writing and reading comprehension, and like LAST-2 it has a very large gap in scores between whites and minorities. A lawsuit, once again being heard by Wood, is already pending, with the plaintiffs arguing that there is no clear evidence strong literacy skills are essential for a teacher.
Is anyone still wondering why I call them government CESS-SCHOOLS?
Bad Idea Hall of Shame:
Bad idea: Affirmative Action hiring of Air Traffic Controllers.
The thrilling details: Until 2013, the FAA gave hiring preference to controller applicants who earned a degree from one of its Collegiate Training Initiative schools and scored high enough on an eight-hour screening test called the Air Traffic Selection and Training exam, or AT-SAT, which measures cognitive skills. The Obama administration, however, determined that the process excluded too many from minority groups.
After the FAA changed its screening process in 2014, thousands of applicants who were already in the pipeline—people who had obtained an FAA-accredited degree, taken the AT-SAT exam and had been designated "well-qualified" to become air-traffic controllers—were told by the government that they would have to start the process again. "But this time, when they applied for a job, their college degrees and previous military experience would mean nothing," reported Fox Business. "They would now compete with thousands of people the agency calls 'off the street hires'; anyone who wants to, can walk in off the street without any previous training and apply for an air traffic control job."
In other words, the current policy is to deliberately favor less-qualified applicants over more qualified applicants in the name of obtaining the "right" racial and gender mix among air-traffic controllers. [Mbatt]

What could possibly go wrong?
.
.
Have you seen our 2014 Golden Oinks of the Year?