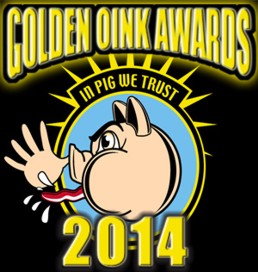 Every week, the PIG staff buries the hatchet - invariably in one another - and sits down for our weekly awards selection shouting match, punchout and melee. Battered, bruised, and amazed that we survived another contentious confab, we try to muster a some semblance of professionalism while we salute those Standup Guys and Gals and administer bitch-slaps on the richly deserving. Originally named Props And Chops we decided to give this awards page a more illustrious name: Golden Oinks 2013.
PIG's Golden Oinks Selection Committee singles out the following individuals and/or groups for special PIG attention.
Date Awards Bestowed: July 12,, 2014
Hero - Barry Bitch-slap of the Week: Senator Ted Cruz (R-TX) continues to impress this pagan scribbler. This week, while the Marxist Messiah was in the Lone Star State for some fund raisers, our PIG hero, Ted Cruz, gave Barry the business, about The One's refusal to visit the border.
Cruz took to Twitter to invite Obama to take a look at the border itself amid a growing immigration crisis along the southern border with Mexico.

"If President Obama wants to have a real border meeting with @GovernorPerry, here are a couple suggested detours," Cruz tweeted on Tuesday.

The maps show driving routes from Austin to the border town of Laredo (235 miles, 3 hours) and Dallas to border town McAllen (506 miles, 7 hours and 29 minutes). (CBS Houston)
Give the bastard hell, Ted.
Korrectnik Brainfart of the Week: Dr. Alex Baratta is an Egghead from a Brit Ivory Tower (Manchester University) who has his head deeply imbedded in his own ass. How far? Very.
Hiding behind a new Korrectnik term 'Accentism', he wants to make mocking someone's accent a crime. Why? Because it's a bastard cousin to 'racism'.
PEOPLE mocked for their accents should be protected in the same way as victims of racism.

Dr Alex Baratta has called for "accentism" to be made a crime.

The linguist said people with an accent often felt like "fakes" as they tried to "posh up" when talking.

He wants job applications and other official forms to state an accent alongside other identities such as gender, sexual orientation, religion, age and race, so any discrimination can be exposed. [Daily Star]
Accentism? Half the comedians in J.O.E. will be in the slammer.
Irony Award: His name is Bill Hillmann and he's a self-proclaimed expert on the running of the bulls at the San Fermin festival in Pamplona, Spain. Despite his 'expertise', he was on the receiving end of some pointed bovine pleasantries, this week:
Bill Hillmann, a 32-year-old from Chicago and a longtime participant in the nine-day Pamplona street party, was gored twice in the right thigh during one of the daily bull runs, organizers said on their website.

The injury was serious but not life-threatening, the Navarra regional government said in a statement.
[Fox News]
There's one final tidbit that puts this in perspective. He co-authored a book named: "Fiesta: How to Survive the Bulls of Pamplona"
Human Gene Pool Volunteer of the Week: Men love things that explode, and an Oklahoma denizen named Pat Hughes is no exception. He filed his Human Gene Pool Improvement Volunteer application on July 4th, when he was firing a fireworks shell from it's launch tube.
Brainfart 1: He put the shell into the launch tube upside down.
Brainfart 2: After lighting the shell, he held the launch tube over his head.
Instead of soaring skyward, the shell came out the bottom of the launch tube, then exploded inflicting fatal head wounds on Patrick.
File this HGPI epic under 'read the directions' on your Deselection scorecard.
Dead Letter of the Week: Maybe Uncle Sam is 'doing the math'. If dead Americans can vote in Chicago elections, other dead Americans can be drafted.
This bit of Nanny State fun involves 14,000 Pennsylvania men born between '93 and '97. The all received these pleasantries from Uncle Sam:
"Our records identify you as a man who may be required to register with Selective Service," the letter read. "Failure to register with Selective Service is a federal crime punishable by a fine and imprisonment."
So what? So this: '93 in this instance denotes 1893 and '97 in this instance denotes 1897 .
Whopper of the Week: When pressed by rational adults and some irrational ones, about paying a visit to the Mexas- Mexico border, Messiah Barry pooped out a WHOPPER. Acting indignant, he derided such a visit as political theater and a photo-op.
The implication is that Barry is above such things. Oh really? Since when? Dude, your entire political career, especially, the last 5 (+) years is non-stop political theater. As for photo ops, which part of malignant Narcissist don't you understand. You're the poster punk for Media Whoring.
Excuse of the Week: The fun started when a local council, Lichfield Council, mistakenly deposited £52,000 [appx. $90,000] in council money into a 23 year old single mother's account. And what, you ask, did Michaela Hutchings do? In a mere 48 hours, she'd burned her way through £9,000 [appx. $15,500] of it, most of which she used to buy designer clothes.
When the local council came after her, demanding that she return the money, she eluded them, at first, then her luck ran out:
Hutchings says she was out when two men from the council eventually arrived at her mother's house, but the next day they came back with riot police who surrounded the area.

She says officers with their Tasers drawn handcuffed her, threw her into the back of a riot van, and took her to a police station where she was charged with dishonestly retaining a wrongful credit, which carries up to ten years behind bars.

She pleaded guilty and was taken to Stafford Crown Court for sentencing, where Recorder Derek Desmond spared her prison provided she could repay £52, 465.21 - the initial sum, plus £643.87 interest.

Hutchings says she immediately repaid the £40,000 she had saved, plus £3,600 left in her bank account.

The council will auction off the items she bought, and then it is up to her to repay the rest.
[Daily Mail]
A judge tried to cut her some slack, but she's not getting it done:
After she was caught, a judge spared her jail on the condition she paid the money back by Christmas Eve, but now she is complaining that the punishment is unfair, and that she has been made an example of because she is attractive.

In an interview with The Sun, she said: 'I've done wrong but I'm only human, the same as everyone else. They're punishing me because of the way I look.

'If I wasn't much to look at and played the card of "Oh, I only get this much a month, I was in a bit of a sticky situation" I reckon I'd have got a slap on the wrist and just paid back a fiver a week.

'I pleaded guilty but the only person guilty is the person who put the money in my account. I don't think I should have been punished the way I was. It's just outrageous.'
Is she 'all that'? You be the judge.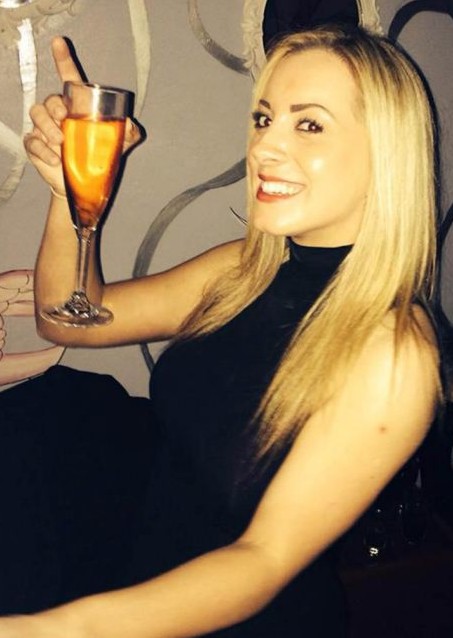 Vast Right-Wing Conspirator of the Week: Dinesh D'Souza aced this one when two major cabals owned by Obamunists - COSTCO, GOOGLE - tried to scuttle interest in D'Souza's 'America'.
COSTCO: Costco has suddenly — and according to author Dinesh D'Souza, inexplicably —booted his book from stores nationwide, ordering chain operators to clear their shelves of "America: Imagine a World Without Her" by July 15.
GOOGLE: The terminally lefty search firm is pretending that the movie based on the book Costco refuses to sell doesn't exist.
Lawyers representing Dinesh D'Souza's newest film, America, have fired off a letter to Google demanding that the search engine correct problems that they say are hampering the ability of consumers to figure out where the movie is playing.

The letter claims that Google has been confusing America with 2016: Obama's America, which was D'Souza's first movie and has been out of theaters for two years, while Lionsgate released America on July 2 and it is currently playing in about 1,100 theaters nationwide.

Google, according to the letter, has been "misdirecting many users who mistakenly believed the film was not playing in theaters. We understand this was brought to your attention for correction five days ago, yet the problem persists." …
Moonbattery nailed it with this compelling prose:
Dinesh D'Souza's eloquently expressed patriotic message certainly must throw a scare into the anti-American Obama Regime. Its most stalwart defenders will go to any length to prevent people from hearing what D'Souza has to say. Obamunist Costco is pulling his best-selling book America off the shelves. Rabidly left-wing Google appears to have been doing its part to prevent people from seeing the movie version:
Korrectnik Cretins of the Week: Mexifornia's Marxist government aced this one, with a new law that erases the terms 'husband' and 'wife' from the state's marriage laws. Both terms give GLAAD BAAGs a boo-boo, so they are out and 'spouse' is in.
Globally Warmed RED Herring of the Week: The newest 'see what you've done' Globally Warmed whopper warns that 'GASP' rising temperatures will mean that redheads will become extinct.
The theory goes that red hair is an evolutionary response among human beings to a lack of sunlight, explains the Daily Record, a Glasgow rag.

Red hair allows people who have it to obtain high levels of vitamin D from the sun in places where it doesn't shine much.

"We think red hair in Scotland, Ireland and the north of England is adaptation to the climate," said Alistair Moffat, who heads ScotlandsDNA, a genetic testing company. "We do not get enough sun and have to get all the vitamin D we can."

Moffat added that fewer clouds and more sun would mean "fewer people carrying the gene," according to the Daily Record.
[Caller]
They must be running low on ideas, if 'no more gingers' is the scariest thing they can find.

.
Have you seen our 2013 Golden Oinks of the Year?