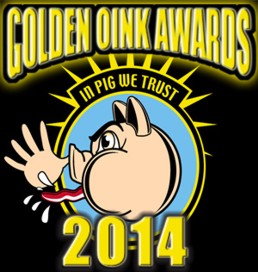 Every week, the PIG staff buries the hatchet - invariably in one another - and sits down for our weekly awards selection shouting match, punchout and melee. Battered, bruised, and amazed that we survived another contentious confab, we try to muster a some semblance of professionalism while we salute those Standup Guys and Gals and administer bitch-slaps on the richly deserving. Originally named Props And Chops we decided to give this awards page a more illustrious name: Golden Oinks 2013.
PIG's Golden Oinks Selection Committee singles out the following individuals and/or groups for special PIG attention.
Smackdown of the Week
Sen. John McCain said Sunday that President Obama is letting his personal issues with newly re-elected Israeli Prime Minister Benjamin Netanyahu affect his decision-making and shared policy goals.
"It's time that we work together with our Israeli friends and try to stem the tide of ISIS and Iranian movement throughout the region, which is threatening the very fabric of the region," McCain, R-Ariz., said on "State of the Union."
During the interview, McCain called out Obama and told him: "Get over your temper tantrum, Mr. President."
McCain went on to call out the administration's Middle East policies and said Obama's priorities are "so screwed up that it's unbelievable".
PIGish Suckerpunch: Where was all this spit and vinegar during the 2008 election cycle, Juan?
PIGish Dad of the Week
[BBC] Indian man takes daughter to school roped to motorcycle.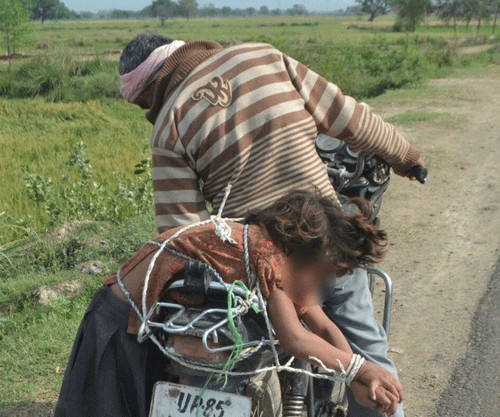 The girl tied to the bike The man was arrested after being photographed by passers-by.
Police in India have charged a man who took his eight-year-old daughter to school roped to his motorcycle.
The 40-year-old was arrested after local newspapers in Uttar Pradesh state published photos taken by passers-by. He has now been freed on bail.
Onlookers accuse the man of cruelty - he says his daughter had an exam and was reluctant to go to school.
The incident comes at a time when the prime minister has launched a huge campaign to educate girls in India.
It took place in a village in the district of Mathura on Friday.
The man, a father of two sons and three daughters, works as a security guard at a private school
Police say he tried to persuade the girl, his youngest child, to go to school, particularly since she had a test to write.
The child was promised sweets and gifts, but when she refused to relent, her angry father tied her to the back of his bike with ropes and took her to school.
He has been charged with breach of peace, Mathura superintendent of police Shailesh Pandey told the BBC.
The man spent a day in the cells but still believes he did the right thing.
"My daughter will not die if I take her to school. But she will surely die if she does not study," he told the Times of India.
India has a female literacy rate of 64%, compared with 81% for men. Prime Minister Narendra Modi recently launched a campaign asking parents to educate their girls.
Campaigners say going to school is still a distant dream for many girls, especially in rural India, and that many parents think it is not necessary to educate their daughters.
Korrectnik Doublespeak
In a guest column for the Post, OU's student publication, Erin Davoran, a junior, claimed that she was approached by a man—who she called a "menist"— while tabling for the school's Women's Center who engaged her in a conversation about an experience he had in which a woman was sexist towards him in a job interview. Despite the interviewer telling the man that "all white men created poverty," Davoran said women cannot be sexist towards men.
"Women cannot be sexist; the same way people of color cannot be racist," Davoran wrote.
"Women can be prejudiced against men. But just as #notallmen are sexist, not all women are anti-man," she continued. "There are many different discourses of feminism, and the majority believe in the social, political and economic equality of the sexes."

Sexist Bitchslap: Sorry Cupcake, you're full of shit on this one. In a rational world, sexism - discrimination based on gender - works both ways, especially now, with womyn controlling so many Ivory Towers.
Gender Bending Buttheads of the Week
[Metro.uk] Sweden has added a gender-neutral pronoun to the dictionary
The official dictionary of the Swedish language will confirm the introduction of a gender-neutral pronoun when it is released in April.
The word 'hen' – a combination of 'han' (he) and 'hon' (she) – was coined in the 1960s when use of the word 'he' to denote an individual was deemed politically incorrect.
The word never took hold, however – until now. Sweden's transgender community appropriated the word around 2000 and its use has slowly graduated to the vernacular.
'For those who use the pronoun, it's obviously a strength that it is now in the dictionary,' said Sture Berg, one of the editors of the Swedish Academy's SAOL, where the word is one of 13,000 new additions.
'Hen' can be used to hide the gender of a person or because it is unknown. It can also be used to describe transgender people.
The Guardian reports that the word is now found in text books, court rulings and official documents.
In English, the pronouns 'they' and 'them' can be used to denote both genders, though there have been calls for alternatives such as 'zhe'
PIGish aside: We already have a gender neutral word: IT.
Tax Nazis of the Week
I have a soft spot for Italy, so this one leaves me torn, and troubled. But, I'll man up and muddle through.
If you think our Elected Tormentors have cornered the market on asinine taxes, prepare to be thrilled.
CONEGLIANO – is another incoming wave of taxes for merchants Conegliano that this time they have to pay the tax "on the shadow."
At first glance it might seem a joke, but it's one of those imposts hidden (but then not so) in the folds of the Italian rules. If a store or a bar has an awning outside the shadowing on public property, must pay a fee that is part of the public land use, tax on employment of public land. While employment is obviously only virtual. "It's absurd – says Mathias Doimo, owner of the grocery store" La Dispensa "via Vital -. We will pay for this too, but not really talk about it. It's a shame.
Mathias, 31, has taken over the shop in 2008. Outside, to protect the window from the sun so that the foodstuffs are not directly exposed to light, has installed a curtain of four square meters. A few days ago he received from Abaco, the company that manages the tax on behalf of the City, the payment request. The tax is charged at EUR 8.40 per square meter and the fee is calculated based on the area of the tent. In his case the tent is 4 square meters, and has to pay 33.6 euro that comes with various rounding to 34 euro.
PIG sez: A tax on shadows? Mama mia!
PIGish Prank of the Week
[You can only have this kind of fun in a REAL - brick and mortar - bookstore. Kudos to the imaginative Brit.]
Metro.uk reports
Remember the bloke who decided to liven up his local bookshop by adding some new imaginative sections?
He's now returned to the shop, and it seems that this time, he's taken it upon himself to address the lack of self-help books on offer, by creating his own titles.
In reality, they're actually just mock titles placed on old books, but they deal with some extremely important issues (kind of).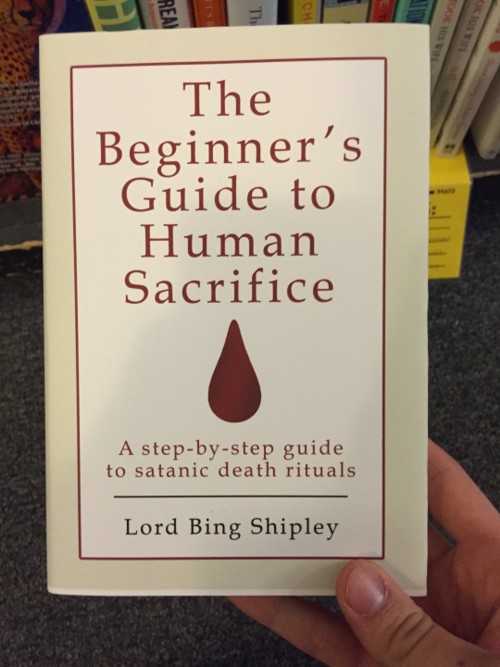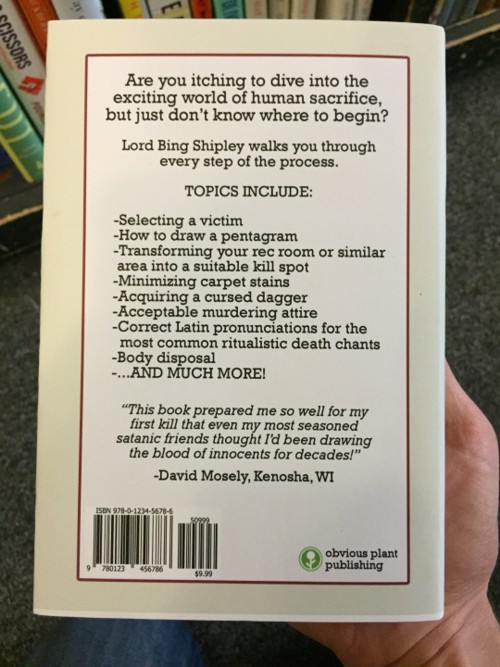 .
Have you seen our 2014 Golden Oinks of the Year?