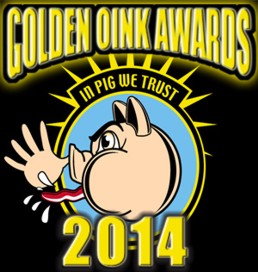 Every week, the PIG staff buries the hatchet - invariably in one another - and sits down for our weekly awards selection shouting match, punchout and melee. Battered, bruised, and amazed that we survived another contentious confab, we try to muster a some semblance of professionalism while we salute those Standup Guys and Gals and administer bitch-slaps on the richly deserving. Originally named Props And Chops we decided to give this awards page a more illustrious name: Golden Oinks 2013.
PIG's Golden Oinks Selection Committee singles out the following individuals and/or groups for special PIG attention.
Pettifogging Pissants of the Week: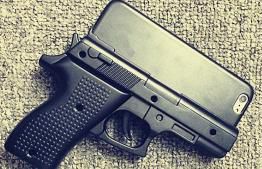 Minnesota lawmakers are worried about cell phone cases designed to look like handguns.
State Reps. Joe Atkins and Dan Schoen announced legislation Friday that would ban the manufacture, sale and possession of the gun-shaped cases. Minnesota's Legislature won't reconvene until March.
Hambo sez: If some moron brandishes this thing in the wrong place, at the wrong time he, she, heshe or it deserves what ensues.
Mexifornia Meathead of the Week:
Apparently, GLAAD BAAGs are such delicate little flowers that the slightest thing will give them a boo-boo. Poor babies. Fear not, whining twerps, the Progtards in DC have a plan.
[Washington Examiner] More than two dozen Democrats have proposed legislation that would eliminate the words "husband" and "wife" from federal law.
Those "gendered terms" would be replaced by "gender-neutral" words like "spouse" or "married couple," according to the bill from Rep. Lois Capps, D-Calif.
"The Amend the Code for Marriage Equality Act recognizes that the words in our laws have meaning and can continue to reflect prejudice and discrimination even when rendered null by our highest courts," Capps said. "Our values as a country are reflected in our laws. I authored this bill because it is imperative that our federal code reflect the equality of all marriages."
The Supreme Court ruled in June that the 14th Amendment to the Constitution means all states have to license same-sex marriages, a ruling that effectively ended the same-sex marriage debate in America. Capps said her bill was aimed at taking the next step, which is to ensure the United States Code "reflects the equality of all marriages."
And here you were worrying, needlessly.
Headline of the Week:
Expedition To Study Global Warming Put On Hold Because Of TOO MUCH ICE
Moron of the Week:
An impressive number of people have discovered, the hard way, that bison are big, hairy, and easily provoked. Our heroine understands that, now:
(CNN)Visitors to Yellowstone Park seem to be having trouble taking in the message that it's not a good idea to get too close to the wild bison that roam the wilderness.
The latest person to find out the hard way is a 43-year-old Mississippi woman who tried to take a selfie with one of the hairy beasts near a trail on Tuesday.
She and her daughter turned their backs to the bison, which was about 6 yards away, to take a photo with it, according to the National Park Service.
"They heard the bison's footsteps moving toward them and started to run, but the bison caught the mother on the right side, lifted her up and tossed her with its head," the park service said in a statement Wednesday.
Her family drove her from the site of the attack, near the Fairy Falls trailhead, to the Old Faithful Clinic in the park for treatment. She was released with minor injuries.
Public Enemy of the Week:
Given their problems with the Ruskies, Ukrainian officials have ample reason to be careful about which Russian citizens they'll allow in Ukraine. Given that, it's understandable that some Ruskies could pose a serious threat to national security.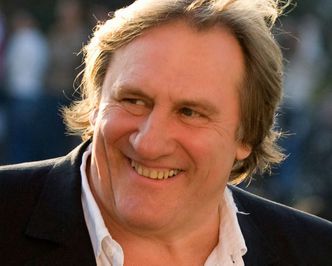 One famous Ruskie who made the cut is Gerard Depardieu. Yes THAT Gerard Depardieu.
[Neurope.eu] The Ministy of Culture of Ukraine believes that the actor is "a threat to national security".
Beside Depardieu, some other high profile figures of the entertainment industry will be prohibited from entering Ukraine, with Serbian film director Emir Kusturica, US directors Steven Seagal and Oliver Stone, as well as some representatives of the Russian movie industry among them.
Ukrainian media are banned from mentioning or showing images of those on the list, while their films, songs or other works cannot be broadcast or published in the country, said the newspaper.
A vocal supporter of Russian President Vladimir Putin, Gerard Depardieu obtained Russian citizenship in early 2013.
The full "black list" of some 600 names is due to be published officially on August 03. Among those who could also figure on it is the American actor Mickey Rourke, who openly admires Putin and was photographed in London with a T-shirt decorated with Putin in military attire; actors Hilary Swank and Jean-Claude Van Damme who in 2011 went to Grozny, Chechnya's capital city, to attend a celebration feting local dictator and Putin protege Ramzan Kadryrov on his 35th birthday. Hilary Swank sang "Happy Birthday Mr. President" to Kadyrov for a reported half a million dollars.
Banned in Ukraine? It doesn't have the same impact that Banned in Boston had, in a bygone era.
PIG's Some Are More Equal Award:
You'll never guess who got booted from a Gay Pride Parade.
[Metro.UK] A Pride event has banned drag queens from performing in case they 'offend' trans people.
Free Pride Glasgow, which takes place next month and advertises itself as an 'anti-commercialist' alternative to the city's main Pride event, decided that drag queens – closely associated with Pride celebrations for most of their history – would not be welcome to perform.
In a statement outlining the reasons for the ban, Free Pride Glasgow said it was concerned that trans people or those questioning their gender might feel 'uncomfortable' should drag queens perform.
'It was felt by the group within the Trans/Non Binary Caucus that some drag performance, particularly cis drag, hinges on the social view of gender and making it into a joke, however transgender individuals do not feel as though their gender identity is a joke,' the group said.
'This can particularly difficult for those who are not out and still present as the gender they were assigned at birth. While it was discussed whether we could have trans drag acts perform, it was agreed that as it would not be appropriate to ask any prospective drag acts whether or not they identified as trans.'
Just say 'no' to the freak show? Apparently.
Whine of the Week:
Target strayed into the Korrectnik crosshairs with some t-shirts sporting snarky prose.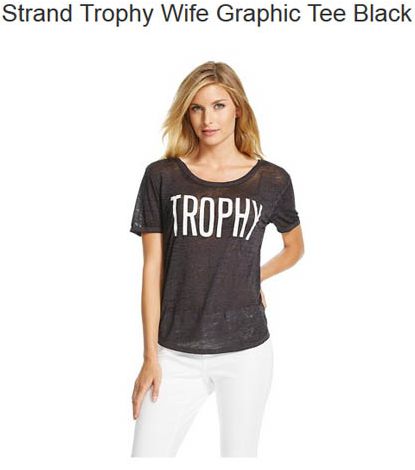 [Fox News] Target is facing some heat from some shoppers who said it is selling T-shirt in its juniors department emblazoned with the words "Trophy," "Mrs." and "This is my backstage pass."
Several women posted shots of what they say are shirt racks at the department store stocking the shirts in question.
Some critics are now slamming the tees as anti-woman. A Change.org petition called "Stop Selling Sexist 'Trophy' Shirt That Demeans Women" has a couple hundred signatures. But are these shirts really that big a deal?
Jen Groover, a motivational speak and author of, "What If? & Why Not," says the tees indeed depict women negatively.
"The general use of the term 'trophy wife' in our society, is meant as a demeaning term toward the woman and a symbolic 'high-five' toward the man for scoring outside of his zone," Groover told FOX411. "I would prefer seeing more positive statements that are empowering for myself, my daughters and all women."
That's the reason for this hair incineration? Go figure.
.
.
Have you seen our 2014 Golden Oinks of the Year?