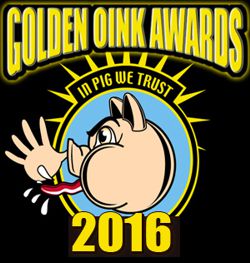 Once again, the PIG staff buried the hatchet - invariably in one another - and sat down for our awards selection shouting match, punchout and melee. Battered, bruised, and amazed that we survived another contentious confab, we try to muster a some semblance of professionalism while we salute those Standup Guys and Gals and administer bitch-slaps on the richly deserving. Originally named Props And Chops we decided to give this awards page a more illustrious name: Golden Oinks.
PIG's Golden Oinks Selection Committee singles out the following individuals and/or groups for special PIG attention for their amazing, amusing, and or inspiring antics.

Voice of Reason Award: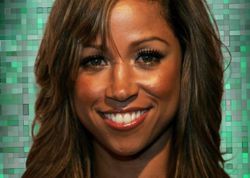 Recently,Stacey Dash took Oscar whiners to task on her blog at Patheos:

I'm thankful for all of the acting jobs I've had. But I look forward to the day when people don't self-segregate based on skin color, while loudly complaining about a segregated society.

That might be hard for the people at BET to understand, especially after I read this quote from a BET exec about the Oscars:

"It would be great if the Oscar nominees represented even closely the percentage of moviegoers who are of different ethnicities, but they don't," said Stephen Hill.

Wow. Apparently, Mr. Hill doesn't understand what an Oscar is.

Oscars are awarded to the actors and actresses who excel… not the audience.

What's next? Awarding $1 million to the guy sitting in his pajamas on the couch watching Survivor? Giving a blue ribbon to the kid who stayed home from field day? Giving a Nobel Peace Prize to a President who escalated wars in Iraq and Afghanistan?

No, that would be unreasonable.

My problem goes back to the notion that every area of life needs to break down exactly according to demographic ratios except in those areas in which black people have decided they want to have their own space. I don't have a problem with black people having their own space. I have a problem with the folks at BET absolutely freaking out when other institutions don't match up to what they think is best.

BET lies to American black people by telling them that the rest of America is racist, so stick close to your own kind. Anything that promotes segregation is bad!
Scumbag of Week:
20 years ago, a 39 year old woman - Cristina Carta Villa - married a 70 year old man - Gabriel Villa. Last November, Cristina got a nasty shock, thanks to a tax bill. As shocks go, this one is off the scale.
Her devoted hubby of 20 years - a man with whom she'd raised a son - had secretly divorced her 4 months after their wedding. Without her knowledge, he dispatched his shyster to the Dominican Republic to get his secret divorce in a country where neither of them had lived. Why? Because he's a rat bastard, a RICH rat bastard. He claimed 'incompatibility of temperaments', then, after which he spent 2 decades with her. What a vile piece of crap.
Morons of the Week:
[The Guardian] US yachtsmen rescued nine times since July say they are 'totally capable guys'
Bob Weise and Steve Shapiro, both 71, who hope to sail across Atlantic, have repeatedly run into trouble since leaving Norway in July
The US sailors' latest mishap came when their 40ft vessel listed while tied up in Hayle harbour in Cornwall.
They insist they are perfectly adept and describe their plans to cross the Atlantic in their yacht, Nora, as "just a straight sail".But two 71-year-old American adventurers currently moored in Cornwall have been dubbed "captain calamities" after being rescued nine times before they have even left Europe.
Bob Weise and Steve Shapiro have repeatedly run into trouble since leaving Norway in July. Their latest mishap came when their 40ft vessel listed while tied up in Hayle harbour, Cornwall. It appears the pair had left a candle burning as they popped ashore to pick up groceries and it fell, setting clothes and cabinets on fire. Firefighters put out the blaze.
Shapiro said they were determined to carry on and hoped to be back at sea by the end of next week. "We are both fine. The boat fell over at low tide as it is a dry harbour. This caused a candle to fall over and started a fire on board that burnt some cabinets and my mate's clothes. We were not on board at the time – we were getting some supplies at the nearby grocery store.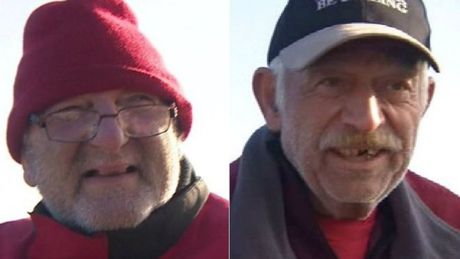 "Obviously we were not happy. It appears that a candle had not been blown out properly and a little spark relit itself."
Shapiro, a writer originally from California, said the accusations that their whole trip had been a disaster was unfair. "It is a long trip and was always going to be arduous but we have had some wonderful sailing days."
The pair have run into problems not just in the south-west of England but off the coasts of Norway, Scotland and Ireland. Problems have included a leak, groundings and engine failures. Shapiro said: "Nothing was dire or had anything to do with seamanship. We are totally capable guys. We're not stupid – just brave.
"We're learning about servicing the boat as we go. If your car gets a flat tyre and you call a mechanic does that make you incompetent? Is that a death-defying rescue? That's the analogy I would use to describe our situation.
"The best part of the trip has been meeting wonderful people along the way and the worst part has been the disappointment of these minor incidents. Hopefully Nora will be ready for the Atlantic trip. It's a long way but it's just a straight sail."
The pair aim to sail down to the Canary Islands and then across the Atlantic to the Caribbean before heading up the east coast of America to finish their journey in Maine in June.
Shapiro said he has become a donor to the lifeboat charity the RNLI. He said: "They are a great service and Britain is very lucky to have them. I have just made another donation."

Gutless Wonders of The Week:
A girls' basketball team has claimed they have been told they can no longer play in their local league because they are 'too talented'.
The Rogers Area Youth Basketball Association (RAYBA) girls' high school team in Minnesota say they were told by the North West Suburban Basketball League that they would be no longer welcome to play matches due to their 'skill level'.
They say that the news came in a letter just the day before they were due to play in a showcase tournament and while the girls were on a three game winning streak.
That will teach them. Athletic skill is a form of privilege. Exploiting privilege to defeat opponents is a form of oppression.
[C]oach Jason Hanauska says he is mad that banning his team means the league will stop talent from developing.
He told Fox 9: 'We found out on Friday they were not going to be allowed because according to the league our girls were too talented.
'Three teams were threatening to I guess either forfeit the games against us or flat out quit the league. So for some reason they kicked us out.'
Hambo sez: One phrase in this Fox News item stands out: the girls were on a three game winning streak. Obviously, they are not invincible, but they are, apparently, very damn good. They shouldn't be punished for that.
Capitalist of the Week:
[Fox] When a military wife's furnace broke down, a Pennsylvania repairman stepped in and fixed the malfunctioning unit at a huge discount.
He charged her $1.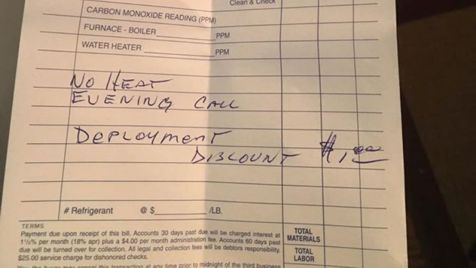 "He said that the $1 was a joke and to thank my husband for his service," Bridget Stevens wrote in a since-deleted Facebook post that has gone viral.
Paul Betlyn of Moon Township's Betlyn Heating and Cooling said the job normally would have cost about $150, but he gave Stevens, a mother of two, a "deployment discount."
"I'm not the hero here," Betlyn told ABC News. "The deployed, they're the heroes."
Her husband, Bobby, is deployed overseas with the National Guard. So when she arrived home to a cold house one evening earlier this month, she called Betlyn, expecting to get an answering machine.
"Ultimately, Paul, the owner, answered and was very patient as he walked me through different things to do to try to get it back on," Stevens wrote in the Facebook post.
But when none of Betlyn's suggestions fixed the issue, he drove to Stevens' house to look at the furnace himself.
"As he was working on the furnace, we got to talking about Bobby and the deployment," Stevens wrote. "I had mentioned in passing that I tried to figure it out with my husband, but since he's deployed and couldn't see it, he wouldn't know what to do."
Stevens said she was "apprehensive" about the cost. Then Betlyn handed her the bill.
"I was completely overwhelmed and in shock when Paul handed me the slip," Stevens told ABC News. "I didn't really know what to say, and I still have a hard time finding the words to truly express my appreciation."
Betlyn said he was just continuing a family tradition.
"My grandfather was a milkman during the Great Depression and many times he'd go to the door and the woman didn't have any money for milk. But the baby was crying in the background. So he'd put the milk on the table," Betlyn told ABC News. "And when I heard about Bridget with her husband being deployed…I put the milk on the table."
Betlyn has since started a "Military Deployment Kisses Fund" on gofundme.com. The aim is to raise money to send families overseas to meet with loved ones during lengthy deployments. He's raised nearly $1,500 in three days.
Whine of the Week:
GLAAD BAAGs who infest the Castro district, an infamos GLAAD BAAG enclave in San Francisco are shocked, dismayed and alarmed. Why? At least 55% of people moving in during the last year are GASP heterosexuals.
"When you lose the geographic concentration, you lose a lot," [GLAAD BAAG activist Cleve] Jones said. "We lose the cultural vitality, the political power – you also lose the specialized social services."
Then there is the feel of the place, which is becoming lost as an alien culture intrudes.
Amy Sueyoshi, 45, associate dean of the College of Ethnic Studies at San Francisco State University, says she [?] now feels less safe as a genderqueer person walking around San Francisco…
"The Dyke March has become this huge frat party … All these straight dudes and their girlfriends are descending on the park and setting up hammocks," Sueyoshi said. "It's a little bit sad." [MoonBattery]
NIMBY is alive and well.
Racists of the Week:
University of Connecticut - UCONN - is, like most Ivory Towers, suffocated by rampant Moonbattery. Infested by Progtards, it's the last place you'd go to find racial segregation. Until now.
The University of Connecticut is building a new residence hall that will segregate black people away from the general student population.
The new, segregated, all-male residence hall at the taxpayer-funded, flagship state school will be called ScHOLA²RS House, reports Campus Reform.
The awkwardly long acronym ScHOLA²RS stands for "Scholistic [sic] House Of Leaders who are African Amercian [sic] Researchers and Scholars." ScHOLA²RS House will be among seven distinct communities at UConn's $79 million, 210,000 square-foot NextGen Residence Hall, which is set to open in the fall.
It's not clear if the words "Scholistic" and "Amercian" are purposefully misspelled for some reason.
In any case, the mission of the segregated dorm is "to groom, nurture, and train the next generation of leaders to address grand challenges in society through the promotion of academic success in undergraduate programs at the University of Connecticut and in competitive graduate programs."
The concept, supporters of the neo-Jim Crow dorm say, is to increase college graduation rates for black males at Uconn. [CI]
A segregated dorm? In a damn Yankee state? WOW!
Have you seen our 2015 Golden Oinks of the Year?