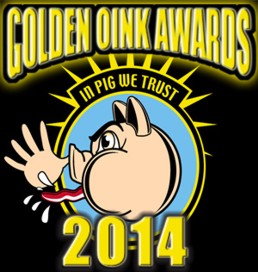 Every week, the PIG staff buries the hatchet - invariably in one another - and sits down for our weekly awards selection shouting match, punchout and melee. Battered, bruised, and amazed that we survived another contentious confab, we try to muster a some semblance of professionalism while we salute those Standup Guys and Gals and administer bitch-slaps on the richly deserving. Originally named Props And Chops we decided to give this awards page a more illustrious name: Golden Oinks 2013.
PIG's Golden Oinks Selection Committee singles out the following individuals and/or groups for special PIG attention.
Date Awards Bestowed: October 18, 2014
Brain Fart of the Week: Much closer to the problem, Ivory Coast, Guinea-Bissau and Senegal have slowed the spread of ebola, by closing their borders. This has helped confine the ebola outbreak in Africa to Liberia, Sierra Leone, and Guinea.
It sounds like a winning idea to me, and most rational adults would agree. Since he isn't the least bit rational, and seldom acts like an adult, Barry has his own notions on the subject:
Obama said the experts have advised him that it's more effective to let West Africans into the U.S. than it would be to keep them out.

"The problem is that in all the discussions I've had thus far with experts in the field, experts in infectious disease, is that a travel ban is less effective than the measures that we are currently instituting, that involve screening passengers who are coming from West Africa."

Obama said it's important to continue screening West Africans before they get on planes and then after they arrive in the U.S. to see if they're showing signs of disease. Sick people should get medical evaluations, he said. And people who are not sick should list their contact information.

"If we institute a travel ban instead of the protocols that we put in place now, history shows that there is a likelihood of increased avoidance. People do not readily disclose their information. They may engage in something called broken travel, essentially breaking up their trip, so they can hide the fact that they have been to one of these countries where the disease is in place. And as a result, we may end up getting less information about who has the disease. They're less likely to get treated properly, screened properly, quarantined properly. And as a consequence we could end up having more cases rather than less." [CNSNews]
I have numerous issues with his bullshit, but I'll only cite one. The visitor's papers - Passport, etc - should show all of the visitor's itinerary. If those documents aren't complete, or MIA - kick them out!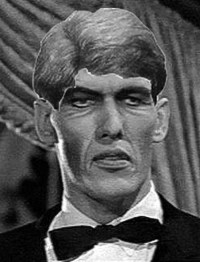 Braying Jackass of the Week: John Kerry
How does this fool breathe, with his head shoved so far up his ass? This week, he spouted off about ISIS, al Qaeda, Muslim Brotherhood, etc - muddying the waters by using the word 'extremists'. Stealing some of his rant from our PIGish satire, Bolt Neck categorically dismissed Islam as the root cause.
"The extremism that we see, the radical exploitation of religion which is translated into violence, has no basis in any of the real religions," he said. "There's nothing Islamic about what ISIL/Daesh stands for, or is doing to people."
Nope, it's all our fault - mostly our fault - because such things as:
Poverty among 'youthful Mideast populations.
Israel - 'the Israeli - Palestinian conflict'
Last but far from least, he blames - TA DA - climate change.
MORON!!!
Ironic Headline of the Week: "Hurricane Seminar Postponed By Hurricane"
You schedule a hurricane confab during hurricane season? Ok,
But, you pick frequent target of rogue hurricanes - Bermuda? What the hell are you smoking?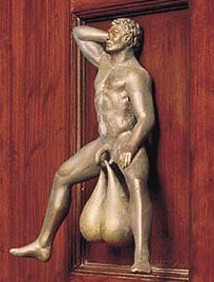 Brass Nads Award: Persistent rumors insist that Bruce Jenner is on the long torturous road to a sex change. Recent pictures do seem to show a more feminine Jenner, but the changes, if any are superficial. I am willing to attest that, where the rubber hits the road, he's got a full set of nads, including big brass ones.
His ex-wife found out about his brass nads, the hard way and she's not thrilled about it. What am I yammering about? What indeed.
Kris Jenner has been crying every night over Bruce Jenner's new date ... who happens to be Kris' former best friend for the last 20 years.

We're told Kris feels utterly betrayed by Ronda Kamihira ... who to this day has not said a word to her about seeing Bruce. Kris has seen photos of Bruce and Ronda in public, including the Elton John concert on Oct. 4th in L.A. She feels humiliated and played.

We're also told Kris has not confronted Bruce about Ronda -- and doesn't care if they're banging or not. She feels Bruce being out with Ronda on dates -- even casual ones -- given that Ronda was a family friend with whom they vacationed and shared holidays -- is just appalling.

One source said Kris is "torn apart and angry." [TMZ]
Big brass ones? You bet, and who knew he had that much manhood left?
This Week's Ungrateful Bitch: It happened while one of our warriors- First Sgt. Albert Marle - boarded a U.S. Air flight from Portland (Oregon) to Charlotte. He had a simple request, which a warrior hating stewardess BITCH flatly refused. Her disdain for the Army Ranger was obvious when she refused to hang his uniform jacket in the close. "First Class Passengers Only" she sneered.
An airline spokesman initially claimed that there was not enough space in the closet for the jacket, but passengers disagreed.

"She kept saying it was against company policy…it wasn't against company policy," first-class passenger Cliff Autrey told "Fox & Friends" Saturday. He said enlistees like Marle deserve everyone's support.

Another first-class passneger told WSOC that her "I was really appalled at not only the way she looked at him but the way she spoke to him in an angry type of attitude."

The station reported that Marle took his seat, declining offers to swap places with first-class passengers. [Fox News]
It must have hit the fan with a resounding SPLAT, because U.S. Air seems to be in 'crisis' mode over this bad publicity nightmare:
Late Friday, US Airways apologized for the incident and said it was reviewing the incident. "We have a long and proud history of serving our military members and hold the men and women who serve our country in the highest regard," the airline's statement said, in part.

A spokesman also said the airline was trying to get in touch with Marle and thank him for his service.
If you really want to thank him, hang up his damn jacket!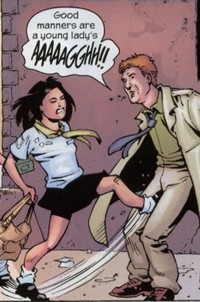 Kick Ass Wenchlet of the Week: We don't know for certain what the 35 year old Brit pervert had in mind when he accosted a teenage wenchlet in Tilgate Park. It's safe to assume it didn't involve getting his ass kicked by the 14-year-old tgirl.
The schoolgirl was walking home alone through a park near her home when the 35-year-old man came up behind her and grabbed her arms.

He soon realised his mistake when the young teen, who has studied martial arts for several years, broke free from his hold and started raining punches and kicks on him – despite being less than half his age.

Sussex Police arrested the man – described as being 'very thin' and around 5ft 7ins – shortly after his attempted assault in Tilgate Park, Crawley and are appealing for any witnesses to the Saturday morning incident to come forward. [Metro.UK]
Nicely done, darlin.
Heroes of the Week: Since his pockets aren't 'deep', retired SSGT. Kelly Foster is having his 1965 Ford Mustang restored, in fits and starts, as his finances will allow. He's been doing it this way, since 2005, when he bought the Mustang after his first tour of duty in Iraq.
Kelly would still be on his slow and steady restoration schedule, if the fickle fates hadn't stepped in to speed things up.
Margaret and Timor Martin were also getting their classic vehicle repaired when they heard about the soldier's story and decided to help him out with the costs.

"We got some friends of ours together and everyone pitched in," said Margaret. "We wanted to kind of pay it forward for someone who has served this country."

Foster thought he was going to simply check on his car; instead, he learned the news it had been restored to mint condition.

When he saw the car, he hugged the Martins.

"I'm extremely surprised. I had no idea this would happen," said Foster. "I'm speechless."

The Martins both come from strong military families and say they wanted to give back to those who served the country.

"We feel like these guys are underpaid and under appreciated," said Martin. "They are not taken care of the way someone who is willing to put their life on their line should be treated." [KHOU]
Now that's a resounding THANK YOU FOR YOUR SERVICE.
Zero Tolerance Zombies of the Week: The incident so alarmed Educrats at E. R. Dickson school [Mobile, Alabama] that they insist that the perpetrator see a mental health professional, immediately. The perp - let's call her Annie (Oakely) - scared the crap out of everybody when she produced a gun in school. She kicked it up notch, by pointing another weapon at a classmate, making gunshot noises.
Suitably alarmed, school officials made Annie answer a questionnaire to analyze her for suicidal thoughts. Later, she was hounded into signing a contract regarding suicide and homicide.
Alarming? Hardly.
Annie is 5 years old.
The 'gun' she produced in class was a drawing that looked vaguely like a gun.
The 'gun' she pointed at a classmate was a crayon and the gun noises were "pew, pew".
The only thing alarming here are the antics of the Educrats.
Annie doesn't need a mental health screening, but every Educrat who participated in this farce needs to be fitted for a straitjacket.
GAY-KK Sighting of the Week: Houston [Mexas] Mayor Annise Parker, reset the bar for exceeding her authority, when the muff diving bitch went to war with the city's Toll Takers. Here are some of the fun facts:
The city of Houston has issued subpoenas demanding a group of pastors turn over any sermons dealing with homosexuality, gender identity or Annise Parker, the city's first openly lesbian mayor.

The subpoenas are just the latest twist in an ongoing saga over Houston's new non-discrimination ordinance. The law, among other things, would allow men to use the ladies room and vice versa. The city council approved the law in June.

The Houston Chronicle reported opponents of the ordinance launched a petition drive that generated more than 50,000 signatures – far more than the 17,269 needed to put a referendum on the ballot.

However, the city threw out the petition in August over alleged irregularities.

After opponents of the bathroom bill filed a lawsuit the city's attorneys responded by issuing the subpoenas against the pastors.

The pastors were not part of the lawsuit. However, they were part of a coalition of some 400 Houston-area churches that opposed the ordinance. [Mbatt]
What this fishing expedition wants, is a smoking gun where a pastor used the pulpit to tell his flock how to participate in the ordinance nuking petition process. If they get one (or more) they'll get one of Barry's toadies to go after the Toll Booth's tax exempt status.
.
Have you seen our 2013 Golden Oinks of the Year?