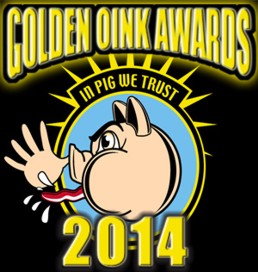 Every week, the PIG staff buries the hatchet - invariably in one another - and sits down for our weekly awards selection shouting match, punchout and melee. Battered, bruised, and amazed that we survived another contentious confab, we try to muster a some semblance of professionalism while we salute those Standup Guys and Gals and administer bitch-slaps on the richly deserving. Originally named Props And Chops we decided to give this awards page a more illustrious name: Golden Oinks 2013.
PIG's Golden Oinks Selection Committee singles out the following individuals and/or groups for special PIG attention.
Heroes of the Week:
When a Jihadikaze started shooting passengers on high speed Amsterdam to Paris train with an AK-47, three Americans - Oregon National Guardsman Alek Skarlatos, USAF medic Spencer Stone and Anthony Sadler did what needed to be done. Assisted by British IT consultant Chris Norman, they managed to wrestle the attacker to the ground, then beat the Jihadikaze senseless, stopping what could have been a deadly terrorist attack.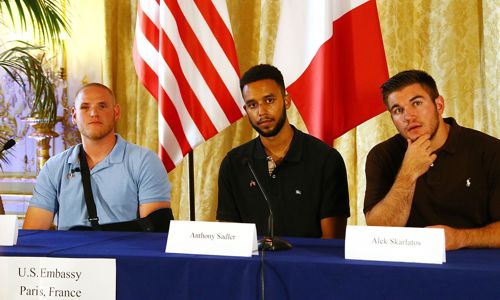 [Image: L to R Spencer Stone, Anthony Sadler, Alek Skarlatos]
[Daily Mail] The US servicemen who tackled a Kalashnikov-wielding terrorist to the ground in a packed Paris-bound train have described the moment they leaped into action.
Spencer Stone, an airman, was travelling with Oregon National Guard member Alek Skarlatos, 22, who was on leave after a tour of Afghanistan, and their Californian friend Anthony Sadler when he heard the gunman load his weapon in the toilet.
'We heard a gunshot, and we heard glass breaking behind us, and saw a train employee sprint past us down the aisle,' Sadler said from France. They then saw a gunman entering the train car with an automatic rifle.
'As he was cocking it to shoot it, Alek just yells, "Spencer, go!" And Spencer runs down the aisle,' Sadler continued. 'Spencer makes first contact, he tackles the guy, Alek wrestles gun away from him, and the gunman pulls out a box cutter and slices Spencer a few times. And the three of us beat him until he was unconscious.'
In another account, Skarlatos says he yelled 'let's go'.
As they beat the man - named in reports as Ayoub el-Qahzzani - he pleaded with them to return his AK-47, Sadler explained.
'He was just telling us to give back his gun. "Give me back my gun! Give me back my gun!" But we just carried on beating him up and immobilised him and that was it.'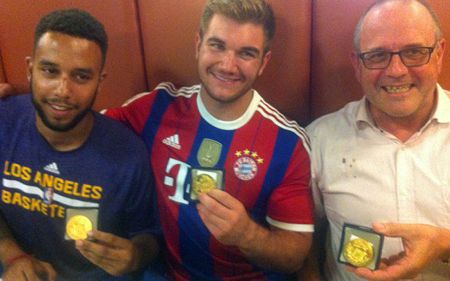 [Image: L to R Anthony Sadler, Alek Skarlatos,Chris Norman]
The Brit, businessman Chris Norman, said:
"My thought was I'm probably going to die anyway so let's go. I'd rather die active trying to get him down than simply sit in the corner and be shot."
Bravo.
He says the most important hero here was Spencer Stone, the Air Force man, who was actually a medic. Stone got badly slashed by the terrorists' knife or boxcutter, and his thumb was nearly cut off entirely. (Hopefully that has been reattached and will heal with no complications.)
Despite bleeding profusely, and despite being down a thumb, Stone administered emergency aid to a passenger badly slashed through the throat immediately after subduing and hogtying the terrorist. [Ace of Spades blog]
The FSOP salutes these men for their heroism.
Loser of the Week:
A Brit desperado traveled all the way to Warsaw [Poland, DUH] to make a fool of himself.
Step One: Enter bank and confront female teller.
Step Two: Intimidate teller with the gun he'd drawn on a piece of paper.
Step Three: Brandish robbery note, originally in mangled Polish.
Step Four: Comply, when teller orders you to wait at end of the line.
Step Five: Go to Jail. Go directly to jail. Do not pass GO. Do not collect 740 Zloty.
Korrectnik Twaddle of the Week:
You might need an adult beverage, for this Gender Bending Gibberish from the Human Rights Campaign's back to school guide:
(CNSNews.com) – To help "create a classroom where students aren't limited based on gender stereotypes," teachers should address classes using words like "friends or "students" rather than girls and boys, the Human Rights Campaign (HRC) advises in a new back-to-school guide.
The first tip suggested by the HRC's Welcoming Schools Initiative is for teachers to avoid using gender to "divide and address students." The guide claims that separating students for activities according to gender "can leave some students feeling out-of-place, making them distracted or isolated and not able to focus on learning."
The guide recommends finding new, inventive ways of dividing students for activities. "When lining students up for lunch, rather than saying, 'Girls line up first,' try saying, 'Anyone wearing a green shirt can line up,' or 'If your name has an E please line up.'"
The guide also advises teachers to "prepare for teachable moments" linking to suggested responses for questions that might come up in class such as: "How can a family have two moms [dads]? Which one is the real one?" and "Don't you need a woman and a man to have a baby?"
The suggested responses to those questions are, "There are all kinds of families. Some have two moms or two dads," and "Children come into families in many different ways, and the families that love the children may have a mom and a dad, some a mom, some a dad and some have two moms or two dads."
The guide emphasizes allowing students and families to identify their gender or not as they choose, advising that "on paperwork, avoid asking students to identify as male or female unless it is absolutely necessary."
"If it is necessary for students and their families to do so, consider adding a third write-in option for those who have non-binary gender identities or to allow students to elaborate if neither 'male' nor 'female' fit."
"Make sure that forms do not have specific spaces for 'mother' and 'father,'" the guide cautions. "If a form requires the name(s) of legal caregivers(s), the form can just say 'parent,' 'guardian,' or 'caregiver.'"
HRC's guide concludes with advice to teachers to "be mindful of the ways you might be gender stereotyping students. For example, rather than only inviting girls to learn a dance during recess, invite all students, including the boys, to dance. Show pictures and videos that challenge gender stereotypes."
Hambo sez: I love that bit about "a third write-in option for those who have non-binary gender identities".
Asshole of the Week:
[Metro] A man previously dubbed the 'world's most annoying husband' has been kicked out by his long-suffering wife after he tattooed a gigantic penis on his own leg.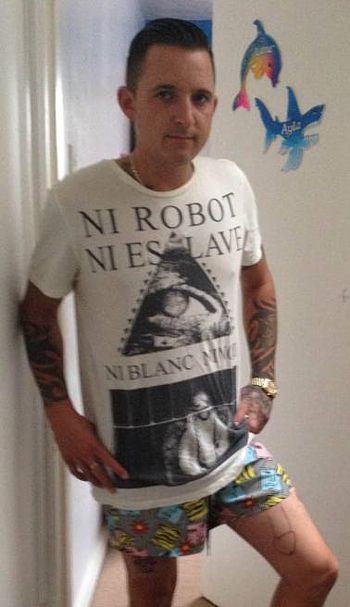 Stuart Valentino, 34, inked the six-and-a-half inch phallus on his left thigh – so the end pokes out of his boxer shorts.
But the questionable tattoo is the latest in a long series of pranks that wife Samantha has endured – and she has now given him the boot from their family home in Southsea.
The father-of-four said: 'My wife hates it. In retrospect, I'm not surprised, it really is the stupidest thing I've ever done.
'After I did it, my wife woke up in the morning screaming, because there was this massive penis poking out of the duvet. And the tattoo on my leg.
'It caused no end of rows and she's now kicked me out of home. I deserve it, I suppose.'
The tattoo gun that Stuart used for the questionable inking was given to him as a Christmas present by his wife.
She has now banned her husband from taking his daughter swimming and the family was forced to postpone plans for a holiday – because the inking stands out when Stuart wears shorts.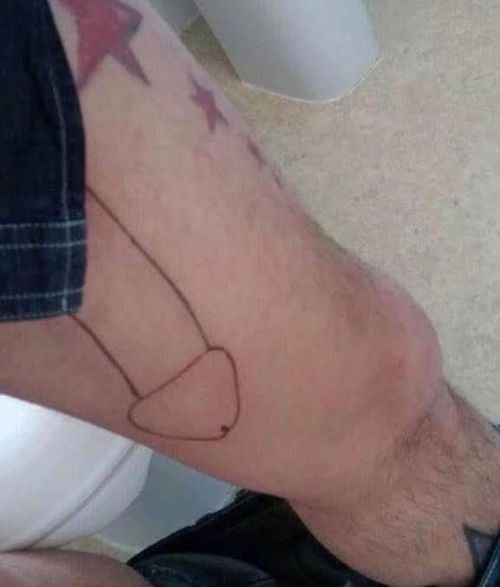 Describing the effects of the crude inking on his family life, Stuart added: 'We argued non-stop. It would cost nearly £1,000 to remove, something that could have been spent on a family holiday.
'Finally last month, Samantha announced she couldn't take it any longer, and left me.
'I had no idea that a joke could ruin my life. I'm devastated I've lost my family, and frustrated with myself. I can't blame anyone else.
'I have a constant reminder poking out of my shorts every day of how stupid I've been.'
Parting shot:
Considering this:
Stuart was previously dubbed the 'world's most annoying husband' – after posting a series of pranks on YouTube, which see him spend the whole weekend slapping his family with a fish, making his wife vomit after pretending to eat cat poo, and drawing a monkey face on his sleeping wife's bottom.
Why the hell would she give this jerk a tattoo gun?
Trash Talk of the Week:
If this is what happens, routinely, at Perry County School Board [Perryville, Missouri] meetings, they should charge admission. The fun reached critical mass, during a closed executive board meeting, when board member Mark Gremaud painted a rhetorical bull's-eye on a female board member:
At a recent closed executive meeting, Gremaud is alleged to have addressed board member Kathy Carron, saying: "Kathy, you are just a woman. The only thing you know is laying on your back with your legs in the air splayed."
Mark insists that he didn't said those exact words. That means the essence of what he said is there. Mark also insists his comment wasn't mean to be sexual in nature. WHOPPER ALERT!
Mark does make me wonder ask what he knows about Karen's private life that he isn't sharing. Enquiring minds want to know.

.
Have you seen our 2014 Golden Oinks of the Year?