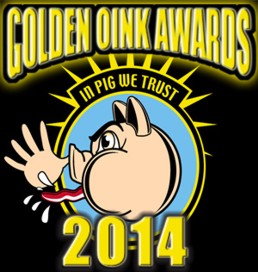 Every week, the PIG staff buries the hatchet - invariably in one another - and sits down for our weekly awards selection shouting match, punchout and melee. Battered, bruised, and amazed that we survived another contentious confab, we try to muster a some semblance of professionalism while we salute those Standup Guys and Gals and administer bitch-slaps on the richly deserving. Originally named Props And Chops we decided to give this awards page a more illustrious name: Golden Oinks 2013.
PIG's Golden Oinks Selection Committee singles out the following individuals and/or groups for special PIG attention.
Date Awards Bestowed: February 28, 2014
Problem Solver of the Week: From our, 'it seemed like a spiffy idea' news desk, we bring you the devilish details about a titanic battle between man and machine. The man is a 27-year-old Iowa denizen named Robert McKevitt. He encountered his mechanical nemesis - a candy vending machine - while an employee at a Polaris Industries' warehouse.
Round 1: Robert inserts a $1, then selects the 90-cents each Twix candy bar.
Round 2: The machine fails to deliver, when the candy bar gets hung up on a hook.
Round 3: Robert thumps it and bumps it, but the machine hangs tough.
Round 4: Kicking it up several notches, Robert brings in his heavy artillery - a fork lift. He use it to lift the candy machine and drop it.
Round 5: After the sixth drop, the machine throws in the towel, delivering three candy bars.
Round 6: Five days later, Robert is fired.
He won the battle but lost the war? You better believe it, Sparky.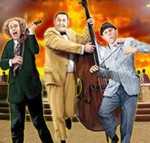 Fiddling Fools of the Week: When I read a story about someone getting pissy about the 'Sea of Japan', I assume the whiners are Korean. That's the case here, too, but in this case the whining Koreans are a long way from home. They live on the opposite side of the world, in New Jersey.
The Sea of Japan might be out of sight, but it's not out of mind. Determined to rename that body of water, they rattled some Elected Tormentor cages:
A group of local politicians in New Jersey would like to rewrite maps of Asia.

On Monday, five New Jersey Democrats introduced a bill that would rename the sea between Japan and the Korean peninsula.

Currently, the sea is known as the Sea of Japan. But, according to the Star-Ledger newspaper, the bill would require "the state and all its political subdivisions, 'to the extent practicable'" to refer to the body of water as both the "East Sea" and the "Sea of Japan." Textbooks in New Jersey schools would have to adopt the new names starting in 2016.

The five backers of the bill represent what the Star-Ledger described as a "large and politically active Korean-American community." South Koreans have argued the name "Sea of Japan" is "colonialist" while the Japanese government has said the name is more familiar to the international community. [TPM]
Fiddling? Yup, it's an election year.
Freedom of Speech Heros: On September 17, 2013, an inmate at Modesto Junior College commemorated Constitution Day by passing out booklets containing copies of the 226 year old document. His exercise in Freedom of Speech ended much too soon, when school officials ordered him to knock it off.
Unwilling to tolerate that crap, Robert Van Tuinen got lawyered up, contacted FIRE (Foundation for Individual Rights in Education), then sued the Ivory Tower in federal court. This week, the Ivory Tower folded its losing hand
then settled out of court:
As part of the settlement, MJC has revised its policies to allow free speech in open areas across campus and has agreed to pay Van Tuinen $50,000. Van Tuinen was represented by the firm of Davis Wright Tremaine LLP in Washington, D.C., and assisted by the Foundation for Individual Rights in Education (FIRE).

"FIRE is very pleased that Robert Van Tuinen and Modesto Junior College have reached this settlement—and that Modesto Junior College students will now be able to exercise their First Amendment rights across campus," said FIRE President Greg Lukianoff. "But because 59% of colleges nationwide maintain policies that clearly and substantially restrict student speech, there's much more work to be done." [FIRE.org]
Kudos are deployed for everyone who defended Freedom of Speech.
Zero Tolerance Zombies of the Week: Northeast High School (Montgomery County, Tennessee)
Dastardly Rule Breaker: David Duren-Sanner, high school senior
Dastardly Deed: David drove his father's car to school. During a random lockdown, his car was chosen to be searched.
Duren-Sanner gave permission because he said he had nothing to hide.
His father is a commercial fisherman on the West Coast and had apparently left a fishing knife in the car. Duren-Sanner's father said it might have been wedged between one of the seats.
Duren-Sanner said he told school officials and the Sheriff's department the car was his father's and he didn't know the knife was in it.
"He's like 'it doesn't matter it was in your possession anyway,'" Duren-Sanner said.
Punishment: School officials suspended him for 10 days, the maximum allowed under school policy, and then he was reprimanded to attend 90 days at an alternative school.
If his punishment is upheld, Duren-Sanner will not be able to attend prom, his JROTC ball or walk at graduation. His family said it's unclear whether he'll be able to graduate at all.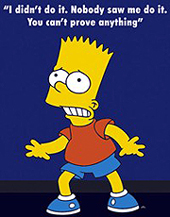 Excuse of the Week: It's not breaking news when a Kennedy gets busted for drunk driving. The whole Kennedy clan is comprised of two-fisted drinkers. Our heroine, Kerry Kennedy, Robert Kennedy's daughter, strongly resembles that snarky Pagan prose. Apparently the baby girl apple didn't fall far from the mama apple (legendary lush, Ethel Kennedy) tree.
You'll be thrilled to learn that her defense was based on her family ties.
* She's Robert Kennedy's daughter.
* She's JFK's niece.
* She's NY Governor Andrew Cuomo's ex-wife.
Her brother took different approach:
Bobby Kennedy exclusively told The Post in Monday's paper that his sister — the ex-wife of Gov. Cuomo — should be found not guilty of driving under the influence of a sleeping pill because she's a human-rights activist whose life-saving work would be severely curbed if she was sidelined by jail. [NYP]
She's a Kennedy. She's not too important to fail, but she is, so sayeth her bro, too important to jail. I'm not impressed and neither was the judge, but the jury was. She admitted being sloshed, but being a Kennedy means 'no harm, no foul'.
Booty Call of the Week: Feeling bullish, two dudes - Michael Jones, 35, of Illion, NY and Reid Fontaine, 31, of Connecticut - paid a visit to a Herkimer, NY, farm for some poontang. If you're thinking 'farmer's daughter', get over it. These studs were hot for bovine pussy.
Troopers said the owner of a farm in Herkimer, NY, set up video surveillance in his barn in an attempt to determine why his cows appeared anxious and were not producing as usual.

The owner then contacted state police after the video revealed that the cows were being sexually abused, troopers said.

An investigation revealed that Jones agreed to record Fontaine as he attempted to have sexual contact with several of the animals.

Both men were arrested and charged with one count each of sexual misconduct, which is a misdemeanor. They were released on an appearance ticket.
When 'moo' is 'pillow talk', we're talking about a pair of sick puppies.
Hero of the Week: When it comes to supporting our troops, Gary Sinise is second to none. It doesn't seem to be politics. It appears to be pure patriotism. This month, for example, Gary gave 50 of our wounded warriors to a very special outing which included a trip to Disney World:
The service members – each could bring a guest – had surprises along the way – including a trip to Paramount Studios and a red-carpet welcome at Bubba Gump Shrimp Co. in Anaheim. Celebrities, including Tim Allen, greeted them in Hollywood. Tom Hanks, who played Forrest Gump, introduced a showing of the 1994 movie.

Sinise accompanied the guests in Anaheim.

A highlight was the evening flag retreat in Disneyland's Town Square, when the American flag is lowered. With the service members there, and signs about saying this was a special military tribute, a bigger crowd than usual showed up. Some women dabbed eyes as patriotic songs played. [Washington Free Beacon]
Gary Sinise is a stand-up guy.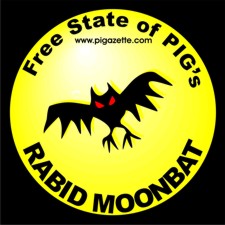 Rabid Moonbat of the Week: Harvard University Senior Sandra Korn
Magic Moonbat Moment: In a recent column, Korn unambiguously insisted that the university should stop guaranteeing professors and students the right to hold controversial views and pursue research that challenges liberalism.
"If our university community opposes racism, sexism, and heterosexism, why should we put up with research that counters our goals?" asked Korn in her column.
The column's subtitle was even more direct: "Let's give up on academic freedom in favor of justice."
Inconvenient Truth of the Week: Mexifornia is in a drought, again. It's a recurring event, a fact which prompted prior Golden State administrations to invest money in a countermeasure which would help the state cope with a prolonged drought.
Why isn't it working? Why indeed.
The one thing that will mitigate droughts in California — a permanent feature of the state — is to restore the water flow from California's water-heavy north to farmers in the central and south. That's just what House Bill 3964, which passed by a 229-191 vote last week, does.

But Obama's plan is not to get that worthy bill through the Senate (where Democrats are holding it up) but to shovel pork to environmental activists and their victims, insultingly offering out-of-work farmers a "summer meal plan" in his package.

"We are not interested in welfare; we want water," Nunes told IBD this week. He and his fellow legislator Valadao are both farmers who represent the worst-hit regions of the Central Valley in Congress and can only look at the president's approach with disbelief.

"He's not addressing the situation," Valadao told us.

"They want to blame the drought for the lack of water, but they wasted water for the past five years," said Nunes.

The two explain that California's system of aqueducts and storage tanks was designed long ago to take advantage of rain and mountain runoff from wet years and store it for use in dry years. But it's now inactive — by design. "California's forefathers built a system (of aqueducts and storage facilities) designed to withstand five years of drought," said Nunes.

"We have infrastructure dating from the 1960s for transporting water, but by the 1990s the policies had changed," said Valadao.

Environmental special interests managed to dismantle the system by diverting water meant for farms to pet projects, such as saving delta smelt, a baitfish. That move forced the flushing of 3 million acre-feet of water originally slated for the Central Valley into the ocean over the past five years. [IBD]

When Barry visited, he refused to confront the painful truth that his Jackass Party is the reason for the water problems in the state. Instead of going there, he spouted demented Global Warming drivel. Thanks for nothing, dude..

Have you seen our 2013 Golden Oinks of the Year?