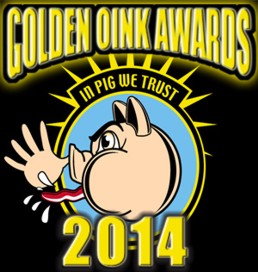 Every week, the PIG staff buries the hatchet - invariably in one another - and sits down for our weekly awards selection shouting match, punchout and melee. Battered, bruised, and amazed that we survived another contentious confab, we try to muster a some semblance of professionalism while we salute those Standup Guys and Gals and administer bitch-slaps on the richly deserving. Originally named Props And Chops we decided to give this awards page a more illustrious name: Golden Oinks 2013.
PIG's Golden Oinks Selection Committee singles out the following individuals and/or groups for special PIG attention.
Foot In Mouth Award
Friday Morning:
I don't think they're gaining strength,' Obama had said of the terrorist organization on Good Morning America. 'What is true is that from the start our goal has been first to contain them and we have contained them.'
A Few Hours Later:
ISIS assholes murder at least 125 people in Paris.
Saturday, a Red Shed minion, Deputy National Security Adviser Ben Rhodes, attempted to extract the presidential foot from the POTUS' pie hole. Barry meant 'geographically contained', according to Rhodes. Before you ask when Paris became part of Syria, stand by for the rest of the story.
Specifically, Barry meant that ISIS wasn't gaining ground in Syria and Iraq, so sayeth Rhodes.
BULLSHIT!
Human Gene Pool Volunteer of the Week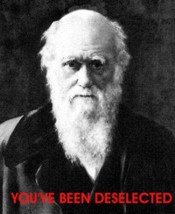 [Duluth News Tribune] A 19-year-old Cook man died in a fireworks accident in Mountain Iron on Friday morning.
A mortar-style firework was placed on top of a hard hat Trevor Reichel was wearing in a backyard on the 5600 block of Oriole Avenue in Mountain Iron, according to the St. Louis County Sheriff's Office. Reichel was injured after the firework went off and he was transported to Essentia Health-Virginia. He then was airlifted to Essentia Health-St. Mary's Medical Center in Duluth, where he was pronounced dead, according to the Sheriff's Office.
The incident remains under investigation by the Sheriff's Office.
Mark this one WOW on you HGPI scorecard.

Heroine
Our heroine is a 33-year-old resident of North Charleston, SC, who put a world of hurt on116-year-old Antoine Miller when he tried to rape her.
A local boob tube outlet explained how our heroine took a bite out of crime:
According to North Charleston police, officers were dispatched to Remount and North Murray avenues shortly after 7 a.m. to tend to the 33-year-old victim who fled her home after the attack.
The report notes that there was blood on the floor of the bedroom when the officers arrived.
According to the report, the woman told police she heard a knock at her door at 6:30 a.m. but when she answered it, no one was there. There was a second knock at her door, she told officers, and again no one was there. Then her doorbell rang and when she opened the door, a black man holding a knife was standing on her porch.
The woman told police she screamed and tried to run back in the house, but Miller forced his way inside her home, tackled her, and punched her several times, the report states.
"Stop fighting and I won't hurt you," Miller reportedly told the woman before carrying her over his shoulder to the bedroom, the report states.
Miller tried to remove the woman's shorts but she reportedly kicked him in the groin. Miller then forced himself on top of her and tried to kiss her, forcing his tongue in her mouth, the report states.
The victim retaliated, and "bit his tongue as hard as she could until she heard it snap," she told police. That led to Miller moving away, screaming, she added.
The woman said Miller's tongue was still in her mouth, so she ran from her home and threw it on the kitchen floor. She made it to her car and drove until she found an open store so that she could call police.
As you'd expect a punk with a missing tongue wasn't very hard to find.
Nicely done darlin.
Moron of the Week
[Fox News] Fugitive nabbed after posting Facebook selfies from Mexico
U.S. marshals say they have apprehended an escapee from an Idaho jail whose life on the lam including posting taunting selfies on Facebook from a resort town in Mexico.
Authorities say Nicholas Grove escaped the Payette County jail in August 2014 by scaling a razor-wire fence.
Police found him through his social media postings, which included selfies and various shots around Cancun. He was arrested recently in Telum, Mexico, and turned over to the marshals.
"Social media certainly played a role originally because this particular individual bragged about his escape on Facebook," Marshal Brian Underwood told KBOI-TV.
Grove had a Cancun address on Facebook.

Capitalists of the Week
[Fox] The U.K.'s Advertising Standards Authority ruled that the online advertisement from Australian-based Premier Estates Wine, which used the cropped image of the woman's crotch with a wine glass in front of it "served to reduce the woman to merely a sexual object" and that the reference to oral sex in the hashtag would be clearly understood, which was in breach of the advertising code.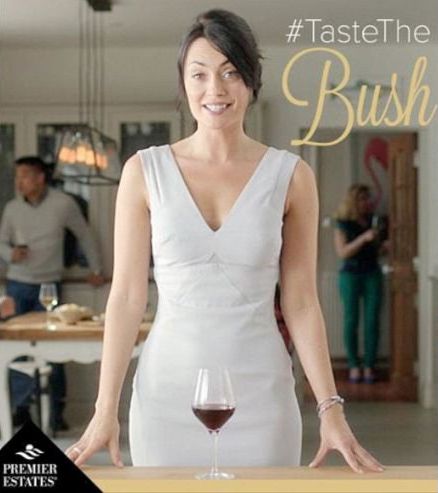 The ruling comes after several complaints, including from organizations like Wine Australia, which said that it was sexist and degrading towards women and the U.K-based Alcohol Concern, a non-profit that fights alcohol misuse.
The ad features an elegantly dressed woman singing the praises of the wine for its taste and affordability. She then places the glass down on a table in front of her crotch and says: "Australia practically jumps out of the glass. In fact, some say you can almost taste the bush."
The woman then looks awkwardly askance before picking up the glass and walking away.
Budge Brands, which trades as Premier Estates Wine, said that the campaign was targeted at "a mature 35- to 45-year-old, wine-drinking, audience and was intended to be playful and tongue-in-cheek."
WTF Award
[Mbatt] Juvenile Delinquents Shall Henceforth Be Called "Justice-Involved Youth"
As noted previously, criminals must not be called "criminals," because that would be offensive. Likewise, underage criminals must not be called "juvenile delinquents," lest it hurt their sensitive feelings. Call them instead "justice-involved youth":
"The Department of Justice is committed to giving justice-involved youth the tools they need to become productive members of society," Attorney General Loretta Lynch said in a news release on Monday.
Lynch said the Justice Department and the Department of Housing and Urban Development are launching a $1.7-million initiative to help Public Housing Authorities and legal assistance groups "reduce barriers for justice-involved youth."
"Justice-involved youth"? You can't make this up.
I'm just saying...
Have you seen our 2014 Golden Oinks of the Year?