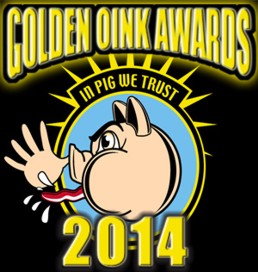 Every week, the PIG staff buries the hatchet - invariably in one another - and sits down for our weekly awards selection shouting match, punchout and melee. Battered, bruised, and amazed that we survived another contentious confab, we try to muster a some semblance of professionalism while we salute those Standup Guys and Gals and administer bitch-slaps on the richly deserving. Originally named Props And Chops we decided to give this awards page a more illustrious name: Golden Oinks 2013.
PIG's Golden Oinks Selection Committee singles out the following individuals and/or groups for special PIG attention.
Kick-Ass Hero of the Week
The fun started, when a loser named Dominic Burnett tried to get into Cristian Gavira's room in a 'multi-occupancy accommodation in Cardiff '. Since it was 3am, this put our hero on high alert. When he opened his door to check it out, Cristian spotted Dominic coming out of another resident's room.
After our hero accosted him, the thief tried to bullshit his way out of trouble. When Christian didn't buy the robber's tall tale, the desperado get snarky, then reached into his pocket for a weapon. Big mistake.
Christian, who has studied kickboxing, use his training to put the thief down, and keep him down. Our hero didn't learn, until much later, that he'd broken the robber's jaw.
Our hero summed up the incident this way:
"If I saw him trying to stab me I could have kept my distance. If you don't train or do kickboxing you don't really know how to keep your distance. It's really important for this type of situation.
"He looked quite dodgy as well, with a mark on his nose like he had had a fight a week before.
"But he found the wrong guy in the wrong place."
Amen, dude. Amen!
Petty Tyrants of the Week:
[This epic demonstrates why you'll find a notion which reads 'see also code enforcement officer' when you look up 'asshole' in your dictionary.]
[Mbatt] Cardboard Fort Rebellion
The petty tyrants who micromanage the details of our lives do not take kindly to those who think outside the box:
You have to give the Trentelmans an "A" for creativity.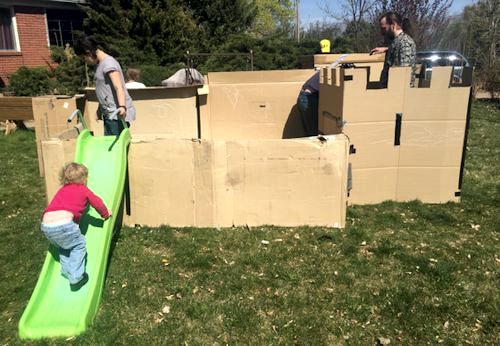 The Utah family of four — Jeremy and wife Dee, along with their toddlers Max, 3, and Story, 2 — and some friends turned a pile of cardboard boxes last week into a front-yard fort complete with towers, trap doors, and tunnels. …
But after just one day in existence, the makeshift fort attracted the City of Ogden's attention — specifically code enforcement.
The notice left on the Trentelmans' door indicated the fort violates city code related to "waste materials or junk" and have 15 days to get rid of it or get socked with a $125 fine.
Nice work, bureauweenies. You have kindled a rebellion:
Before the notice came, Jeremy Trentelman said they were planning on leaving up the fort for just a few days — but the notice got him pretty steamed. …
"They gave us 15 days in the notification, so I'll be damned it's gonna stay up for 14 days," he told KUTV.
In the meantime, the cardboard fort has attracted quite a bit of support — there's even a Facebook page called "Support Jeremy Trentelman! Cardboard Fort Campaign in Ogden."
The 13-day event is dedicated to organizing citizens to "stand in solidarity with Jeremy Trentelman by building cardboard forts in all the front yards throughout the entire city of Ogden." …
He's even open to passing the contraption along to another family. "It'd be great if it continues to live in another home," he added. "Just because of the stupidity of the situation."
That's the spirit. Sure it is just a matter of cardboard forts in people's yards. But tyranny is tyranny. Rebellion is rebellion.
Recidivist of the Week
Name: Robert Knowles
Age 68
Home: Plymouth (England)
First Crime: In 1959 a 13 year old Robert got busted for shoplifting.
Here are some impressive crime stats:
He's been in court at least once a year since 1959.
He has appeared in court 190 times.
So far, his rap sheet has 342 capers listed. [342 may be a low ball assessment].
This clown is the kind of career criminal that is targeted but the egregiously maligned 3-strikes laws.
I say they should lock him up for good or tattoo a bull's-eye on his forehead to let his victims know he's 'fair game'.
Excuse of the Week
Brian Williams is the gift who keeps on giving. We know this, thanks to those yammering pest who infest every organization - including NBC News, obviously - 'unnamed insiders'. Here's how Moonbattery described it:
Embattled news anchor Brian Williams couldn't bring himself to admit he lied about coming under fire on a chopper in Iraq — so he instead wondered aloud if he had a brain tumor, a new report claims.
Several NBC News insiders told Vanity Fair that the fact-challenged Williams — who was suspended without pay for six months from his "Nightly News" gig — had trouble explaining what had happened.
"(He said,) 'Did something happen to (my) head? Maybe I had a brain tumor, or something in my head,'" a source told the magazine in its upcoming piece. "He just didn't know. We just didn't know. We had no clear sense what had happened. We got the best (apology) we could get."
The story also quotes a source who implies that Williams believes Brokaw is to blame for his sudden downfall: "I talked to Brian about this, and I'll never forget what he said at the end. He said, 'Chalk one up for Brokaw.'"
We the PIGs eagerly await Brian's next move. The Devil made him do it? Not yet, but it's still in play.
Infuriating Injustice of the Week:
A 29 year old pedophile named Kevin Jonas Rojano-Nieto enticed 3 year old girl into his garage, where he sexually assaulted her. In early December, a Mexifornia jury found him guilty 'of having sexual intercourse with a child 10 years or younger and committing a lewd act with a minor under 14'.
That verdict should mean this piece of shit will serve a MANDATORY minimum sentence of 25 years. It should, but a Mexifornia judge deemed that 'cruel and unusual punishment'. Ignoring the law, this black robe scumbag sentence this child raping bastard to 10 years in prison.
"Although serious and despicable, this does not compare to a situation where a pedophilic child predator preys on an innocent child," Superior Court Judge M. Marc Kelly said, according to a City News Service article posted by the Orange County Register. "There was no violence or callous disregard for (the victim's) well-being." [Mbatt]
We the PIGs are pissed, and so are a lot of Mexifornians who are mounting what looks like a slam dunk recall of this black robe asshole.
Zero Tolerance Zombies of the Week
Where: Paul R. Smith Middle School, Pasco County, Florida
Miscreant: Domanik Green, 8th grade inmate
Dastardly Deed: Used teacher's password to change wallpaper on teacher's computer. New wallpaper is image of two men kissing.
Insane ZTZ response: He has been suspended PLUS, there's those criminal charges. That's right, criminal charges.
The Pasco County Sheriff's Office has charged Domanik Green, an eighth-grader at Paul R. Smith Middle School, with an offense against a computer system and unauthorized access, a felony. Sheriff Chris Nocco said Thursday that Green logged onto the school's network on March 31 using an administrative-level password without permission. He then changed the background image on a teacher's computer to one showing two men kissing. [Tampa Bay Times]
PIGish Prank of the Week:
These are popping up all over Tinsel Town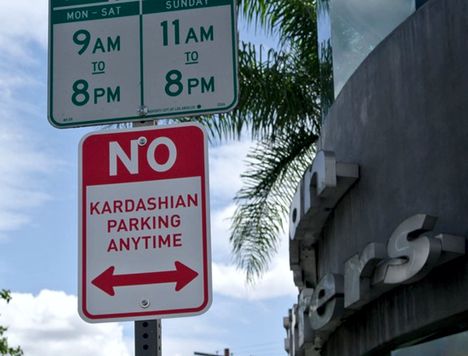 You've got to love it.
.
Have you seen our 2014 Golden Oinks of the Year?