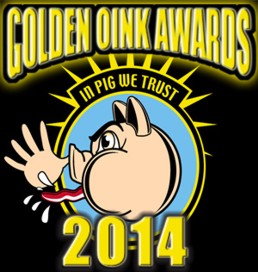 Every week, the PIG staff buries the hatchet - invariably in one another - and sits down for our weekly awards selection shouting match, punchout and melee. Battered, bruised, and amazed that we survived another contentious confab, we try to muster a some semblance of professionalism while we salute those Standup Guys and Gals and administer bitch-slaps on the richly deserving. Originally named Props And Chops we decided to give this awards page a more illustrious name: Golden Oinks 2013.
PIG's Golden Oinks Selection Committee singles out the following individuals and/or groups for special PIG attention.
Date Awards Bestowed: September 13, 2014
Wrong Number of the Week: Formerly a senior aide to Senator UpChuck Schumer, Brian Fallon is now a senior communications aide for Attorney General Eric Holder. His assignment from 'on high' was simple enough. Call Jackass Party Conngressman Elijah Cummings - he's the ranking Jackass on House oversight committee chaired by pachyderm, Darrell Issa.
He called, got a House staffer and...you'll see. A letter from Issa to Holder spells it all out.
According to the letter, Fallon – who is not named in the letter but confirmed he made the call – asked if the aides could release the IRS scandal documents to "selected reporters" to give Fallon an "opportunity to comment publicly on it."

Fallon explained to Issa aides that the Justice Department's Office of Legislative Affairs had not permitted him to release the documents to the public and he wanted to get ahead of the story "before the Majority" – meaning Issa – could share it, according to the letter.

Issa aides – who had placed the call on speakerphone – were "caught off guard by the unusual nature of the call and the odd request" and asked Fallon to "e-mail the material for evaluation."

"At this point," Fallon "abruptly placed the call on hold for approximately three minutes." When Fallon returned to the call, "he was audibly shaken. He immediately stated that there was a 'change in plans' and that there would be no effort" by DOJ to release the material early.

Too late, Fallon.

In the letter, Issa told Holder the phone call suggests ongoing coordination between DOJ aides and Cummings' staff to undermine oversight committee investigations.

Fallon's "efforts to prejudice the Committee's oversight work demands examination," Issa wrote.
I wonder if Fallon is still a Holder toady? Hmm. I think that he's either been promoted or he's been sent to GITMO.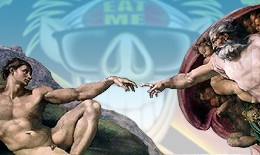 Salvation Scheme of the Week:

A prostitution ring in Israel? Okay. I can cope with that.
Salvation sex? Tell me more.
It's run by a messianic sect? That's weird.
These holy hookers were brainwashed into believing that having sex with non-Jews would "save the Jewish people and bring about redemption". How do you sell that whopper? Feed them lots of adult beverages and mind altering drugs.
Since it is the proper authorities put a stop to salvation sex, the redemption of the Jewish people is on their heads.
Silver Lining of the Week: The August 24, 2014 Left Coast earthquake did more than rattle nerves and generally shake things up in Napa (Mexifornia). In addition to knocking down walls and shaking things off shelves, it dislocated some other stuff.
Other stuff? You better believe it:
The San Francisco Chronicle reported Sunday that the magnitude 6.0 earthquake on Aug. 24 unexpectedly forced groundwater to the surface, filling dry creek beds and parched streams in the region.

Water officials in Vallejo and elsewhere are hopeful they can capture some of the extra water for use. California is experiencing a years-long drought.

"This is an unusual thing to have happen," said Franz Nestlerode, the assistant public works director for water in Vallejo. "Potentially it could turn out well for us."

Nestlerode said officials are testing the new water to ensure it's safe for public consumption.

"We'll use it if the tests come back in a couple of weeks and everything checks out," Nestlerode said.

He said at least 200,000 gallons of water a day are flowing down Wild Horse. The natural flows were about a tenth of that before the earthquake, Nestlerode added.

Scientists say they've known of this phenomenon since at least the 1860s and have since documented similar occurrences with underground water after several major earthquakes.

The U.S. Geological Survey has received reports of dramatic water increases as much as 20 times average in creeks near Napa, Sonoma and Vallejo. USGS geologist Tom Holzer said he expects other creeks throughout the region of having received similar water infusions. [KGO]
Every dark cloud has its silver lining? Apparently.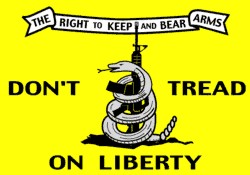 Second Amendment Heroine: A Phoenix woman made all the right moves, when an asshat named Michaela Lewis broke into her home. After retrieving a firearm that her husband trained her to use, she retreated to the bathroom then called 911.
The 911 tape, released this morning, provides a chilling account of her encounter with Michael Lewis, who used a weeding tool to break the glass in the backyard Arcadia door of her west Phoenix home.

"They've tried my front door, my front door, and now they're trying to break in my back gate…," Cynthia tells the 911 operator at one point. "I have a gun in my hands. I'm terrified."

Later, "Somebody is on my back porch." And then, "Please help me, please!" as the operator assures her that help is on the way.

"They're coming out as fast as they can," the operator says. "Have you heard any voices?"

Cynthia: "Hurry, hurry! They're coming in right now, please, please, please!

As it turns out, the police weren't coming quickly enough. Lewis broke into the bathroom and started attacking Cynthia. So she shot him.

Lewis: "Ow! (Expletive.) What was that? What was that? What was that? (Expletive) did you do?"

Her answer was classic. "Did you think you could beat me half to death?"

Lewis: "I'm sorry. I'm sorry..."

Cynthia: "You bet you're sorry you nasty thing." [Fox]
Nicely done darlin'.
Hambo Gloat of the Week: One of my favorite schemes to shoehorn our national government back into its Constitutionally-defined box involves an asteroid hitting D.C., while Congress is in session. I love this one, but I'm the first to concede that it's unlikely.
It is not, however IMPOSSIBLE. I know that because an asteroid just hit a nation's capital:
Managua (AFP) - A mysterious explosion that rocked Nicaragua's crowded capital Managua, creating a large crater, appears to have been caused by a small meteorite, officials said Sunday.

Amazingly, in a sprawling city of 1.2 million people, the impact near the international airport did not cause any known injuries, but it did leave a crater measuring 12 meters (39 feet) across and was felt throughout the capital late on Saturday.

Nicaraguan authorities believe it was a piece of the small asteroid dubbed "2014 RC," which passed very close to Earth on Sunday and was estimated by astronomers to be about 20 meters big, or the size of a house.

"We are convinced that this was a meteorite. We have seen the crater from the impact," said Wilfredo Strauss of the Seismic Institute.

The meteorite appeared to have hurtled into a wooded area near the airport around midnight and the hit was so large that it registered on the instruments Strauss's organization uses to size up earthquakes.
Proof of concept? You better believe it.
Toll Booth Wrangler of the Week: His name is Mark Driscoll and he plies his soul-saving trade in the state of Washington.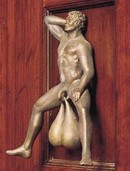 The breaking news involves the closure of several Pacific Northwest locationsof the Washington Evangelical Church Mars Hill, due to misconduct and the ensuing bad press. A blog wordsmith serves up this PIGish prose:
This is not your ordinary bad press. In fact, this isn't even just heathens like me being unfamiliar with the Traditional Christian Ways of the especially holy. This is a dude who told a congregant to apologize to her abusive husband for "failing to bend to his will" by getting on her knees before him and praying, and then giving him a blow job. For serious. I may not be religious, but I am 100% sure that is not the reason I find this appalling.

Driscoll has also been accused of mishandling church funds and essentially behaving as a dictator and never allowing anyone to challenge him about anything.
Big fun, but this tidbit dating back to 2001 is what earned him a mention in PIG.
The first thing to know about your penis is, that despite the way it may see, it is not your penis. Ultimately, God created you and it is his penis. You are simply borrowing it for a while.

While His penis is on loan you must admit that it is sort of just hanging out there very lonely as if it needed a home, sort of like a man wondering the streets looking for a house to live in. Knowing that His penis would need a home, God created a woman to be your wife and when you marry her and look down you will notice that your wife is shaped differently than you and makes a very nice home.

Therefore, if you are single you must remember that your penis is homeless and needs a home. But, though you may believe your hand is shaped like a home, it is not. And, though women other than your wife may look like a home, to rest there would be breaking into another man's home. And, if you look at a man it is quite obvious that what a homeless man does not need is another man without a home.
WOW!

Loser of the Week: There was nothing fancy about the bank heist Shawn Lee Canfield planned. Given this fool's limited brain power, the simpler the plan, the better.
He did ok, up to a point, but two pesky things tripped him up: lack of attention to details, gravity. That pesky detail cropped up when the teller at the Merced County (Mexifornia) bank gave our hero 'the loot', $2748 dead presidents. That's when Shawn realized that he should have brought something to carry the loot.
What to do? What indeed?
Officers spotted Canfield, 25, trying to shove the money down his pants and when they brought him back to the bank, the teller identified him as the robber.

Most of the money - $2,414 - fell out of Canfield's pants as he was walked through the police station.

During police questioning, the remainder - $334 - fell out of Canfield's pants when he was asked to stand up, police said. [ABC Affilliate]
Smooth moves, genius.
Race Card Retards of the Week: If you've ever been downwind from a hog farm, you know what a sensory feast it can be. Yes they smell bad, so I'm willing to pin a STINKY label on them. Unlike some troublemaking activists in the Tar Heel State, I am not willing to add a 'RACIST' label.
Hog farms are racist? THEY think so:
Environmental groups have filed a civil-rights complaint against hog farmers in North Carolina, claiming that by maintaining farms near neighborhoods where minorities live, the pork producers are engaged in illegal discrimination against minorities.

The 48-page complaint explains that the farms create problems for surrounding neighborhoods such as foul smells and runoff in the water.

The crux of the complaint, which was filed by Washington-based EarthJustice and three other environmental groups in the Tar Heel State, is not these problems themselves, however. The four environmental groups object to seeing these problems occur in neighborhoods where "people of color" are more likely to live.
The suit requests that the Environmental Protection Agency's Office of Civil Rights investigate the issue… [Mbatt]
Racist hog farms? Go figure.
Wang of the Week: It happened in the Grandview-Woodlands neighborhood of Vancouver (Canada). Some inspired hooligan looked at the site where a bronze commemorative statue of Columbus had stood and decided to fill the void.
The drivers of the cars traveling along Grandview Highway were treated to an anatomically correct statue of Satan. That's right, PIGsters, in addition to all the usual appendages, the fires of hell red statue, has a impressive wang, deployed in its firing position.
Humor challenged city minions had it removed the same day it appeared. Great artists are rarely appreciated by their contemporaries.
Update: I just learned that, so far, 1500 city art lovers have signed a petition to bring back the statue.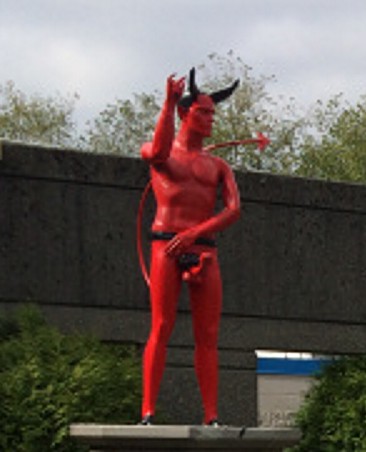 .
Have you seen our 2013 Golden Oinks of the Year?