I feel like I'm caught in one of those endless dreams where you're trapped in a strange place and nothing works like it should. The places are familiar. The people are familiar. On the surface, it all seems right, but a closer examination reveals that everything is wrong. It feels like objective reality has been inverted.
If this inversion of objective reality has a theme song, it's the one that reportedly was played when Lord Cornwallis surrendered Yorktown, in 1781, during the American Revolution: The World Turned Upside Down. The World Turned Upside Down says it all, when it comes to this inversion of objective reality.
Unfortunately, I'm wide awake, but the signs of this inversion of objective reality are everywhere. Where the hell am I and how the do I escape? How indeed.
My initial impulse - I keep looking for the 'signposts ahead' that Rod Serling touted when he introduced each episode - is that I've blundered into 'The Twilight Zone'. Am I trapped in 'The Twilight Zone'?
It's too soon to say, but here are some signposts which keep it in play:
* In Mexas, a pair of grade school age wenchlets continued that American tradition, the neighborhood lemonade stand. They wanted to raise money to get dad a birthday gift.
Where I hail from, the tyke staffed lemonade stand is a familiar sight, which neighborhood adults patronize, because it teaches the tykes essential life lessons.
Here, the girls are hassled by the po-lice, hounded by roving city code enforcement killjoys, and shut down by the city health department which spews drivel about business licenses and a health inspection.
* Where I hail from, a girls restroom and the girls locker room are, as they should be strictly enforced 'no males allowed' refuges. It's a no brainer.
Here, relentlessly horny losers looking for a cheap thrill, invade these girls only enclaves, as often as they want. All it takes is one word - transgender - and the unthinkable becomes a form of 'tolerance'.
* Where I hail from, a barely legal wench who will get horizontal and squishy with any sex, any species, is a slut. Sluts are, I agree, part of the human tapestry who spice things up for hormone gorillas, but you wouldn't want your sister to be one, and would hate it if your brother married one.
Here, an alleged entertainer, Miley Cyrus is hailed as a heroic sexual role model, after she deems herself an omnisexual, a term which seems to include E. T., suitably shaped inanimate objects, plus, it seems, farm animals.
* Where I hail from, Harry 'The Kochs are coming' Reid would be identified as a raving lunatic, who needs to be tasered, wrestled into a straitjacket and carted off to a padded cell for psychological evaluation.
Here, some fools on the Hill call him a statesman and make him minority leader in the U.S. Senate.
* Where I hail from, Ivory Towers promote a free exchange of ideas, a sometimes painful process which, invariably, paints a bull's-eye on one, or more of a student's sacred cows.
Here, insane bullshit like micro aggression accusations and trigger warnings shelter precious snowflakes from any/all potentially painful enlightenment.
* Where I hail from, neighbors are good-hearted people who show up to help you repair your fence, when the wind knocks it down. Neighbors are there for you, when needed, without waiting for you to ask.
Here, neighbors snoop in your trash and rat you out for not sorting it properly. They squeal on you to the water Nazis, if they think you're using too much. In short, they're spies for the Nanny State.
* Where I hail from, humor - stand-up comedy - hits close to home. First, it makes you squirm, then it makes you laugh.
Here, it's so sanitized, so Korrected, it makes you wonder why anyone would pay to hear it.
Perhaps this inversion of objective reality is an undisclosed indication that the 'end times' are at hand. For example, we've all seen the Four Bimbos of the Apocalypse - Paris Hilton, Lindsey Lohan, Kim Kardashian, and Miley Cyrus - riding across the cultural landscape. There's also a second group of ominous equestrians, the Four Himbos of the Apocalypse - Bill Cosby, Tiger Woods, Hugh Hefner, and Bubba Clinton - whose hormonal excesses keep the gossip wranglers busy. I'm guessing that the apocalypse will reach critical mass, if/when the two groups meet.
So far, the apocalypse notion is looking strong. HOWEVER, in order to pin an apocalyptic label on this inversion of objective reality, we need to evaluate the highly touted 'signs'.
Fire? You bet.
Floods? Yup.
Pestilence? ABC calls it 'The View', but I'll give this one a 'yup'.
Wars? Yup. Rumors of wars? Yup. Thanks to Barry's on-going support for radical Islam, World War III has already begun in the Middle East. It's not word for word Revelations, but it's way too close for comfort.
Lights in the sky? Since Art Bell's minions say 'yup', I'll play along.
The Second Coming? If you're talking about the second coming of Jimmy Carter, I'll rate this one 'hell yes'.
A virgin birth? It happens every day, when urped teenage wenches swear, 'I never'.
False messiahs? Iran has one. North Korea has one. Venezuela had one. America has at least two.
Cloning? Houston, we have a problem, here.
The Mark of the Beast? Yes, if you're talking about Rosie O'Donnell's tattoo.
Famine? Yup.
Earthquakes? Yup.
The Antichrist? Possibly, and, so sayeth the usual suspects, American voters made him POTUS, twice.
On balance, the signs of a looming apocalypse make this one what the Mythbusters might call plausible. In all fairness, many of the fabled signs are a very low hurdle. When don't we have fire, floods, war, famines and earthquakes? We need more information, before we can pin an apocalyptic label on this inversion of objective reality.
Since I can't definitively, pin a Twilight Zone or Apocalypse label on this inversion of objective reality, I'll go with that tried and true FSOP classic and simply identify this inversion of objective reality as 'HERE'. HERE? You bet. Again? Yup.
'HERE' has its random nifty moments, but, by and large it sucks. The more you look around, the more you realize that 'HERE' is a hopelessly irrational place where the laws of logic work in reverse. 'HERE' the illogical, the 'anything but that', becomes an idea whose time has come.
By now you're wondering what, exactly, put this reality inversion burr under my saddle. What indeed. For your edification, I'll cite, in no special order, some reality inversion examples.
Black Lives Matter
If a melanin-enriched hooligan gets evicted from the human gene pool due to a fatal, stupidity-induced, encounter with the proper authorities, his, her, hisher, or its life matters. The circumstances don't matter. His, her, hisher or its life matters, period.
On the other hand, if a melanin-enriched child is gunned down by a melanin-enriched gangbanger, that innocent victim's life isn't one of the black lives that matters. Some black lives, obviously, matter more than others
A world turned upside down? Yup.
Nuclear Non Proliferation
In theory, nuclear non proliferation is a commendable attempt to keep nukes out of asshat countries. By any conceivable standard, Iran is the poster punk for asshat country. Apparently Barry didn't get the memo, because he just handed an utterly irrational, insanely hostile, nation nukes, on a silver platter. Israel gets the first one, we get the rest.
Under this insanity, inspections of Iranian facilities - needed because we don' t really trust them - will be performed by - TA DA - Iran itself.
A world turned upside down? Yup.
Environmental Protection
The EPA doesn't protect waterways, it poisons them by dumping tainted water from a closed mine into an important Western U.S. waterway.
EPA releases 3 million gallons of heavily polluted water into Colorado river
The amount of heavily polluted water the US Environmental Protection Agency (EPA) accidentally spilled into the Animas River in Colorado while working on a waste-treatment project has now reached three million gallons. On August 5, EPA workers were at the abandoned Gold King mine to treat polluted water when they released a plug holding back the water, which then began to flow into the Animas River
A world turned upside down? Yup.
Freedom of Speech:
Sovereign individuals are born with the inalienable right to express their ideas - noble and profane - after which we are obligated to defend them.
But, that's not how it works under inversion, where, in the name of free speech, and letting everyone be heard, sovereign individuals who express inKorrect ideas are muzzled via speech codes and vilified as purveyors of 'hate speech'.
A world turned upside down? Yup.
Hypersensitivity
The right not to be offended does not exist. That means, among other things, that if you're offended by a 'naked' mannequin in a store window it should be your personal problem.
That's not how inversion works. That 'naked' mannequin in a Beatrice (Nebraska) store window elicited whines of 'obscenity', plus a police response, which included covering the window to appease the chronically offended.
A world turned upside down? Yup.
Other Signs of Inversion
America's gatekeepers in Homeland Stupidity ignore Islamikazes, because screening them is Islamophibic profiling. Instead, TSA lowlifes manhandle tykes in strollers and seasoned citizens in wheelchairs, knowing that neither poses a threat.
Nanny State nitwits think the road to recovery goes through the money printing room of the U.S. Mint. Prosperity is as easy as printing out more dead presidents.
The biggest, stinkiest pile of junk science - Global Warming - blames the Earth's eons old natural heating and cooling cycles on human activity, instead of regular changes in that giant ball of fire in our sky. Lab coated hooligans then propose Draconian changes that, by their own admission, won't make one iota of difference.
While food prices are skyrocketing, the fools running this lunatic asylum pay some farmers not to grow crops and pay others to divert key crops from the food chain so they can pour them down a biofuels rathole.
Achievement is punished with ruinous taxes while failure is subsidized with the achiever's hard earned money.
A world turned upside down? Yup.
Prevailing Mantra
In objective reality, sovereign individuals embrace these soaring words from the Declaration of Independence:
"We hold these truths to be self-evident, that all men are created equal, that they are endowed by their Creator with certain unalienable Rights, that among these are Life, Liberty and the pursuit of Happiness."
HERE, gobsmacked sovereign individuals intone a different mantra: "They've got to be kidding."
Where the hell am I? Where, exactly, is HERE? I'm still working that one out. As far as I can tell, HERE is an inherently irrational realm which is part Twilight Zone, part apocalypse, and irredeemably INSANE.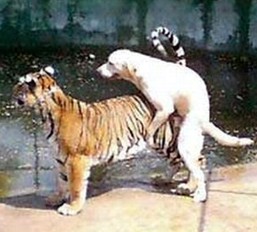 See what I mean?
I may not be able to pinpoint my location, YET, but I do know one thing. If I stay 'HERE' much longer, I'm going to explode.
While I'm coping with this ongoing threat to my sanity, I do have one request. Since it's a slam dunk that Scowly [Kanye West] is ready to snap, any minute now, somebody needs to tell him that Messiah Barry is getting horizontal and squishy with Scowly's ho, Porn Star Kardashian-West.
Having Scowly go thump on Barry might not cure what ails Kanye. It should, however, do wonders regarding my attitude about being stuck HERE. I'm just sayin'.