I'll cut to the chase, for a change. The calendar is much too crowded with observances, awareness and appreciation months, weeks and/or days. I'm not even discussing the big ones, yet. I'm talking about the mundane stuff that flies underneath the radar.
Mundane stuff? Exactly. If you do a Bing search for July 2017 observances, then cybersurf to the brownielocks site, you'll find out how cluttered our calendar really is. Here's a modest sample:
July 2017 Weekly Holidays
Beans and Bacon Days: 1-5? (Around first Wed. in July)
National Unassisted Homebirth Week: 1-7
Be Nice To New Jersey Week: 2-8 (First Full Week)
Freedom Week: 4-10
Creative Maladjustment Week: 7-14
National Tom Sawyer Days: 7-9? (aka Fence Painting Days)
National Farriers Week: 9-15 (First Full Week)
Sports Cliché Week: 9-15
Nude Recreation Weekend: 10-16 (First Week)
National Ventriloquism Week: 12-15
Rabbit Week: 15-21
(Re: Magician Rabbits The sponsor is Melvin Rabbit up in Canada. No website. )
Captive Nations Week: 16-22 (3rd Week)
Everybody Deserves A Massage Week: 16-22 (3rd Full Week)
National Parenting Gifted Children Week: 16-22 (Third Full Week)
National Zoo Keeper Week: 16-22 (3rd Week)
National Independent Retailers Week:16-22 (3rd Week)
Restless Leg Syndrome (RLS) Education & Awareness Week: 18-25
(Note: Different sponsor than the September 23 observance has.)
National Baby Food Week: 19-22
Comic Con International: 20-23
Hemingway Look-alike Days: 20-23 (Nearest his Birthday of 7/21)
National Moth Week: 22-30 (Last Full Wk)
National Scrabble Week: 22-26
RAGBRAI: 23-29
World Lumberjack Championships: 27-29 (Last Weekend)
Comi Great Texas Mosquitos Days: 27-29 (Last Thurs.Fri.Sat.)
Garlic Days: 28-30 Link (Last Weekend)
Lollapalooza: 28-30
Single Working Women's Week: 30-8/5
(Always has 8/4 in it which is Single Working Women's Day. So, it sometimes is in August.)
Need more? No sweat. Here, for your edification, are some PIG-worthy Daily Observances for July 2017:
July 1st is a busy one at your local post office where it's: National Postal Workers Day, U.S. Postage Stamp Day, and Zip Code Day. A better name for this would be 'bring your gun to work day.'
July 2nd is I Forgot Day, AKA 'bring your gun to work day' - for absent minded postal workers
July 5th is a keeper: Bikini Day.
July 6th is a mixed blessing: International Kissing Day or World Kiss Day, plus Take Your Webmaster to Lunch Day. I'm NOT KISSING THAT COMPUTER GEEK!
July has numerous food-related observances: Fried Chicken Day [6th], National French Fries Day [13th], National Hot Dog Day [19th], National Chili Dog Day [27th], Lasagna Day [29th], Cheesecake Day [30th], plus National Chicken and Waffles Day [30th]. By far our favorite is:
July 11th Chick-fil-A's Cow Appreciation Day (2nd Tuesday) Dress Like a cow and get free sandwich!
July 14th is International Nude Day an occasion replete with 'the good, the bad and the UG-LY'.
July 17th is National Get Out of the Doghouse Day (Third Monday).
July 23rd - Hot Enough For Ya Day - is, at best, fraught with peril. Observe at your own risk.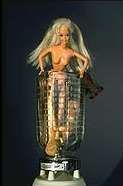 July 27th is the captivating Barbie-in-a-blender Day.

There's a lot more foolishness in July's daily calendar speed bumps. We'll let you look that up for yourself.
It's time to leave the mundane behind, by moving up the calendar clutter food chain to the mainstream observances.
We have a day dedicated to an Irish saint name Patrick whose claim to fame involves evicting snakes from Ireland. What's wrong with this picture? What indeed. For starters, his original name wasn't "Patrick". His birth moniker was "Maewyn", but he changed it to Patrick after he shed his pagan ways and set off on the highway to heaven. If you're thinking Maewyn doesn't sound Irish, give yourself a cookie, because Ireland's favorite Saint was born in Wales. Last, but not least, the story that he chased the snakes from Ireland is Irish hyperbole, because, there weren't any snakes to evict. Do we celebrate this one by drinking, to make us forget all these inconvenient truths?
We have a day dedicated to a winged runt who terrorizes unsuspecting individuals with his bow and arrows. We think Cupid needs to be ordered to take a long overdue timeout. The only 'up side' to this February blight is the fact that some womyn kick Cupid to the curb and devote the day to venerating their nads. I have nothing against these V-Day (Vagina Day) Harpies, aside from the fact that those most likely to celebrate their nads are the ones least likely to share that joy with you, horny as a ten-peckered owl, Sparky.
We have a day dedicated to a directionally challenged Italian - Christopher Columbus - a day that allows the Italians - and Italian wanna bes - to be as annoying as the Irish, and Irish wanna bes, are on St. Patrick's Day. If there's a legitimate source of Italian pride, it's not a man who didn't know where he was going, didn't know where he landed, and never accepted the fact that he'd visited 'the New World' instead of the Far East. If Italians want to celebrate someone who gives us the warmies for Italians, it should be someone like Sophia Loren or Giada De Laurentiis.
America lumps together the good, the bad and the ugly with a generic, one-size-fits-all "Presidents Day" that opines 'all Oval Office denizens are created equal'. What a steaming load. Jimmy the Meek, a man who was terrified by a swimming rodent, is one POTUS I'd like to forget. America needs to get real, by honoring the best presidents on their birthday and dumping the losers like a bad habit.
In Colonized parts of America, a faux Mexican holiday - Cinco de Mayo - stains the May calendar. It's a day venerated by swilling insect-packing adult beverages and doing your best to get Montezuma's revenge by downing impressive quantities of suitably ethnic eats. Why do we celebrate it? I haven't got a clue and neither do the folks who live in Mexico where there's no such thing as a Cinco de Mayo holiday.
One of the most politically correct days on the calendar is "Administrative Professionals Day". Back in the day, before "secretary" was deemed 'demeaning' by the NO-NADs, it was Secretaries Day, which occurred sometime during - TA DA - Secretaries Week. Everything was spiffy, until womyn got their panties in a wad over it and rammed through this change which did not thrill the socks off those office professionals who took great pride in being a 'secretary'.
Even Mother Earth has her own day, Earth Day, but we hear rumblings that it will be completely transformed to venerate Earth's foremost - self proclaimed - champion, Messiah Al Gore. Instead of honoring Mother Earth on April 22nd, Messiah Al's disciples want to change it to March 31st, the day when Messiah Al first stained humanity's skivvies. Move over, Easter.
In these diversity bonkers times, some elements of the Caterwauling Coalition have kicked it up a notch by devoting an entire month to themselves. In addition to the familiar ones - Black History Month, Women's History Month, and Gay Pride Month - other groups have staked a claim on entire months of the calendar. In addition to Hispanic Pride Month (there's also a Latino Pride Month), there's a new kid on the block, one devoted to Islamikazes: Islamic Pride Month. Islamic pride? Bite me.
Are We the PIGs ready to declare war on all this calendar clutter? Not necessarily. If we can't impose order, then we'll spread our special brand of joy with some PIGish observances.
GTFO Day: This would be a REAL Mother's Day, after you frog-march your freeloading offspring out of their basement abode, along with their Xbox, computer, dirty laundry, and slacker friends.
Speak English Day, Dammit So, you wanna come to America? Nifty, on the surface, but can you speak OUR language, English? Nothing torches our tortillas more than some A-Wipe that jumped the fucking border and comes here. They arrive, hat in hand, with a false sense on entitlement, demanding we cater to his needs in his native language, whatever that may be. Due to people like them, they force us to tolerate the "Press One For English" standard.
We're all sick of that load, so we propose a National English Only Day. Comprende? If you don't get with the program, Chico, our next item with resolve that pesky issue.
Landmine Lotto Day: If you like explosives and want to keep illegals the hell out of the U.S. and save our sovereignty, this is a day chock full of fun.
Hey Baby Month: During this observance, roving packs of unneutered dudes invade local Ivory Towers. They'll convene near the Womyn's Studies Department where the guys will channel their inner construction worker.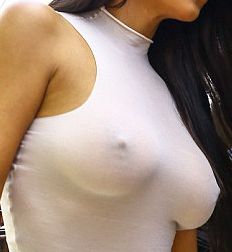 National Sweater Puppy Month: We think it's time to salute those humanitarians who, on a daily basis, give oppressors the will to carry on, when faced with unrelenting caterwauling from the properly-hyphenated. PIG wants to spearhead the campaign to make this appreciation observance a permanent fixture on our calendar. If the womyn can have a day dedicated to their nads, horndogs demand something in return - a National Sweater Puppy Month, with Kate Upton as our poster wench.
Snowflake Smackdown Day: Kick 'micro aggression' to the curb and go macro, "A is still A, cupcake. If that's a problem for you, get over it. I refuse to censor myself because you have your head up your ass."
Sovereign Individual's Day: We have a Mothers Day, a Fathers Day (AKA ugly tie day) and a Grandparents Day. Thanks to out of control Elected Tormentors, we have 365 days that are "for the children". What we don't have...what we need, in the worst way, is a to honor those besieged individuals who make what's left of America work.
Is the calendar hopelessly cluttered with dumb stuff? You bet, but we're not advocating scrapping everything and starting over.
The trivial, depressing, "awareness/appreciation" days, especially buzzkill days like National No Smoking Day, A Day Without AIDS Day, Breast Cancer Day, make us wonder, "what comes next? "National Genital Warts Awareness Day?" "Hemorrhoid Appreciation Day".
Are there any observances that we endorse? Yup. Some are significant and way worthy of a moment of reflection and somber remembrance. Memorial Day and Independence Day immediately come to mind without Hallmark constantly reminding us, or Madison Avenue trying to guilt unsuspecting consumers to buy their products.
PIG also thinks it's time to get real. From start to finish, our year is littered with days dedicated to supernaturalism. We have no problem with Easter, Yom Kippur, Kwanza, Christmas and assorted other religious observances. We do, however, believe that there's a pressing need for 'the rest of the story'. An Objective Reality Day would do the job nicely, since it counterbalances supernaturalist holidays like Messiah Al's 'Earth Day'.
Last, but far from least, PIG dares to suggest that we set aside at least one day - a whole month would be better - dedicated to political incorrectness. On this day - we think PIG Heritage Day has a nice ring to it - all those annoying P.C. niceties get kicked to the curb and everyone is 'empowered' to be as real as they want, need or dare to be.
In other words, on that day - March 1st, our birthday, would be ideal - everyone, from sea to shining sea, would be an honorary PIG staffer. PIG snouts and curly tails are optional, but the PIG Heritage Day kegger and melee would be MANDATORY. Are we that full of ourselves and 'it'? You better believe it, Sparky.
Now go forth and be aware, observe and appreciate. It's the PIGish thing to do.