DISCLAIMER: The following is not for Limp-Wristed Opraholics or those prone to memories of their childhood on Sensitivity Street. Read on, if your cast irons are in proper working order. PIGsters of the lady persuasion, you're invited to read on, also.
It's almost that time of the year again, the day when that airborne, diaper-wearing rat bastard - Cupid - starts peppering unsuspecting moon-struck humans with his goddamn arrows. I have a suggestion or two about an alternative use for those damn arrows. Since this pernicious pest never leaves home without the damn things, I'm ready willing and eager to shove them up his...that's right PIGster, I think he needs to stick those damn arrows where the sun don't shine. If I ever catch that winged runt, I'll...
Is the infamous Hambo declaring war on love, romance and all that goes with it? Not exactly. However, I tend to get pissed when some pinheads mount a world-spanning ad campaign to coerce me into buying some flowers, a box of candy or some other whiz-bang that has a "void after February 14" warning label. At minimum, it's insulting to presume that I'm not taking care of business with my lovely bride 24/7/365. I don't need images of that airborne, arrow packing terrorist to make me do the right thing for my lady, so back the hell off, damn it!
When a dude's heart is in the right place, he shows his lady how much he loves her continuously. He shows it when he goes to Moonbeam's recital and makes a fool of himself cheering for his daughter's enthusiastically tone deaf rendition of that song he hates. He shows it after Mother Nature dumps 8 feet of globally warmed snow on his wife's ride and he freezes his nads off scraping the ice and snow off her car. He shows it when his lady is feeling puny and he drives across town in that torrential downpour to get the medicine she needs at the only all night pharmacy. When a dude's heart is in the right place, he shows his lady in a thousand little ways, so the last damn thing he want's or needs is this Cupid crap laying a guilt trip on him over some stupid card, a box of candy or some flowers. When he decides to go that extra mile, despite this winged terrorist, his lady knows that he did it because he wanted to, not because he felt "obligated".
I suspect that Hambo's annual Valentine's Day tantrum is fueled, in large part, by the asinine lengths that the NO NADs go to vilify it. To hear them tell it, this Cupid crap is a dastardly patriarchal plot to victimize women. Trust me when I tell you that these flannel shirt wearing, 'Vagina Monologue' venerating, Womyn have nothing to fear from Hambo or any other self-respecting dude. Valentine's Day is a lot of things, but one thing it isn't is a plot by testosterone poisoned men to ravage wang-phobic womyn. These womyn need to get over themselves, because testosterone poisoned or not, no self-respecting dude is ever going to be that horny or that desperate.
While I'm painting a bull's-eye on these damn NO NADS, let me tell you another thing....BZZZZZT.
Sorry PIGsters, we had to use our Hambo class stun gun to subdue him...the rest of this rant will be conducted in our usual, kid glove fashion. As usual, Hambo has the right idea, but, predictably, he gets a bit too, uh, enthusiastic about these things. While he's still twitching nicely, we'll tone it down a notch and get on with the business at hand.
Now, we'll give the floor to Professor Porcus. Hope your pencils are still sharp from taking copious notes during the most esteemed Hambo's memorable V-Day meltdown.
PIGsters of the dude persuasion, tired of being nagged and harassed into spending your hard earned spoils on the kitten that has you smitten? Never fear, for the Masters are here to help preserve and protect the Sacred Fraternal Order of the Dudedom.
First order of business? Glad you asked. We're forming a temporary, one time PIG militia, with the sole purpose of tracking down a once a year winged gnat of a rat bastard that goes by the name of Cupid.
Yeah, dudes, we'll get you up to date on this annual menace.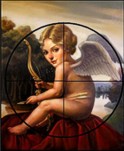 Description: Fat, chubby, arrow toting, diaper wearing, little sociopath that preys upon unsuspecting, rank amateur, P-whipped, rookie dudes.
Armed & Dangerous? You bet. He flies around, shooting arrows at unsuspecting dudes, sitting on park benches, holding their honey's hand, trying exercise a little amore, and injects them with guilt and crass, overt, commercialism.
When: Only annual sightings known to us, and his co-conspirators (advertisers) are February 14.
How is this unique PIG Militia going to form? Well, folks, this is a call to arms for every dude in The Dudedom that has the NADS, to polish up those cast irons you were given at birth, hit the garage, grab whatever you've got. Be it in the form of crossbows, shotguns, peashooters, screwdrivers, beer cans, sling shots, whatever, this little squirt is violating our precious airspace every February 14.
How do we want him? Alive! and we're sure you're asking why, aren't you? Whoever uses their Anti-Aircraft devices to knock this little devil in disguise down, gets to pluck the first feathers from his wings and the rest of us real dudes get to take turns. When we're done with that, we'll take his bow and arrow and give him a dose of some PIG reality. No comment, use your imagination. After that, he can pound sand, kick rocks, anything to get that stinky, diaper wearing, little rascal the hell out of our lives, like, for good.
Valentine's Day. It's a blight on the calendar that everyone fails to appreciate.
Men from sea to shining sea - and beyond, I suspect - view it as a 'gotcha' that will unleash a raging female on them if they don't come through with the goods. It all depends on the quality of the woman in your life. If you're paired up with a high maintenance woman - what I call a Hot House Flower - Valentine's Day can be the most terrifying day of the year. As much as you'd like to ignore it, you can't because SHE will have your nads for breakfast if you don't
meet, or exceed her expectations. Good luck with that dude. You're probably going to need it.
Who Hates Valentine's Day
NO-NADs: Valentine's Day majorly pisses off hard core womyn's studies class NO-NADs. In their synaptically dysfunctional alleged minds, this hearts and flowers stuff is an evil plot perpetrated by men so they can continue to victimize those delicate, helpless flowers of humanity: womyn. They call it "V" Day, and celebrate it with the brass ring of male bashing, "The Vagina Monologues".
If the NO-NADs are trying to annoy PIG dudes like me with this "V" Day crap, they're not getting it done. In fact, I'm endlessly entertained by the way some womyn kick Cupid to the curb and devote the day to venerating their nads. I have nothing against these V-Day (Vagina Day) Harpies, aside from the fact that those most likely to celebrate their nads are the ones least likely to share that joy with you, horny as a ten-peckered owl, Sparky.
Islamikazes: As entertaining as "V" Day is, it's only half the fun. The Islamikazes give the NO-NADs a run for their money, when it comes to grabbing that VDDS (Valentine's Day Derangement Syndrome) brass ring.
The annual Jihad against Valentine's Day is one of the more amusing elements of the Islamikaze war against hard-wired, non-negotiable, rules of human biology. They've been trying to repress those venerable 'boy meets girl' impulses since the 7th century, without any success.
The fun hits its stride, when foaming at the mouth Islamikazes bluster that Valentine's Day is a dastardly plot to subvert Islam. In the Sandbox, Saudi religious police terrorize Sandbox capitalists who defile Islam with their cupid crap wares. Elsewhere, roaming Islamikaze bands raid gift shops and destroy any cupid crap they find. We're amazed and amused to report that these hard core Islamikazes are at least as insane as our "V-Day" phobic NO-NADS.
The hard-line Hindus, who are almost as annoying as the Mecca Maniacs, insist that Valentine's Day is a full frontal assault on Dothead culture. It's a pestilence that imposes the West's "wham, bam, thank you ma'am" values on inherently chaste India.
Korrectniks insist that Valentine's Day, with its obvious winners (got a Valentine) and losers (didn't get one), gives people - especially THE CHILDREN - a painful boo-boo.
Like I said, with the possible exception of females around the world, nobody has anything nice to say about Valentine's Day, so I think we need to track down that bow and arrows packing pestilence, Cupid. We need to warn him that every year when Valentine's Day rolls around, the Free State of PIG gears up for action and issues the usual "shoot on sight" orders. We're perfectly willing to coexist peacefully with this Cupid pest, from a safe distance, but we'd rather not have that puny pest lurking in OUR neighborhood using our butts for target practice.
Lock and load, PIG dudes. It's that time of year again and we need to be on the lookout for this winged arrow packing terrorist.
A Cautionary Cupid Crap Tale
If you're a veteran PIGster, you're probably aware that here in the top secret PIG bunker we consider that winged, arrow packing pest, Cupid, armed and dangerous. This puny pest has been caught, more than once, peppering the oddest people with his poison-tipped arrows. What's that? You doubt me? Have you SEEN Christina Aguilera's husband? Game, set, match, skeptical Sparky. Cupid should be impaled on his damn arrows for perpetrating...that.
This winged terrorist has outdone himself with his latest exploit. Apparently, Cupid was unwinding in Genoa (Italy) after his action packed Valentine's Day reign of terror. While he was there, he spotted a certain couple and decided to mix some business with pleasure.
The dude in Cupid's bull's-eye, 31 year old named Bruno Perez, was on the receiving end of a guided Cupid missile while he was conducting a transaction at the local post office in Genoa. Bruno took one look at the fetching postal clerk, 21 year old Lucia Marcelo, and nearly lost his focus on the important transaction. After completing his business with Lucia, Bruno tore himself away, but he couldn't get her out of his mind.
Throwing caution to the wind, Bruno returned to the post office, packing a large bouquet of flowers for the fetching postal clerk. Did she remember him? Vividly, since just the day before he'd robbed her at gunpoint. Cool as a cucumber, Lucia keep Bruno mesmerized with her charms while she hit the silent alarm to summon the police.
The last sound Bruno heard as the cops carted him off to the graybar was that winged terrorist, Cupid, laughing his fat little ass off.
Parting shot: Even if you say it in Italian, "This is a stickup" is not our idea of a winning pickup line.
Look, lovestruck PIGsters, the PIG staff humbly admits we are veterans when it comes to this subject. We're going to casually sit back and watch all amateurs fumbling around buying flowers, candy, ruin their credit at jewelry stores and, of course, make Hallmark some profits, while us real Valentinos, Casanovas, John Wayne's, and Clint Eastwood's are going to do what comes natural ALL 365 days of the year..We "Get 'Er Done".
PIGsters of all persuasions, take heed from the words of George Carlin; "Be excellent to one another" We'll add to that most excellent quotation by saying, All 365 days a year.
This lesson was provided free of charge from the Free State of PIG.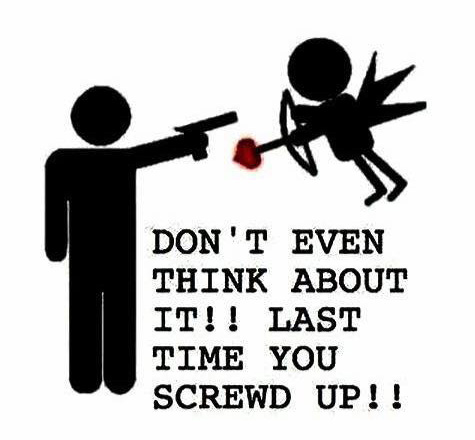 Love and Kisses, the PIG staff!