I feel it all around me.
I hear it putting a hard edge in the voices of rational adults, everywhere I go.
I heard it on Levin's show, during an opening monologue, which had me scaring the crap out of MLB with a noisy affirmation.
Worst of all, I know that it's growing inside me.
It grows stronger, dangerously stronger, every time I hear some sanctimonious Elected Tormentor ass insulting my intelligence with their self-serving bullshit.
It reached dangerous levels when James Comey sold his political soul to Shrillary.
It seems to be unstoppable and could, in a short period of time, reach the point of no return.
What is 'it'?
RAGE.
It's the rage of sovereign American individuals who have been betrayed by their Elected Tormentors, betrayed by their 'government', once too often.
Normally, this emotional roller coaster emulates the ocean tides, which rise and fall at predictable intervals, but rarely get out of control. Normally, but this one feels different.
We see what is happening. We see the way that We the People are being enslaved to a Marxist Nanny State, by those whom we, foolishly, entrusted with too much power. We see the coffin bearing the mortal remains of our inalienable individual liberty being carried toward its final resting place by congressional pall bearers and we must struggle to control our rage. It's a struggle we seemed to be winning, for a while. Until now.
Our Elected Tormentors are playing with fire. How many times can they kick the sovereign individual hornet nest before the rage of those inside spills over? I don't know, but these Elected Tormentor turds seem determined to find out.
There's a dangerous mood taking hold in America and I'm caught up in it. It's troubling. It's very troubling.
This mounting rage is happening at a very bad time: an especially contentious election cycle.
While we're focused on our forthcoming election, we must not lose sight of the big picture. Big picture? What big picture? During the Obamunist Error the balance of world power has shifted dramatically. During Barry's reign, America's power has waned, while Iran, China and assorted Islamikaze groups have grown much stronger.
This power shift makes it an especially dangerous world. Here at home, our undefended borders allow our sworn enemies to enter our country unopposed, then spread out among us and wait for an opportunity to strike. An Oval Office Derby like this one is made to order.
Donald Trump is the candidate who seems to understand our rage. His nomination should be a mere formality. However...However? Exactly. This year's GOP Convention is destined to be memorable. Inside the convention, the GOP beltway establishment will pull every dirty trick to deny Trump the nomination. Outside, the Jackass Party has invested a tidy sum [$800,000] in head breaking thugs who will disrupt, possibly shut down, the convention.
Establishment pachyderm punks seem willing to throw the election to teach the angry voters who challenged them a lesson.
Our next president is likely to be a notoriously unstable woman with a violent temper who makes Will Shakespear's legendary Kate seem placid by comparison. If giving her access to nukes doesn't scare you, WTFU. She's the poster shrew for political corruption who sells out our country for donations to the Clinton Foundation:
Founded in 2001 as The Clinton Foundation and renamed the Bill, Hillary & Chelsea Clinton Foundation in 2013, this ostensible philanthropic concern has become a liability.
As reported by the International Business Times last week, while serving as secretary of state, Clinton was lobbied by human rights groups and union leaders to address the Colombian government's abuse of striking oil workers, some of whom had been threatened at gunpoint by the military. Meanwhile, the oil company in question, Pacific Rubiales, was promising millions to the Clinton Foundation.
Hillary's State Department wound up publicly hailing Colombia's commitment to human rights reform — and that statement allowed the United States to continue funding the Colombian military.
Today, the founder of Pacific Rubiales is a board member of the Clinton Foundation.
And as Politico reported last week, a major phosphate company owned by the Moroccan government has just pledged at least $1 million to the foundation. In 2011, Clinton's State Department assailed Morocco as a corrupt state guilty of "arbitrary arrests and corruption in all branches of government." Women in Morocco are still subjugated by Islamic rule, yet last September, Hillary Clinton's public stance on the government had changed.
"A vital hub for economic and cultural exchange," she called it, one that was "in the midst of dramatic changes."
The foundation had stopped accepting money from foreign governments in 2009, when Hillary became secretary of state. When she resigned in 2013, the foundation changed this policy, and it has since taken money from Saudi Arabia, the United Arab Emirates and Oman.
[NYP]
There is, some insist, another player in this winner takes all POTUS game. Who? I'll give you a hint.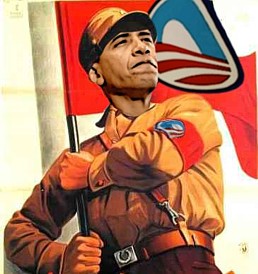 What does a malignant narcissist do after he sits in the big chair in the Oval Office? After 8 years at the pinnacle of world power, he knows that it's all downhill afterwards. For an attention whore like Barry, it would be a living hell. WOULD BE? Yup.
A growing number of otherwise rational individuals are convinced that very soon, Barry will nuke the election by declaring martial law. For maximum impact, it would need to play out before the November election.
Many of the worried Americans point out two seemingly unrelated items:
There's a well-orchestrated shortage of ammo for legally owned firearms.
AND
One of Barry's most destructive endeavors is threatening to make this a very long, hot, bloody Summer. I refer, of course, to the race war he's been promoting via his shock troops - the rent-a-riot horde called 'Black Lives Matter'. I don't need their 'kill whitey' chants, shouts, or signs to predict that they're going to make America burn.
It goes like this: Barry's race war reaches critical mass then Barry imposes martial law to restore order. Will it work? A somewhat similar scheme worked for Hitler in the 1930s.
Is Barry that drunk with power?
A legend in his own mind, he probably assumes everyone else loves him as much as he loves himself. Yes, he'd try it, if he thought he could get away with it.
Could it work?
I have my doubts. It would require a compelling nationwide 'emergency' to get widespread popular support. Knocking out our whole electric grid would do it. Nuking DC might qualify.
This dark cloud does have a silver lining. If he screws it up he could and should be charged with treason.
Another problem involves enforcing the martial law decree. If it's an obvious power grab, rank and file troops, and law enforcement officers might refuse to comply.
Finally, there are groups who were organized to counter such a coup attempt.
Are we that far gone?
The pertinent question is this: Is he that far gone? Perhaps.
I'm reminded of a venerable joke about a farmer with a very disagreeable mule. The farmer couldn't get the mule to work until he got its attention, by smacking the mule between the eyes with a two by four. What I'm about to suggest is the political equivalent of a two by four between some political hack eyes.
We used our two by four - the TEA Party - in 2010 and seized control of the House. We used it again in 2014 and took control of the Senate. Unhappily, our political two by four doesn't work as well against the Republican establishment.
Unless the VRWC gets its shit together we're facing a 2008 size debacle where the Jackass Party controls the Red Shed and both chambers of congress.
That would mean giving the parasites an increase in their handout from the Nanny State table.
The new administration will be is infested with capitalism-hating asshats who are fitting American achievers with slave of the Nanny State shackles.
The Jackass Party scum in congress has already started spewing bills that will pick the bones of sovereign individuals clean.
If you earned it, they want it. If you saved it, they'll take it. If you built it, they will tear it down.
The irony is that Ayn Rand envisioned this kind of America in her exceptional novel, 'Atlas Shrugged'. Her central characters were condemned to 'slave to the parasite horde' status by an out of control American Nanny State. Their solution was inspired, and one worth considering.
Refusing to be slaves to the Nanny State and its parasites, the achievers in her story went on strike. One by one, they made the reasoned decision to stop achieving. They flatly refused to support the parasite horde with their wealth, and their ingenuity. In other words, they shrugged off their parasite burden and let the greedy, mooching bastards suffer their richly deserved fate.
I think it's time for American achievers to take a long hard look at the sad fact that a large, chad-punching majority has given themselves a pay raise, at the achievers' expense. American achievers have to ask themselves if they want to bust their butts, then watch a parasite horde that vastly outnumbers them, steal the achievers' rightful property. American achievers need to think long and hard, then state emphatically, "Enough is enough." It's time for American achievers to dial back their pursuit of the American Dream. It's time for American achievers to do a John Galt and SHRUG, then sit back and watch while the greedy parasite bastards reap what the sowed when they ushered in this Obamunist Error.
It's time to stand up and let the parasites know the new rules of engagement. It's time to tell them, and their neo-Marxist Demoncrat Elected Tormentor majority the fun fact, that this circle of hell belongs to them. It's time to tell all these Progtard bastards that the unrelenting misery that's headed our way has their name on it. There will be hell to pay and I want them to know that THEY F**KING OWN IT.
A line from a movie suggests: "When the cards are marked and the game is rigged so you can't win, there's only one thing left to do...Kick over the table." Sage advice, especially in a world where America's political sludge has guaranteed themselves perpetual re-election, via redistricting, plus assorted other measures which limit the options of sovereign individuals during an election cycle. The politic punk end game involves repealing the right of individuals, and groups, to engage in free, unrestricted, political speech. It's time to put an end to that crap.
It's time to, loudly, very publically, based on our core principles, put an end to THEIR rigged game, then restart a new game, under our own, liberty-maximizing, rules. If neither of the existing political clans will get back to their primary function of maximizing our inalienable individual liberty birthright, it's time to kick over that table.
It's time to end the rigged game, and deal ourselves in, by replacing the Elephant Clan with a Rational Adult Party, a party of, by, and for sovereign individuals.
Kick over the table? You better believe it, Sparky, and the sooner the better, before they steal the last of our inalienable individual liberty with their rigged political game.