Maybe it's the way the Saints lost to the Vikings. Maybe it's the afterglow from a high volume encounter with that math challenged twat who wheeled a pair of overflowing grocery baskets in the 10 items or less checkout line. Maybe it's unchanneled aggression 'inspired' by that pasta snob whose preferred meal is so complex, it took ten minutes to explain it.. Maybe it's that cellidiot who drove 30 mph below the posted limit, in the fast lane, with his turn signal blinking, for 30 damn miles. Whatever the cause, the PIG staff is in an especially ornery mood this week, so batten down the hatches PIGsters, it's going to be a very bumpy ride from here on out.
The unvarnished truth is that dumb stuff - big, small, cosmic or pathetically petty - bugs the living crap out of us. Since we're not wired for suffering in silence, we decided to vent our pent up frustrations here on this infamous cyberspace speed bump. If you beat a confession out of us - we'd probably enjoy it - we'd tell you that this inherent crankiness is one of the primary reasons we created PIG in the first place.
In a more rational era of our history, when a fella took a shine to a gal, he'd try to break the ice with idle chitchat. It often started with a routine compliment. He wasn't using it as code for "I want to bang you like a Chinese gong." He's saying "I'd like to know you better and this is the best I can do." In those bygone days, both of them were on the same page.

Things have changed, but our fella isn't that much different than his rational era counterpart. Today's gals, however, aren't even in the same universe as our fella. Her head is so crammed with NONAD horse shit, no matter what he says, our gal hears "I want to bang you like a Chinese gong." For turning chitchat into a sexual assault these me too gals can BITE ME
In that more rational era of our history, biology had the last word on gender. Nobody had their head up their ass about the two....TWO genders: male, female. Two genders means two sets of pronouns: he, him, his...she, her, hers. It's science, period.
Now, biology and its two genders isn't king of the hill. Biology has been supplanted by a brain fart of epic proportions. On Facebook, you have 71 gender options. Instead of biology, gender is determined by your whim of the moment. Pronouns are gibberish like zir and zim. For your gender bending insanity, you can BITE ME.

We are up to "here" with the scumbags - like the lying bastards at CAIR - who spend every waking minute whining about the way Islam is egregiously maligned by those dastardly 'Islamophobic' Infidels. We've f-ing had it with the willfully myopic apologists tying himself in verbal knots trying to separate Islam from terrorism. Enough already. When militant Mennonites strap bombs on
themselves and blow up shopping centers, Toll Booths, or airliners, we'll listen to your "religion of peace drivel". When some Arab Springified Islamikaze pinheads seize control of a nation and impose inalienable individual liberty instead of Sharia tyranny, we'll reconsider your "religion of peace" whoppers. When the lion's share of the world's conflicts involve Quaker freedom fighters battling the differently-Quaker, we'll take your "religion of peace" bovine excrement under advisement. Until then, from the bottom of our PIGish hearts, PIG sez "BITE ME".
PIG has had it with Digital Douchbags who spend every waking minute waiting for Apple to poop out a new iPad or new iPhone model. We're no longer amused by the fool's radical mood swings. We're tired of the Digital Douchbag's 'my new toy is here' ecstasy and we're thisclose to kicking the fool's ass when the rumor that Apple has a newer one on the drawing board, plunges this cretin into a suicidal depression. It's time to grow up and realized that life still has meaning if you keep your iPhone 8 instead of getting the iPhone 10. Until then, from the bottom of our PIGish hearts PIG sez, "BITE ME".
PIG is ready to Taser the Techno Trappists who are so addicted to Twitter, Facebook, and Cell Idiocy, that they are incapable of socializing the old fashioned way, a face to face chat. Texting, Tweeting, and Facebook messaging are fine, but not when you're sitting together in the same room. It's time to put the gizmo down and TALK like civilized individuals. Until then, from the bottom of our PIGish hearts PIG sez, "BITE ME".
If, as seems to be the case, airport security is a vital tool in combating Jihadikaze scumbags, why the hell did we entrust this essential function to the damn government? Whose bright idea was it to entrust this function to job for life, affirmative action hired TSA (Transportation Security Administration) minions who are thwarted at every turn by mind-numbing Nanny State restrictions? If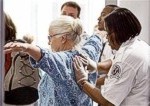 you're white, female, in a wheelchair and at least 90 years old, there's a 100% chance that you'll be given the full court press-class security search. But, if you are a 25 year old Jihadikaze who wants to board the plane carrying a hand grenade in one hand and a lit stick of dynamite in the other, the likely TSA response will be "Have a nice flight, Mahmoud". It's time for these profiling phobic pinheads to wake the hell up. Until then, from the bottom of our PIGish hearts PIG sez "BITE ME".
Enough already with these tyrannical, tragically-deluded pinheads running pissant countries like Syria, Iran, Venezuela and North Korea! We're tired of rat bastards like Basementboy blaming their plight on Uncle Sam. You dug your own hole, butthead, so, until you get over yourself, from the bottoms of our PIGish hearts, PIG sez, "BITE ME".
PIG wants to kick the GOP Establishment in the nuts. We're fed up with these inside the Beltway lurkers who have no use for politics or its labels. Their primary professional goal is to maintain a slot on the guest list for all the D.C. parties by being affably bland. Devoid of any core convictions, they are like rudderless ships floating along with the prevailing political tide doing their best to avoid being noticed by anybody. It's time to stop worrying about party invitations and favorable coverage in news stories, and take a stand in defense of this once great nation. Until then, from the bottom of our PIGish hearts PIG sez, "BITE ME".
The News Nitwits' lemmings mentality is another thing that has us on the verge of going postal and mowing down these fools en masse in a high caliber fusillade. The Progtard pandering MSM's unabashed shilling for the Demoncrats and their neo-Marxist agenda has us cleaning Old Betsy. The MSM sounds like an echo

chamber, with every damn one of them spewing the same talking points, the same. bullshit. Day after day, these fools rush headlong over that cliff, dooming rational adults to another orgy of pointless, fact-challenged pontificating that goes, on, and on, and on, until you're tempted to put your boob tube out of your misery with a point-blank blast from a double-barreled shotgun. Earth to News Nitwit lemmings, repeating the same stale crap hour after hour, day after day isn't "NEWS". Until you quit the lemming stampede, from the bottom of our PIGish hearts, PIG sez "BITE ME".
Companies that deploy those automated "Press 1 for" answering systems instead of having a live human picking up the damn phone are on the shortlist for PIGish retribution. As long as these mutants refuse to knock it the hell off, from the bottoms of our PIGish, PIG sez "BITE ME".
Are done venting? Hell no, wishful thinking Sparky.
From the bottom of our PIGish hearts PIG sez, "BITE ME" to the border

jumping scumbag invaders who turn the part of the USA that they invade into the same squalid, crime-ridden, disease-spreading shit hole that they left behind in the old country. If that's how they want to live, GTFO of our country. Don't make us come over there.
From the bottom of our PIGish hearts PIG sez, "BITE ME" to the Colonista Coddling assholes who roll out the red carpet for border jumping scumbag invaders. If you love them that much, renounce your American citizenship and move to the shit hole country that pooped out the border jumping scum.
From the bottom of our PIGish hearts PIG sez, "BITE ME" to the Knee Jerks. The nation you're dissing made it possible for an ingrate like you to earn million$ playing a game.
From the bottom of our PIGish hearts PIG sez, "BITE ME" to the Hollywood Halfwits who are dumber than a box of rocks, when someone much smarter isn't putting words in their mouths. Playing 'let's pretend' doesn't impress the crap out of us, so put a sock in it, libertard douchbags.
From the bottom of our PIGish hearts PIG sez, "BITE ME" to the Elected Tormentors who think we can't smell the suffocating stench of bullshit, every time they open the pie holes.
From the bottom of our PIGish hearts PIG sez, "BITE ME" to the Educrats who put the 'cess' in 'cess-schools'. Pooping out properly indoctrinated idiots with self-esteem, instead of educated individuals who have mastered a basic skill set - reading, writing and math - isn't the job we pay you to do. Knock that shit off, assholes.
From the bottom of our PIGish hearts PIG sez, "BITE ME" to self-defined 'victims'. Your inflated feelings of

entitlement don't authorize you to rewrite history, exaggerate the accomplishments and/or suffering of your ancestors,. It doesn't entitle you to demand payment from people who weren't even born at the time, for things that happened to somebody else, centuries ago.
From the bottom of our PIGish hearts PIG sez, "BITE ME" to the class warriors who promote failure as the ultimate virtue, by demonizing achievers, whose success was earned the old fashioned way, as public enemy number one.
From the bottom of our PIGish hearts PIG sez, "BITE ME" to the entire Kardashian Klan whose media whoring, gold digging antics are disgusting. Their allotted 15 minutes of infamy can't end too soon.
From the bottom of our PIGish hearts PIG sez, "BITE ME" to Ron Righteous and Sally Salvation who intrude on our lives, uninvited, to shill for their flavor of supernaturalism.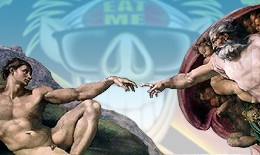 We try to be thrilled, but it's not easy. When you ignore our repeated 'thanks, but no thanks', you force us to throw your ass out. No means no, Holy Roller Sparky.
From the bottom of our PIGish hearts PIG sez, "BITE ME" to the following douchbags:
* Public sector unions and their henchmen
* Media sluts like Gloria Allred.
* Race hustlers like Je$$e Jackson & Co.
* Taggers and the snooty cretins who say it's "art"
* ANY whiner, complainer or sniveler that FEELS they are entitled to YOUR money, guvment cheese and not getting their precious feelings get hurt
* Busybodies, buttinskis and nosy neighbors
* Spammers, Robo-callers and junk mail punks who invade of your privacy and sanity
My neighbor with the hair-trigger car alarm that blares, endlessly can BITE ME..
My co-worker who has been in the USA for 25 friggin years and still can't make himself understood in English can BITE ME...
That Wonderland Moonbat who keeps moving the things I need, then can't remember where she put them can BITE ME...
Humor challenged eateries that spew asinine restraining orders can BITE ME...
Asshats who stage a 'sit in' at a four-way stop can BITE ME...
Program directors who make weekend radio unlistenable can BITE ME...
PIG Bunker Neighbors who have a tin ear when it comes GOOD music can BITE ME...
PIG publishers who don't give me ample room for all my "bite me's" can BITE ME...
CLEAR THE ROOM PIGsters, HE'S GONNA BLOW!!!!